Profile
Get more with myNEWS
A personalised news feed of stories that matter to you
Learn more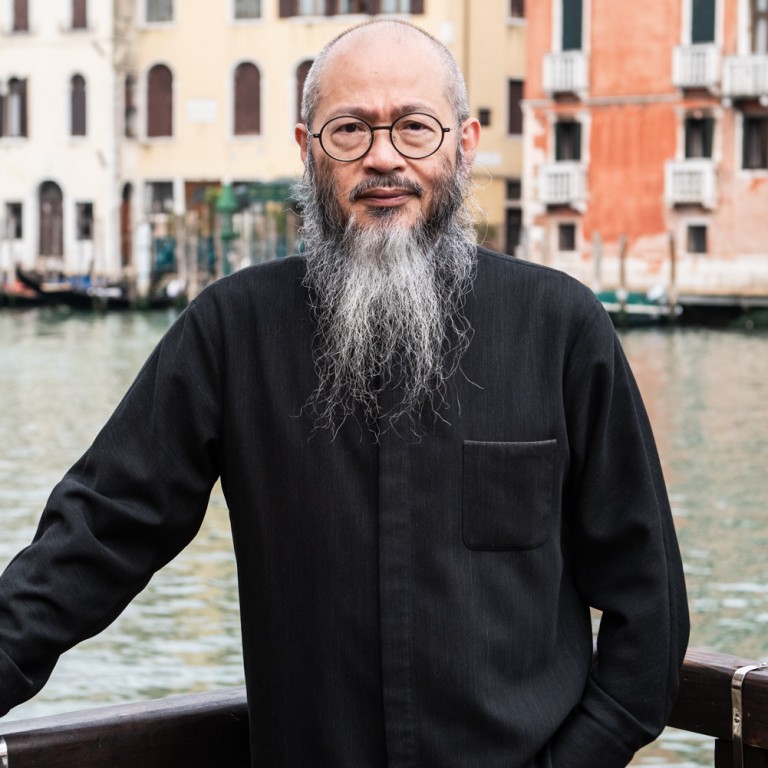 Profile

|
'Some people thought I was crazy': jewellery artist Wallace Chan on why destruction is part of creation, and being married to his work
Wallace Chan, jewellery sculptor and creator of the Wallace Cut gem-carving technique, talks about the time he begged HK$1,000 from his parents to set up shop
He tells Kate Whitehead about running away from home in his mid-20s, how other art forms influenced his gem-cutting technique and the reason he did not remarry
I was born in 1956 in Fuzhou, China, and when I was five years old I moved to Hong Kong with my parents, sister and two brothers. We lived in poverty in a subdivided flat and life was difficult.
Because I didn't understand
Cantonese
, it took a long time to find a school that would accept me, and it wasn't until I was 12 that I started attending classes at a "rooftop school". I remember the teacher scolding me because I struggled to tell the difference between the letters "M" and "N".
My schooling lasted barely two years and I was 13 when I started working full time to help support the family.
I worked many jobs – as a delivery boy, in a textile factory and selling on the street – but it was an unstable life, and I wanted stability and a skill that could provide me with warmth and food.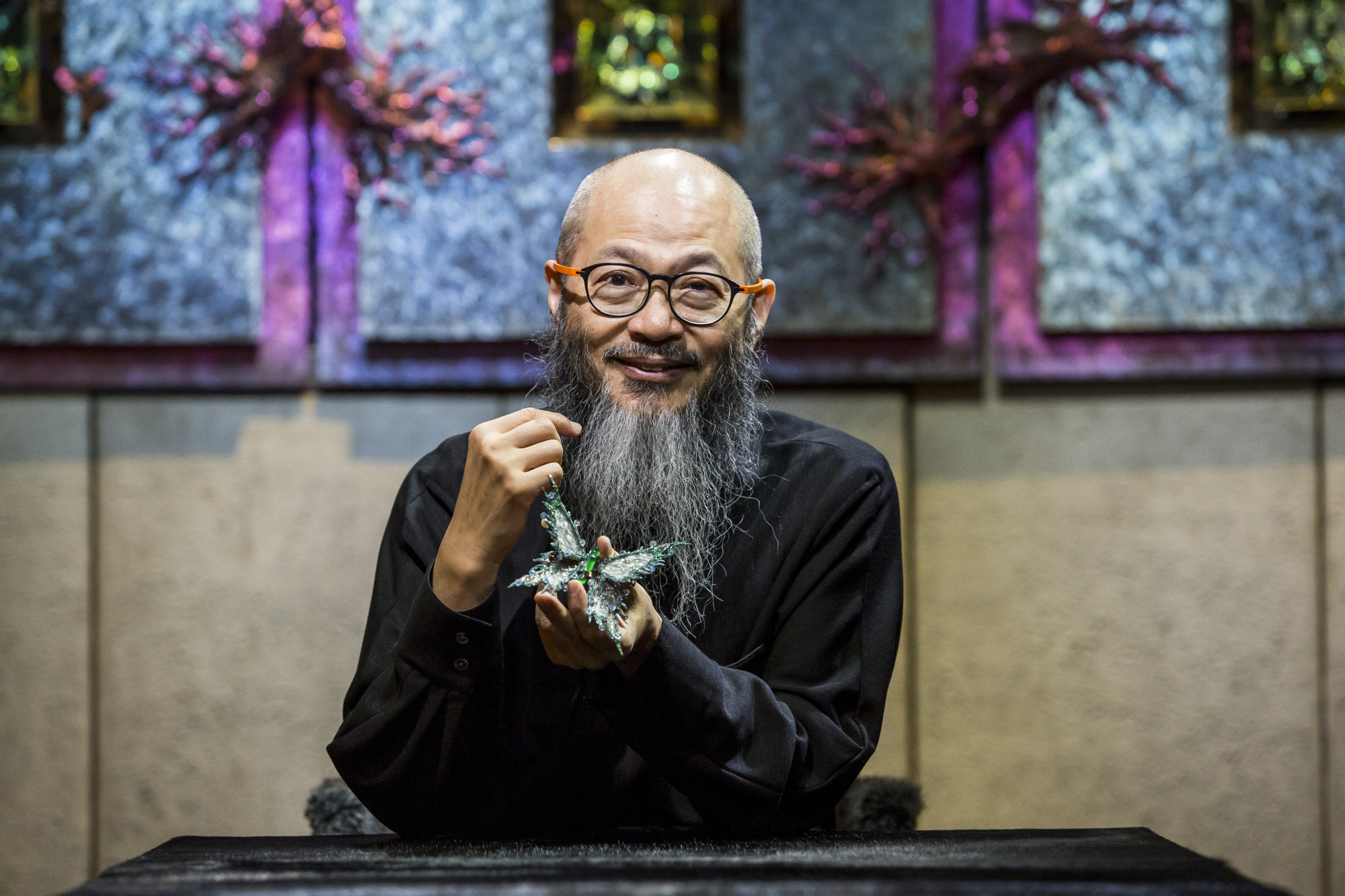 Thanks to an introduction from my uncle, I got an apprenticeship at a gemstone carving workshop. The export of Chinese artefacts was a thriving industry and the agreement was that I'd be there six years, but after nine months I was frustrated by the repetitive nature of the work and left.
It was not a smooth departure; my family was furious, and my uncle felt he'd lost face.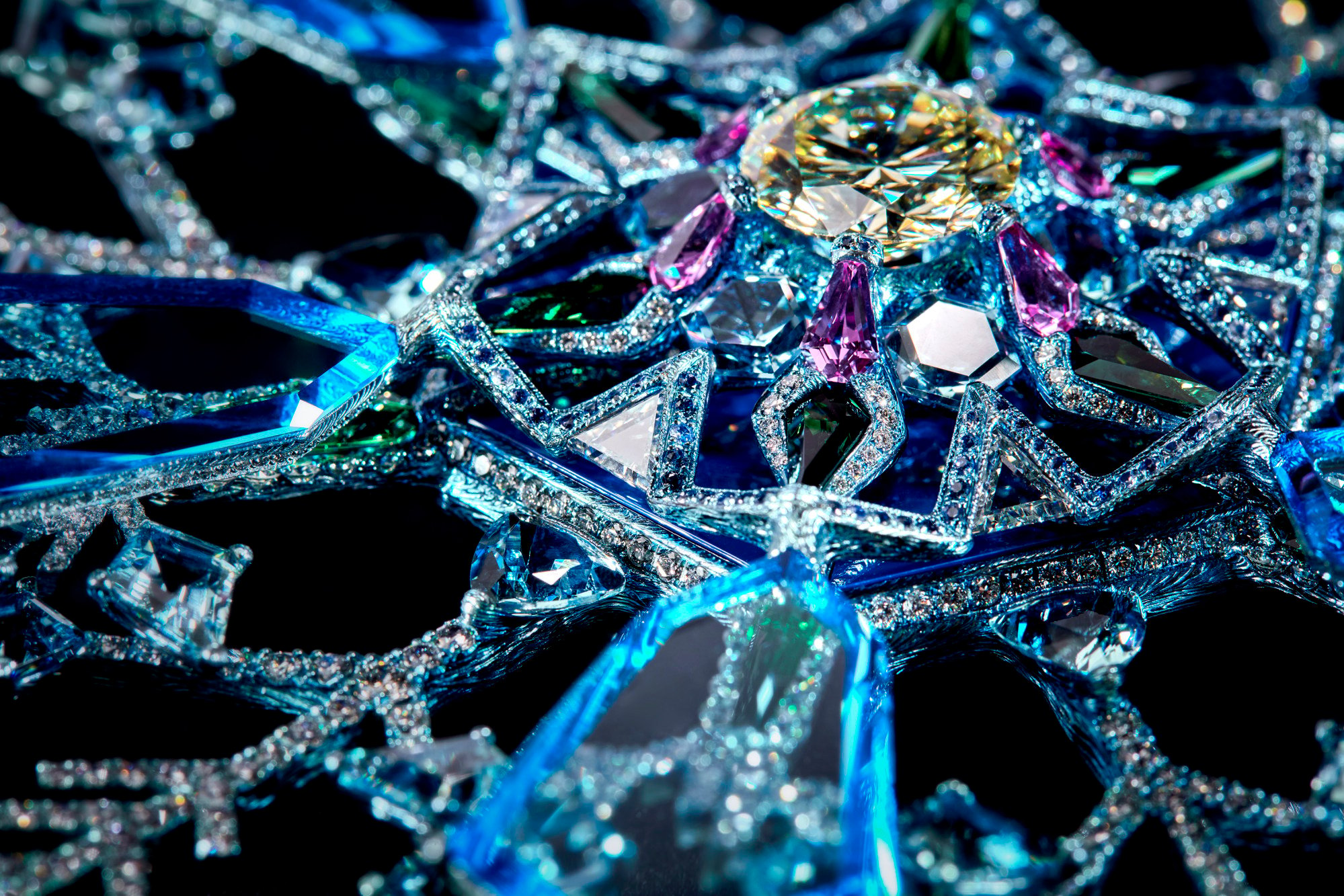 Carving a living
I begged my parents to lend me HK$1,000 and bought a machine so I could do my own carving, and two pieces of malachite, and set myself up on a folding table in the fire escape of our building.
I knocked on the doors of crafts shops hoping to sell my two carvings and faced many disappointments, but eventually I was able to sell them and buy more gemstones to make more carvings.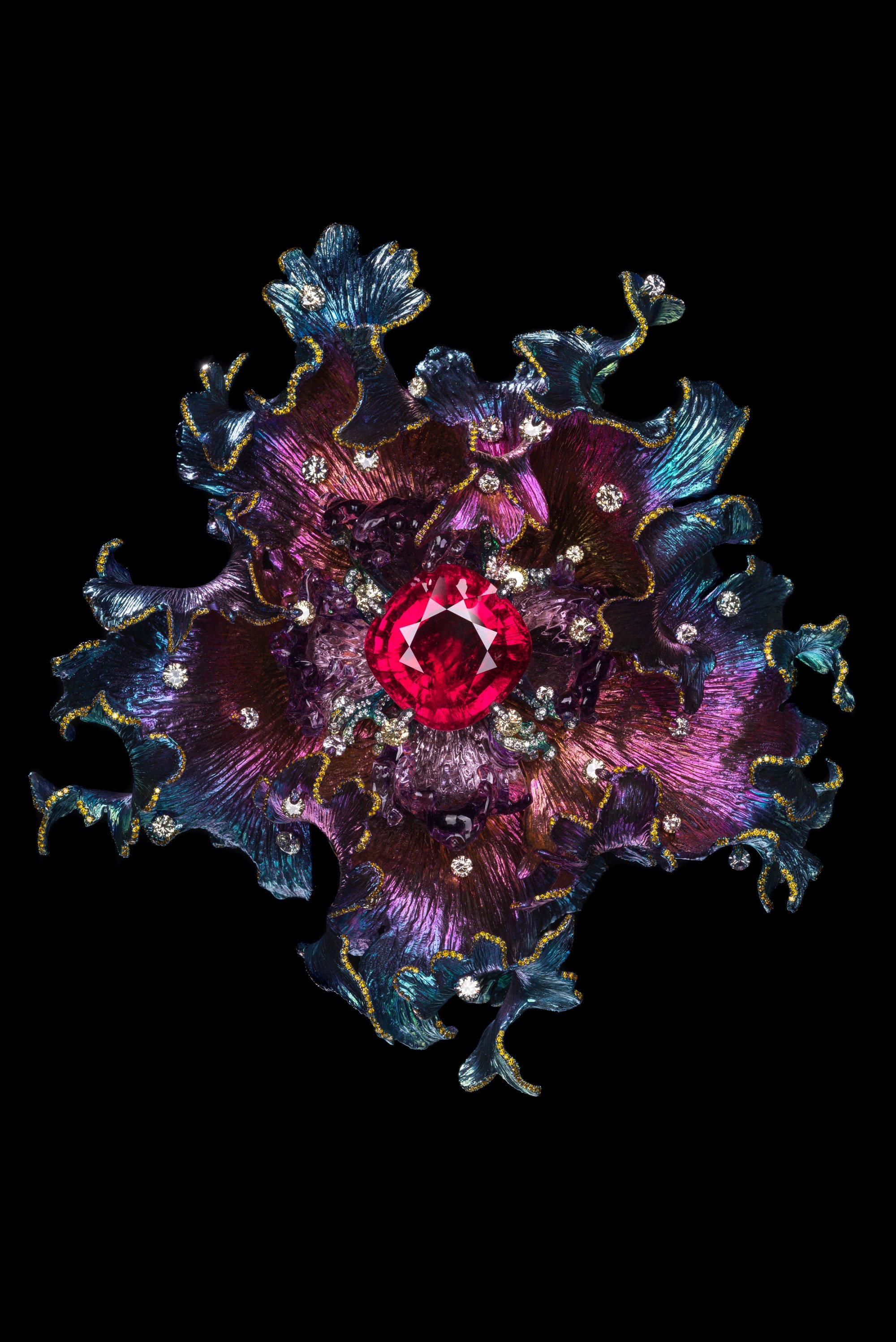 After a year in the fire escape, my parents realised I could make money and asked some people to leave the flat and so I could have a little room to work in at home. I worked there a few years and then moved to a building in To Kwa Wan, in Kowloon.
I was young and passionate and got disheartened when clients didn't like the work or asked for a refund. My parents controlled my finances and when I didn't make money or had to give a refund, they weren't happy.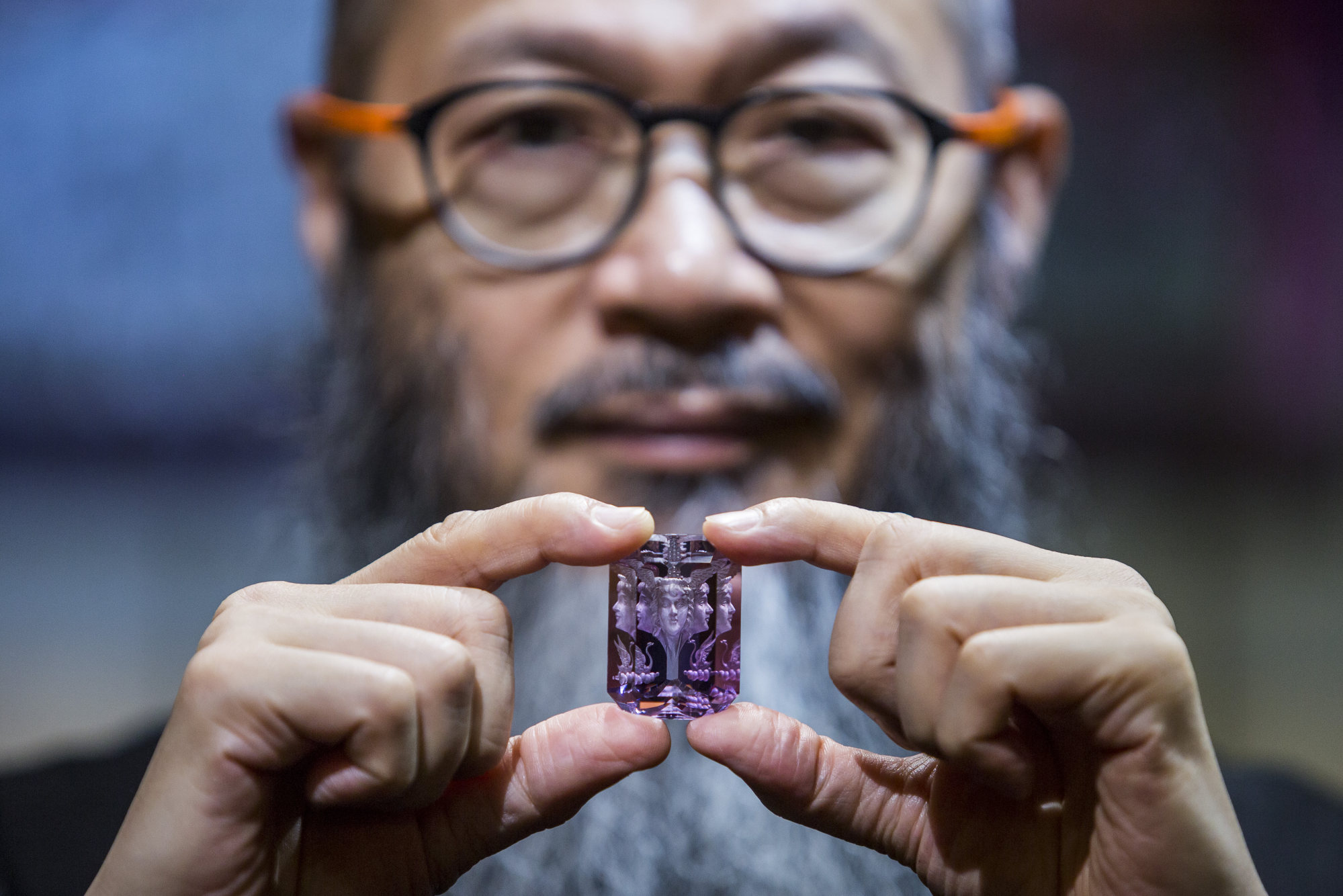 Hits and myths
Western sculptures have dramatic contours, it's all about light and shadow. I went to the Pok Fu Lam Road Cemetery on Hong Kong Island and marvelled at how the light shone on the sculptures of saints and angels. I became interested in Western mythology and created works that included Greek gods and figures from other myths.
My parents saw that if I carved Guanyin, peonies or other auspicious Chinese symbols, the works would sell quickly, but I wanted to carve new things and they felt I wasn't seizing the opportunity to make money and got upset with me.
I tried running away, but I had no money and got hungry and had to go home. However, in 1982, I made it and escaped to Macau.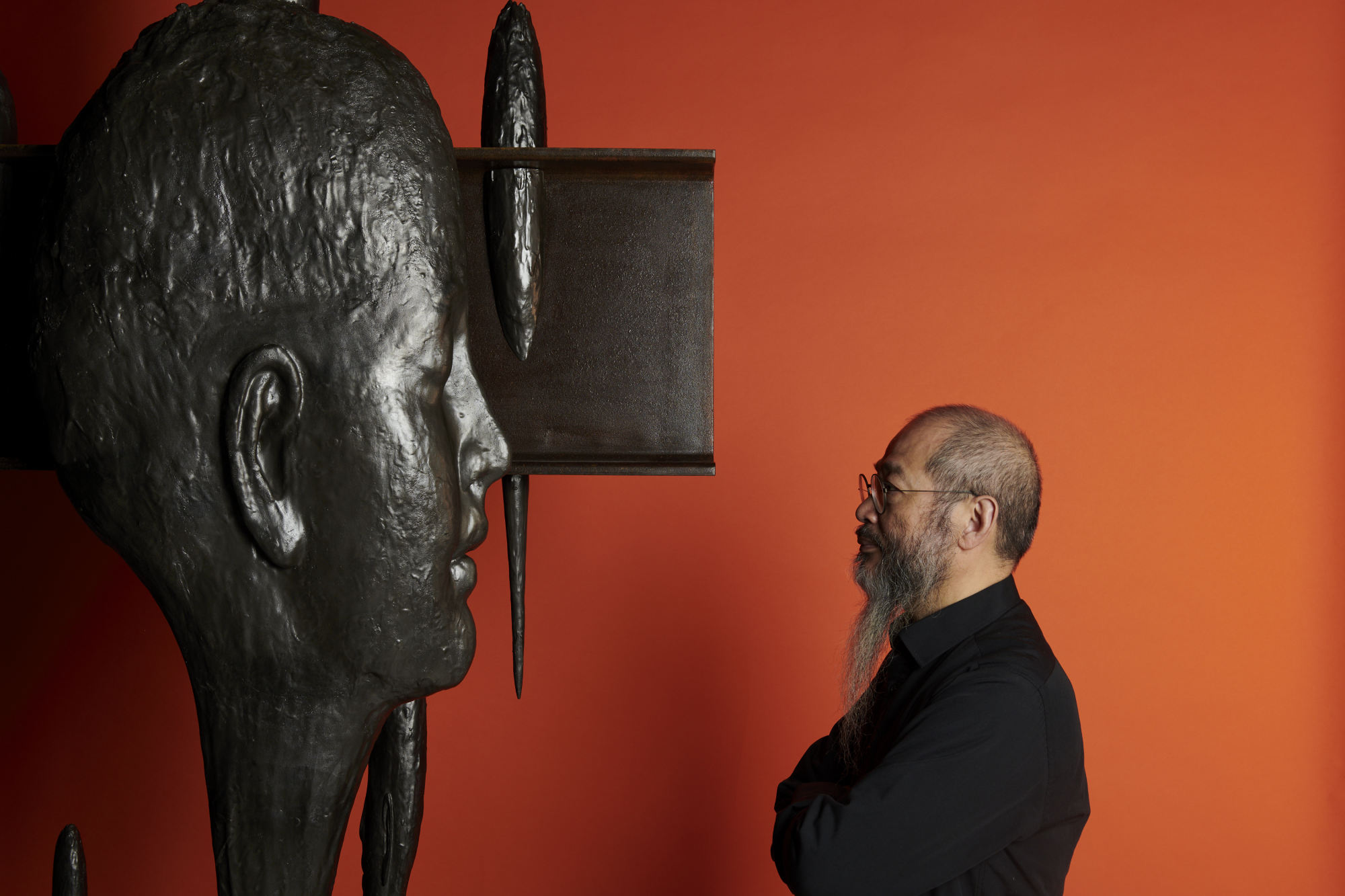 Cutting it fine
Life was difficult in Macau. My parents refused to give me the money I'd earned, and I could only afford to sleep on a rooftop, which was also where I worked. I was sleeping so badly and in such poor health that I suffered a stroke.
I was curious about other art forms and went to all sorts of exhibitions. At a photography exhibition, I saw a photo with multiple exposures, so that the face was repeated. I knew it was a darkroom technique and wondered if I could apply that to carving.
It was later, when I was learning about diamond carving, that I realised it might be possible. I experimented, taking a transparent gemstone and making precise calculations, and I realised that if I carved a dot on the back, from the front you could see five dots – the carving and four reflections.
This is what would become known as the "Wallace Cut", a technique based on reverse thinking to create multiple reflections. I worked on it for two years. I modified a dental drill so that I could use it underwater, which reduced the heat and tension on the gemstone. By 1987, after much practice, I'd perfected the Wallace Cut.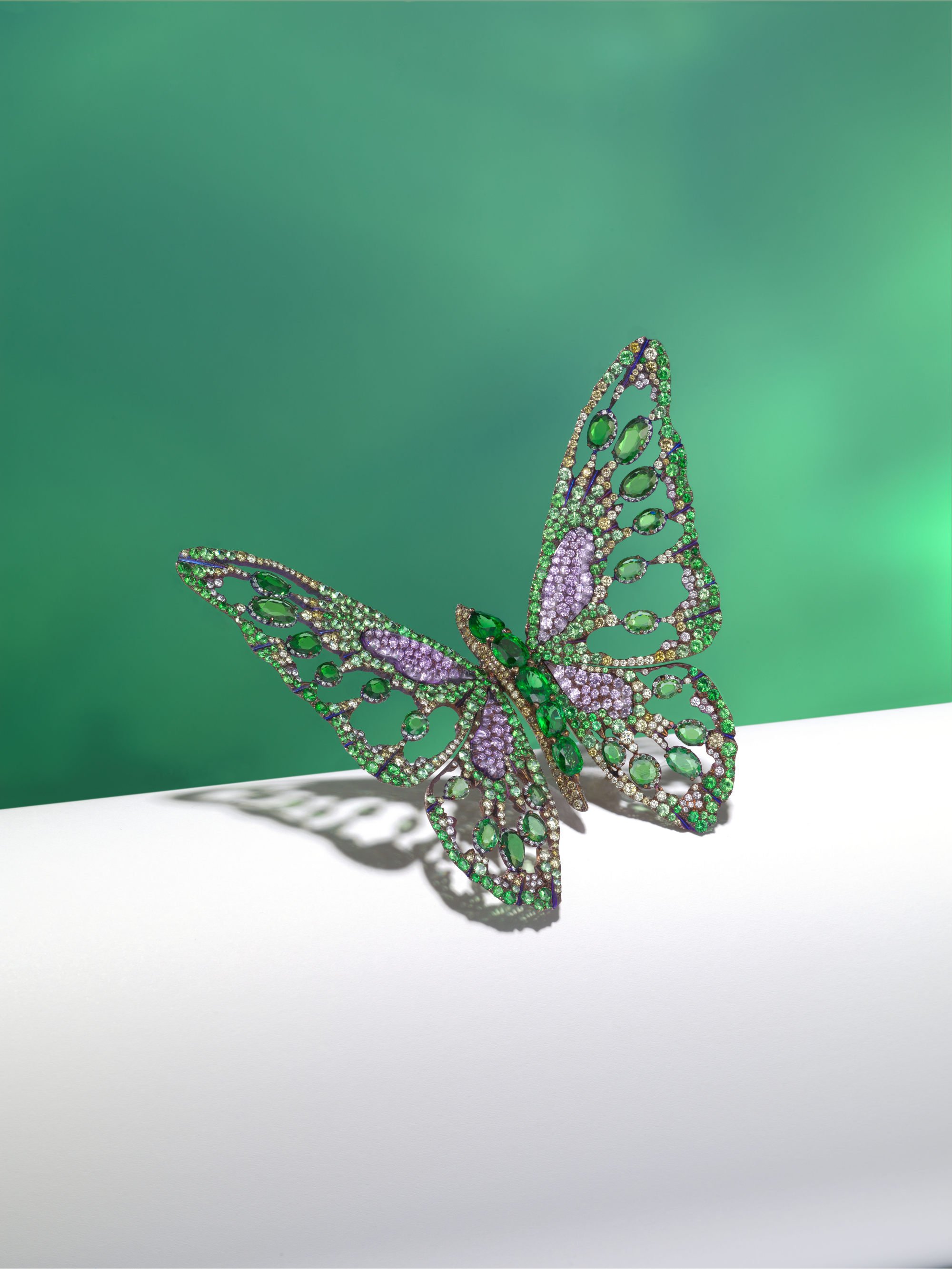 The man from Taiwan
Some people thought I was crazy to carve out a portion of a valuable gemstone, but I thought that to create something, destruction is sometimes unavoidable.
I met my wife in Macau. She was also a gemstone carver and we got married in 1985 and our son was born two years later. We got divorced when he was seven. I haven't remarried, I'm married to my creative process.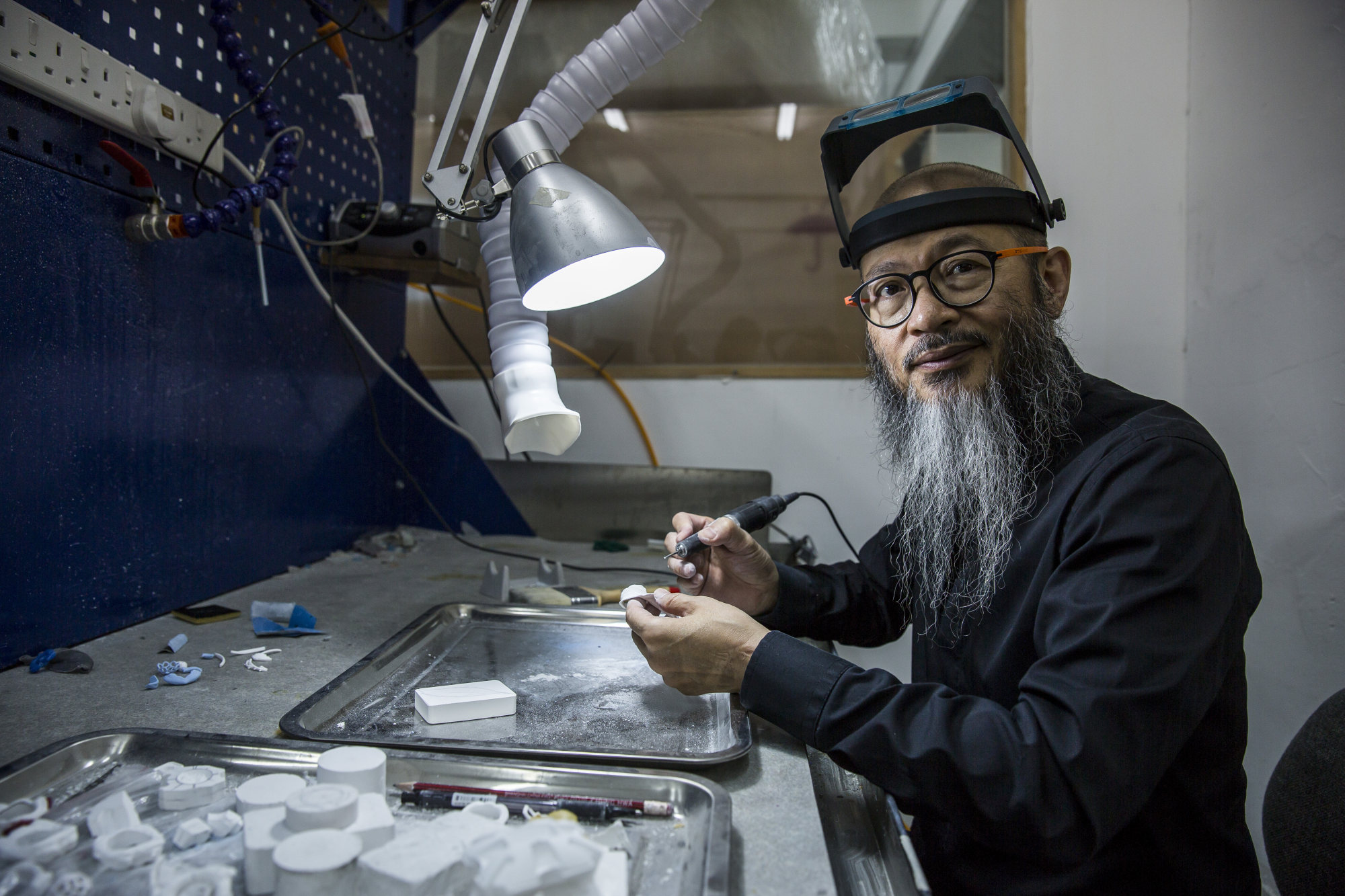 After having a few interviews about the Wallace Cut, I was invited to exhibit at the Baselworld Watch and Jewellery Show and the director of the Gemstone Museum in Idar-Oberstein, Germany, invited me to do a solo exhibition in 1992.
In the early 1990s, I opened a shop at The Peninsula hotel. A Taiwanese man, Yih Shun Lin, who'd come to see my work at Baselworld for four years but never said or bought anything, came into the shop and bought everything.
He told me I was an artist and should focus on creating, not selling. I shut the shop immediately – I had nothing left to sell – and focused on creating. The Taiwanese man became my biggest collector.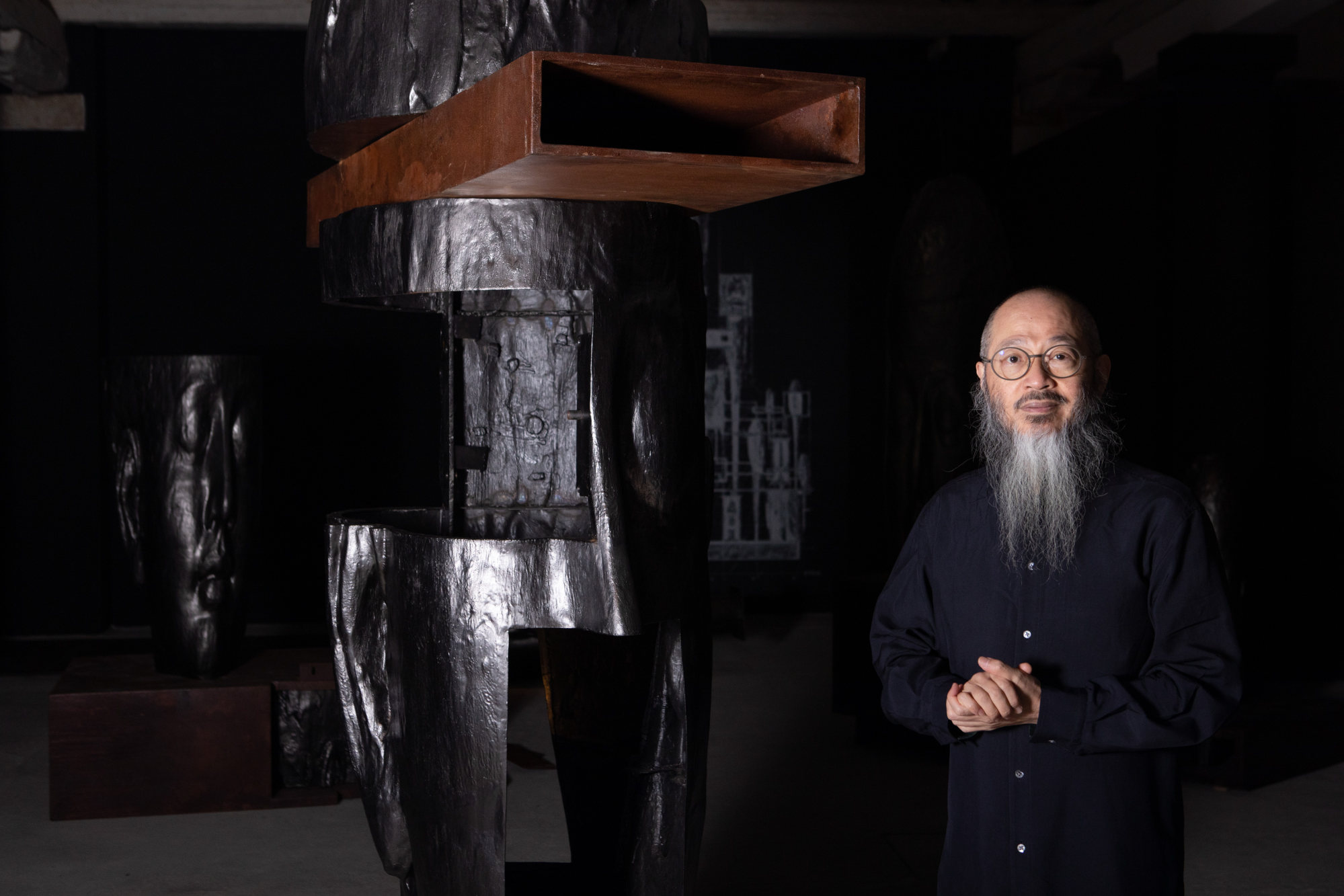 Age of enlightenment
Lin was a devoted Buddhist and invited me to visit him in Taiwan. We became good friends, he was my mentor, and I started studying Buddhist scripts.
Lin asked me to create a stupa (a monument) to house Buddha's tooth, which Sri Lanka had given to Taiwan. I spent an intense two years and seven months working on the project, a metre-high shrine in gold, diamonds and rubies. Because it was such a sacred project, I didn't take payment for the work.
As I was completing the stupa, I learned that Lin had cancer. I managed to finish it just before he passed away and after he died I felt I'd lost a very important person in my life so for six months I lived as a Zen monk, giving away my belongings and spending time meditating and fasting.
It was a period of enlightenment, I felt close to nature, as if my senses were heightened and I could understand the birds and the flowers. When I meditated, I felt the power of light coming from between my eyebrows.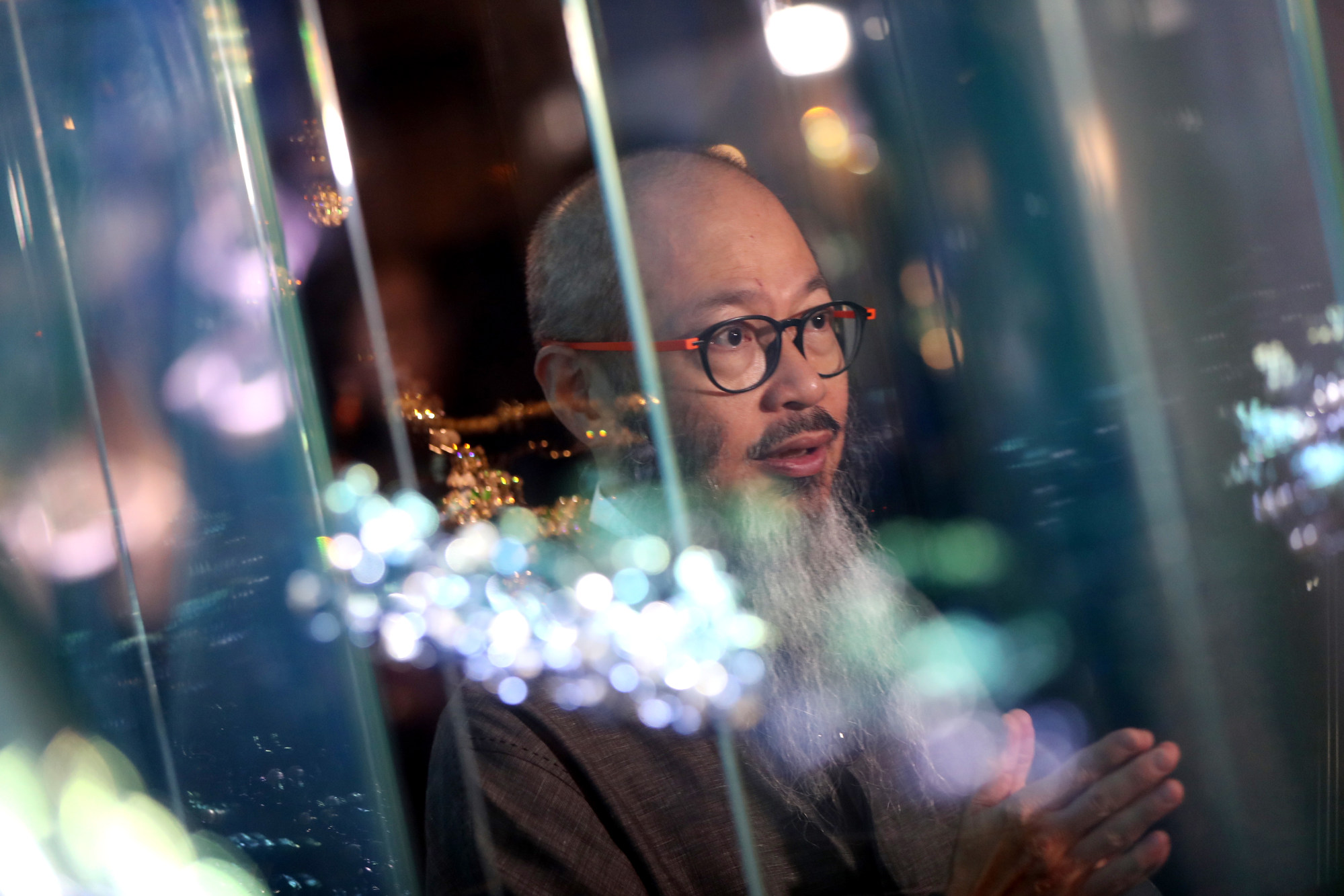 Let there be light
In 2000, I started to create jewellery art, working with titanium and jade. Light for me is a big topic, I see it as outer light – the light you need to see your stones and cut them – and inner light – the light that guides you and shows you your path. These days I'm working on large-scale sculptures, up to 11 metres (36 feet) high.
I reconciled with my parents, I know they acted as they did because they were concerned with putting food on the table. I was close to my sister until she passed away in 2012.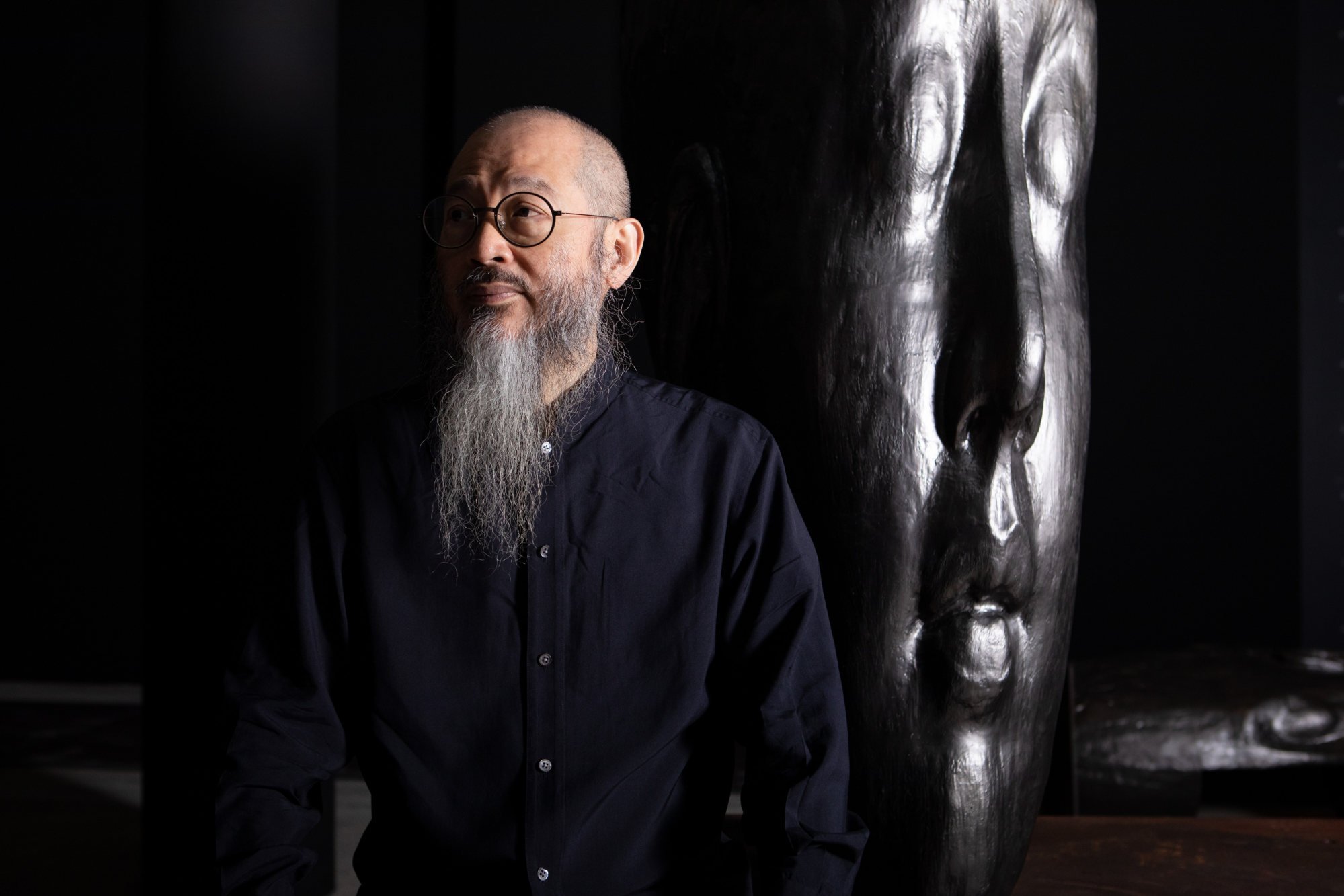 Ever since I started carving as a teenager, I have nurtured the relationship between myself and my materials. My creative process is my way of understanding the world and answering my questions about life and death.
I have many dreams of what I want to create, so with the limited time I have I create using materials that are long-lasting – stones, gemstone and titanium; it's my way of transcending time because these works will live on after me. Even if I have three breaths left, I will still be creating.