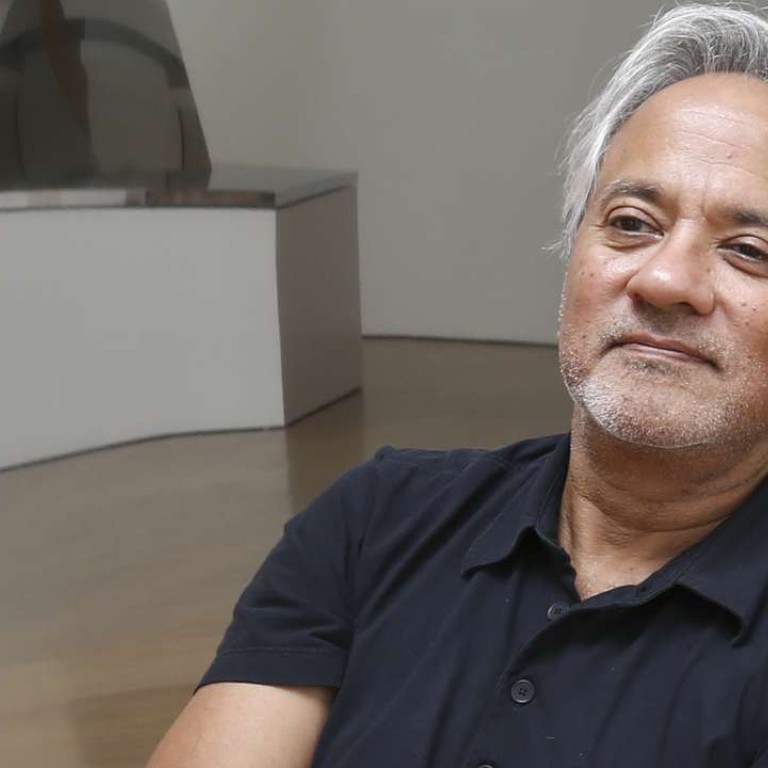 Opinion
The Collector
by John Batten
The Collector
by John Batten
Anish Kapoor: sculptures that explore space and mirrors
A rare exhibition of contemporary sculpture that intelligently crosses cultural and global boundaries
A five-day visit to Uluru (also known as Ayers Rock) in central Australia nearly 30 years ago gave British-Indian sculptor Anish Kapoor significant insight into his future work.
Interviewed for a retrospective at the Institute of Contemporary Art, in Boston, in 2008, Kapoor said the rock was a place that was "fully formed, pure, essential, unencumbered by making". As he walked the perimeter of the rock, "unbelievable things revealed themselves every day. I felt deeply connected with it, and with a kind of possible interpretation, a symbolic interpretation of the holes and the strips of stone that seem to be leaning against it."
It was there that he envisaged a "white form on a white wall", which resulted in his seminal work When I am Pregnant (1992). Kapoor constructed a rounded white protuberance emerging from a white wall. The bulge is undetectable when viewed from the front, but the contours of the form and surrounding space are revealed when seen at an angle.
Kapoor's exploration of infinite space, originally experienced in
When I am Pregnant
, has progressed and further permutations can now be seen in his striking exhibition at the Gagosian Gallery, in Central.
He continues to explore the notion of endless space, the void, as he pointed to in the Boston show, "The idea of place has always been very important to my work. A place that is, in a sense, original. I mean, by the word original, to do with 'first', and I think that is to do with centring oneself – allowing a thing to occur specifically rather than in general. A lot of my works are about passage, about a passing through, and that necessitates a place."
The Gagosian's high-ceilinged, rectangu­lar gallery is a rarefied place. But the framed windows and muted, reflected natural light give great clarity and unadorned starkness to the exhibited sculptures, to be appreciated as individual pieces or as a synergetic group.
Splitting the gallery is Vertigo (2006), a standing slab of concave/convex stainless steel positioned in the middle of the exhi­bition. Its highly polished mirrored surface replicates feelings of vertigo: walking towards it gives an uncanny sense of magnified closeness and a temptation to fall into the work – or fall down.
Mirrors are seductive, and Kapoor's sculpture is a narcissist's treat. The attraction of self-admiration, however, wanes. The viewer's attention "passes through", and up and down the gallery as Vertigo's sightlines give new angles of changing reflected light and space.
Mirror (Black)
(2014) is a large circular concave wall-mounted sculpture that best displays "the skin, the outermost covering" that is, Kapoor explains, "for me the place of action. It is the moment of contact between the thing and the world." This blackest-of-black objects silently sits on the wall and mirrors everything in its vision. The mirrored effect quickly oscillates between the precision of a hyperrealist painting and a close-up clip of psychedelic cinema.
The stainless-steel Right Angle Triangle Twist (2016) offers another reality that complements the mirror effect. "The spatial questions it seems to ask were not about deep space but about present space … and they seem to be very active, to be in various states of becoming," Kapoor says.
In contrast, sculptural classicism is at its most intriguing, accomplished best with
Stone Saddle
(2016). The rough-hewn alabaster outer edges differ in intended aesthetics to the sculpture's smooth, impossibly curved void: it is a gash of sex, or prosaically, a bottomless water trough. Less successful are the overtly curvaceous sexuality of
Hysterical Sexual
(2016), a fibreglass and gold edition, and the corner wall-mounted stainless-steel
Clip
(2016).
Anticipating the carved interior of Chamber 3 (2016), the artist's pencil drawing of the sculpture's intended shape can be seen on the alabaster exterior. Three inter­connected carved inner chambers are painted in gold leaf and exude an internally generated luminosity and symbolic richness that strongly contrast with the raw stone exterior.
Despite the big-studio fabrication of much of Kapoor's sculpture, the aesthetics of beauty, artistic intrigue and the endless possibilities of space make this a rare and essential exhibition in Hong Kong for anyone interested in contemporary sculpture that crosses global and cultural boundaries – and it is executed with exemplary intelligence.
Anish Kapoor's solo exhibition will be on display at the Gagosian Gallery, 7/F, Pedder Building, 12 Pedder Street, Central, until November 5 .