Japanese artist Tomoo Gokita has often been quoted saying that he loves a cold beer. So it is surprising to hear him refuse one as we settle into a conversation (via a translator) at the McNamara Art Projects gallery, in Wong Chuk Hang.
"I had a late night. I went to an area with no foreigners – it was very strange," says Gokita, chirpy considering he's both sleep-deprived and just hours ahead of the opening of his first solo show in Hong Kong.
Titled "Hotel Paraiso", Gokita's exhibition (a collaboration with Tokyo's Taka Ishii Gallery) showcases 10 new works, all are in-your-face black-and-white collage-like paintings inspired by magazines (mostly Playboy) and photographs from the 1960s and 70s. People featured in the works are imaginary guests checked into the fictional Hotel Paraiso (in the 70s, Gokita visited a hotel of the same name in Mexico; he says the works are constructed from fragmented memories of that trip). The title is also a nod to the 1978 album Paraiso by Haruomi Hosono, who founded electronic music trio Yellow Magic Orchestra and rock band Happy End. Music is another passion: "I prefer to buy music records than art catalogues."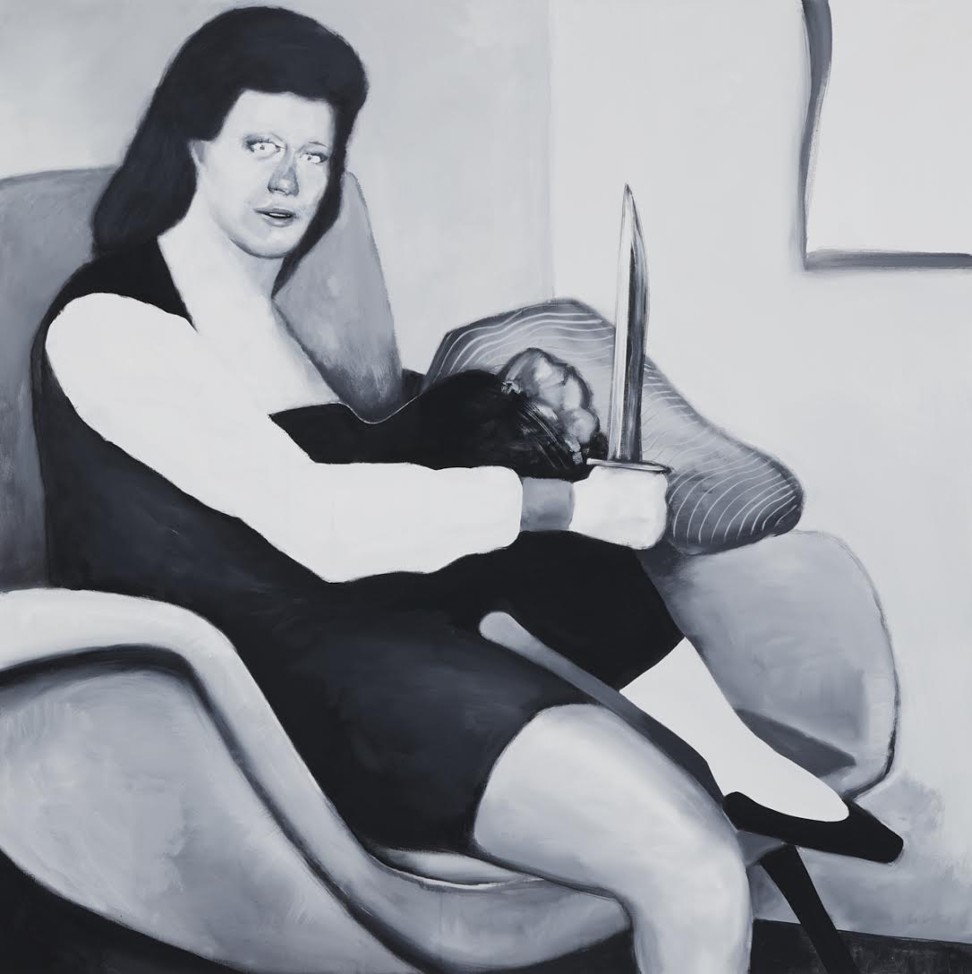 Wandering around the pure white gallery space, it's hard not to be chilled by the dark and twisted works. In Only Mama Knows, a creepy woman in a chair stares intently at the viewer, her hands clasping a knife. Gokita's "hotel in paradise" is more reminiscent of the Bates Motel from Alfred Hitchcock's 1960 film, Psycho.
Gokita also likes to distort his subjects' faces, in particular the eyes, as he does with creepy flair in the disturbing Family Affair. In Play the Game, a whip-wielding woman in lingerie appears ready for a bondage session with a masked wrestler. Gokita's childhood dream was to be a professional wrestler, and he references the sport in many of his works.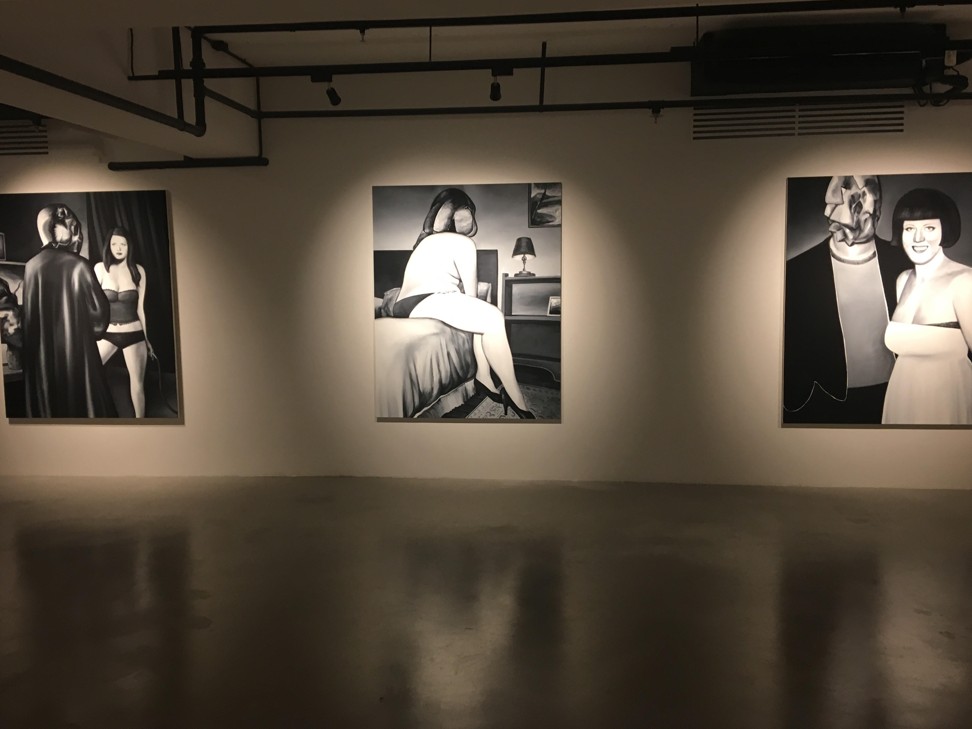 Born in Tokyo in 1969, Gokita started out as a graphic designer, a talent embedded in his DNA (in the 70s Gokita's father designed adverts for Playboy). He struggled to gain acceptance within the art establishment, purists turning up their noses at his illustrator roots (one can only imagine how those same snobs felt about his collaboration in 2016 with United States surf and streetwear brand Stussy).
Not that Gokita cares. Today he's in demand around the globe, staging shows in Berlin, New York and London. And he traces his success to a wise move in 2000, when publishers Little More released Lingerie Wrestling, 190 pages of his doodles and drawings (think beer, boobs, gorillas and gangsters) in a mix of charcoal, marker and ink. The art book, much like Gokita, is now a cult classic.
"Hotel Paraiso" runs until February 10 at the McNamara Art Projects, 202 The Factory, 1 Yip Fat Street, Wong Chuk Hang. Tuesday-Saturday, 10am-6pm.