If paradise is olive trees and vines accompanied by the chirping of cicadas in summer and log fires in winter, then Eve Mercier has found – and enhanced – it. Deep in the wine country of Provence, in south­eastern France, she has created a 21st-century take on a traditional Provençal two-storey house, where stark white Spanish pavers lead across the gravel to the 6,500 sq ft stone mas (manor), redolent of lavender.
A Parisian interior designer and art historian, Mercier set up the Insight School of Interior Design, in Chai Wan, in 2013, a year after she and her husband, Edouard, returned to live in Hong Kong following several years in Europe. While their work keeps them here, they spend Christmas, the summer and often Easter outside Aix-en-Provence with their four children and yellow labrador.
Mercier worked with Marseilles architect Renaud Tarrazi on the five-bedroom, five-bath­room house and her priorities were light and views, uncluttered space and spaciousness, har­mony with nature and generous rooms flowing into each other, designed for entertaining.
Couple create enviable Paris home away from home
Downstairs, the living area, kitchen and master bedroom give onto the terrace. Also on this level is a small library that leads to a den-like television room. The children's and guest rooms are upstairs.
Light circulates and half-landings add to a house that is ageless and easy to get around, but full of small, delightful surprises: steps and staircases seguing from wide to narrow and back to wide again; and views from horizontal windows and round portholes. Inspiration, she says, came from bright, airy houses in Australia, the Aman Hotels in Phuket and Bali, and, naturally, Provence itself.
Planning for the house, on the site of an old barn in the family vineyard, began in 2001 and construction took three years. The family was living in London and Geneva then and Mercier flew over every week to supervise the work.
A Hong Kong creative couple's 1920s holiday home in Australia
"Workmen in France take their time but are good at what they do," she says, adding that overseeing the project was not without its challenges. "They don't have much respect for women, so it was hard to make them listen to me. And no one wants to take responsibility for anything or liaise with anyone else."
The greatest challenge, Mercier says, was the creation of a long fireplace wall as the focal point in the living room. For this she persuaded the celebrated ceramic-tile makers of Salernes, in Provence, to create a frieze of large tiles for her "in the manner of Matisse and Cocteau", and chose stone from the quarry in Saint-Martin-Belle-Roche, in Burgundy, for large square tiles in just the right caramel hue for the floor.
Colour was all important.
"Life is colourful and, in winter, here, you need warm colours," Mercier says.
Although noting that she advises her students not to be influenced by fashion or magazines, and to know from the outset what they want to achieve, she also acknowledges that designing can be a gamble: having almost everything custom made to her speci­fications – from her bed, to the cut stone, to the staircases – meant that some­times mis­takes were expensive. Her bathtubs were a case in point: they proved too long and impractical.
Dream Hong Kong weekend retreat blends modern and rustic seamlessly
A success, however, were the windows, including the portholes, which are deeply recessed and help keep the house cool in summer. Outside, the poles that almost always ruin views in the French countryside were taken down and the cables run underground.
And the kitchen turned out better than the Merciers had dared hope: adding to its sense of roominess are a built-in banquette and open shelving, which allows crockery and stemware to be easily accessible.
"It works whether you have help or are doing everything yourself," says Mercier, adding that the room fosters interaction. "The house is a way of life, not just four walls and a ceiling," she says.
Importantly, it encourages family get-togethers, including on the terrace, which functions as a second living room that runs the length of the house and affords glorious views of the countryside for miles around.
The Hong Kong home where every day feels like a holiday
Family and friends curl up on the sofas and armchairs on a 21st-century Provençalcalade, a deck of river stones set in cement, even in winter.
A few minutes away, along a path through trees and long grass, Mercier had built a 24-metre-by-four-metre swimming pool of polished, marbled slate-coloured stone, which reflects the light. Umbrella pines and medlars fringe the water on a border made of Iroko wood.
Because the Merciers regret not having more bedrooms, they are building a guest cottage nearby, again traditional on the outside and contemporary indoors, which should be finished before their next influx of guests. This time, eldest son Timothée, an architect, is involved in the planning and design.
"This is a home that is always full of extended family and friends," Mercier says. "It is a house that is meant for people."
---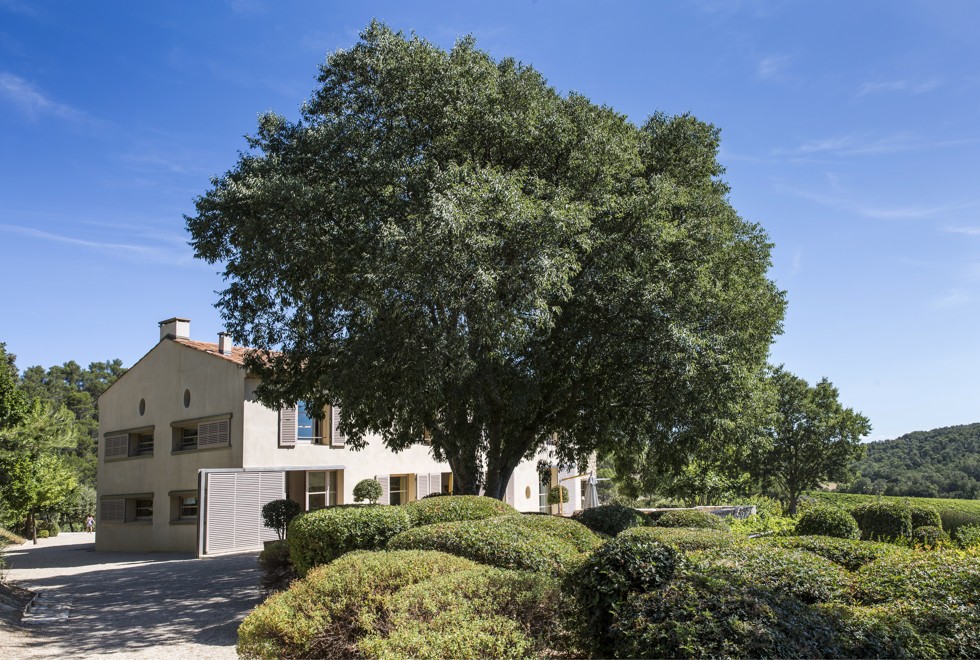 View of the house The house combines the aesthetics of a traditional mas (manor) with contemporary detailing.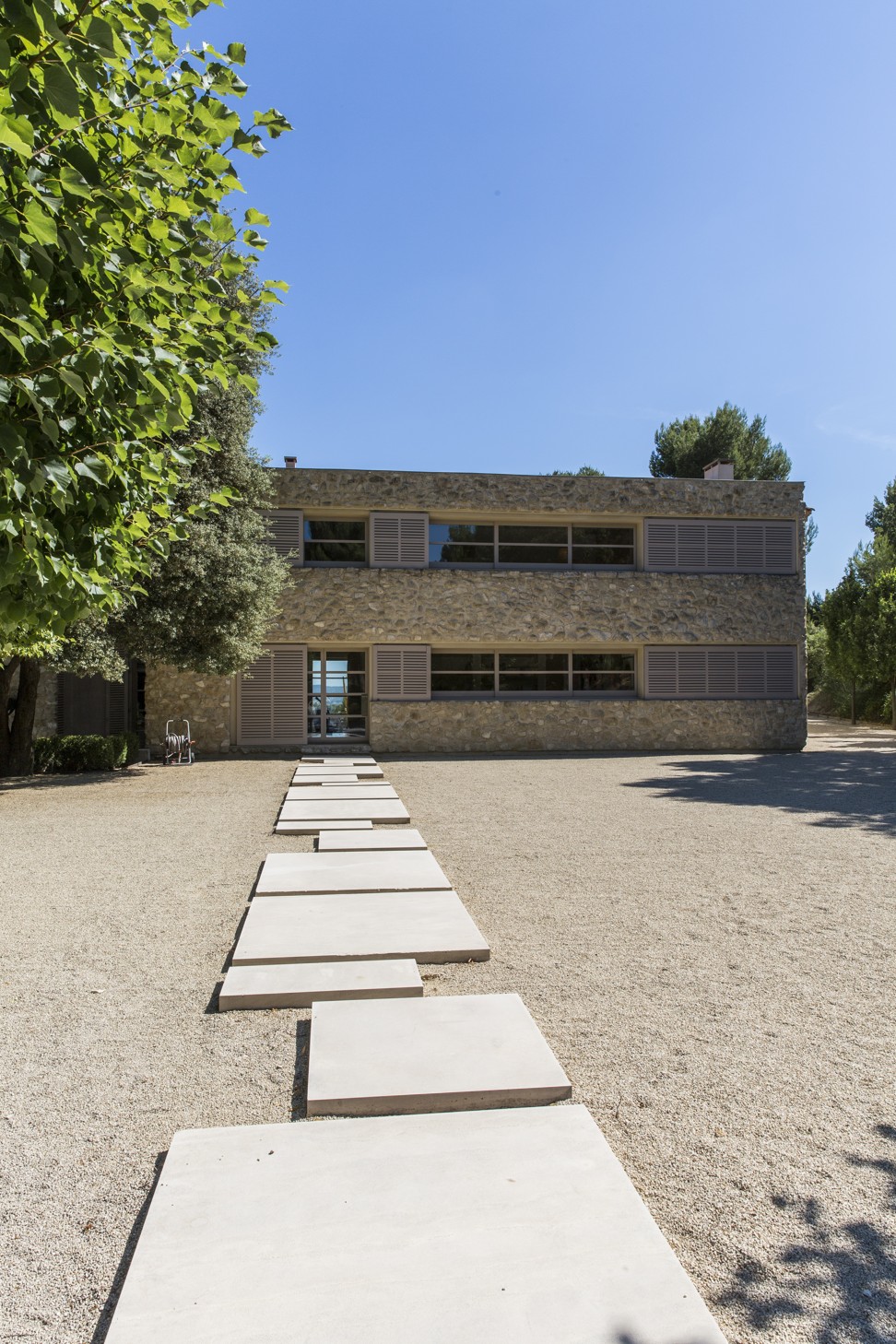 Entrance This is 21st-century Provence, but a hint of Cubism leads you over white Spanish limestone paving stones to the front door. Recessed windows avoid direct heat and glare while providing glimpses of the light through windows on the far side of the living room.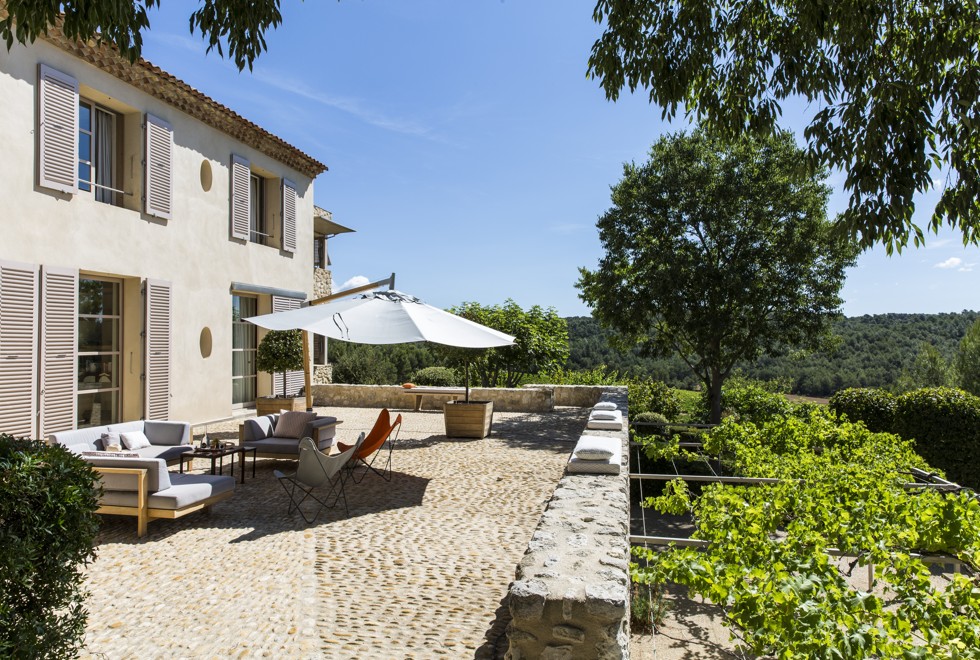 Terrace The terrace functions as an outdoor sitting room, with furniture from Tribù, in Belgium.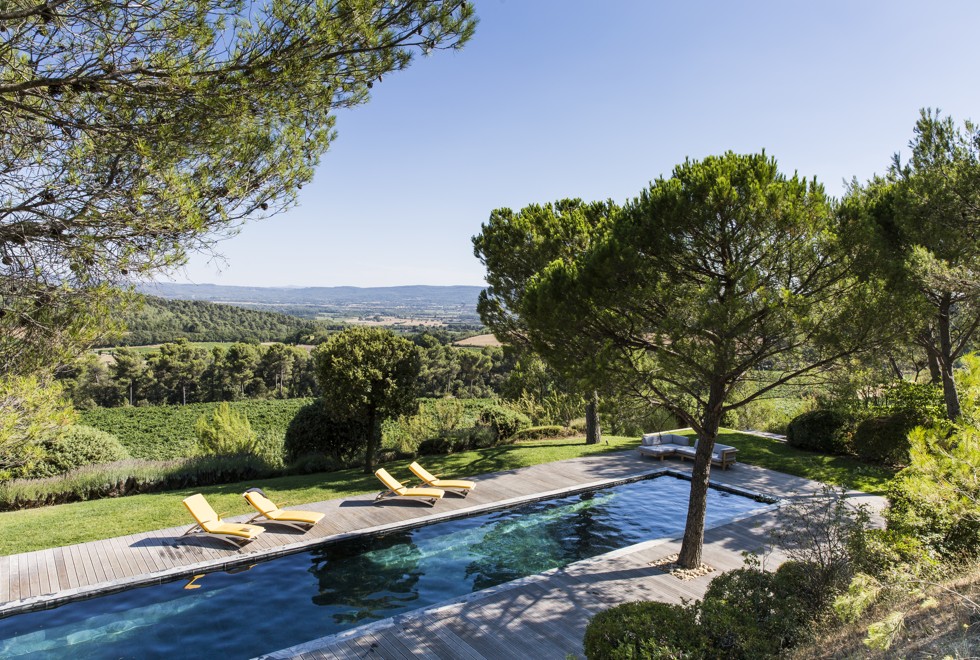 Pool The swimming pool is lined with polished, slate-coloured stone. The surround is in the same stone, but honed to minimise slipping and glare. The deck is Iroko wood. The chaises longues came from Tectona Paris.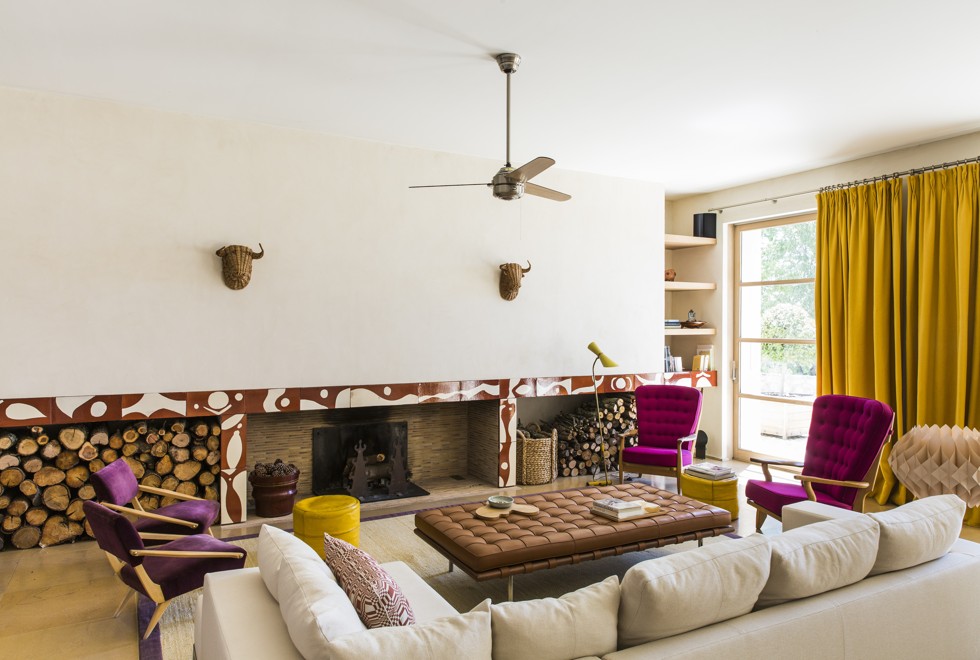 Living room The fireplace is the focal point of the living room, highlighted by handmade Provençal tiles that Mercier commissioned. Above it are two rattan bull heads from Arles, where the bullfighting tradition endures. A pair of 1960s Gio Ponti chairs, upholstered in purple, face another pair of similar vintage, in raspberry, by Guillerme et Chambon, all bought at the antiques market in L'Isle-sur-la-Sorgue. Also from that market were the 30s pouffes and 60s and 70s lamps, including the one with an origami-style shade beside the sofa. In front of the ecru Italian Flexform sofa is a 1929 Mies van der Rohe bench. Everything stands on a David Hicks rug, which was made to order. The large square caramel-coloured stone tiles were from the Saint-Martin-Belle-Roche quarry (carrieres-masson.fr), in Burgundy. Hunter ceiling fans are found in almost every room.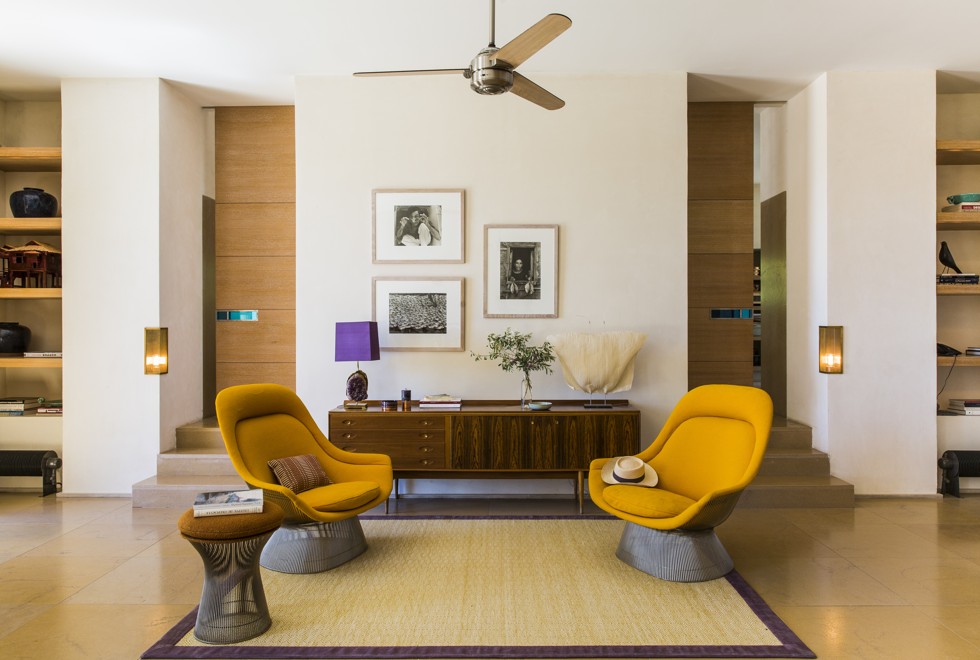 Living room detail A pair of Warren Platner armchairs and a stool covered in saffron fabric stand next to a low 1960s Brazilian sideboard bought at Alfie's Antique Market, in London. Three photographs by contemporary Mexican artist Graciela Iturbide hang above it. The lamp below has an amethyst geode base. In the corners of the walls by the two doors leading to the kitchen are lamps set in niches. The black cylinders under the shelves are radiators, designed for an old-fashioned industrial look.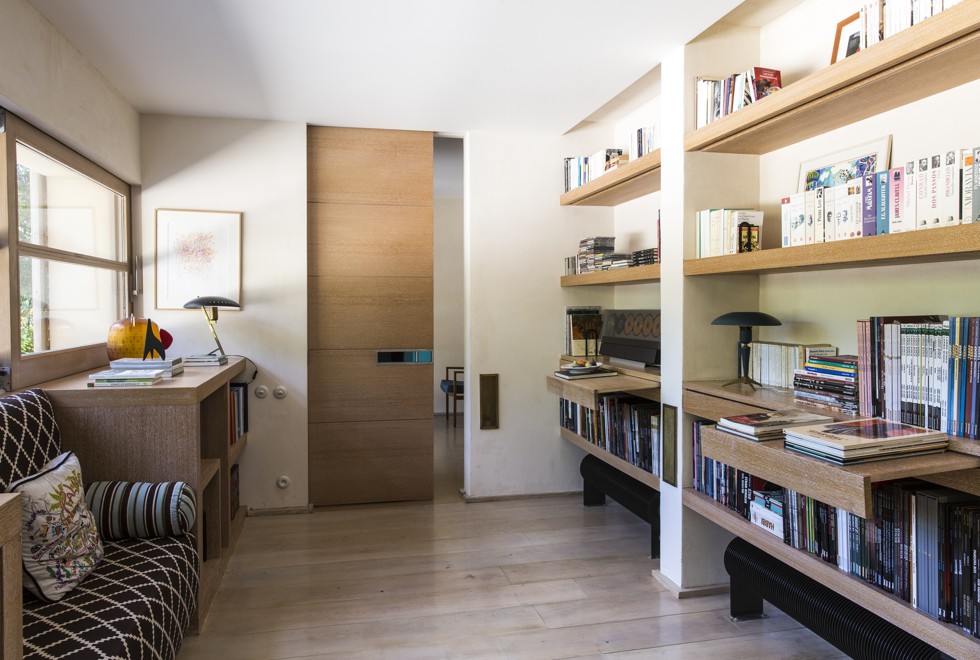 Library Between the hall and the living room is a small library with sliding doors, a desk and a built-in sofa. Mercier installed hip-high round porcelain dimmable light switches from Zangra.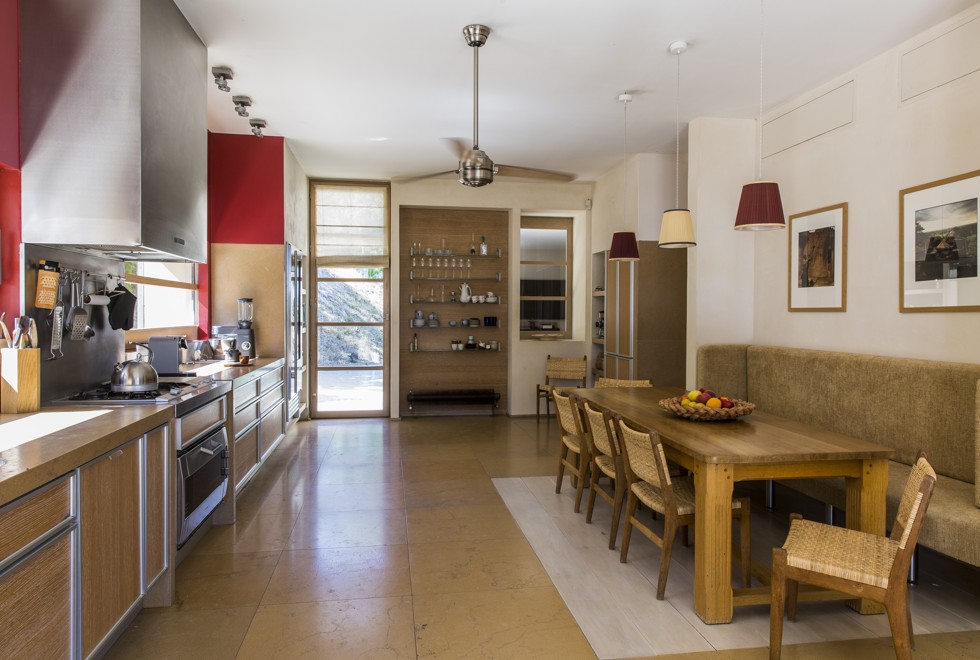 Kitchen The spacious kitchen on the far side of the living room and off the terrace comes with plenty of storage, including cabinets from Effeti Cucine. The appliances are from Gaggenau and the refrigerator is a Sub-Zero. The table came from The Conran Shop and Mercier found the set of Hans Wegner chairs in a Provençal flea market.
Master bedroom The inherited 18th-century Savonnerie rug is combined with a 20th-century Hans Wegner chair and pair of Pierre Frey stools. Mercier designed the wrought-iron bed, made by a craftsman in the next-door village. On the antique bedside tables she found in Zhuhai 20 years ago are coloured-glass, 19th-century lamps bought at Alfie's Antiques Market. Beneath the porthole window is a vintage Viennese Biedermeier table.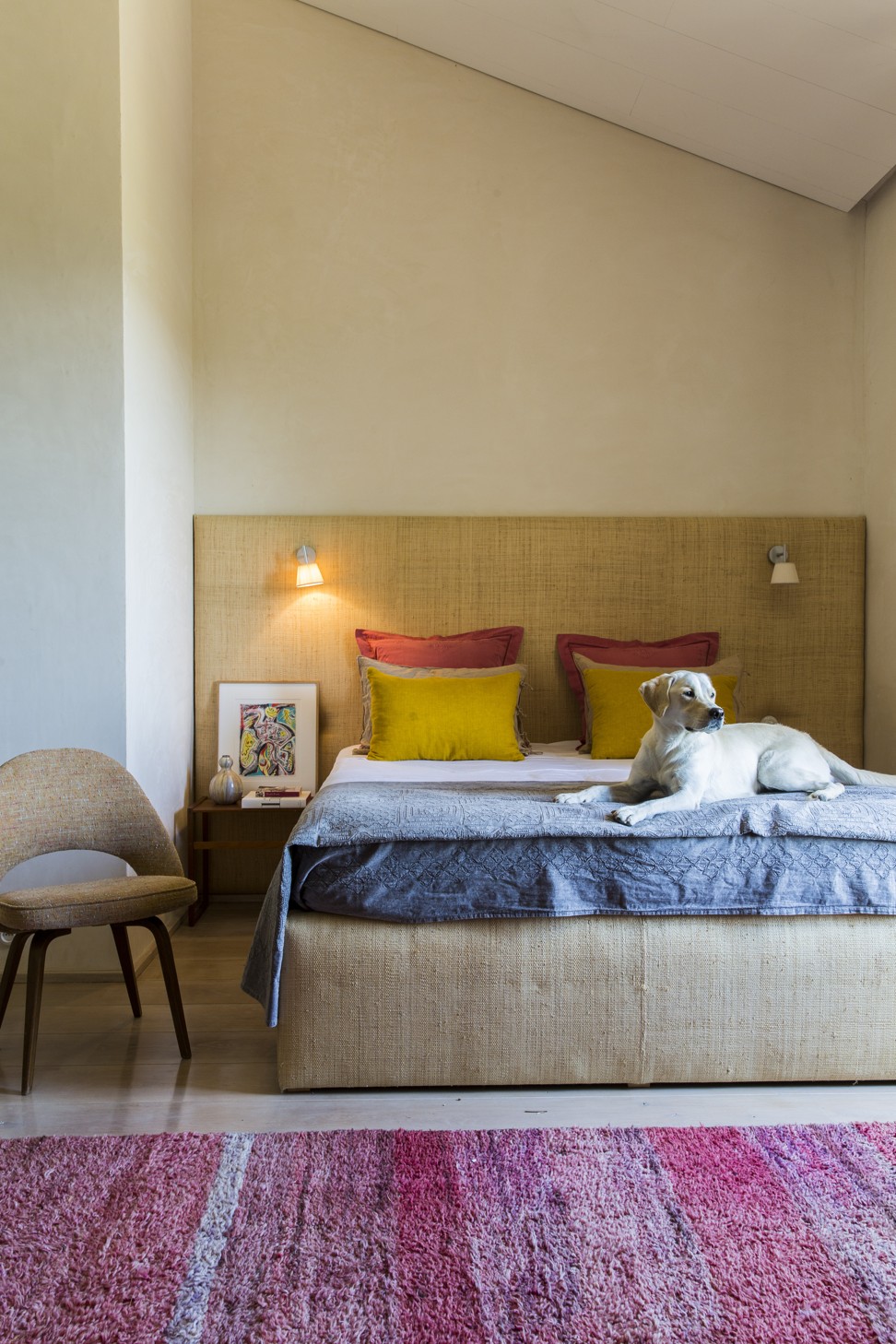 Guest bedroom The rug was bought in Morocco but similar ones, Eve Mercier says, are available from Francoise Gilles. The custom-designed raffia headboard fills the whole alcove. The chair was picked up at the L'Isle-sur-la-Sorgue market in Provence.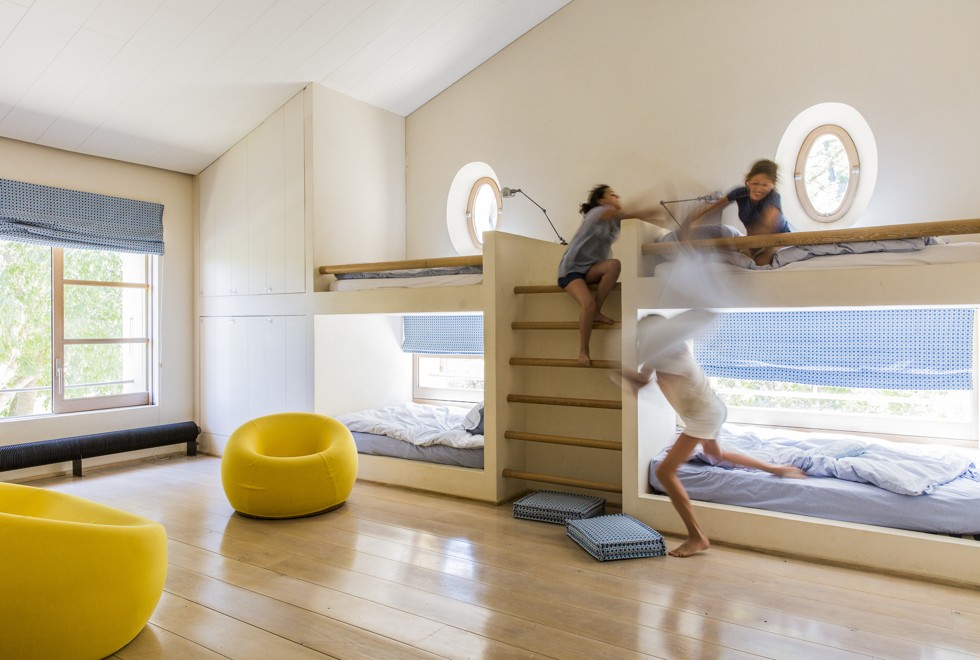 Children's bedroom Mercier conceptualised the bedroom, complete with portholes and a ladder. Each bed has its own window. She bought the yellow chairs, possibly B&B Italia Up1 armchairs, from the L'Isle-sur-la-Sorgue market.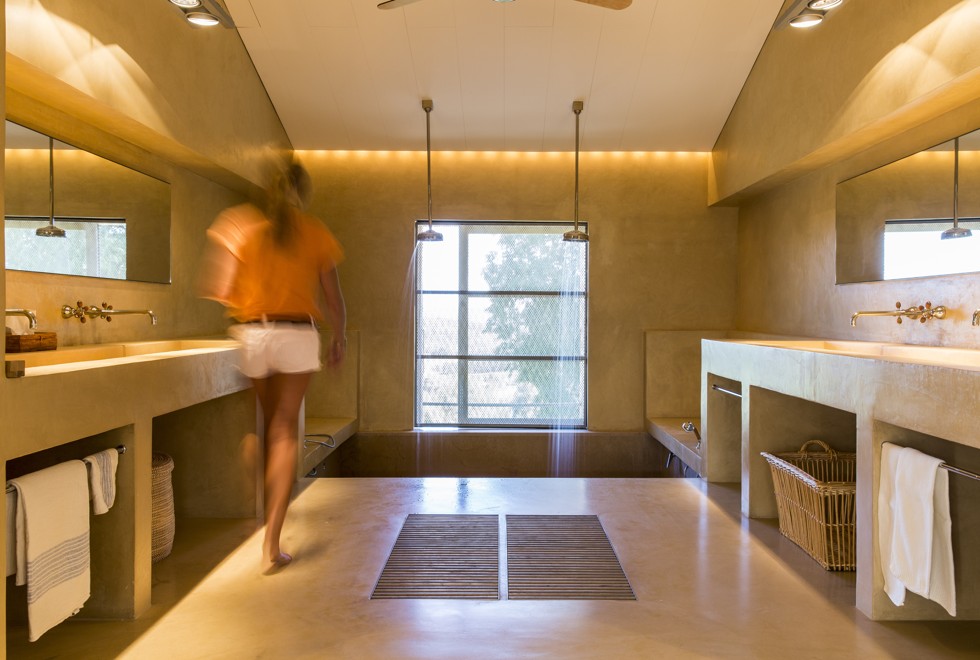 Children's bathroom The long, narrow sinks and oversized sunken bathtub were all custom made with the same caramel-coloured stone as was used for the sitting-room floor. The taps are by Vola.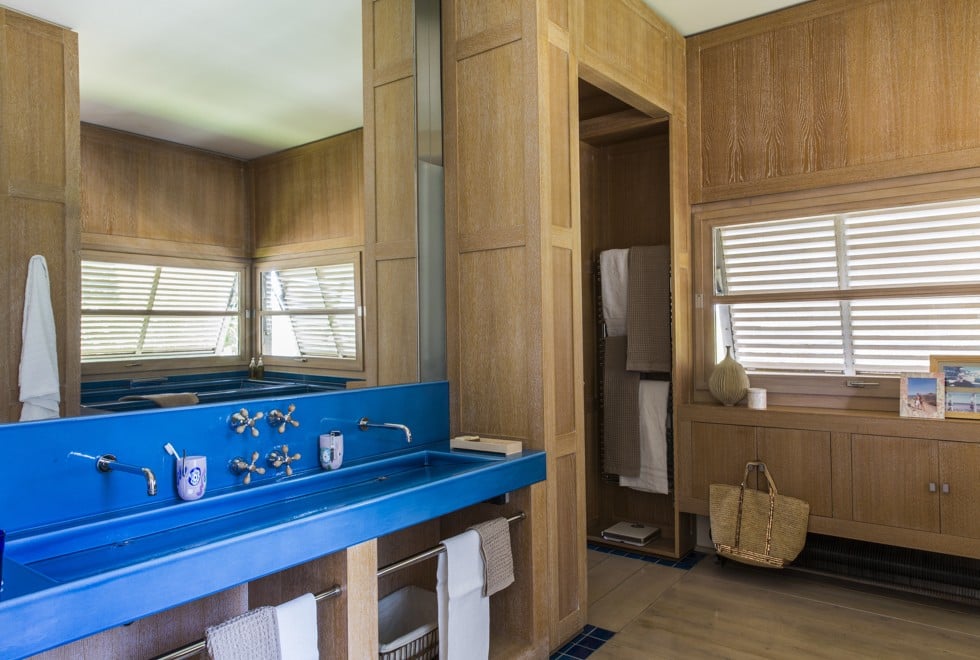 Bathroom The long, narrow, blue lava-stone sink in the master bathroom provides a surprising contrast to the pale oak and fitted cupboards.
TRIED + TESTED
Hip to be square Eve Mercier (insightschoolhk.com) gave her cupboards a designer touch with square, brightly coloured Italian tiles on their doors. The tiles, from Bisazza, lend a Mondrian effect.