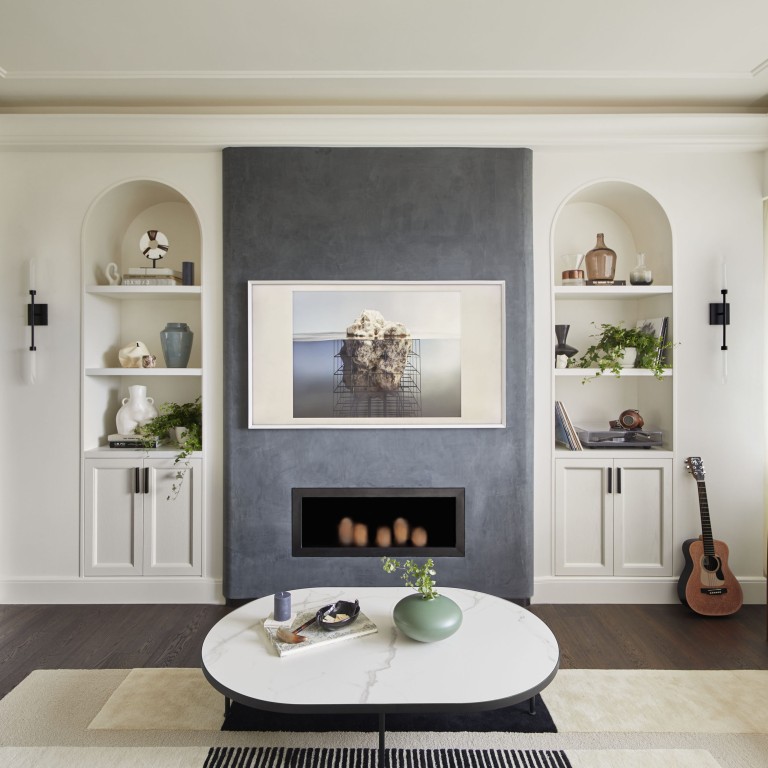 'Small and dated' Hong Kong apartment becomes spacious and timeless with clever use of lighting and white paint
Despite being 1,500 square feet, artist Betty C Fan's Tai Tam apartment felt cramped. The remedy lay in design technique, rather than spatial realignment
The whole home is painted in gallery white, which pares back the architectural detail, focusing attention on the artworks and sculptural furniture
When Betty C Fan said she wanted the refit of her new home to start with "a blank canvas", she meant it literally.
The Hong Kong-based multimedia artist was drawn to this Tai Tam flat because the windows framed views of the enveloping mountains – representing, to her artist's eye, "a live painting".
Fan wanted the interior decor to be consistent with that theme. Because the 21st-floor Parkview flat doubles as a creative space for the digital side of her work, it also had to be a place of inspiration.
Despite being 1,500 square feet (140 square metres), the flat felt "small and dated", says Fan, herself a trained architect. The remedy lay in design technique, rather than spatial realignment – although one of the three former bedrooms was made smaller to function as her digital workspace, the leftover floor space used to expand the dining room.
For instance, the entrance had a mirrored ceiling intended to compensate for its low height (due to the air-conditioning mechanism behind it).
This actually had the opposite effect, says Rowena Gonzales, principal of Liquid Interiors, which undertook the renovation of the flat.
"With a low ceiling, rather than focus on something reflective, a better solution is to paint it white," she says. "We also installed white-painted vertical wall trims to further enhance the illusion of height."
Lighting was pivotal, too. Liquid Interiors' senior designer Polina Volkonskaya, who led this project, refrained from using recessed down­lighting, shifting instead towards indirect lighting in the ceiling cove and for wall lights.
"Recessed downlighting is great for commercial spaces, but in a residential setting it is a harsher kind of light, creating more shadows and hot spots," says Gonzales.
The whole home is painted in gallery white, which pares back the architectural detail, focusing attention on the artworks and sculptural furniture. Texture is added in pops of natural elements such as wood, bronze and marble, and indoor plants.
To avoid overcrowding, Fan chose to hang just a few selected artworks – mostly her own.
"I have my own works in different mediums on the walls because I needed to document some of them," she says. "I will be replacing them with artworks from my artist friends. I value the memories and conversations with them, and their works give visual meaning to the relationship."
A smart television displaying a wider selection of digital art in rotation sits above the living room mantle, and below it, purely for effect, is a faux fireplace.
Liquid Interiors' healthy home design philosophy also resonated with Fan, whose architecture training had alerted her to the detrimental effects of poor indoor air quality.
Gonzales explains that the "new" smell we're accustomed to noticing after a renovation is in fact a toxic mixture of volatile organic compounds (VOCs) emitted from all sorts of materials used in construction.
Her strategy for achieving optimal indoor air quality begins with stopping as many chemicals as possible from entering the home in the first place. "A lot of people don't realise that VOCs are not just in the paint, but in the adhesives, the plywood backing, the furniture, and so on," Gonzales says.
During the construction process, contractors are required to submit test reports and video proof that they are meeting the specified criterion. Upon installation, each piece of furniture is tested with an air-quality monitor to check if any are hazardous and have to be removed. This is followed by a VOC "flush out" (see Tried + tested).
Another goal shared by client and designer was to reduce waste. Too often during home renovations, says Gonzales, perfectly usable appliances end up in landfills. In Hong Kong, she adds, charities will gladly take working appliances, although the donor does have to package the items and pay for the delivery.
Fan's kitchen equipment was donated to Crossroads Foundation, and friends were invited to take what else they could use. Wherever possible, existing materials such as plumbing and electrical fittings were reused, and a drinking water purifier was installed to curb plastic waste.
Words such as classic and timeless, wellness and mindfulness, peppered the design conversation throughout this renovation, which was completed six months ago. These concepts support Fan in her home and working life.
"It is essential for my art practice to constantly reject my existing beliefs and re-centre the information gathered throughout the day," she says. "This brings me clarity and answers as to why I do what I do.
"I see interior spaces as a medium for one's intrapersonal expression that may not typically be conveyed through spoken language. It becomes sustainable when I feel the mind and the surrounding space are connected."
Living room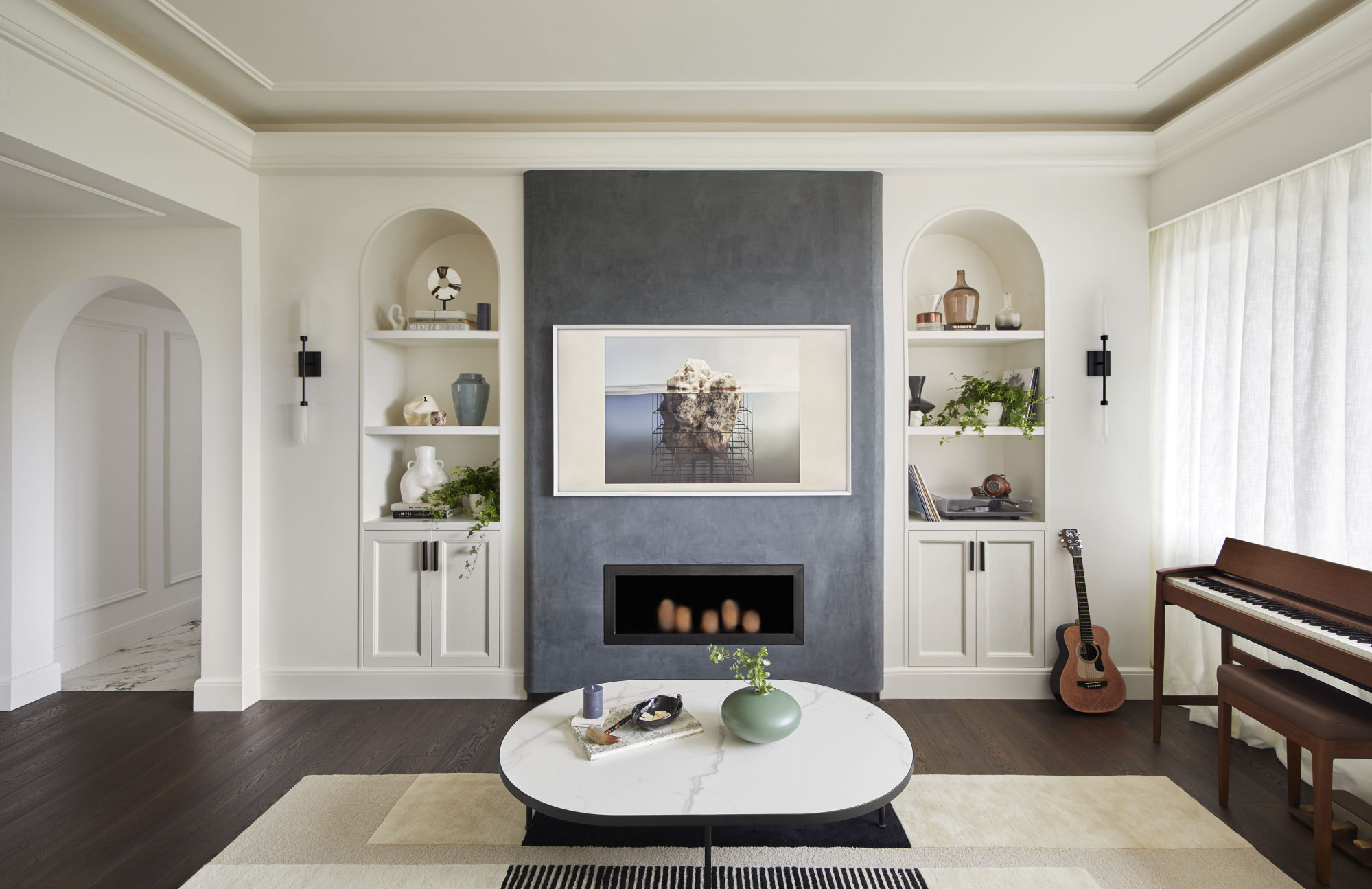 A feature wall designed by Liquid Interiors (liquid-interiors.com) and built by its general contractor holds a Samsung The Frame TV (samsung.com), which displays selected digital artworks on rotation, including Overlooked (2022), by Betty C Fan (bettycfan.com).
Below it, a glass-fronted faux fireplace conceals the audiovisual cabling where, unexpectedly, the blinking lights from the router and modem create a flickering flame effect.
The Miles coffee table came from Indigo Living (indigo-living.com) and the geometric custom rug from Rug Your Life (rugyourlife.com). The pair of Spur wall sconces were from Circa Lighting (circalighting.com).
Living room
Mimicking Fan's minimalist style in art, the living room is predominantly in black and white with pops of natural elements such as wood.
The central archway frames one of Fan's artworks, Blissful Preservative / Memories are deceiving (2022), a 3D digital render print on archival pigment paper. The large artwork on the left, Grey on Grey (2022), is a mixed media on canvas also by Fan.
The custom FSC engineered hardwood flooring was from Karlian International (karlianintl.com). The Edra sofa (edra.com) is dressed with cushions from TREE (tree.com.hk). The side table and lamp were bought years ago, and the plants and planter came from Flora Houses (florahouses.com).
Entrance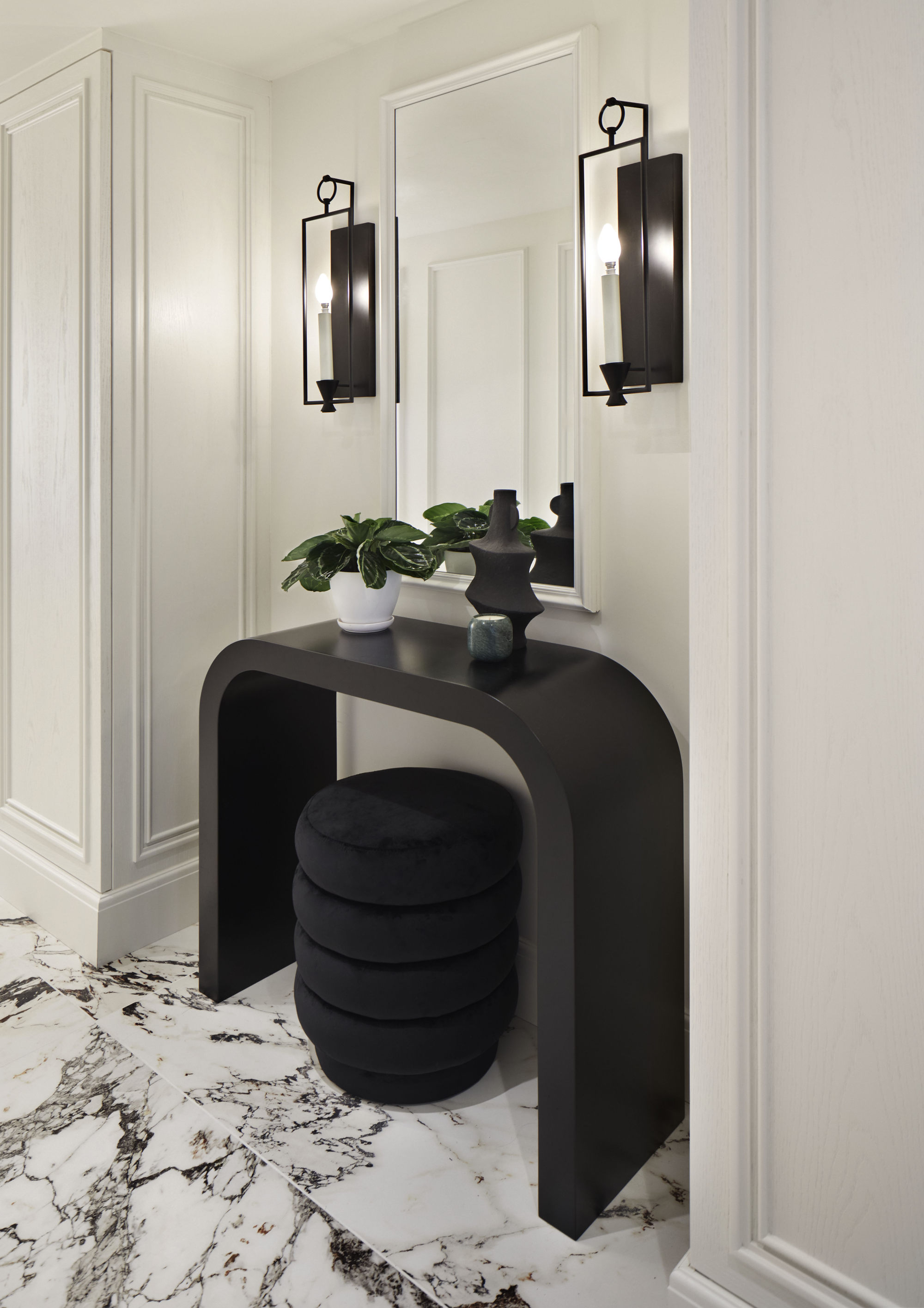 The console table in the foyer was custom designed and made by wood artist Thomas Williams (@thomaswilliamswood). The curved stool came from iDecorate (idecorateshop.com) and the Keystone sconces from Circa Lighting.
The Marazzi floor tiles were from Home Art (154 Lockhart Road, Wan Chai, tel: 2806 1333).
Dining room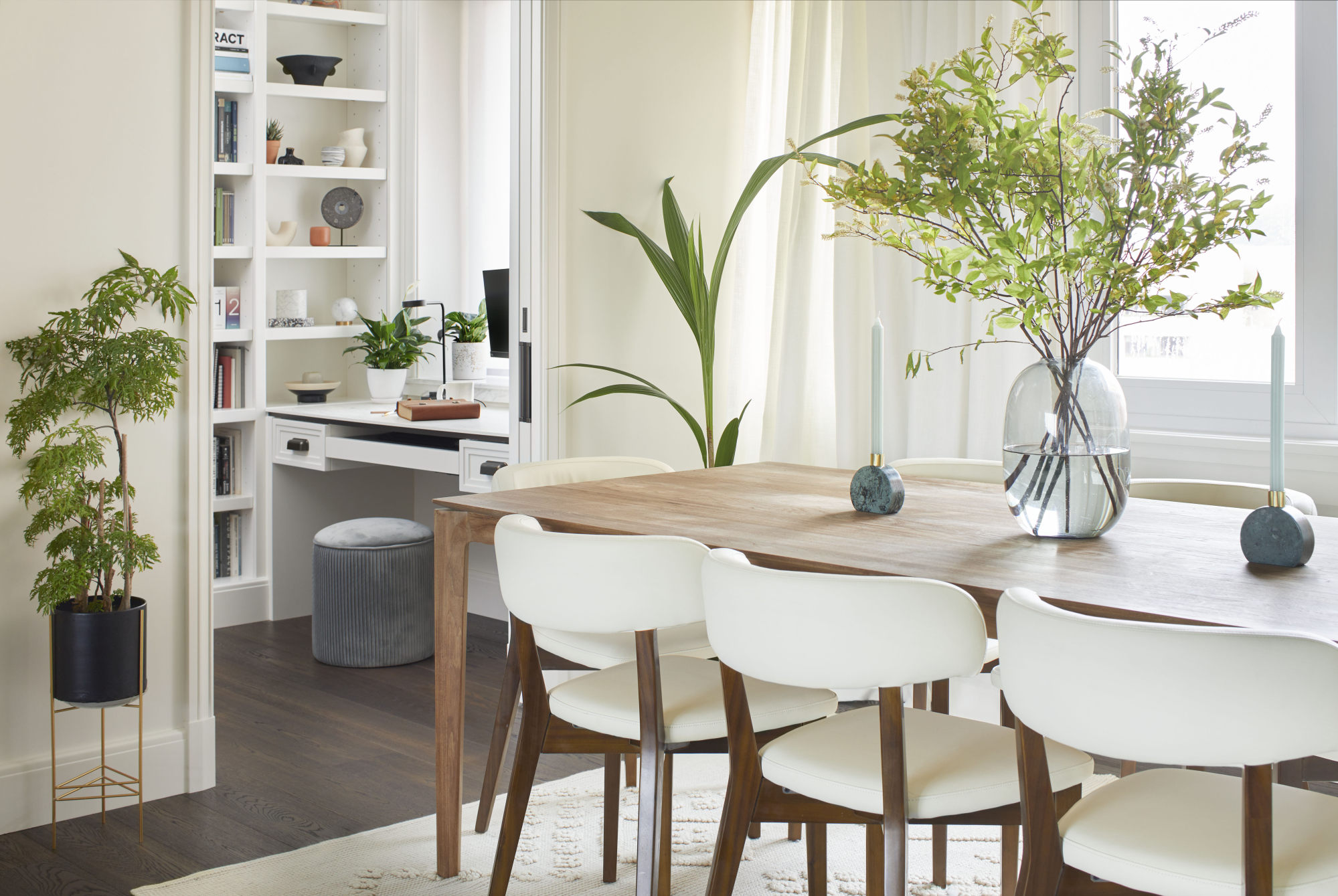 A Bok dining table from TREE is paired with teak dining chairs from E On Furniture (eonfurniture.com), candleholders from Indigo Living and plants from Flora Houses.
The floor rug is a custom design by Nayla Ventura of Rug Your Life. In Fan's creative workspace, the built-in desk, designed by Liquid Interiors, was made by contractor Maggie Lau (Master Land Professional, 12/F, New City Centre, 2 Lei Yue Mun Road. Kwun Tong, tel: 2318 0023).
The grey velvet pouf was from Overstock (overstock.com).
Kitchen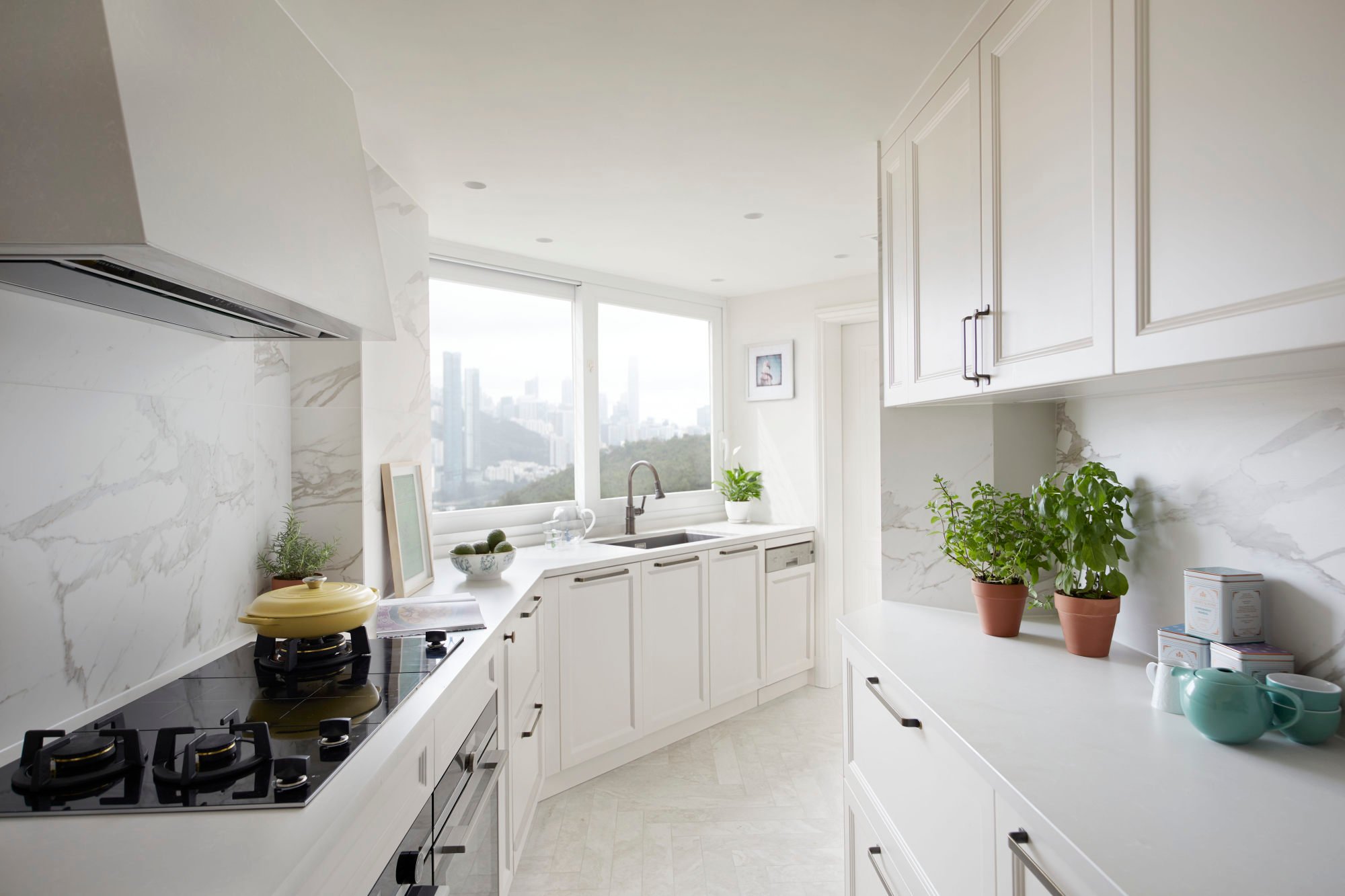 Designed by Liquid Interiors, and made by Royal Kitchen Design, (royalkitchendesign.com.hk), the kitchen is amply lit with natural light. The cabinetry in white matt lacquered wood is topped by Yukon suede finish Silestone, with appliances by Siemens, Whirlpool and Fisher & Paykel.
Main bedroom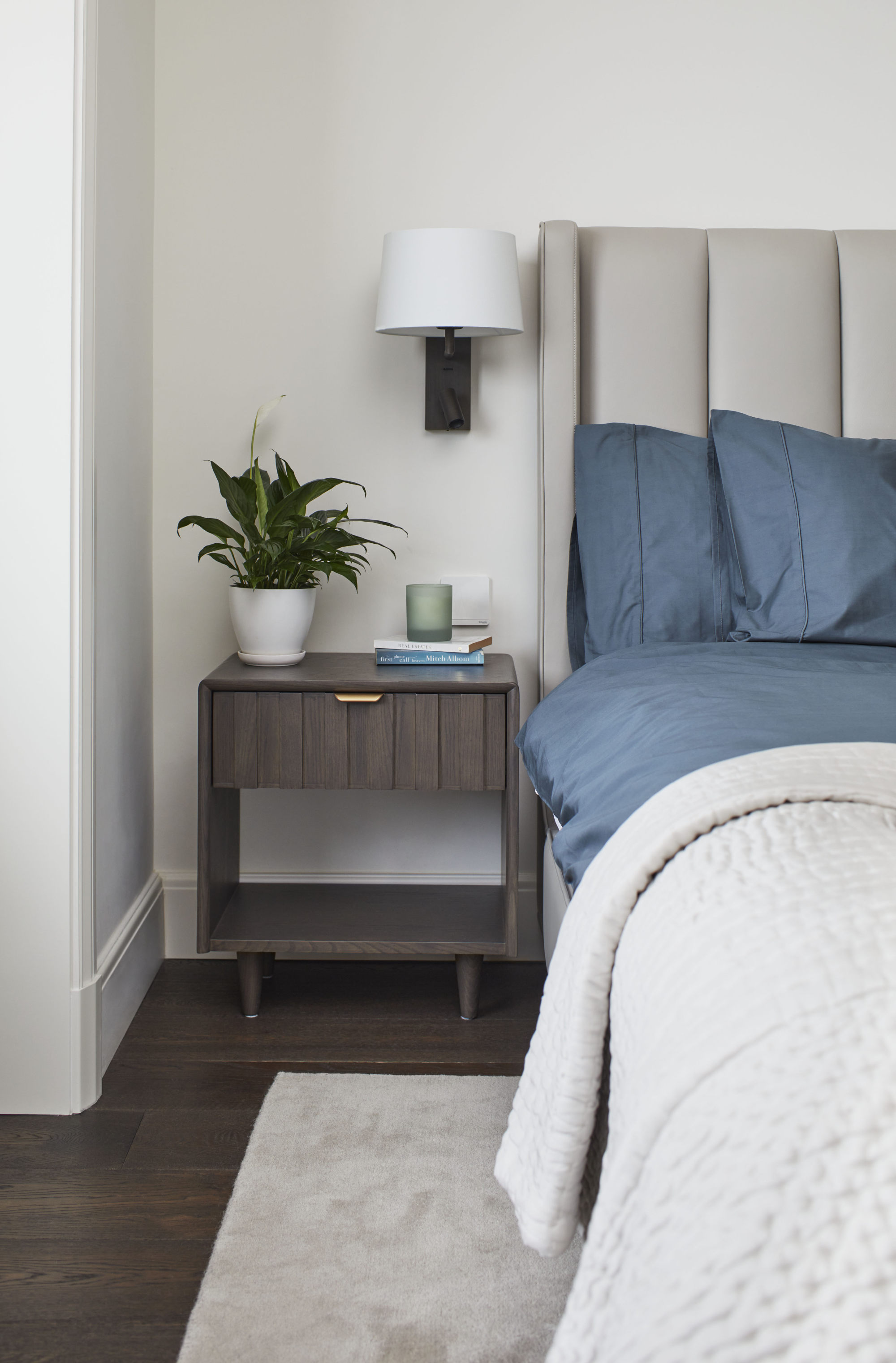 A leather upholstered Stripe bed from OVO Studio (ovo.com.hk) teams with a Linea nightstand from LuxDeco (luxdeco.com), The Telegraph Reader LED wall lights came from Astro Lighting (astrolighting.com), the bedding from Zara Home (zarahome.com) and the custom rug from Rug Your Life.
Tried + tested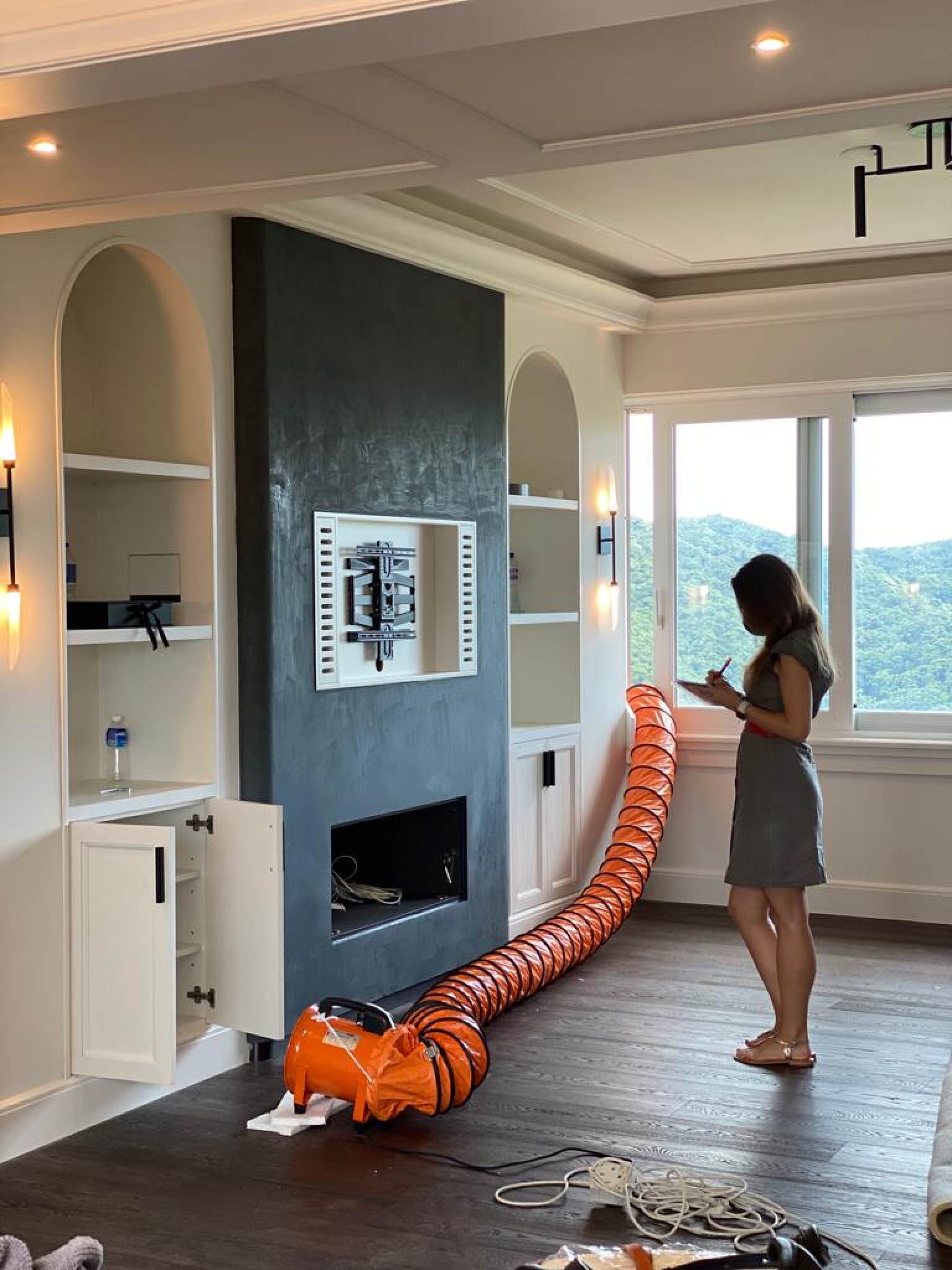 Ensuring a non-toxic home is part of Liquid Interiors' healthy home standards. This stage of the four-step process shows a volatile organic compounds (VOC) "flush out", in which high-powered fans bring in fresh outdoor air for 48 hours. After that a formaldehyde removal treatment is applied with a fogger to eliminate toxic contaminants, odours and inhibit VOC gases from wood furnishings, using a plant-based product from GreenSTORE (greenstore.hk).