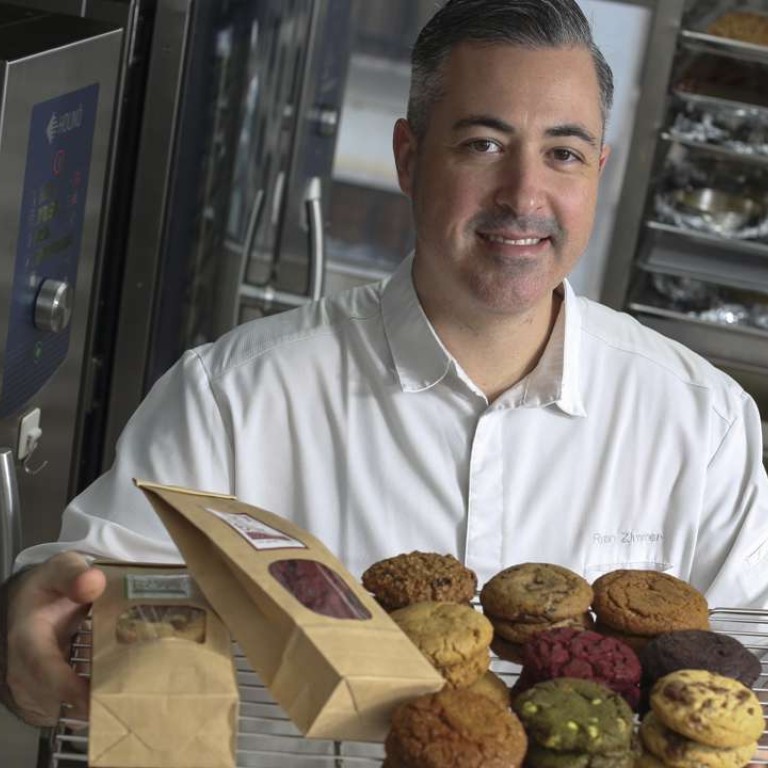 Why Cookieboy's Ryan Zimmer will never compromise on quality
If you're looking for chewy, generously sized American-style cookies, check out Cookieboy's delicious offerings. At HK$20 apiece, some Hongkongers might find it expensive, but Zimmer says that's all down to quality ingredients
Ryan Zimmer's first job was at a bakery café in Seattle, in the United States, scooping cookie dough onto baking sheets. He decided to make a career out of patisserie and went to hospitality school in Switzerland, where he met his wife, a Hongkonger who eventually decided to return home. After a decade or so in Hong Kong, Zimmer – who for a while was a pastry chef at the JW Marriott, in Admiralty – came full circle, and started a cookie business, Cookieboy, in late 2015.
His company specialises in American-style cookies, but "Cookieboy is not Mrs Fields", says Zimmer. "New customers associate the look of the cookie with Mrs Fields. That's probably the biggest misconception." However, he says, "I'd like to be as successful as Mrs Fields, don't get me wrong."
Originally a partner in Cookieboy, after a year in business, Zimmer went it alone and now works out of a 1,000-sq-ft space in Aberdeen.
"It's an industrial building, but it's not an industrial setting. You go downstairs, and it's residential. It's fantastic."
His chewy, generously sized cookies can be found in cafés, hotels and clubs around Hong Kong, as well as seasonal markets and on the Cookieboy website.
For most of his customers, Cookieboy acts as a dough supplier.
"Primarily for wholesale, we focus on frozen dough. The whole idea behind the frozen dough is that you bake it yourself every day, and you give your customers fresh cookies. Our cookies are best on the first day – they're good a few days later, too, but freshness is hard to beat. Everywhere else you go, it's cookies with a one-month shelf life, and that's not what we wanted to do.
"For an American-style cookie, it's got to be crispy on the outside and soft and chewy in the middle. There's got to be a balance of flavours, so you know what you're eating – there's no second guessing. If it's a chocolate-chip cookie, or a chocolate-chunk cookie, it's chocolate. If it's an oatmeal-raisin cookie, you've got to have raisins in every bite.
"Every ingredient is important. Even the flours we choose have a different outcome on the cookie. It's not about using the most expensive flour, it's about getting the texture you want. We mix our flours to create a different texture."
To those clients who have told him his prices are too high (the cookies sell for HK$20 apiece), he says, "It's good butter, it's good chocolate. I'm not going to start using margarine and compound chocolate – that's the line I won't cross; it wouldn't be Cookieboy."
Zimmer has recently begun supplying AnOther Sweet Place, a small cake shop in Central, with finished European-style sablé cookies, madeleines and whole cakes, and hopes to have an outlet for his hearty, American-style layer cakes one day, too.
He has "a million ideas, a million dreams", he says. "Hong Kong is a bit of a dreamkiller when it comes [to opening a shop]. How many cookies do I have to sell to pay the landlord? But you never know, when the opportunity presents itself ..."
He also hopes to export his cookie dough.
"Hong Kong is a small market, at the end of the day, and we'd like to see ourselves exporting, whether it's to China, Australia [or beyond]. It's all possible, but it's a whole other ball game. This year, we're going to work out how to get there.
"The obsession with cookies for me is still strong, and the goals I've set for myself and the company are nowhere near reached. So, until I fall over …"