"We've had shops there, there, there and here," says Antony Yu Kai-chiu, director and general manager of chilli-sauce maker Yu Kwen Yick, as he points out various shopfronts on Third Street, in Sai Ying Pun. Yu Kwen Yick has only strayed once from Third Street – and that was for a four-year stint on nearby Second Street.
"We've always been in Sai Ying Pun," says Yu. "We've been here since [his grand­father Yu Siu-kee's] time and we are rooted here. I hope when people think of Sai Ying Pun, theythink of us."
The company was founded in 1922 by the elder Yu, who had come to Hong Kong from Shunde, Guangdong province.
Antony Yu says, "My dad told me that my grandfather loved chilli in his food, so he set out to create his own chilli sauce", as Cantonese food isn't known to be spicy. "Our chilli sauce is a balance of sourness and spiciness."
A Hongkonger's love affair with spicy food
Although Yu Kwen Yick is best known for its classic sauce, sold in an iconic tall glass bottle, Yu's grand­father also sold chilli bean sauce, made from fermented black beans. This product was discon­tinued, but Yu brought it back after he took over the company in 1998.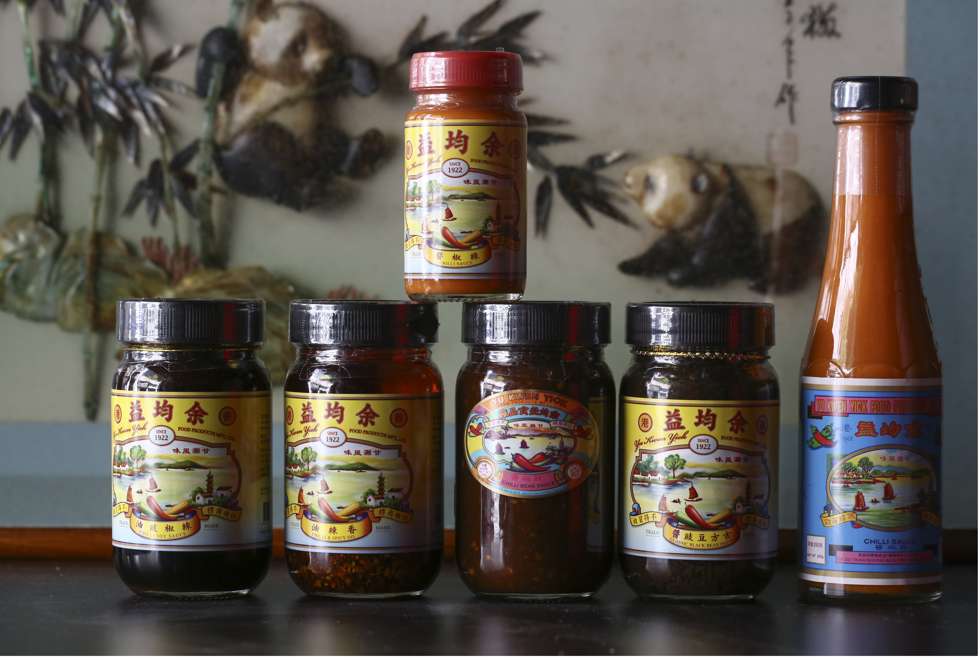 "It's great in gon chau ngau hor [stir-fried flat rice noodles with beef, a classic Cantonese dish]," he says.
Other products made by the company include chilli oil, classic chilli bean paste and chilli soy sauce.
Yu not only expanded the range, he also moved the factory to Aberdeen, in 2010.
"In the old days, we had the shop in the front and the factory at the back," he says. "My father would come home smelling of chilli sauce.
"For my father's generation, it was simply custom that a son would take over his father's business; he had never thought about leaving. For me, there is an emotional attachment."
How Hong Kong soy sauce and vinegar maker Pat Chun has kept up with the times
The current shop, into which Yu Kwen Yick moved just over a year ago, is full of photos and artefacts related to the company, such as timber trays that were used for stacking sauces in the delivery van, a framed calli­graphy couplet that explains the name of the company (Kwen Yick means "benefit for all") and a photo of a delivery van."My grandfather used to sell the sauces by carrying the stock on a pole across his shoulders and walking from Sai Ying Pun to North Point," says Yu, who believes it was sometime in the 1950s that the company acquired the van. "To have your own vehicle was a big deal back then. Not many people could afford one."
Besides the shop, Yu Kwen Yick products are sold at many of the older grocery stores around town, as well as online on ztore.com and hknest.com, but they are not available in super­markets yet.
Nicole's Kitchen preserves 'flavour memories' in nostalgic jams and old-school sauces
"I'm gradually working on the products being more widely available," Yu says. "[The costs of selling in a supermarket are high, but] I hope to be able to find a reasonable deal. I see it as my responsibility to take the brand into the future.
"People always think that when a new generation takes over an old company, they have to make drastic changes, but that doesn't have to be the case. This brand has existed for almost 100 years, so you know it has value."