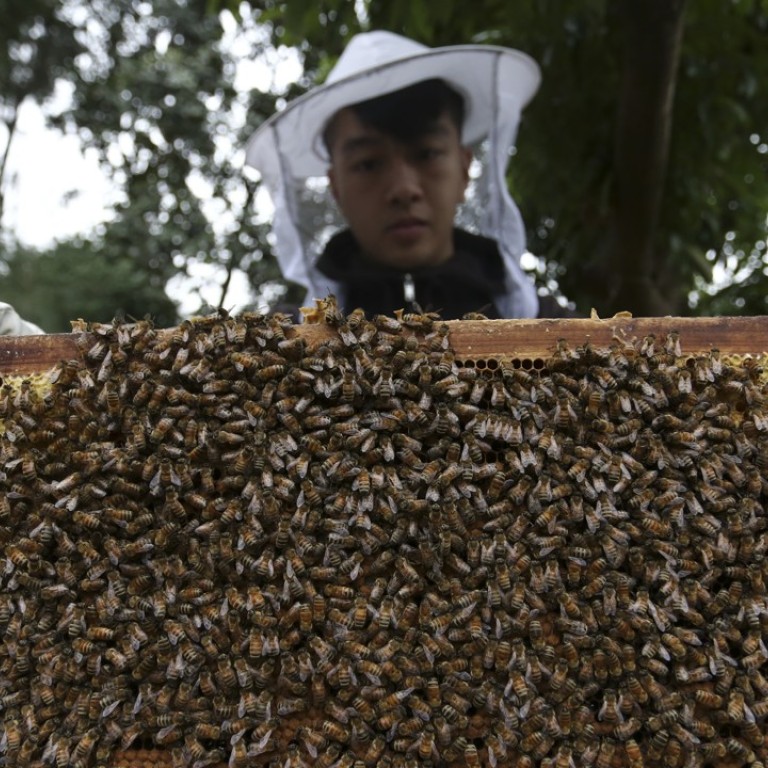 Hong Kong's accidental beekeeper and the buzz about ForMe Honey, organically produced in Tuen Mun
Tse Tai-hing produces honey from Italian bees, unlike most Hong Kong beekeepers who use Asiatic bees, and is happy to welcome visitors to his New Territories apiary to show them how it's done
As he takes us for a walk behind his apiary, Tse Tai-hing, founder and beekeeper of ForMe Honey, lightly runs his hand along a pine tree branch. "You can really smell it when you do this," he says.
Long before he was keeping bees in a small village in Tuen Mun, near the western border of Tai Lam Country Park, Tse, who has owned an advertising agency for more than 20 years, had been familiar with Hong Kong's more remote areas. He and his nature-loving family are keen hikers and campers.
"Both my wife and I grew up in Tuen Mun, so we have a connection to the area," Tse says. In fact, the apiary is located outside the house in which Tse's wife lived. "She would swim in the creek just below," he says.
"Generally, bees travel within a 5km radius from the hives but, here, they don't need to," he says.
In the area are lychee and longan trees, the main sources for spring honey, and ivy trees (Schefflera hepta­phylla, native to Hong Kong) for winter honey. The sap from pine trees is used by the bees to create propolis, the substance they make to fill gaps in their hives.
Tse is an accidental apiarist. "We had come back to this house to fix a few leaks in the roof," he says, but the home also has a sizeable garden, and Tse's wife has a green thumb. "We actually started ForMe as a vegetable and herb garden, but we met a beekeeper who was keen to teach us."
The couple have been selling honey since late 2014. Their initial range expand­ed to include honey infused with such ingredients as mint and ginger, and rosemary honey with lemon and orange, as well as drinks made with honey, ginger and shiso and, where possible, herbs from their garden. They also use ingredients from other producers, such as turmeric, red dates, vanilla, strawberry and rose petals.
"We made [honey] for ourselves initially," Tse says (hence the name, ForMe), "so if we don't already grow them, I try to source the best ingredients possible. I found garlic from an organic farm in the hills of Chiang Mai while travelling. As for our very fragrant organic rose petals, I found a supplier in Bulgaria; they send them to me directly from their farm. The internet makes it much easier to find things."
The supply of the honey, though, is less reliable.
"I can't really say how much honey we produce – it varies so much," Tse says. "This year was a good winter; we harvested around half a ton of winter honey. But the spring before that, we harvested 23 litres."
The hives are affected by weather, such as heavy rain, and are invaded by wasps, he says. The Tses keep a few jars of wasps – preserved in alcohol – for visitors to see.
"We had to catch them manually, one by one," says Tse's son, Maurise Tse Chun-hang, who helps out at the apiary.
Tse Tai-hing explains that he raises Italian bees (Apis mellifera ligustica, a subspecies of the Western honeybee), whereas most Hong Kong beekeepers use Asiatic bees (Apis cerana). The way the species create their hives differs, which affects the harvesting methods. Asiatic bees usually create hives in a single box, Tse says, whereas the Italian species builds its hives upwards, like a multi-storey building.
At ForMe, each hive consists of four boxes stacked one on top of another, with each containing eight or nine of the frames that hold the combs that accumulate the nectar.
"The queen and embryos are in the bottom boxes. We harvest from the top two. We have to move them in and out to keep an eye on them. Sometimes they're full and ready to harvest in the middle of the season, when the flowers are still in bloom. Other times they're not full until the end of the season. I let them do it in their own time," Tse says, adding that other apiarists try to speed up the process by feeding the bees syrup instead of having them collect pollen from flowers.
When the frames are full of honey, they're taken out, the "cap", or beeswax, that seals the honeycomb is scraped off then the frame is put into a centrifuge, which cleans the comb out and allows the honey to flow and be collected.
Visitors are welcome at the apiary for private tours and Tse will take them to see the surroundings, in the hope that people can better understand the relationship between beekeeping and nature.
"I wasn't so sure myself at first whether this environment would be clean enough to make good honey, so I took [a batch] to a lab to test for heavy metals," Tse says. "To my surprise, it was totally devoid of contaminants, so I was confident that we could continue to keep bees here."