Originally from Calgary, Canada, Nolan Ledarney has called Hong Kong home since 2013. He moved to Asia in 2001, to work as a chef at the Canadian embassy in Beijing, then to Tokyo, Shanghai and, finally, Hong Kong. Here, he founded Umami Concepts, which offers hands-on dining and cooking experiences and a food-oriented events space, in Sai Ying Pun, as well as Crafted852, which deals in artisanal food products.
Ledarney lives in Causeway Bay with his wife and their three young children. Their cupboards are mostly stocked with goods from nearby wet markets.
"I'm really proud of how much scratch cookery my wife does at home," Ledarney says. "I do feel that that's the best way to show our love to the kids."
He's come to know vendors at Wan Chai, Bowrington Road and Tang Lung Chau markets through his in-laws, who are locals.
"[Cantonese food has taught me] the impor­­tance of keeping things light," he says. "If it wasn't for my wife, I'd probably be dead by now, because she truly got me into vege­tables. You're building health consistently. That's the approach I fell in love with."
I'm really proud of how much scratch cookery my wife does at home. I do feel that that's the best way to show our love to the kids
He also shops at stores specialising in Shanghainese products, such as Old San Yang, in Causeway Bay, buying ingredients he discovered during his time in Shanghai.
"They have vegetables such as jiao bai [Manchurian wild rice plant] and wo sun [celtuce] imported weekly," he says.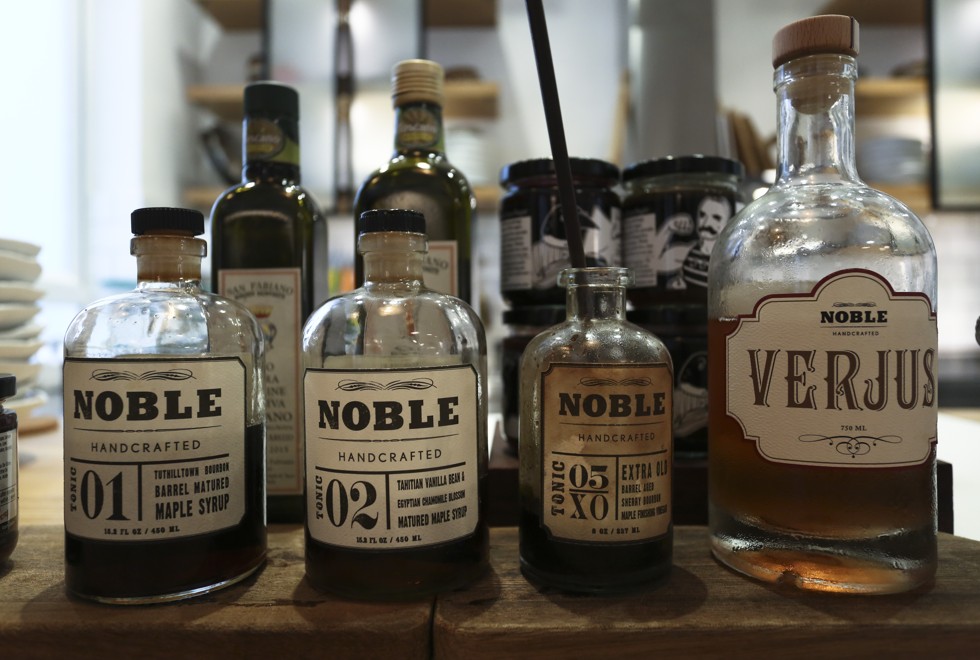 Although Ledarney says he doesn't run a "holistic household", many of his food choices put the health of the children first.
"I want to preface this by saying we don't buy organic. We just eat a diverse range of food," he says. "No point in living here if you're scared of the water."
He does, however, try to find a balance between his children's enjoyment and their health. A case in point is East Van Jam, from Vancouver, which is made with at least 80 per cent fruit and which he imports for Crafted852.
Umami Concepts chefs invite guests to help cook delicious dishes in lofty Mid-Levels 'apartment'
"When I was a kid, it was about how much jam I could get on my toast. The irony is, I don't want my kids to do that, but deep down, I can't fault them for it, so better to give them a product they can truly enjoy. It would be too much to say that at least they're eating fruit, but most jams in stores contain food colourings and preservatives."
To Ledarney, sourcing carefully means knowing more than what labels can tell him. He's met the owner of East Van Jam and trusts her process, which includes using local produce. The extra-virgin olive oil he uses, San Fabiano Borghini Baldovinetti, is made on a family estate in Arezzo, Italy.
"They've been making it for 600 years and produce a hand-harvested batch every year," Ledarney says. He met a member of the family at a wine dinner in Hong Kong and has since been importing their olive oil for himself and his businesses.
Many chefs advise against cooking with olive oil, due to its low smoke point, but Ledarney says this is a myth. He uses an older vintage – and hence milder tasting – olive oil for cooking and a younger, more intensely flavoured one for finishing a dish.
"You don't need to see smoke coming out of your pan. I usually sear on medium heat on a cast-iron pan. Brush olive oil on the meat rather than put it on the pan. If there is a fat cap [on the meat], I'd just use that and not use oil at all. For stir-frying, the temper­ature may be hot, but as long as it's not smoking, you haven't reached that point where you're going to get a lot of breakdown [of oil]."
Milder olive oils are good for dressings, he says.
"If you're going to pre-make a salad dressing with vinegars or acids, I would recommend not using the best olive oil, because the flavour of it is going to dissipate."
Instead, he advises saving the best quality olive oil for dressings that are made just before they're served.
It's natural enough that a Canadian would have maple syrups on his shelves, and Ledarney stocks up on two types from Noble Handcrafted, a company based in Seattle, in the United States, that imports from Canada.
We take a peek inside top Hong Kong Italian chef Umberto Bombana's pantry
"The kids love Noble Tonic 02, which is flavoured with Tahitian vanilla and Egyptian chamomile, on the waffles we make on the weekends. The Noble Tonic 01 has been put into a bourbon barrel and aged for 12 months, so it's picked up that gorgeous charcoal oak interior, which brings the sweetness down a little bit. It's delicious in a bourbon sour, and is a great elixir mixed with water. Using this with Chinese black vinegar, in a hongshao rou [Shanghainese-style braised pork belly] would be incredible, but my favourite is using it for sukiyaki beef. You use bottled [sukiyaki] sauce and add a few drops of maple syrup with ginger and garlic. You can use it with a seared steak – sear the meat on both sides in a hot pan, then add a dash of maple syrup, reduce slightly, then [mix in] soy sauce, garlic and ginger and you get this gorgeous teriyaki-like sauce."
Another favourite of his from the Noble series is a pinot noir verjus, which he describes as "unfermented grape juice, before they add yeast to make wine".
"I've been accused by my wife of having too much of a sour palate – I enjoy sour tastes – so I've been trying to find alternatives to vinegar. [Verjus is] a bit acidic but not as much as vinegar. This adds great acidity to iced teas and salad dressings, or when deglazing a pan. If I'm making a crispy-skinned salmon at home, for example, once the skins are super crispy, I flip them over and add some of this to deglaze the pan [with] some onions. It's a bit raisiny on the palate. It's incredible in a summer cocktail, like a Pimm's soda. I used this to make virgin cocktails for my wife during pregnancy."