For Shane Osborn, chef and co-owner of Central fine-dining restaurant Arcane, the perfect weekend breakfast is a humble bacon sandwich.
"It's just one of those comfort type things that starts the weekend so well," he says. "You need nice, salty butter, crispy bacon, HP Sauce, nice toasted sourdough. I bring home a loaf of the sourdough from [supplier] Bread Elements that we have [at Arcane] and pan-fry that with a bit of oil so it's crunchy and chewy."
Shane Osborn's latest venture emphasises the food over the chef
HP Sauce, a British dinner-table staple, is an essential item in the Australian chef's pantry. He developed a taste for the sweet-and-sour sauce in Britain, which Osborn called home for more than 20 years.
"HP is quite sweet," he says. "My kids, if they had the chance, would just pour it all over their sandwiches, so I have to police them". Likening his restrained use of HP Sauce to that of the intensely savoury food spread from Australia, he adds, "It's like Vegemite, so you need just a light smear.
We take a peek inside top Hong Kong Italian chef Umberto Bombana's pantry
"To go with the bacon sandwich, we have coffee from Redback Coffee – they're Australian roasters [based in Hong Kong]. It's nice to support other Aussies."
Despite having an espresso machine, Osborn prefers his coffee drip brewed and so uses a Clever Cup, which is similar to a drip coffee cone but has a mechanism that stops the coffee from dripping through until the device is placed on the mug.
"You can make it and let the [coffee grounds] stand for a bit [to infuse, for more flavour]," he says.
I wouldn't say I love the taste of porridge, but I like the effect it has on me.
On weekday mornings, breakfast is porridge – "Quite boring," he admits – to which he adds flaxseed meal.
"Because I'm allergic to fish, I don't get any Omega 3s," he says. "Flaxseed is high in Omega 3. I just sprinkle |it on top. My daughter begrudgingly has porridge with me every morning. I have it with a little bit of salt and cinnamon, and, if we've got fruit, like berries, I'll put some on top. I don't put sugar in it. I like salt; it brings out a bit more of the flavour. Sometimes [his daughter] can have a sprinkle of golden syrup over the top.
A Canadian chef learns to love vegetables in Hong Kong thanks to his Chinese wife
"I wouldn't say I love the taste of porridge, but I like the effect it has on me. If I have a long, 15-hour day ahead, and I get up at seven o'clock in the morning, I don't need to eat again until midday, so it keeps me going. It's really good energy. I use water and milk. I start it with hot water, so it's quite thick, and then dilute it with some cold milk."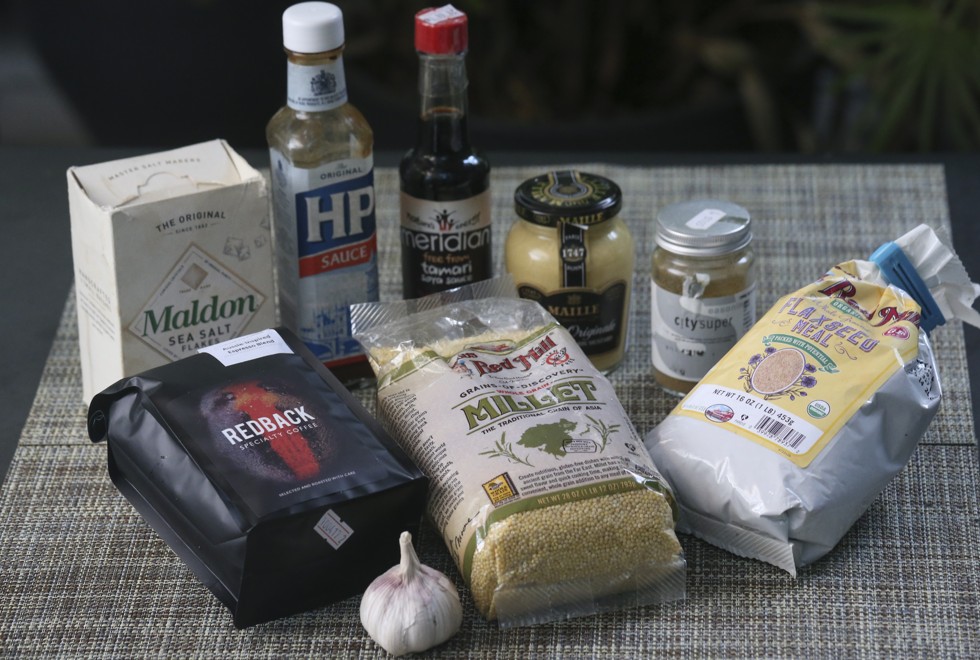 Be it at home or at Arcane, Maldon sea salt is never far from Osborn's reach.
"It has been part of my pantry for 20-something years. We use it for finishing a dish. If I'm going to boil vegetables, I'll use fine table salt; it's a waste to use something like Maldon on that.
What a UK-educated Hong Kong food blogger's pantry is full of
"Maldon is different from fleur de sel, the French sea salt, which tastes of the sea and is moist. Maldon is dry, very clean. I like the crystallisation of it; the texture is very nice. We use it for steaks or fish, or vegetables, when finishing them. With green beans, toss them in a pan with some butter and add some Maldon on top."
Maldon also makes smoked salts but Osborn prefers the original. "The smoked version doesn't do it for me. We make our own flavoured salt, you can play around with it, you don't have to use these pre-made flavours."
Restaurant review: Arcane - delicious, light food and a casual vibe
Osborn moved to Hong Kong with his wife and two children in 2011. His wife suffers from celiac disease. That means she can't eat foods that contain gluten, such as wheat, which is commonly found in soy sauce. In its place, the Osborns use gluten-free tamari, the Japanese soy sauce made with the run-off from miso (fermented soy­bean paste) and which traditionally uses little or no wheat.
"I like to use it in stir-fries with vegetables. We eat a lot of vegetables. We get snake beans from the market, and broccoli, and some of the other brassicas [and cook them] with pea­nuts, ginger, garlic and tamari, so my wife can eat it. She has a hard time eating, particu­larly in Chinese restaurants in Hong Kong."
Another gluten-free ingredient in Osborn's pantry is millet.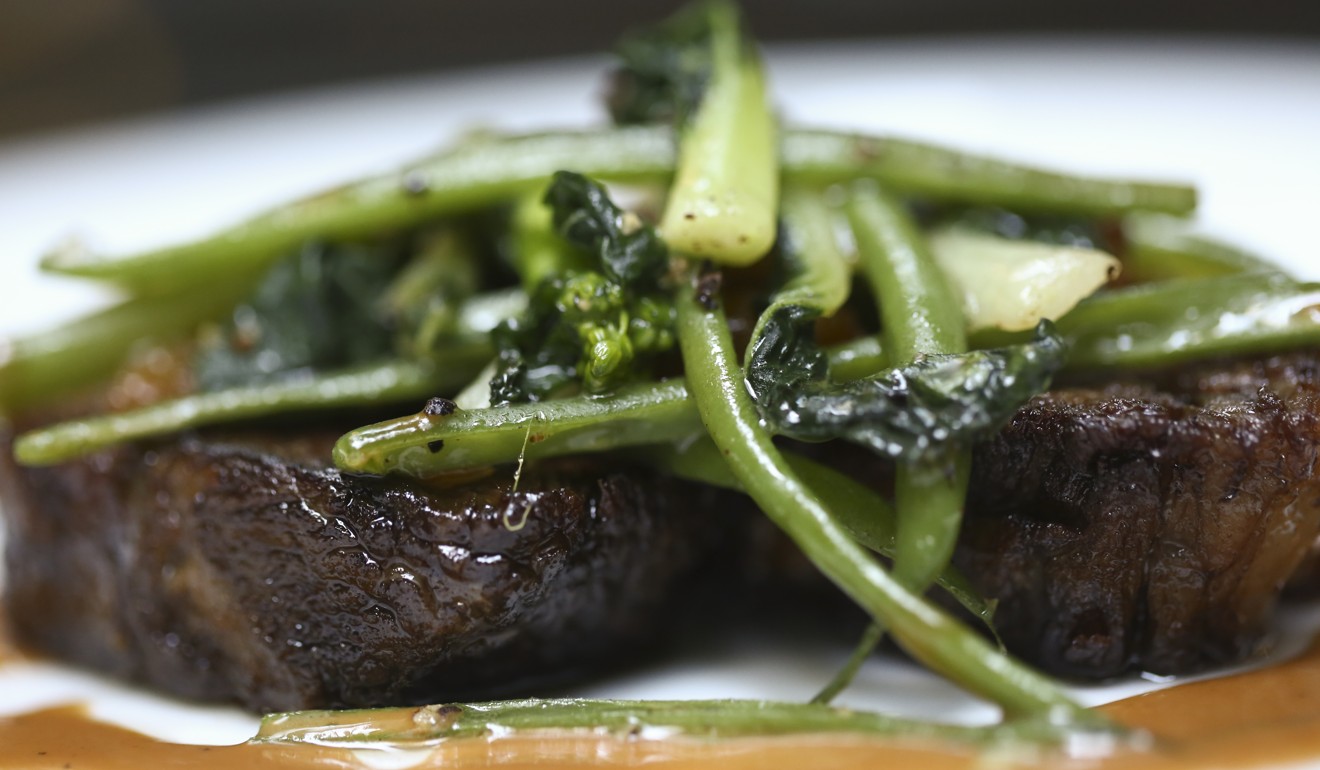 "Millet is an old-fashioned grain. I like the texture of it – it's unique – so we make salads out of it," he says. "I use a bit of vege­table stock, boil the millet and put sun-dried tomatoes and artichokes in it, as well as basil, roasted pumpkin and pine nuts. Basically, you can use it in a similar way to how you use couscous.
We only discovered millet in the last couple of months, just [by looking] through health-food stores."
Spices are essential to a cook's pantry and one that Osborn can't do without is cumin.
"I absolutely love it," he says. "For roasted cauliflower – cut up the cauli­flower, drizzle oil over it, add salt, pepper and a bit of cumin and roast it at a very high temperature."
He also recommends using his favourite for roast lamb, in a marinade rather than sprinkling it over the meat before cooking.
One of my son's favourite dishes is cos lettuce chopped really fine with a vinaigrette made from Dijon mustard, white wine vinegar and olive oil, with capers
"You can also make soup with cumin – parsnip soup with cumin is delicious. If you're going to make a soup, you would toast whole cumin seeds first. Heat them in a pan, to accentuate the flavour, then put your vegetables in and a liquid. Just putting dry cumin in doesn't give the same kind of flavour. Powder [is more difficult] to roast – you have to be careful it doesn't burn."
Dijon mustard can always be found in Osborn's kitchen as it's a favourite of both the chef and his nine-year-old son, Oscar.
"One of my son's favourite dishes is cos lettuce chopped really fine with a vinaigrette made from Dijon mustard, white wine vinegar and olive oil, with capers," says Osborn. "Since he was about five years old, he's loved that salad."
For Osborn himself Dijon mustard is an ideal accompaniment to steak.
"There's nothing like having a great steak with mustard. On the weekends, we usually have a beautiful piece of bavette, seared to rare, and just some Dijon mustard and green beans. You don't really need anything else."