How is it that you came to be born in Singapore? "When my dad was in his late 20s, he moved to Surabaya, Indonesia [from Switzerland], working as a coppersmith in mines. When the second world war broke out, he was deport­ed to Singapore, where he met my mum, a nurse from Ireland. Three of us boys were born there. I was the middle child."
What was your childhood like? "I was in Singapore until I was 11 [when the family moved back Switzerland] and had an incredible childhood. My first language was Malay. I remember the food stalls and the fruits. My dad lived there for over 40 years. He always went to the same hawker stand and his noodles would be there when he arrived. We did a lot of swimming, sports, and, of course, I remember the heat."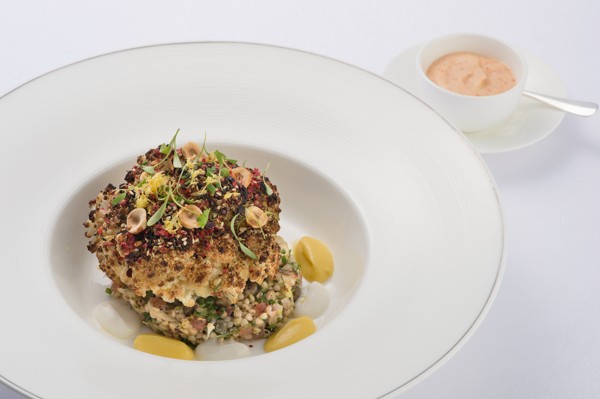 You apprenticed with Frédy Girardet. What was he like? "He was stern but his food was about honesty and commitment. I try to stop by the restaurant when I am in Switzerland. It's a place that brings back hard, hard memories but also very fond ones. I worked for him for 2½, three years side by side. When he dropped the spoon to greet his customers, I had to know what the next four steps were; it was very difficult. But what I saw were brilliant dishes."
What was it that attracted you to cooking? "It's inspiring to me. It's working with the seasons, with people who are very talented. It keeps my mind sharp, because it's physically very demanding. But I am now able to step back and hand over important tasks to key people and they execute them well, sometimes better than me. My role now is more of a mentor and teacher."
Plume was an amazing place and it was the turning point for me ... One morning I decided either I stay in Hong Kong or go back home
Tell us about your time at Plume restaurant, at The Regent hotel in Tsim Sha Tsui, in the 1980s. "Plume was an amazing place and it was the turning point for me. I went there initially yelling in the kitchen, demanding, not giving proper feedback – which goes back to my experience with Girardet. One morning I decided either I stay in Hong Kong or go back home.
"I made the choice to stay. This is part of my life; I was born in Asia. Don't make mistakes like other chefs when they go abroad. So one morning I sat there and watched the guys [in the kitchen]. They had this crummy pot that looked like it was from the Sham Shui Po market. They put it on the stove, when it was boiling they put in two handfuls of tea. That was their drink all day long. So, the next day, I went in early and made tea for them.
When they walked in, the guys were almost crying – for me to come early to make tea for them was a big thing. I took that step, then another step. The team I had there was unreal. Either you make the effort or you don't. It's up to you."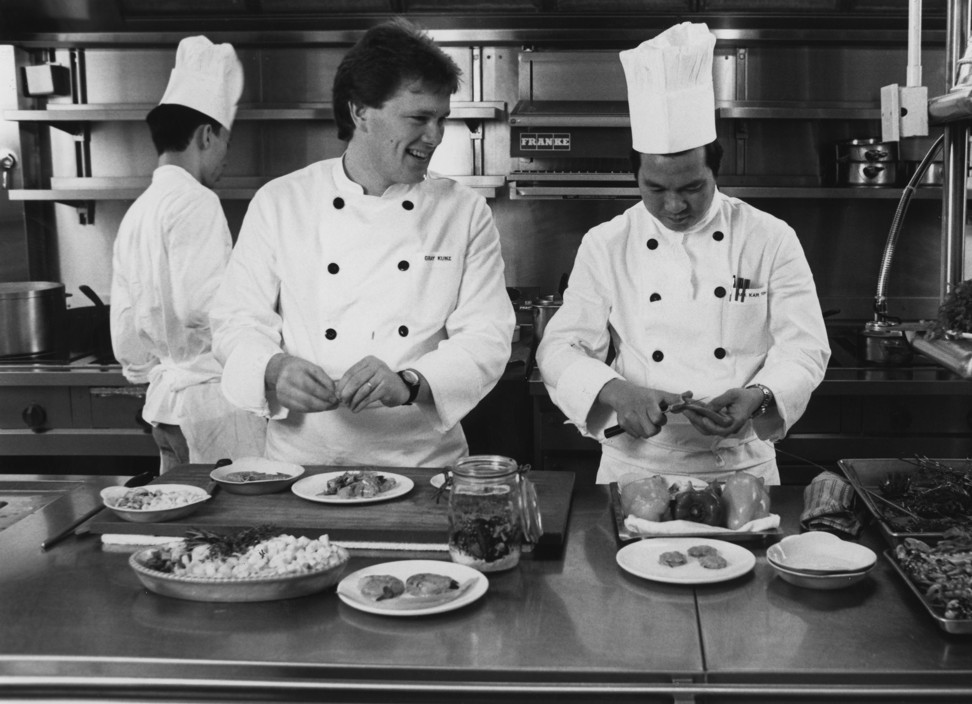 "The New Year's dinner was a big deal and the second or third year I was there, I was crazy enough to talk to one of the fishermen I know and said I want to serve green wrasse fish. I remember the guy's face when I said I need 300 portions. He thought, 'This gweilo is certified crazy.'
"But over the year, whenever he caught them, he would put them in pens in the water. Then they brought them into the hotel in big barrels with bubbling water and everyone stop­ped to watch. That fisher­man was so proud to be able to collect enough fish."
You designed your own spoon! Why is it so special? "The first time I saw it was at chef Girardet's place and I was able to find the Italian manufacturer. We tweaked it so that the weight tips forward when you have it in your hand. It turned out to be a huge success – 28,000 were sold last year. I'm going to do a knife, fork and tweezers. Maybe I should create the first high-end non-breakable plate in the world [laughs]."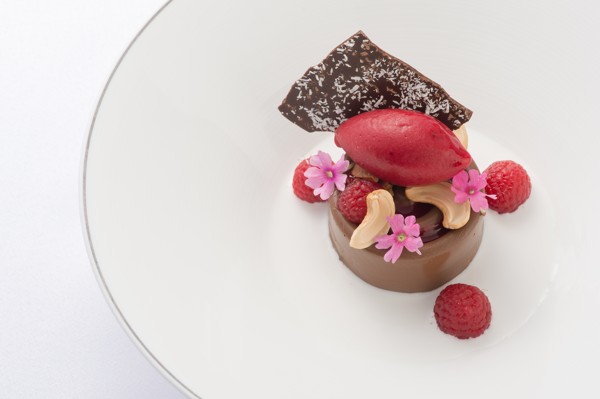 You have a pilot's licence. What do you like about flying? "I don't know how to describe flying over the Hudson River [in New York] in the fall! But I have this incredible fear before I fly. When I check the airplane I have butter­flies, I go to the bathroom three times.
"But once I take off, there's no phone, I talk to the pilots, air­ports, towers. Then you focus on staying alive. It's pretty serious stuff but it's a sense of accomp­lishment. Afterwards I'm exhaust­ed but my mind is so clear. After that I can do a full day of work."
Where do you eat in Hong Kong? "I love to hang around dai pai dongs. I like how they focus on one thing and do it perfectly, which is the proper way to go. I go to Sham Shui Po and Sheung Wan the most, and the Wan Chai market. I like the stalls outside. I like simple broths with vegetables and noodles."
The Elements of Taste, a cookbook by Gray Kunz and Peter Kaminsky
Do you take care of yourself? "When I'm here I wake up around 5.30am and walk along Bowen Road. I get a kick out of it, plus it's a good workout. I like to be here [at Café Gray Deluxe] around 8am. I want to stay healthy – but these trips are very demanding.
"I recently went to a fitness camp in San Diego [in the United States] and spent 2½ weeks there. They had a psychologist, doctor, natur­al­ist, herbalist and botanist. They drew blood and found I had cop­per, iron and calcium deficiencies. It was an awakening for me.
"If you want to do my profession well, it demands huge intellec­tual and physical presence. You're dealing with hot and cold, knives, all that stuff and you have to have a clear head, with a clean lifestyle. I'm 62 but I feel like I'm 30. This kind of energy you cannot fake. I feel fortunate and blessed."