The hollow rattling and grinding of machinery intensifies as I walk down the corridor in a Kwai Chung industrial building towards the entrance of Tai Wai Beer. Standing near the doorway, with his sleeves rolled up and sweat dripping down his forehead, is co-founder Henry Wu Hang-fu, working the drill of a malt mill.
"It's all very DIY, isn't it," Wu says as he invites me into what is possibly Hong Kong's smallest brewery. "It's just been [my wife] Wendy [Tai Lok-sze] and me. Two people. Four hands."
The decision to start a brewery was an impulsive one: Wu wanted to do something special when he turned 30. With more than 10 years of experience in beverage manage­ment – most recently at Hong Kong's various Robuchon establishments – Wu is no stranger to the world of fine wine and spirits. But, ultimately, it was his love for craft beer that got him to take the plunge.
[Brewing at home] will leave your apartment smelling like Vitasoy's malted soybean milk and hops
"When I first got into the [F&B] industry, I tried a really good Belgian beer – a Duvel – and since then I've had a question stuck at the back of my mind: how come no one in Hong Kong is making beer? Back then, the only beer produced locally that people knew about was San Miguel," Wu says.
Then three years ago, having studied the beermaking art through books and YouTube videos, Wu and Tai made their first batch of pilsner. "[Brewing at home] will leave your apartment smelling like Vitasoy's malted soybean milk and hops," Tai says. "We put the six-gallon fermenter in our bedroom with the air-conditioner on all the time."
The experience made Wu appreciate craft beers even more. "The major differences between commercial and craft brews are the depth of flavour, variety of styles and the complexity. The first time you make your own beer, you realise flavours can come from different types of yeast, malt and hops. Brewmasters pour their heart and soul into creating a unique brew," Wu says. "It's a work of art, and I really admire that. There isn't ever a bad beer, it's just down to whether or not the beer suits your taste."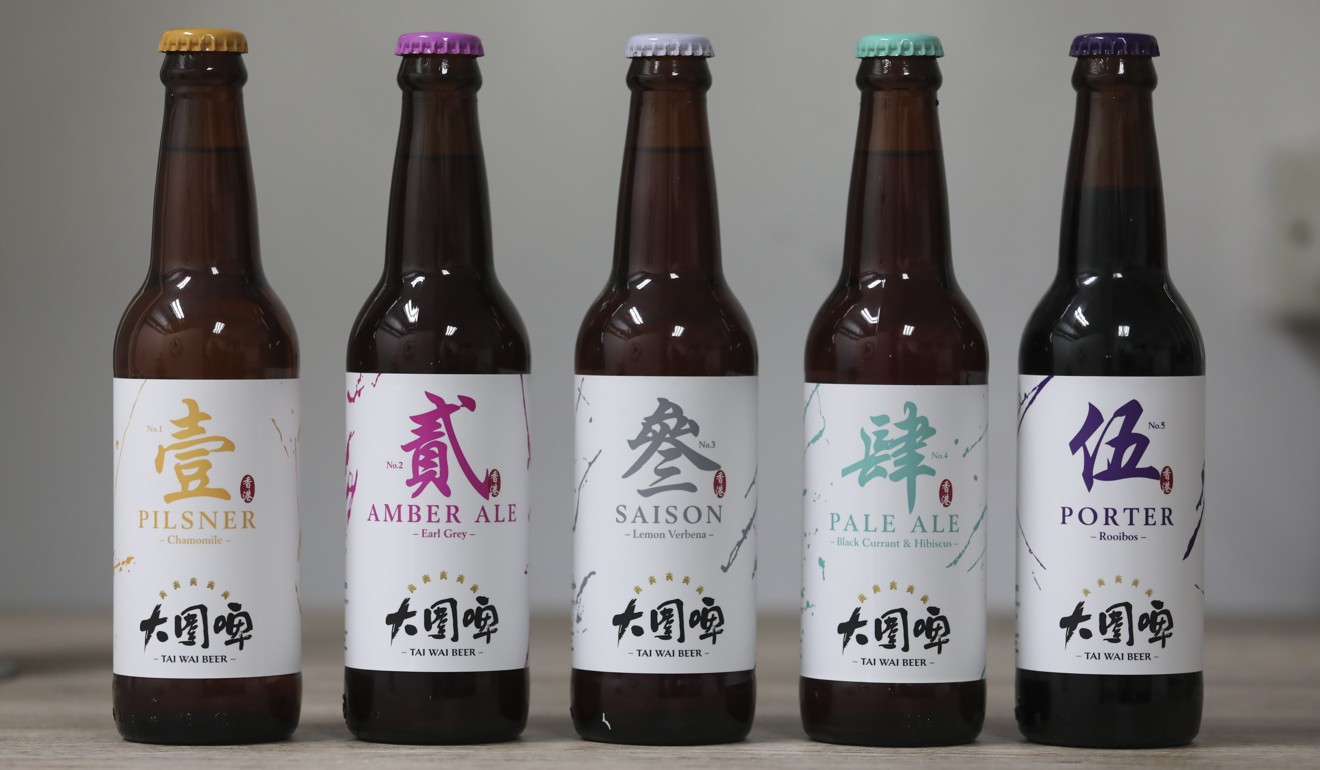 Last year, the couple launched Tai Wai Beer. Their vision? To make beers that even non-beer drinkers would enjoy.
"Henry grew up in Tai Wai and, after we got married, we moved back there. Our first batch of beer was also made in Tai Wai, so it's a very special place for us," Tai explains. "And when you drink beer, it's often a social activity. In Cantonese, 'tai wai' can mean a big group of people gathering, and Tai Wai Beer is about bringing everyone together to have a good time."
The couple experimented with tea leaves sourced from Britain. The resulting series of tea-infused beers is numbered one to five, to help customers recall their favourite flavours.
"The No 1 chamomile pilsner is the most difficult to make," Wu says. "Pilsner is a type of lager, and lager yeasts ferment at lower temperatures than ale yeasts. This means a longer production time, so it's less commonly found in small breweries."
The series also includes the No 2 earl grey amber ale, No 3 lemon verbena saison, No 4 blackcurrant and hibiscus pale ale, and No 5 rooibos porter. Tai Wai Beer produces a total of about 1,000 litres, or 3,000 bottles, per month.
"Numbers one, two and five are the most popular," Tai says. "Hong Kong ladies love our No 2 because of the earl grey. No 1 is nice and florally and very drinkable." In fact, the chamomile pilsner, with its Chinese celebra­tory-style label, was the favour given to guests at the couple's wedding last year.
The year was a roller-coaster ride for Wu and Tai – not only did they marry and start a company, they also became parents.
"You see that labelling machine over there? I was nine months pregnant, but because it was just the two of us, I was still helping out with labelling the bottles manually, one by one," Tai recalls.
Whenever tourists travel to well-known beer countries, they seek out the local breweries. We want tourists to come to Hong Kong and do the same
One year on, Tai Wai has started to gain recognition among the craft beer crowd, Wu and Tai having proved they are serious brewers. Their products can be found online, in stores such as City'super and on a growing number of restaurant drinks lists.
A few months ago, Tai Wai Beer also took part in the Ocean Park Drink'N Music Fest, exposing the brand to overseas media and guests, and opening up expansion oppor­tunities in Taiwan and Thailand.
"Whenever tourists travel to well-known beer countries, they seek out the local breweries. We want tourists to come to Hong Kong and do the same," Wu says. "A lot of people associate craft beers with America and Europe, but why not Hong Kong? We want to show everyone that, whatever they can do overseas, we can do it in Hong Kong."