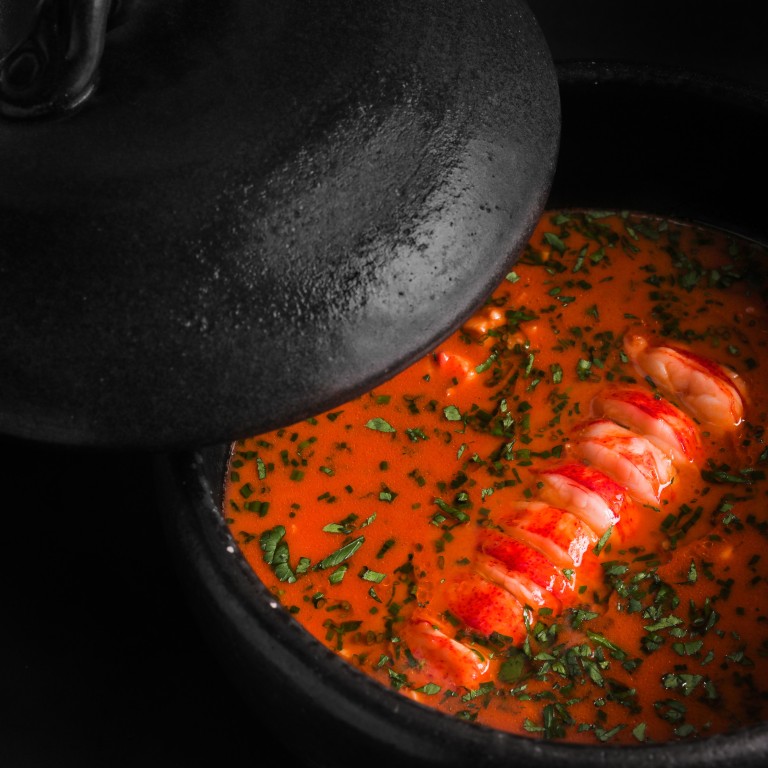 High-end Spanish cooking that respects ingredients and tradition: Hong Kong moves on from molecular gastronomy of El Bulli's Ferran Adrià
Spain's chefs and cuisine were put on the map by molecular gastronomy pioneers such as Ferran Adrià at El Bulli, and flourished around the world for a while
Lately high-end Spanish contemporary restaurants have made a comeback in Hong Kong, led by chefs who show their skills while valuing ingredients and tradition
During the early 2000s, El Bulli – Ferran Adrià's temple to molecular gastronomy – was regularly voted the world's best restaurant.
Adrià
, along with the
Roca brothers
, at El Celler de Can Roca, Andoni Luis Aduriz, at Mugaritz, and Juan Mari and Elena Arzak, at Arzak, to name a few, have established Spain as a global culinary force.
Throughout that decade, that influence spurred the rise of contemporary Spanish restaurants in Hong Kong, including The Principal, Catalunya, Vasco,
FoFo by el Willy
and the short-lived
View 62
, by star chef
Paco Roncero
, at the rotating top level of the Hopewell Centre.
Many of those venues have since closed or moved to serving classic fare, as the city's appetite for smoke, foam and gels waned.
Recently, however, modern, high-end Spanish restaurants seem to be staging a comeback.
This time, they are focused on creative techniques that highlight, rather than subvert, the quality of ingredients, taking the traditionally humble cuisine to new heights.
Freshly opened in May and located in the
Tai Kwun heritage and arts hub
, in Central, Agora has just 24 seats divided between a chef's counter and individual tables.
It's a sophisticated dining experience that lends itself to Oviedo's ambitious attempt to showcase the history, depth and breadth of the food of Spain in a progressive manner.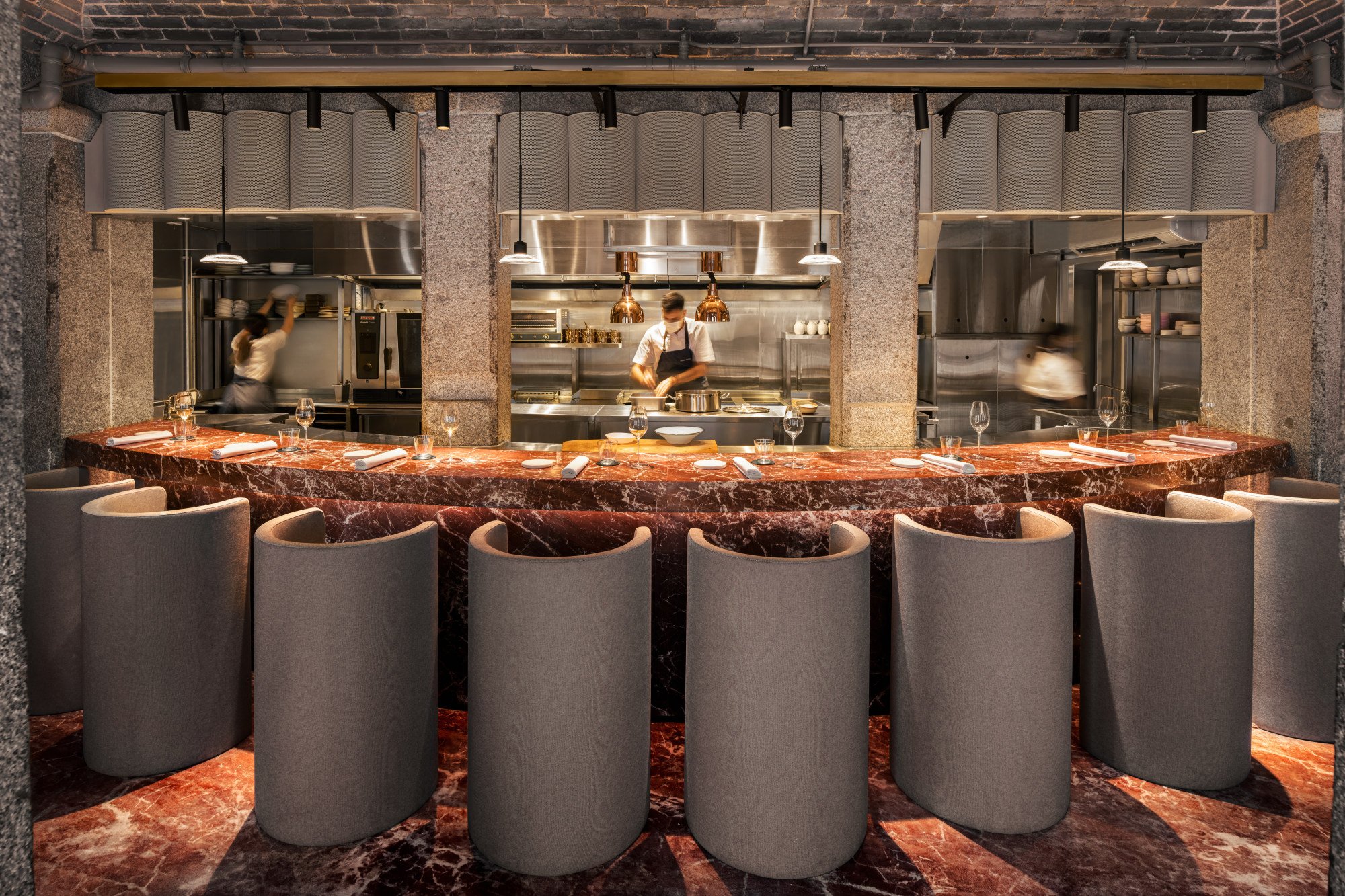 The tasting-only menu starts and ends with bread and small-batch olive oil harvested from century-old trees from southern Spain. Along the way, it might journey to Andalusia in the form of salmorejo, a cold tomato soup, or back in time to when ancient Romans and Phoenicians introduced garum, a pungent fermented fish sauce, which he has revived and serves with seared tuna belly.
Oviedo, who was born and raised in the Spanish capital, Madrid, worked for pioneering chefs such as Santi Santamaria, Sergi Arola and the Roca brothers, but it wasn't until he moved to Singapore and Hong Kong that he started cooking classic Spanish food.
"I never cooked a paella in a restaurant in my life," he claims, though he is grateful for the opportunity to consolidate his understanding of his native cuisine.
The chef says that while Spanish cuisine is regional, there are commonalities, including a produce-first approach and the Mediterranean trinity of bread, olive oil and wine.
Although Oviedo buys locally where possible, key ingredients must come from Spain, which presents challenges exacerbated by global supply-chain issues.
The day we meet, a shipment of percebes (prized barnacles) has failed to arrive. Before Agora launched, Oviedo spent most of his time finding reliable suppliers, even arranging for them to send samples to his mother to taste before ordering.
"The product is the most important thing for me," he says, adding that he is generally happy with the quality of the goods he has procured.
Getting hold of produce is less of an issue at
La Rambla
, a 5,000 sq ft venue with a prime harbourside terrace in Central's IFC Mall. Recently returned to the fold is head chef Rafa Gil, who helped launch its predecessor, Catalunya in Wan Chai, before the move and name change.
Brazilian-born Gil, who stars in hit
Netflix cooking show The Final Table
, says that being in operation for nearly a decade has allowed his team to form strong relationships with suppliers. They were among the first to bring red carabinero prawns and Rubia Gallega beef to Hong Kong, premium items now found on many menus in the city.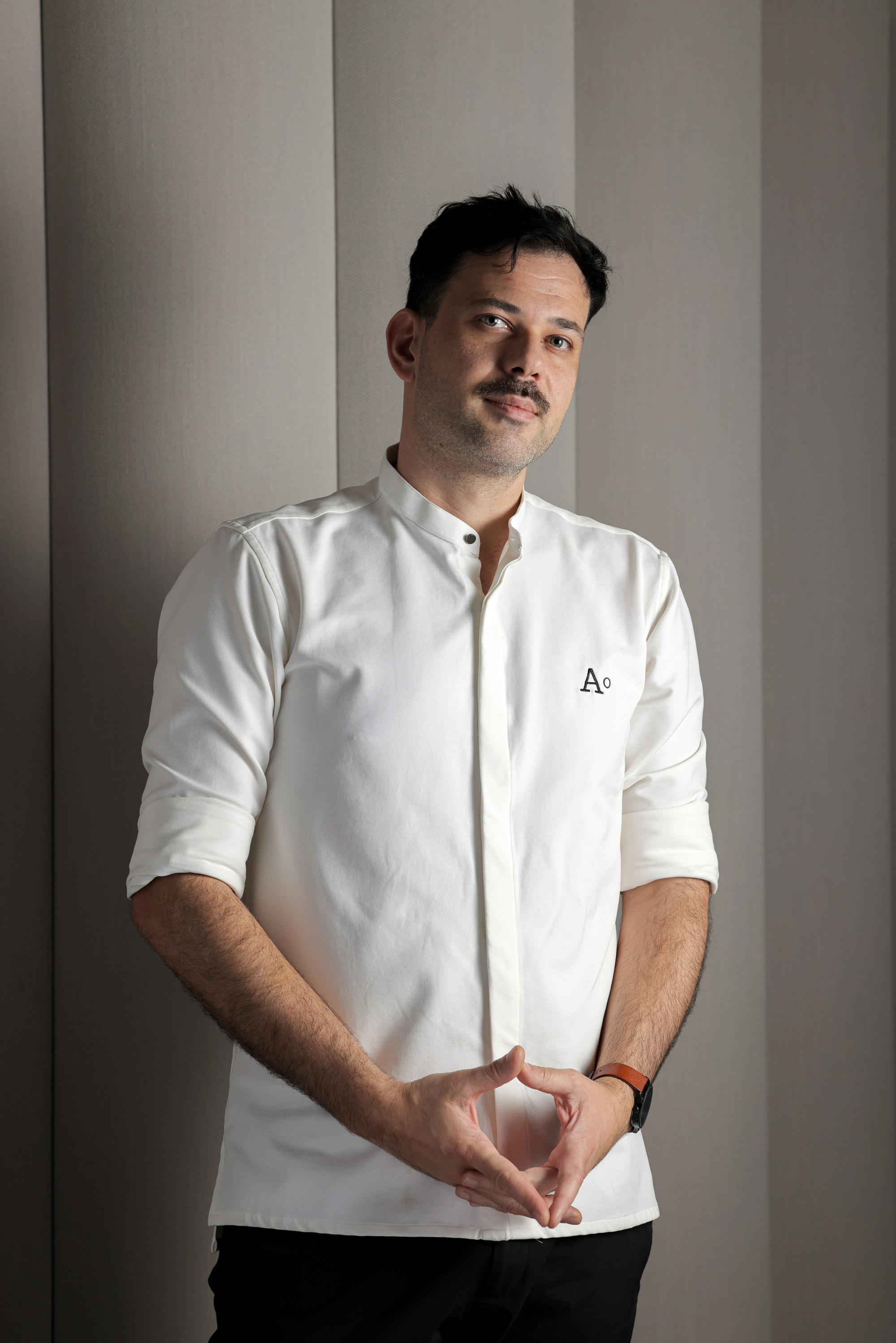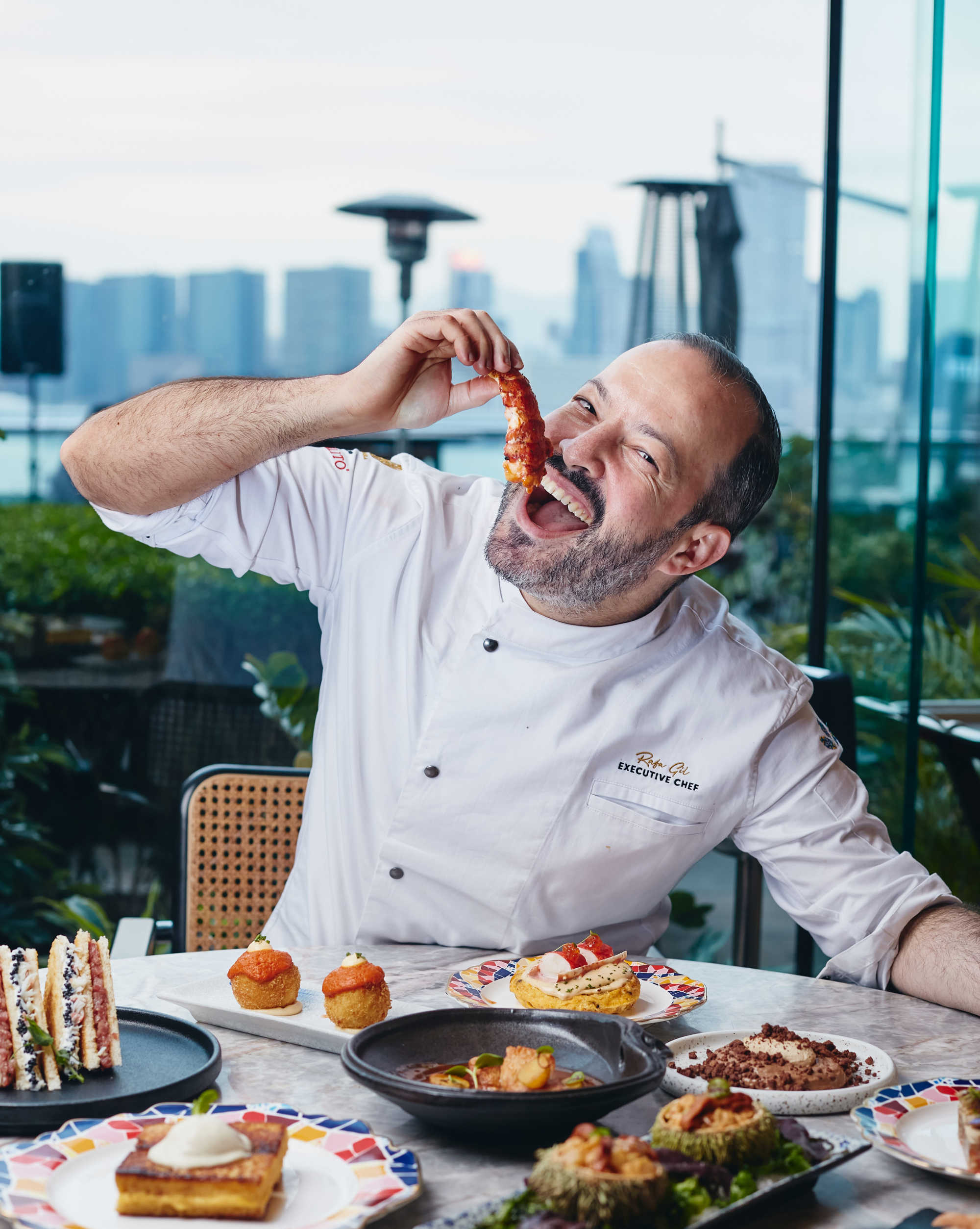 Gil counts Santamaria among his mentors. He learned from him "how to highlight the beauty of the product on the plate and understand ingredients". Gil dabbles in molecular gastronomy, too, introducing Hong Kong diners to spherical, or liquefied, olives, a signature
El Bulli
dish a decade ago, now reprised at La Rambla.
You'll find the dish under the "classics" section of the menu, but look at the "twists" section for a creative take on Spanish potato salad that includes sea urchin and octopus, or a luxe steak tartare with avruga caviar and gold leaf.
The food remains recognisably Spanish and Catalan, but Gil asks: "Why not show it in a different way?" While he's happy to add twists, he cautions against adapting flavours – for an assumed local palate – at the expense of compromising the cuisine.
His respect for tradition can be seen in stand-out main dishes such as paella, suckling pig and a slow-cooked baby lamb shoulder.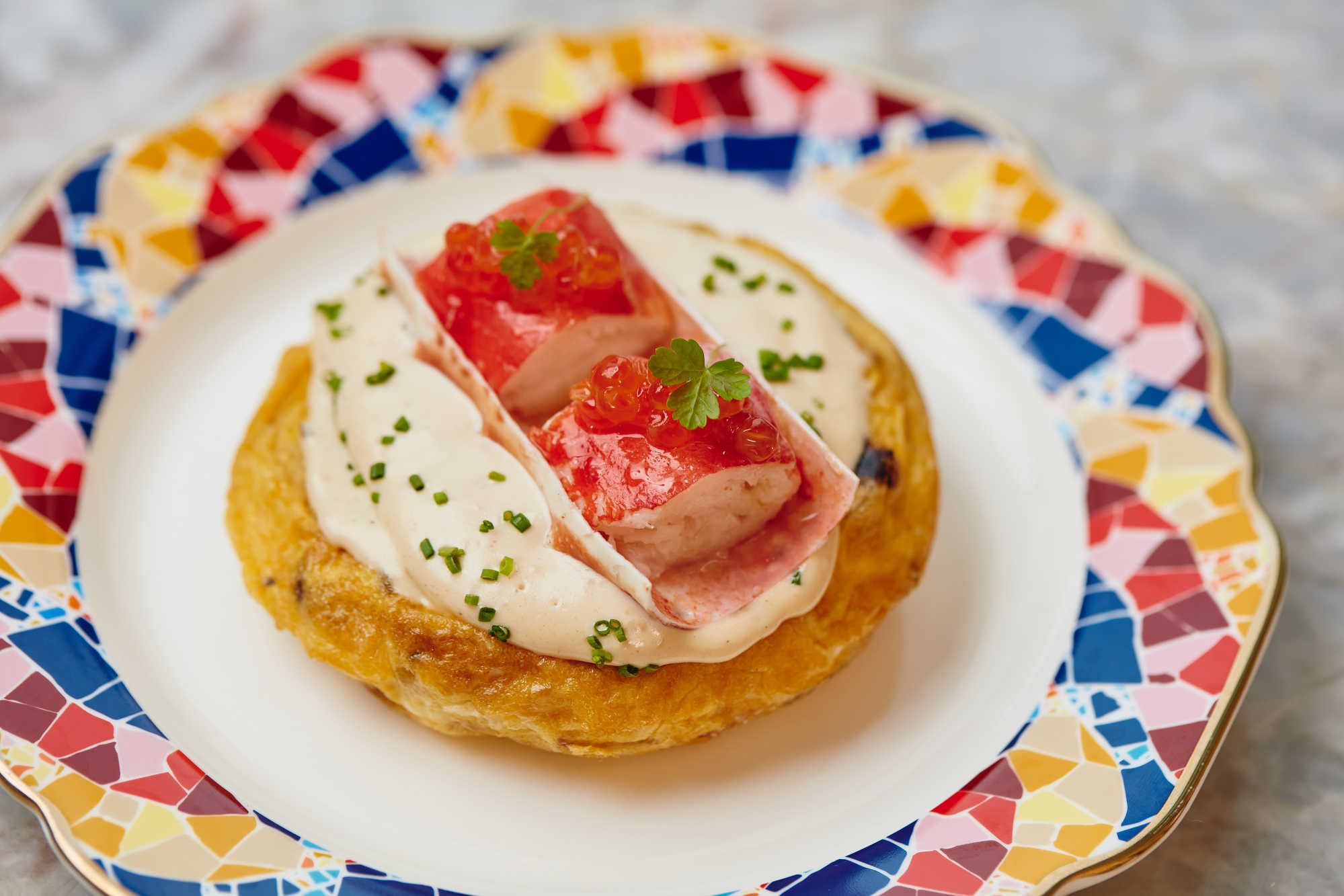 La Rambla isn't traditional fine dining, but Gil says: "We use the best products available, and the quality is as good as any Michelin-starred restaurant." He sees it more as refined dining mixed with fun. "I want guests to have fun at their table, because I am having fun in the kitchen."
At The Optimist, in Wan Chai, new head chef Victor Caballé Molina takes a similar approach, calling the experience "fun dining". The restaurant, which opened in 2015, focuses on grilled dishes; while the previous menu hewed closely to tradition, Molina has introduced modern and Asian elements.
"I can bring you Spanish classics from my grandfather, but it's sad to just stick to my roots," he says. "Instead, I want to show you my creativity from 18 years of cooking."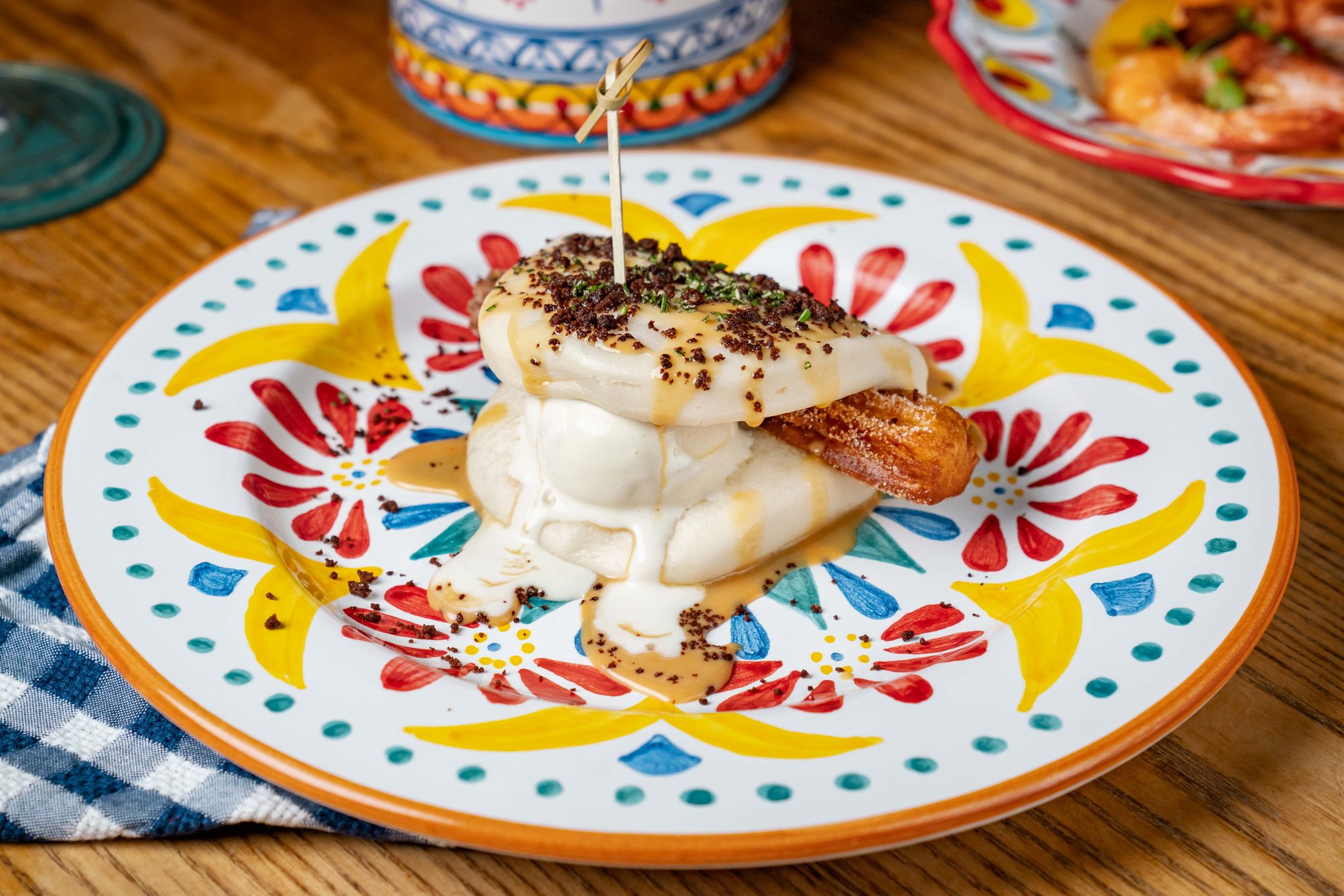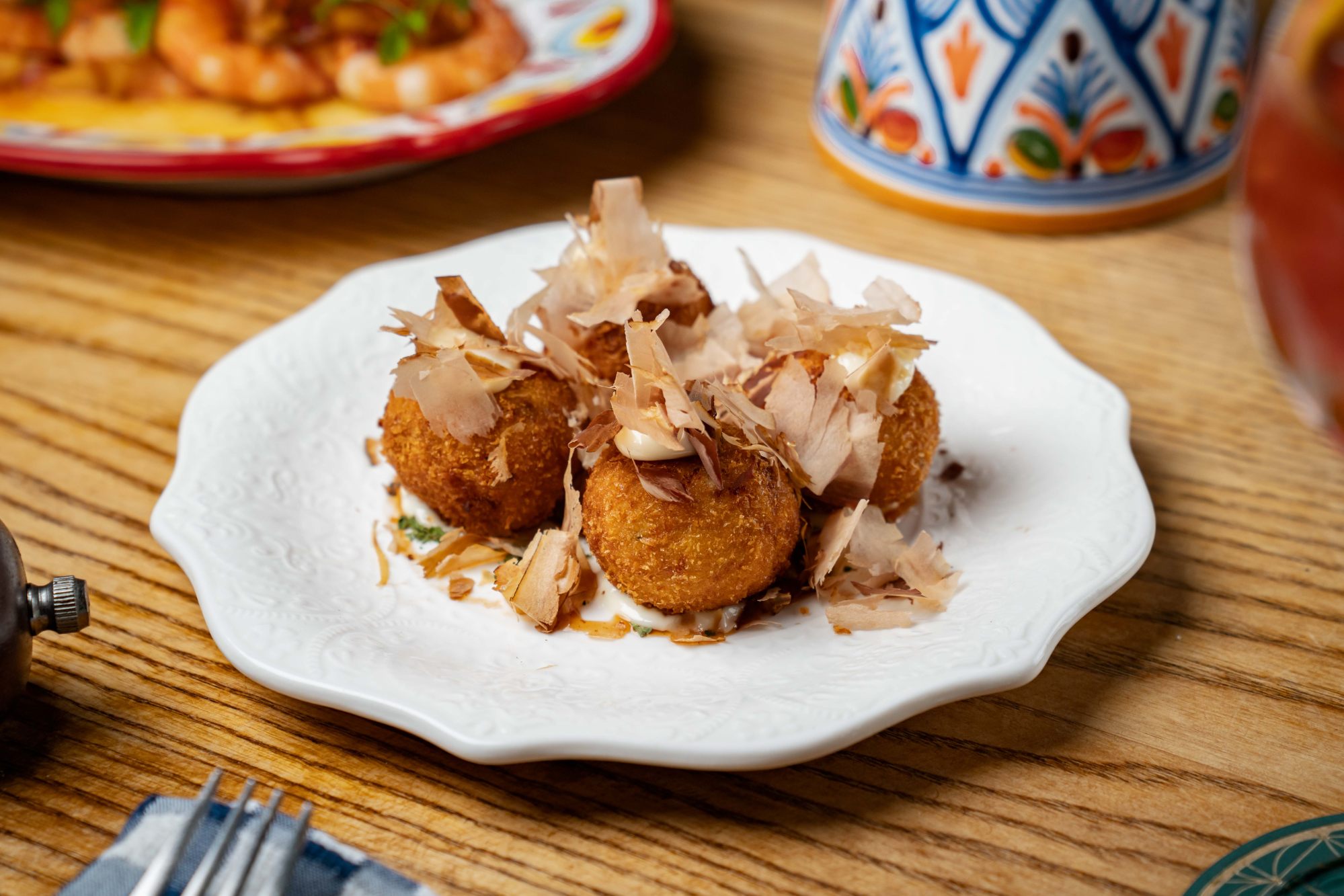 The Barcelona-born chef grew up surrounded by hospitality and learned to cook classic Catalan and Spanish cuisines. A desire to travel led him to London, where he trained under Jean-Philippe Patruno, former chef at popular tapas bars Fino and Barrafina, among others, before following him to Singapore.
Encouraged by Patruno to go out on his own, Molina ended up in Hong Kong, where he creates Spanish dishes imbued with Asian influences.
For example, his octopus croquettes are inspired by takoyaki, a popular Japanese street food of grilled octopus balls topped with shaved bonito flakes.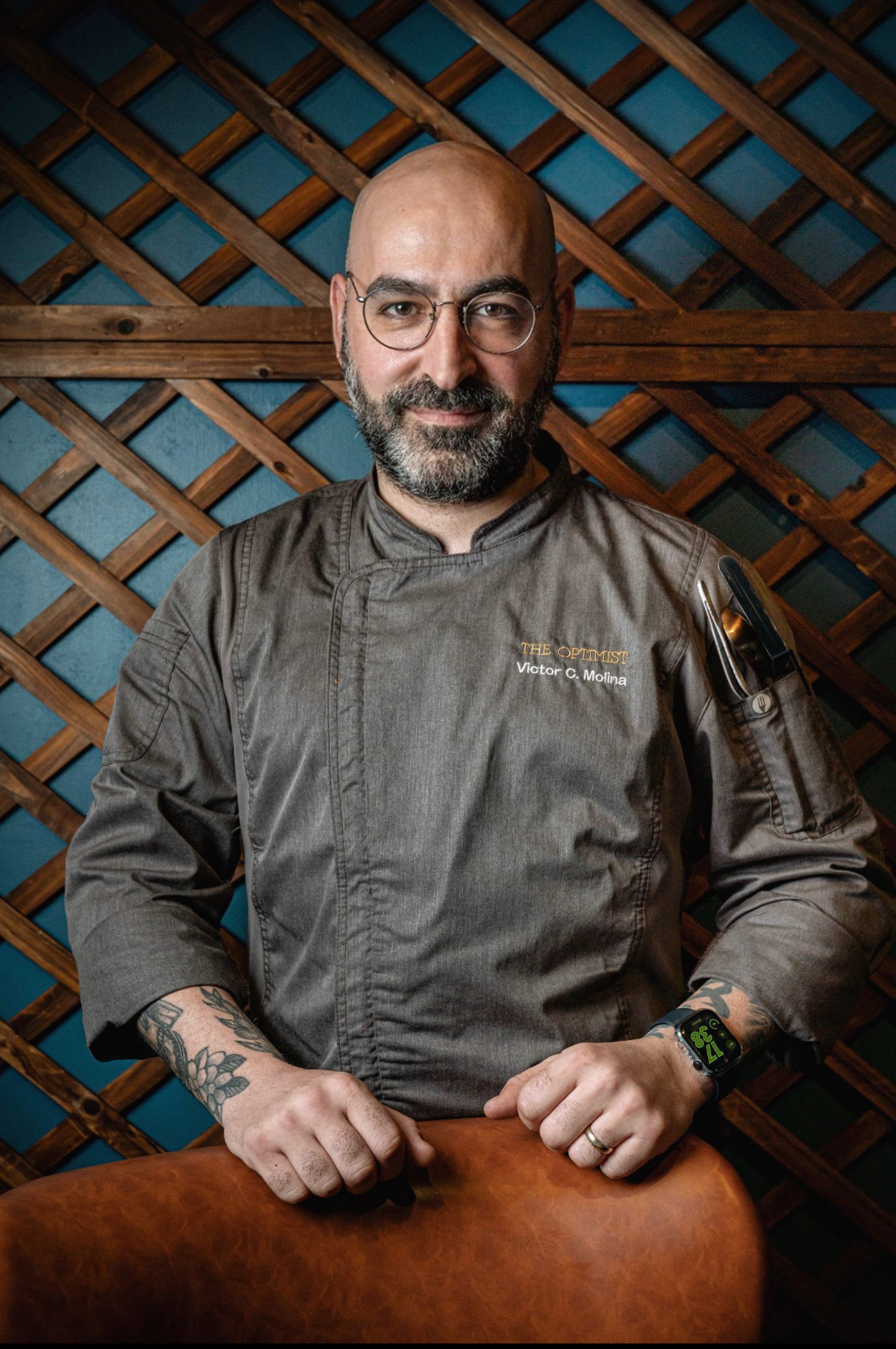 Chargrilled stingray takes its cue from Malaysia and Singapore, but instead of being slathered with sambal, Molina serves it with romesco, a thick Spanish sauce made with tomatoes, red peppers and almonds, along with chilli and fermented black beans for extra kick.
He talks excitedly about a dessert he dreamed up years ago in Singapore, after coming across steamed Chinese buns. He has only now put it on the menu for the first time: a fluffy white bao stuffed with crispy fried churros, and accompanied by vanilla ice cream and salted caramel sauce.
When it comes to pushing the boundaries of contemporary Spanish cuisine in Hong Kong, perhaps no chef has been as successful to date as
Agustin Balbi
, co-founder of one-Michelin-star
Ando
, in Central. Balbi, who was born in Argentina, refuses to allow his food to be pigeonholed, describing it instead as "innovative".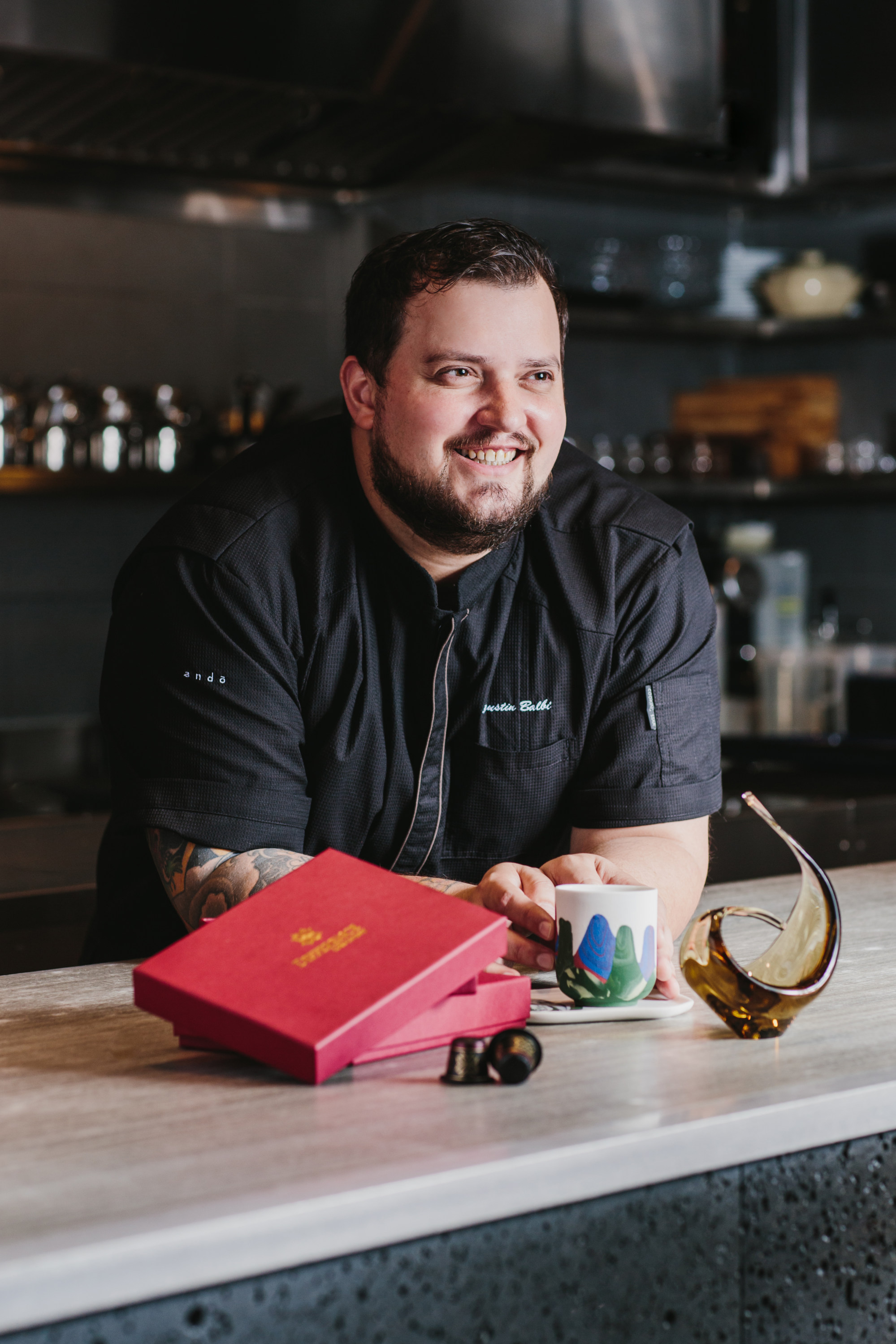 "What really matters is my singularity. My story is unique, a guy from Argentina who grew up in a Spanish family, worked in Japan and ended up in Hong Kong. I want to transmit my culture, my way of eating, the things I learned, so where the cooking comes from is less important," he says.
There is no printed menu at Ando, only illustrated postcards that provide clues to his evolving roster of dishes. It usually includes Japanese-style raw seafood, dry-aged Argentinian beef, and his take on arroz caldoso, a deeply delicious, soupy rice dish that pays tribute to his Spanish grandmother, who taught him how to cook.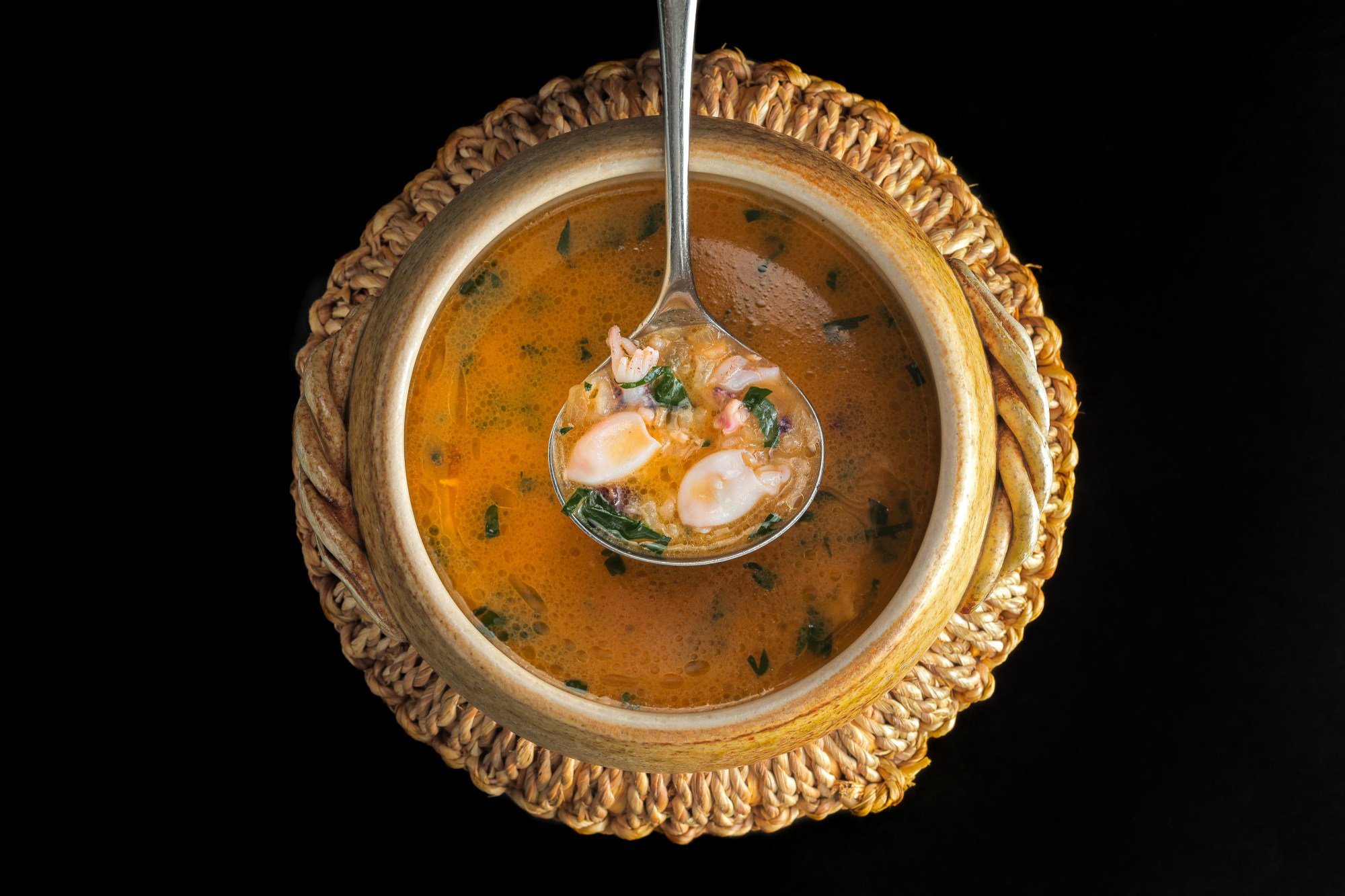 Asked if it's better than his grandmother's, he cheekily replies: "100 per cent! She would hate that, but it's good." The featured seafood or meat, such as blue lobster or duck confit, may change, but he has been perfecting the base recipe and stock for years. This includes a reverence for rice he learned from the Japanese.
Ultimately, it's the respect for ingredients and tradition, combined with the ability of Balbi and his peers to apply the best of all worlds to their cooking, that makes contemporary high-end Spanish restaurants in Hong Kong so exciting right now.
Agora Shop 14, D Hall, Tai Kwun, 10 Hollywood Road, Central, tel: 2316 2005.
La Rambla Level 3, IFC Mall, Central, tel: 2661 1161.
The Optimist 239 Hennessy Road, Wan Chai, tel: 2433 3324.
Ando 1/F, Somptueux Central, 52 Wellington Street, Central, tel: 9161 8697.