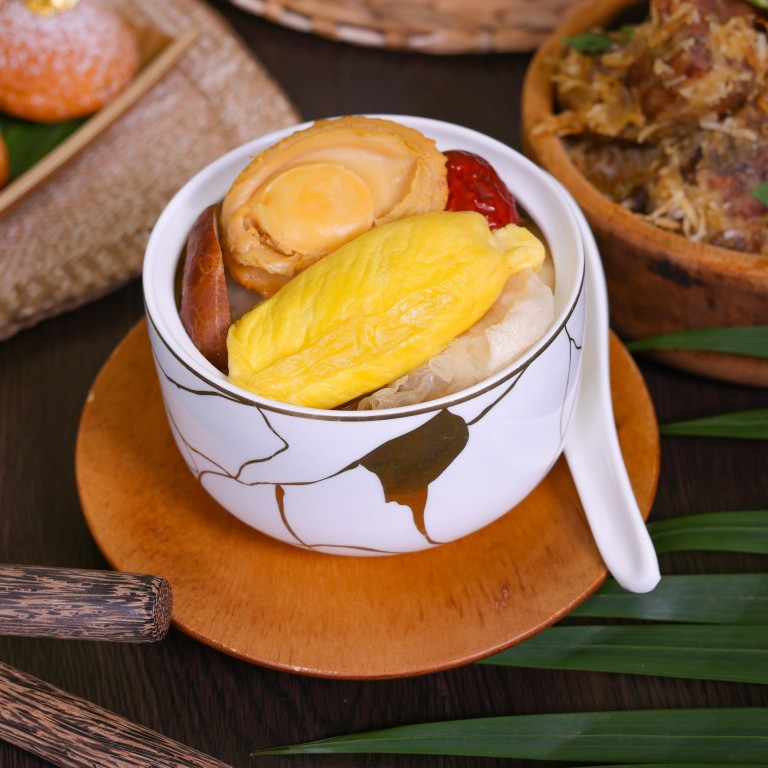 Durian on pizza, in curry, quiche and chicken soup – chefs in Hong Kong serve pungent 'king of fruits' in savoury dishes
With its distinctive aroma and custard-like texture, durian flesh often features in desserts in Asia, but lately it has found new uses in savoury dishes
Chefs at Hotel Icon add it to Chinese classics, those at W Hotel add it to Western cuisine staples and Kerry Hotel cooks beggar's chicken in durian shells
Durian has been described as the most dreadful-smelling fruit in the world. Its aroma has been compared to rotting flesh, raw sewage and rubbish dumps.
The smell is so noxious that the spiky-skinned, custard-like fruit is banned from public places in its native Singapore and Malaysia, as well as in many Hong Kong hotels.
Studies have shown the odour of durian comes from a chemical compound called ethanethiol, but it isn't clear how it is produced in the fruit. A new study, published in the Journal of Agricultural and Food Chemistry, finds that as a durian ripens, its ethionine content increases, resulting in a stronger smell.
Durian is considered a rich source of the vitamin B complex, vitamin C, dietary fibre, potassium and iron. It is also purported to have anti-ageing, antidepressant and cancer-prevention properties, as well as being high in antioxidants and with the ability to maintain blood sugar levels.
These health benefits could be fuelling rising demand in China for its pungent flesh. In 2021, China imported US$4.2 billion worth of durian, or 821,500 tonnes. According to the country's General Administration of Customs, that's a 42.7 per cent increase on 2020.
There is no recent data for durian imports to Hong Kong, but according to a government logistics report, the number of durians passing through Hong Kong ports rose by 570 per cent between 2010 and 2020.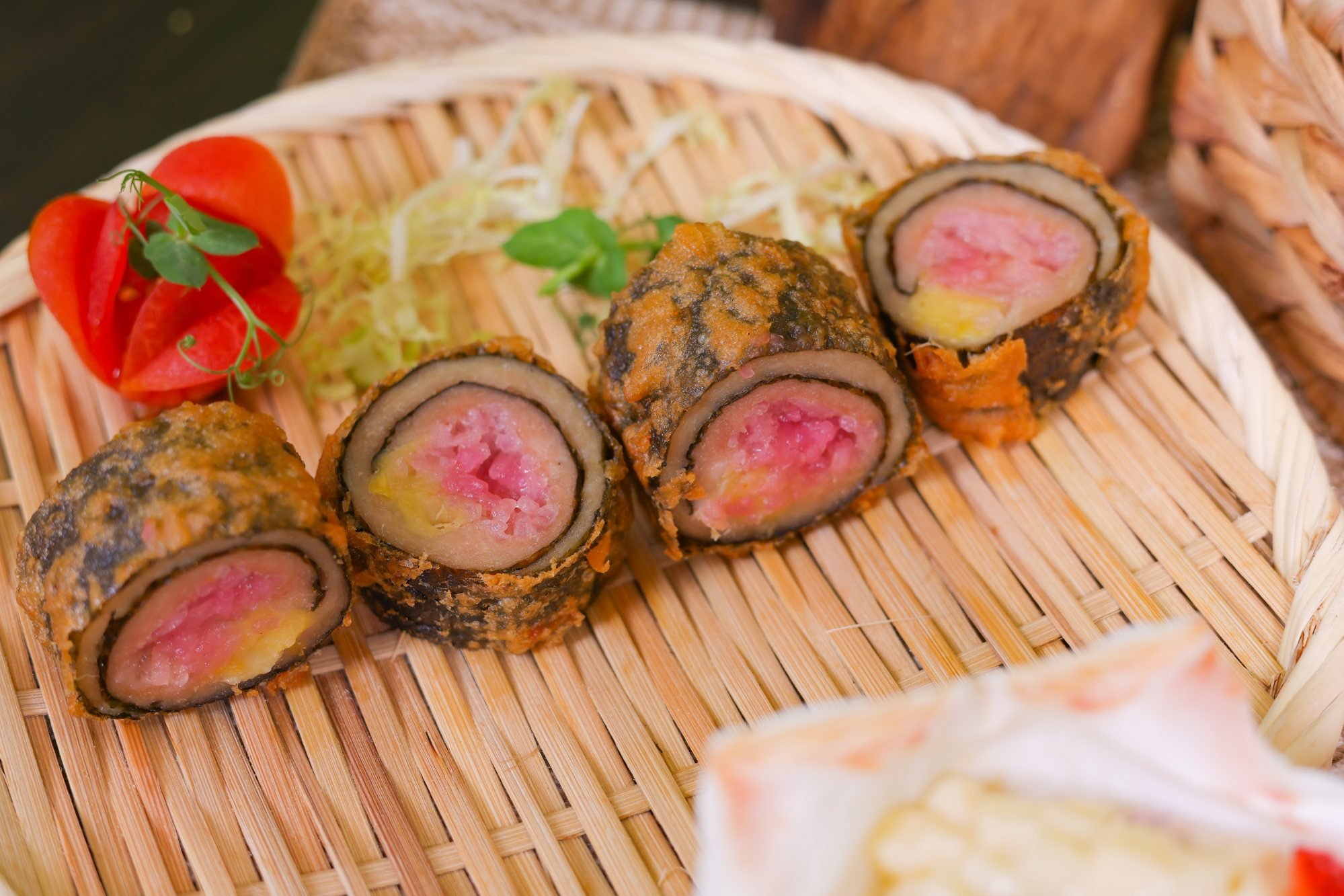 So, despite its reputation, the numbers suggest that its popularity is growing. And for some the raw fruit is not enough any more.
Hotel Icon in East Tsim Sha Tsui, Hong Kong has championed the "king of fruits" for the past four years with its annual Malaysian durian festival.
While durian cheesecake, ice cream and other desserts are commonplace, in recent years chefs at the hotel have been experimenting with durian in savoury dishes. These include double-boiled durian and abalone chicken soup, and deep-fried chicken rolls stuffed with D24 durian – a popular variety of the fruit – and glutinous rice.
"Durian is known as the king of fruits, and the soft white flesh as well as the seeds are valuable as, after boiling, they can help to relieve hot flushes," says Hotel Icon's executive chef, Danny Ho.
To make the double-boiled soup he first simmers chicken broth for three hours, then adds Chilean abalone, flesh, shell and seeds from Musang King durian – a prized variety – snow fungus, winter melon, and red dates, and boils it all for another three hours. The result is a delicious and nourishing soup which conveys a hint of the durian's aroma and natural sweetness.
As for the chicken roll, Ho feels the combination of ingredients is a novel way to appreciate the fruit. "The mixture of succulent chicken breast, glutinous rice, durian flesh and beetroot wrapped in seaweed gives a crunchy and chewy texture," he says. "The durian paste matches very well with the deep-fried chicken, like a mustard sauce."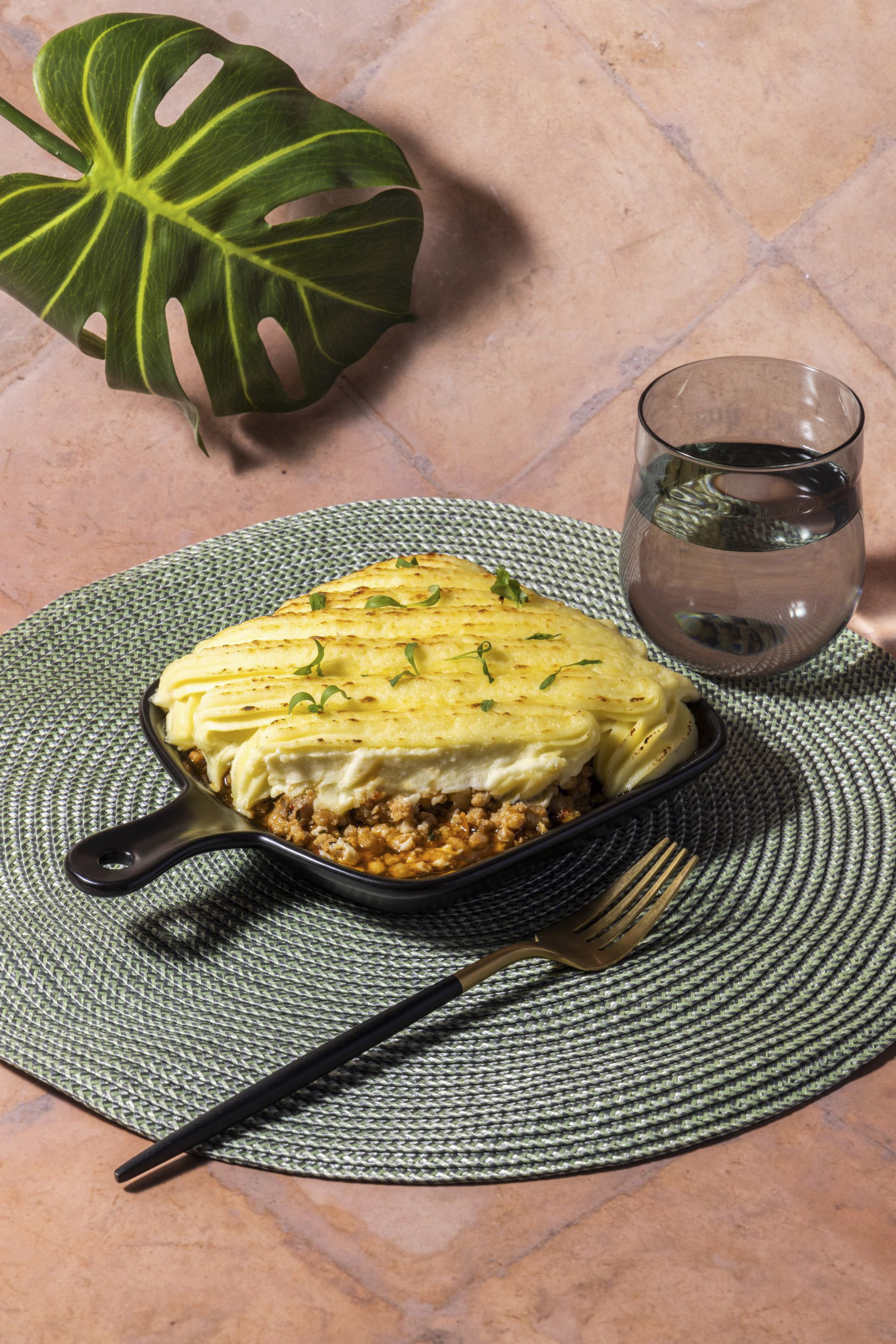 A durian buffet at W Hong Kong's Kitchen restaurant was so popular that it returned for a second time this year. The menu featured savoury items even bolder than Hotel Icon's, such as durian fish curry, salami durian pizza, cottage pork pie with Thai basil and durian, and baked durian quiche with sausages.
Baking durians concentrates the flavour and sweetness and mediates the ethionine content.
"For my durian cottage pie, I got inspiration from the British cottage pie," says Jeffrey Siew Khoon Poh, Kitchen's executive chef. "Instead of traditional minced beef, I used minced pork and diced vegetables with herbs and spices, topped with durian mashed potato and baked until a golden crust forms."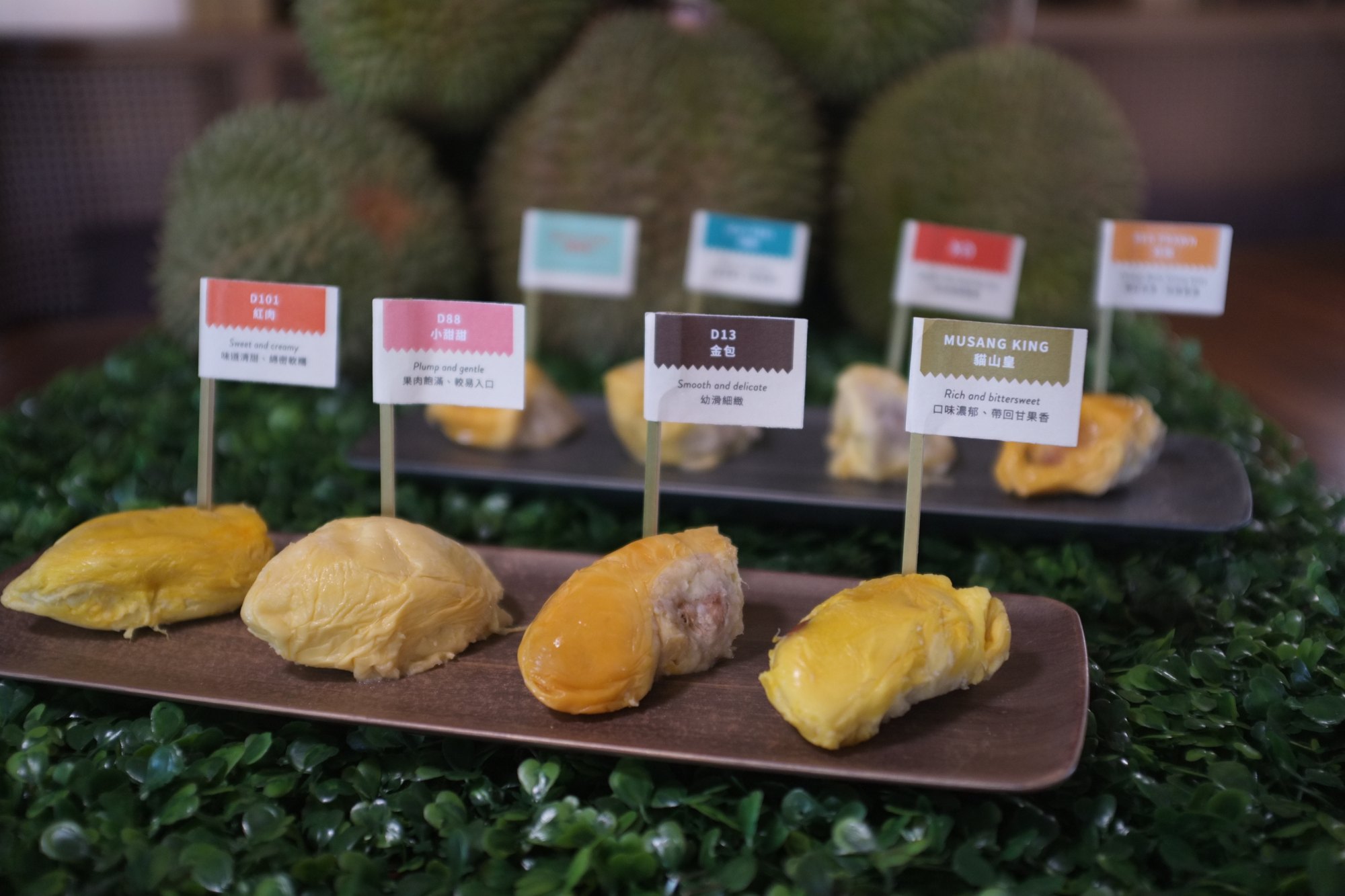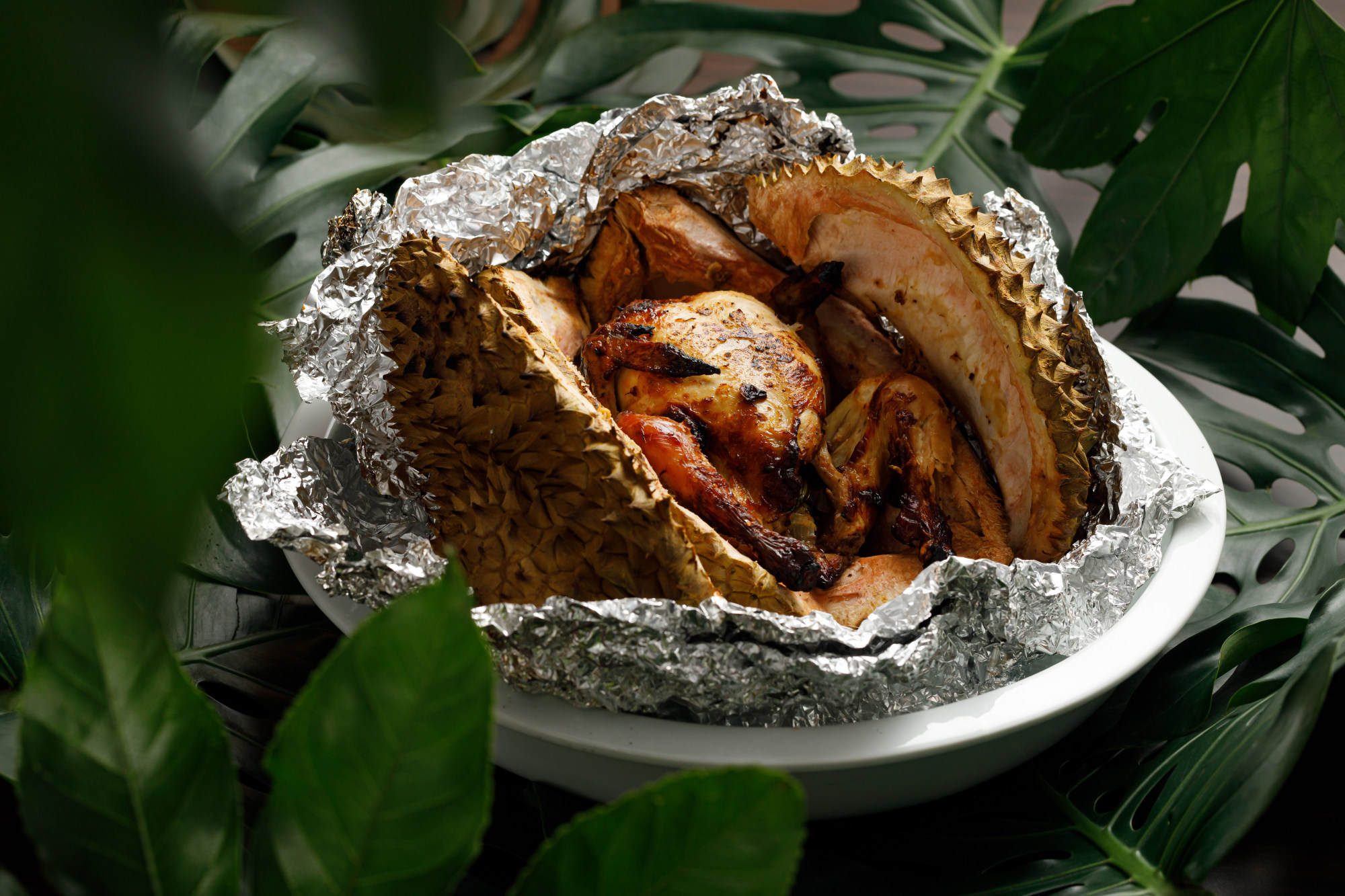 The durian fish curry was inspired by one of Siew's favourite dishes. "I like to eat fish head curry, so I infused durian purée into the curry and replaced the fish head with barramundi fillets or sea bass," says Siew.
Kerry Hotel Hong Kong is hosting a Southeast Asian and Durian Feast buffet for afternoon tea and dinner throughout August.
As well as desserts and various varieties of durian, it includes innovative savoury items such as charcoal-grilled durian beggar's chicken.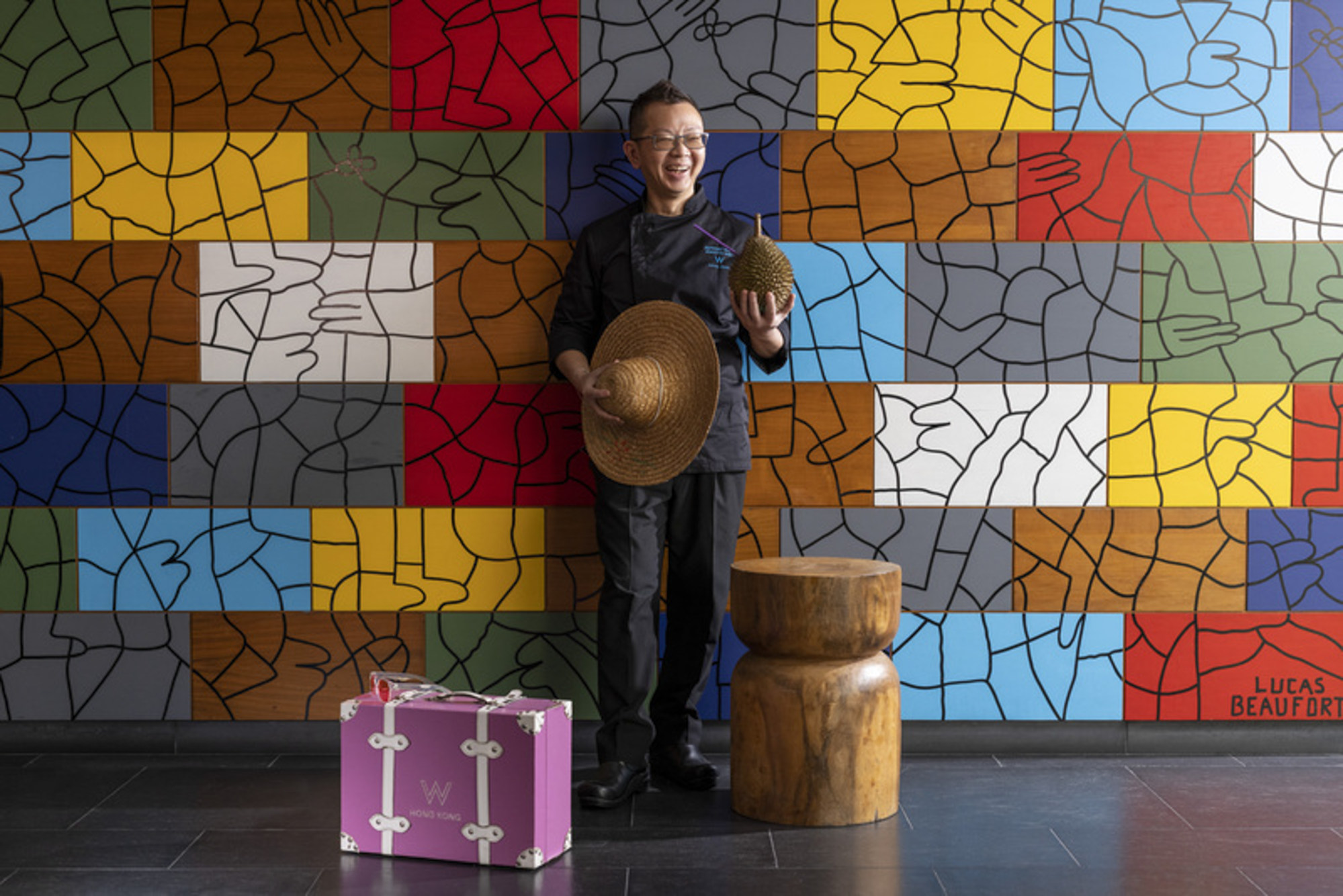 Created by Andy Cheng Mo-leong, the hotel's senior sous chef, the dish is prepared on the buffet restaurant's outdoor terrace, where the spring chickens are roasted inside durian shells until juicy and tender, and exude a light durian aroma.
"I got the inspiration from our last Durian Feast, in 2021," he says. "When the team cut open a lot of fresh durian, the fruit shell was simply thrown away. I thought to myself, maybe it can be used to create a new dish for next year – and here it is!"