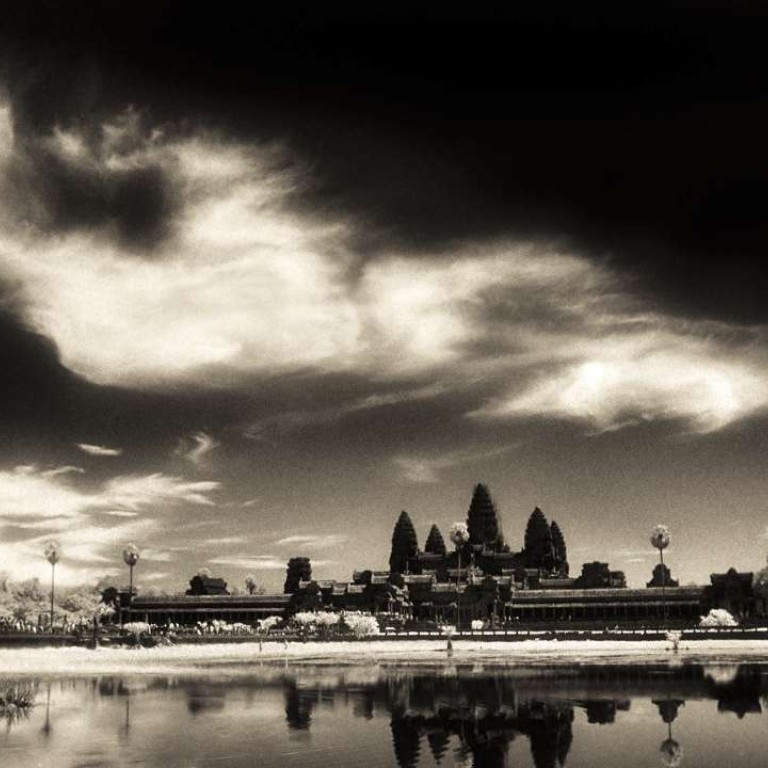 The Ansel Adams of Angkor: photographer's unique take on ancient Khmer capital
American John McDermott's use of infrared film captures an otherworldly perspective of the Cambodian temple complex
Like the late, great Ansel Adams, whose black-and-white landscapes of Yosemite are defining images of that Californian national park, John McDermott's photography is strongly tied to a place. The 61-year-old's iconic depictions of Cambodia's Angkor (within which is wonder-of-the-world Angkor Wat) are dreamlike and otherworldly, and yet also capture what one feels when visiting.
With ghostly monks climbing sandstone steps towards the heavens, 20-metre-high gates looming from primeval jungle, mysterious structures (lairs of the gods, perhaps) floating on seas of cloud, and tentacle-like tree roots consuming temples lost in time, McDermott's are the defining images of the temples, with The New York Times dubbing him "the unofficial court photographer of Angkor".
Hailing from Little Rock, Arkansas, McDermott today lives in Siem Reap (bustling entry-point city for tourists visiting the sprawling Angkor Thom complex) with his American wife, Narisara Murray, and their two young children, Mars and Rose. He discovered his 12th-century muse, however, back in 1995, when working for a Bangkok-based magazine. That year, McDermott visited Angkor Wat for the first time to experience a total solar eclipse.
"A magical place for a magical event," he says.
The photographer had been experimenting with specialist film sensitive to infrared light, which is invisible to the human eye. Images captured with infrared film have an ethereal quality: leaves on trees appear luminous, skies darken moodily, the orange robes of monks fluoresce tungsten white, and light sometimes bleeds to give objects supernatural-looking auras.
"It's hard to work with, not very stable, and a lot of photo­graphers gave it a try but didn't really get into it," McDermott says. "I wanted to see what would happen to the film before, during and after the eclipse."
Having taken up position on the right side of the causeway leading towards Angkor Wat, McDermott waited for the moon to pass across the sun. "As [an eclipse] gets closer and closer, colour diminishes and everything becomes monochromatic," he says, "and just a few seconds before totality hits, the light flutters."
Already impressed by what he had witnessed, once back in his darkroom McDermott had his "eureka moment". "When I looked at all the pictures, the infrared were the ones that had a sort of spirit or soul to them," he says of the film, manufacture of which has long since been discontinued (McDermott has about 200 rolls left, stored in his freezer). "They had a surreality that spoke to me, that captured the place as it looked to me at the time – the feeling, the experience.
"I always envision places like Angkor, like Bagan [in Myanmar] and some other historical places in Asia as remnants of an ancient civilisation, or even of an alien civilisation – like Star Trek backgrounds – and I really wanted to capitalise on that idea and make the pictures as surreal as possible. Angkor and the infrared film proved a good match."
Five years later, McDermott returned to Siem Reap for an exhibition of his work at the newly reopened Raffles Grand Hotel d'Angkor.
"It was a little exhibition, just for fun, but it ended up selling out," he recalls. "I'd been looking for a project to get my teeth into, and I realised then that interest in Angkor was building, and that there was going to be a tourism boom. I needed to photograph the temples soon, before the invasion happened and things would never look the same again."
McDermott spent much of 2000 and 2001 flitting back and forth from the United States to shoot Angkor Wat, the Bayon, Ta Prohm and other temples, gradually developing his characteristic style, and financing his project with further exhibitions.
"By 2004, tourism had really grown," he says. "By then I had a big collection of pictures and was having regular exhi­bitions around town."
The upmarket FCC Angkor restaurant and bar on the banks of the Siem Reap River had opened some shops on the ground level. "I got offered one, so I called Narisara, who was then about to leave grad school in the US, and said, 'Do you wanna go into the gallery business?'"
Today the couple have two galleries – that original space and one in the Raffles. McDermott admits that he shoots Angkor less often these days due to the sheer number of visitors to the temples and the ongoing restoration work. Even so, the second edition of his exquisite Angkor-photography book Elegy (funded by a Kickstarter campaign that generated more than US$100,000) includes pictures taken as recently as 2014.
"The aesthetic has certainly changed," McDermott says of Angkor. "Is it a fantastic place to visit as a tourist? Yes, sure, but some of the charm, some of the mystery, has gone."
As well as the galleries, McDermott runs photography excursions for individuals and group workshops. "In the workshops we might focus on how to build a story or a portfolio," he says. "The one-on-one excursions are more informal. I take them to places where I know they are going to get good photographs, so they don't have to do days of research to find them. We don't get too technical, and they get to see Angkor in a different way."
Ultimately, it could be argued that McDermott's own quest to see things in "a different way" has been central to his success, and his Angkor portfolio is a "window in time" that lets in mood and emotion as well as light.
"I wanted to capture more than I could see – I wanted the gut feeling, the atmosphere and sense of wonder," he says. "That was my intention from the beginning: to cap­ture the spirit of Angkor as I felt it. I saw it back when it was just ruins and jungle, and it had that mysterious, other­worldly appearance. I wanted that."
How McDermott took each photo
McDermott: "This is the picture that started it all for me: the total solar eclipse of October 1995. It was a beautiful, sunny day and there were maybe 1,000 or so people at Angkor Wat. I shot on three or four different types of film that day, and I had one camera loaded with infrared film. I wanted to see how the eclipse – and the different type of light – would affect the film.
"I set up on the right side of the causeway, where there were fewer people. It was my first time to witness an eclipse. As the moon passes in front of the sun, colour diminishes and everything becomes monochromatic. Just a few seconds before totality hits, the light flutters, and then you are plunged into darkness, with just a thin strip of light around the perimeter of the horizon. This picture was taken about a minute before totality, and when I saw the result I thought it had really captured the mood and feeling of the moment.
"The image I made right after this – when we were in full totality – was rendered dark. I'd never before witnessed anything of such magnitude as an eclipse and I was deeply moved. It brought tears to my eyes."
McDermott: "I shot this image for The New York Times, which ran it large to illustrate a story about the trees of Angkor. The image has a painterly quality, partially due to the graininess of the infrared film, but also because of the light coming through the trees. This tree also had a real strong character, like something from a scary children's story of old.
"The dappling of light and shadow gives an impressionistic feel. As a "pictorialist" photographer, I'm going for mood, for an emotional response, rather than recording reality with precise technical perfection. That's what is most important to me."
McDermott: "One of the criteria I had for this series was having no indicators of time frame in my shots. There's nothing in the frame – except perhaps the woman's handbag – that indicates modernity; there are no bicycles, no baseball caps. I was looking back towards the entrance and the causeway, with Angkor Wat right behind me.
"It had just rained – that spring rain that pours real hard and then ends quickly – and the sun had just broken through the clouds, so there was fantastic light. The causeway was glowing, providing the perfect backdrop for something to happen. So I sat down and waited for my subject to come along, and a few minutes later, there it was: a local woman leading a young boy to the temple, and the perfect poetic moment."
McDermott: "This is one of my most popular images, taken the first time I'd seen elephants at the temples. It was early afternoon when they lumbered through the South Gate, but I missed the shot, so I grabbed one of the mahouts and asked when they'd return. He said at about 4pm, so I waited and prepared, positioning myself quite far away, using a long lens to condense the distance.
"There were a few tourists milling around, however, and when the elephants came back and I began shooting, one guy stood right in front of me. I was so afraid I was going to miss the shot, but he moved slightly out of frame, and I managed to capture the moment as the animals came through the gate.
"The howdahs were tilted just right, so you can see both of the men riding the elephants. The picture also highlights the immensity of the gate, which was actually built to handle elephant caravans."
McDermott: "This monk in the wind was one of those photographic 'decisive moments', as the late Henri Cartier-Bresson called them.
"In the old days you could go to the highest levels of Angkor Wat and walk around, sit on the steps at the very top, enjoy some solitude and watch the sunset. I was down a level on this occasion, looking up, and the monk stepped out to take in the view. I got a couple of frames and he was gone. I'd love to be able to go up there again, just to sit down and get away from the crowds."
McDermott: "This was taken at the end of a day's shooting. I was finishing up the day at Phnom Bakheng, and there was nothing much happening. I was about to head home when I spotted a group of monks coming up the pathway, and I knew they were going to look wonderful against the stone.
"Orange robes glow white in infrared, and the light spreads a little on the film, creating a halo effect around the monks' bodies and giving them a mystical, ethereal appearance."
McDermott: "Pre Rup has always been a magical place for me, for reasons I don't truly understand. There's just something about the place – it speaks to me.
"Anyway, Pre Rup has these really attractive temple lions, and I'd been walking around the structure, trying to find a rewarding vantage point. It was one of those idyllic days with magnificent clouds and skies.
"This shot works because of the clouds, in fact. I'll be the first to admit that dramatic cloud formations play major roles in many of my Angkor compositions."
McDermott: There are several little temples at Koh Ker, which is way out from Angkor Wat and miles off the main tourist circuit, and I took a drive out there in 2005. They call this structure the Black Lady because the stone looks as if it has been charred.
"It was constructed from a certain type of sandstone that has weathered that way, giving a faint sense of foreboding. The authorities were de-mining the area at the time, and so all the surrounding vegetation had been burned off, giving the scene an apocalyptic quality.
"This photograph is the antithesis of most of my Angkor work, but there's a soul to it that I really like."
McDermott: "This lady was at the Bayon for years. It seemed like every time I went there, I'd pass by this little shrine – a small chamber up on the terrace – and she'd be sitting inside, handing out incense for 1,000 riel or so. I don't see her any more, and wonder what happened to her.
"Capturing the stone face through the window has been done many times by photographers, but I still take pride in this portrait. It uses only natural light, and I've managed to pull the woman's face out of the darkness (it was very gloomy in the chamber). There are some pleasing textures at work here, too: the stonework, the straw mat … and I like the visual echo of two Khmer faces."
McDermott: "Nobody really goes to Phnom Bakheng except at sunset, but I was up there one morning. Here again, we benefit from perfect clouds. That low row of wispy clouds, in fact, really sets off the subject, giving the impression of a mysterious temple in the heavens. And again, this photograph was taken with that 2x1 panoramic camera, and that format is fundamental to the image's power.
"The central structure makes an 'I am here' statement, and there's a real, solid sense of presence. This print hangs in the entrance to the United States embassy in Phnom Penh. I'm very flattered by that. Many of these prints are also part of the permanent exhibition in the National Museum in Phnom Penh."
McDermott: "Shooting the Bayon without the hordes has long been a challenge, and by 2008 it was very difficult, but I waited until late in the afternoon, stood my ground, moved some signage out of the way, and only had a few seconds to capture this image without anyone walking through.
"I had to work really hard in the darkroom with this shot, to bring the tones down, and to darken the clouds at the top and shade the bottom, leading the eye down the pathway and into the drama.
"All of my images are worked very hard in the darkroom as the negatives are not very pretty, or easy to work with. I have to push them hard to get the drama out of the scenes I want."
McDermott: "This is another of my favourite shots. Angkor Wat faces west, so sunlight – if it's a bright day – blasts through windows and doors in the late afternoon. The light is truly beautiful as it streams inside.
"I took a number of agreeable shots while walking along the entire frontage of Angkor, and this is perhaps the best. I came around a corner and there it was: an ideal setting waiting for something to happen. I just needed that something – a subject for my shot – another 'decisive moment'.
"Soon, two monks pushed by me and stopped to pause and look through the doorway before continuing on their way. Everything had fallen into place. I was barely able to get one perfect frame before they were gone forever."