It is just three days since the death of Otto Warmbier, following the American tourist's return in a coma from 17 months' detention in Pyongyang, and the mood in the North Korea-themed DMZ Bar, in Yangshuo, is distinctly subdued.
The backpacker bar, which claims to stay open longer than any other nightspot in the tourist town in southwest China's Guangxi region and revels in the catchphrase "Get s***faced the North Korean way", seems anything but raucous as its owner serves drinks to a handful of tourists and expats.
Once festooned with pictures, posters and other Pyongyang-related memorabilia, the DMZ Bar appears to have been stripped back to basics, with only one socialist realist mural on show and a blackboard above the bar offering North Korean beer at 55 yuan (US$8.5) a bottle.
The few inside the bar, owned by Briton Gareth Johnson, include Western tour guides taking time off between escorting parties in and out of North Korea who are now fretful about their future and have to deal with entreaties from anxious parents to come home.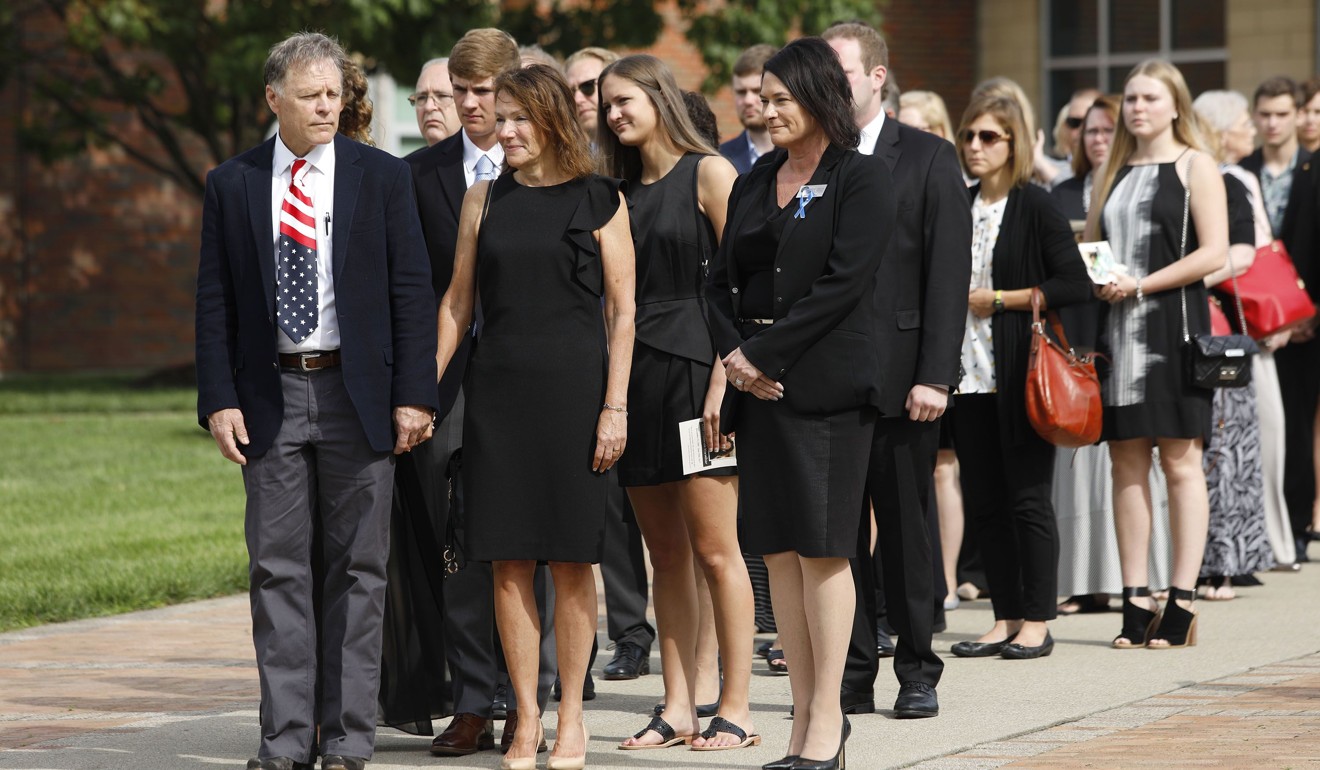 Named for the military acronym of "demilitarised zone", the DMZ Bar is the unofficial headquarters of Young Pioneer Tours, the travel company that organised the fateful tour to North Korea in January 2016 on which 21-year-old student Warmbier was detained. Over the past fortnight, the com­pany set up in 2008 by Johnson and his Chinese wife, Wendy, has received an avalanche of criticism over its alcohol-fuelled tours as it and the more reputable companies that take non-mainland Chinese tourists into North Korea reassess their position in light of the tragedy.
Young Pioneer offers "budget travel to destinations your mother would rather you stayed away from", but that boast – still carried on the company's web­site at the time of writing – has a hollow ring for the grieving parents of Warmbier, who was arrested at Pyongyang airport for allegedly stealing a propaganda poster from the hotel in which he stayed with Johnson and the tour group.
Warmbier was sentenced to 15 years hard labour, but fell into a coma in prison after his March 2016 trial, according to North Korean officials, who claim he contracted botulism. North Korea said nothing about his condition until he was flown back to the United States on June 13, dying six days later without having regained consciousness.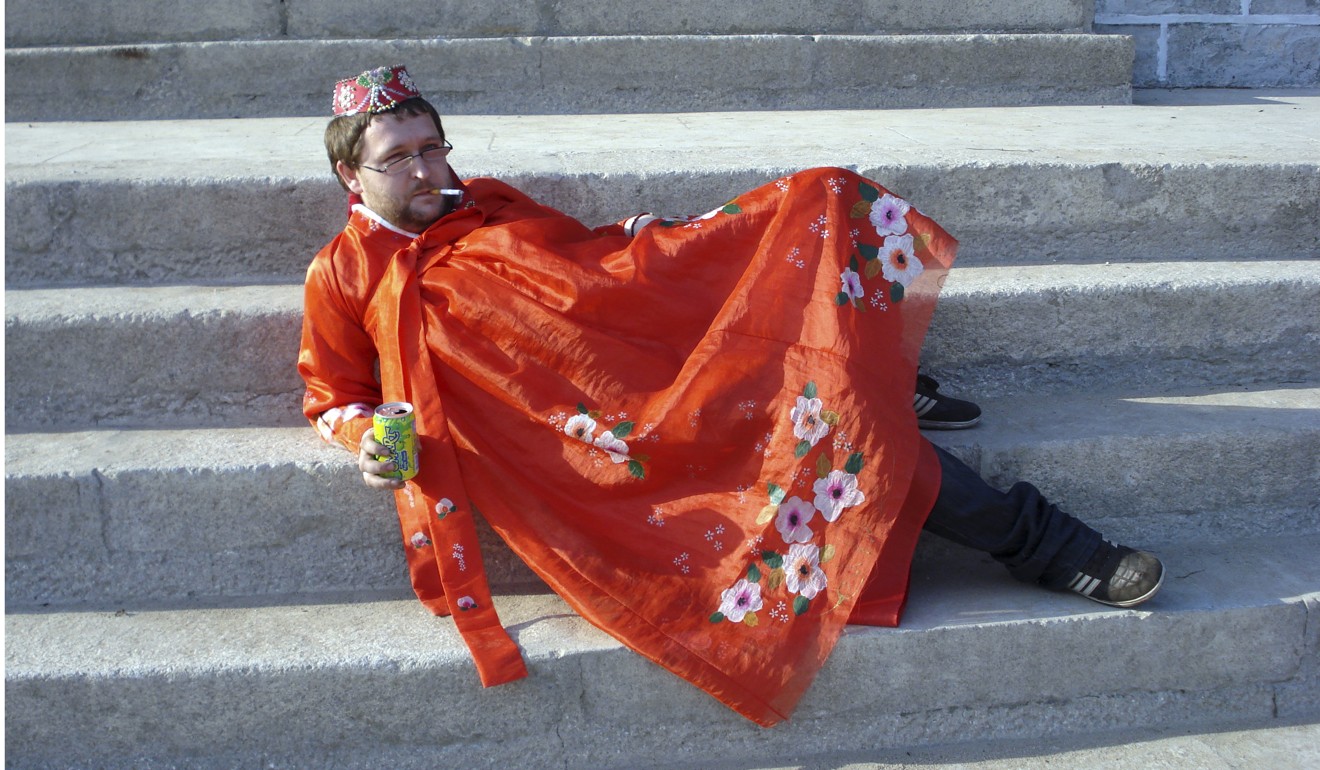 After Warmbier returned home to die in Cincinnati, his father, Fred, criticised Young Pioneer at a press conference, saying, "This Chinese company has slick ads on the internet, claiming no American ever gets detained.
"They lure Americans. And that's what happened to my son. He was trying to leave the country and he was taken hostage. They advertise it as the safest tour ever. But they provide fodder for the North Koreans. They took him hostage, and the outcome is self-evident."
Most people in Hong Kong see the difference between being an American and going to North Korea and being a Hong Kong visitor going to North Korea. This makes them feel more secure
While Warmbier's family and US officials negotiated behind the scenes for the student's release, Johnson carried on as before, declining to comment directly on the case and revelling in his company's rebellious image. In a podcast interview broadcast last summer, Johnson described how, on one visit to North Korea, he broke his ankle after step­ping off a moving train while drunk on soju, a potent Korean liquor.
In an interview with Vice magazine published last July, Johnson said he formed Young Pioneer in 2008 after getting drunk with a North Korean official "in charge of stuff" and claimed his company was now the "second biggest player in North Korea tourism". He said he was unable to discuss Warmbier's case but, in a remark that appeared to shift the blame towards the American student, said, "If I bring guests that are respectful, willing to listen, willing to interact with people, North Koreans will see that we are normal people as well."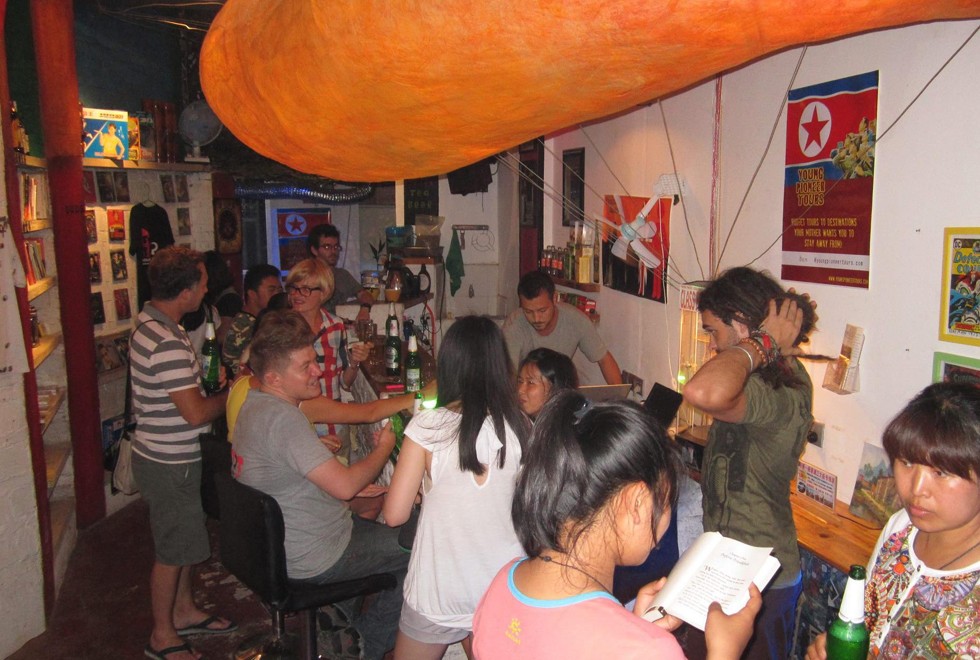 Tour guide Charlotte Guttridge told news agency Reuters shortly after Warmbier's arrest while boarding a flight to China at the end of the tour, and before he was charged with hostile acts against the state, "What happened hap­pened at the hotel and my belief is that Otto kept it to himself out of hope it might go unnoticed."
Nevertheless, Warmbier's death unleashed a torrent of troubling accounts from former customers.Briton Adam Pitt, who visited North Korea with Young Pioneer in 2013, said in an interview he believed Johnson put his tour group in danger: "Gareth was pretty much blind drunk the whole time we were in the country," he recalled, describing Johnson drinking so heavily on the train journey from Pyongyang back to Dandong, in China, that by the time they reached the border crossing, he was "almost unable to stand and barely under­standable when he did speak".
A Pyongyang hotel staff sports day: fun and games, North Korea style
There then followed a farcical encounter with agitated border guards checking tourists' cameras for illicitly taken pictures while Johnson tried to bribe them with wads of bank notes. At one point, guards appeared to signal for the entire tour party to get off the train before the situation was defused by Johnson giving a bigger bribe, Pitt claimed. Young Pioneer later disputed his account.
Johnson insists that he stayed behind in North Korea for days to find out more about Warmbier's detention. However, his expressions of concern were undermined by a picture from North Korea posted on his Instagram account on January 11, 2016, nine days after Warmbier's arrest, showing him fondly clutching a bottle of liquor.
Tourism or propaganda: how ethical is your North Korean holiday?
"I was present in North Korea at the time of Otto's deten­tion but I was with a separate group," Johnson writes in an emailed response to Post Magazine. "I do not believe my presence had anything to do with his detention nor that my behaviour in Korea during the tour was reckless or irresponsible.
"After Otto Warmbier's arrest, I initially stayed behind as I was in the country and my partners were not, to try and ascertain what he was being charged with and what could be done. Local authorities would not allow me to meet with Otto Warmbier and after a few days I returned to China.
"From that point, my partner took over all efforts to try and assist with the case, having already informed the family and the Swedish Embassy, who represent American citizens in Pyongyang, who informed the US State Department, whom we communicated with regarding the case."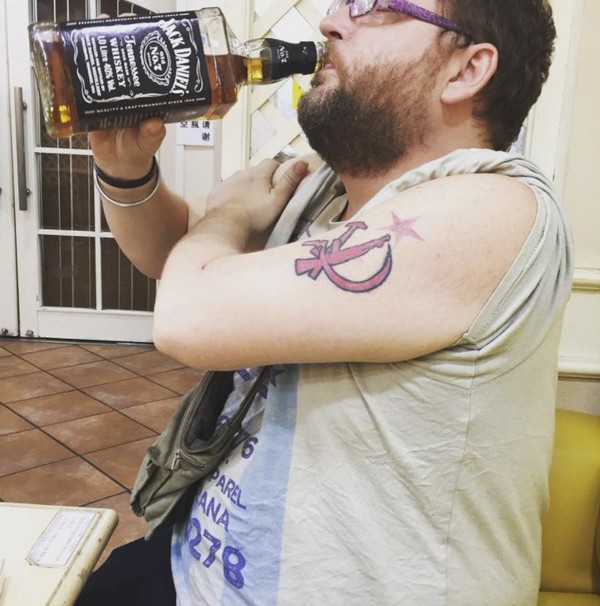 He adds: "We did everything that we could to help secure his release and inform the appropriate agencies. I was not at all unconcerned about Otto Warmbier's fate, it weighed heavily on my mind, but I did not share those feelings with any of my acquaintances and I felt it would be better handled by my partners."
Johnson did not return to North Korea after Warmbier's detention, concentrating instead on a company he set up three years ago that arranges stag parties and bachelor weekends in the Philippines, Thailand and else­where in Southeast Asia. Ironically, in the light of the criticism later levelled at Johnson, that company is called GN Tours – GN standing for "gross negligence".
GN Tours promises its all-male customers "what goes on tour stays on tour" and has a website full of images of bikini-clad Asian women, offering "beaches, babes, bullets and booze (all cheap)" on its Cambodia trips.
Customers can also book private pool parties in Angeles City, in the Philippines, with the website boasting, "Any­thing goes at these events … Make your experience extra fun with high quality entertainers available to party with you for US$110."
Johnson, who lives in Yangshuo with his wife and six-year-old daughter, flew to the Philippines to focus on running GN Tours in April 2016, weeks after Warmbier was sentenced.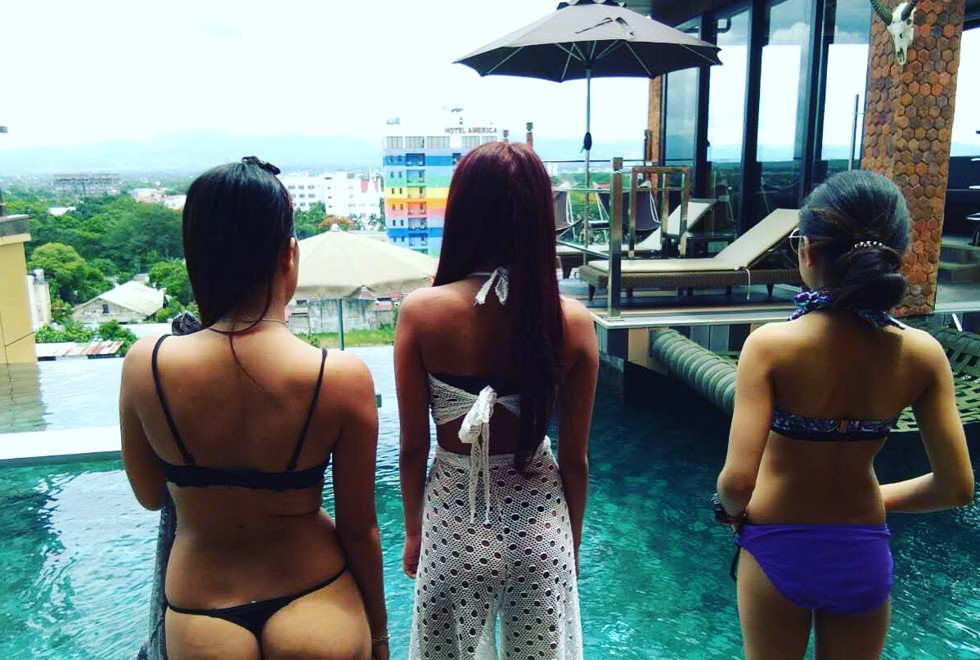 An expat acquaintance who met Johnson in the Philippines says, "Gareth is a typical loud, drunken Brit who doesn't seem to take anything very seriously. He was in the Philippines soon after Warmbier was jailed and the impres­sion I got was that he didn't give a damn. There's only one person on planet Earth that Gareth Johnson gives a damn about and that's Gareth Johnson. His businesses exist for his lifestyle, not the other way around."
Describing the way GN Tours operates, another source says: "His company takes guests to VIP rooms of hotels with large groups of girls. It doesn't take much imagination to understand what goes on. But he's treading a very fine line because if you advertise those sorts of services and organise those kinds of things it is illegal under Philippine law."
Otto Warmbier's death brings to light the brutality of North Korean dynastic rule
Responding to the remarks, Johnson says: "GN Tours does not offer sex tourism. It is a small business of which I am the sole owner that primarily arranges bachelor tours in the Philippines. GN Tours doesn't organise anything illegal and does not offer nor imply sex tourism.
"GN Tours occasionally provides dancers and hostesses/waitresses for bachelor parties and events. GN Tours does not sell or offer any services of a sexual nature."
Johnson was on holiday in Bali with his wife, daughter and parents when news of Warmbier's tragic return to the US broke, he says. He returned to China on the day Warmbier's death was announced and, while his wife and daughter went home to Yangshuo, he flew to Beijing to meet with his Chinese business partners.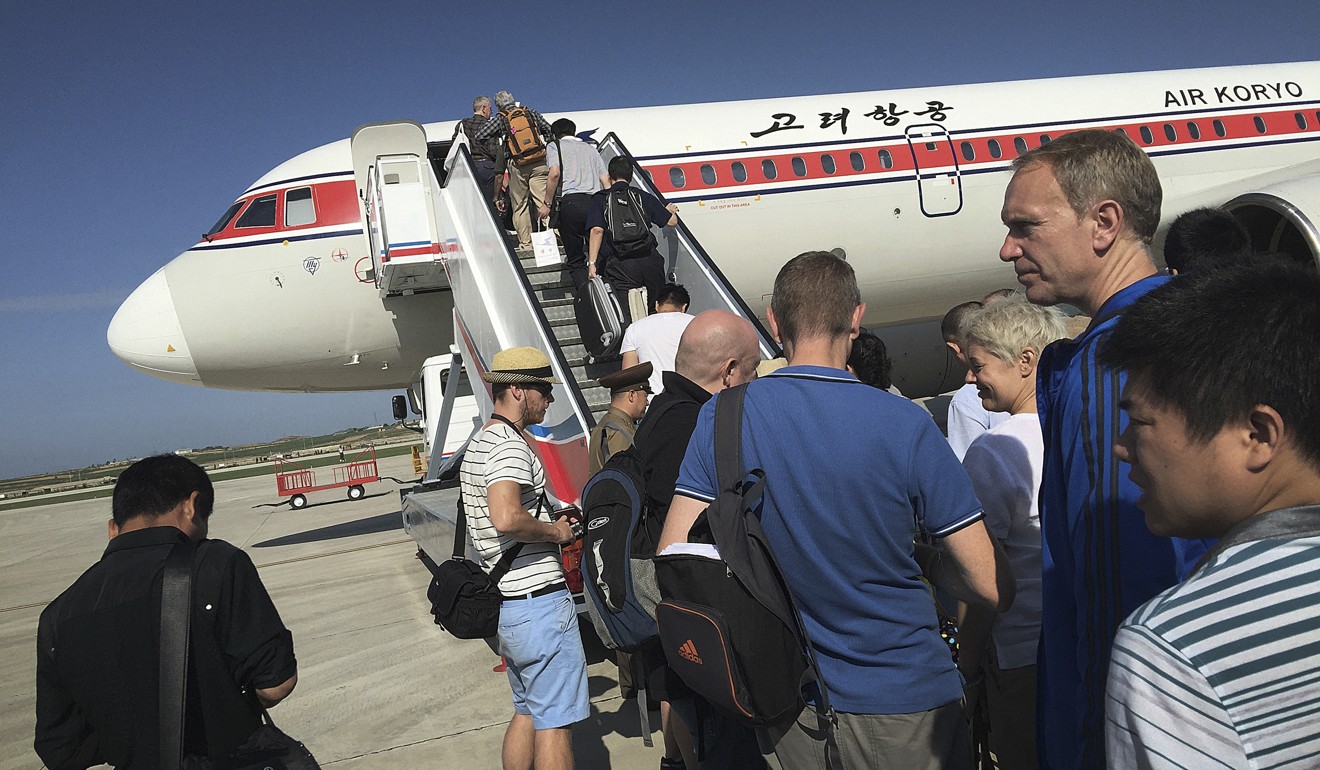 "Several years ago, I had already begun to step back from Young Pioneer Tours as I believed my partners more capable of moving the company in a more professional direction," Johnson adds. "I started GN Tours on my own as I no longer had such a significant role in the management of Young Pioneer Tours."
Whether Johnson detaches himself from the com­pany he founded or not, Warmbier's death casts a long shadow over the North Korea tourism industry. Other major players, such as Beijing-based Koryo Tours, which has run trips to North Korea for 24 years and has a reputation as a respon­sible operator, have thus far declined to comment beyond the issuing of prepared statements.
On June 20, in a statement that offered sympathy to the Warmbier family and others touched by Otto's death, Koryo said, "We are discussing this matter frankly with our Korean travel partners, and the foreign organisations active in Pyongyang that we liaise with, and are currently reviewing the issue of US citizens travelling to North Korea."
About 100,000 foreigners are estimated to have visited North Korea in the past year, 90,000 from mainland China and between 8,000 and 10,000 from other countries and territories.
Hong Kong tour company Glo Travel is run by former university classmates Jamie Cheung Chun-wa and Rubio Chan Shing-kwan, who began operating tours from Hong Kong to North Korea in 2014 and now take in 300 to 500 Hongkongers, including high school students, a year.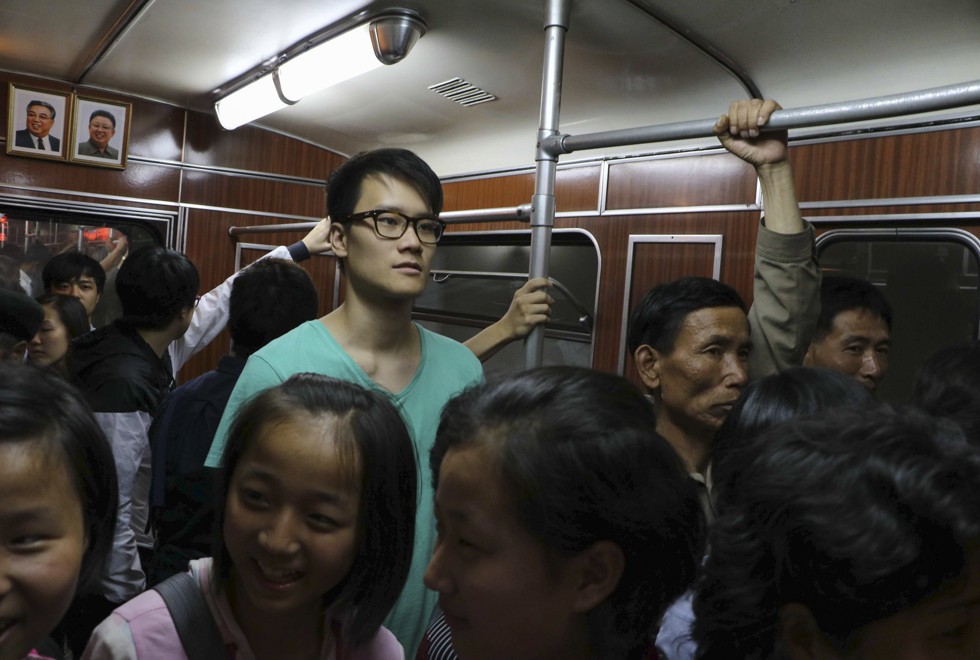 Asked whether he is able to assure his tour group mem­bers that North Korea is a safe place to visit, 27-year-old Cheung replies: "No – absolutely not. You have to behave yourself in the country. If you don't behave yourself and keep to the rules, you put yourself in a very risky position.
"I don't have views on how Young Pioneer organised their tours, but we emphasise cultural exchange with the locals there for educational purposes. We prepare some reading materials before the departure of the tours and get people prepared for accidents or incidents.
"We try to keep to the rules. It is quite different from how Young Pioneers run their tours but it is for different people. Some youngsters enjoy the style of their tour guides and the way they run it, but we are very different."
North Korea lesson one: Hong Kong travel firm offers holidays to Pyongyang's schools for the first time
Most people who sign up for trips to North Korea with Glo Travel are in their 30s and 40s, says Cheung. "They are tired of going to Japan and South Korea, so they try to go some­where less common and experience what they can't experi­ence in Japan and South Korea.
"North Korea is a country that is very different from Hong Kong and people want to experience and to understand more by getting there. We try to work out an itinerary that can enable participants to know more about the political and economic circumstances of the country. Most of the people go to North Korea out of curiosity.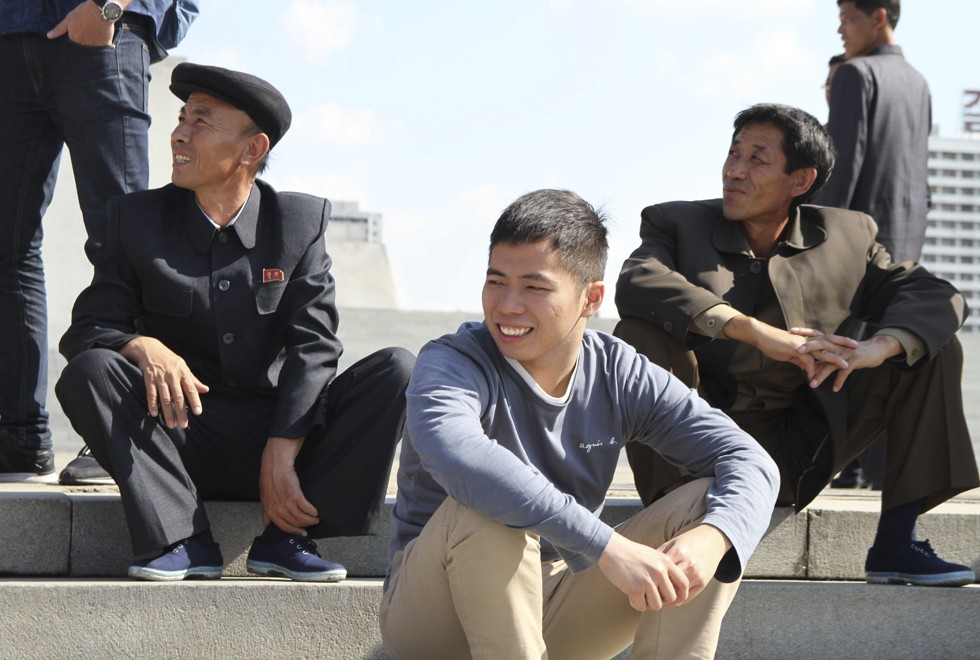 "Most of the information we receive from the media is pretty one-sided but once you know more about what happens in North Korea and once you have met people there, your views will get more [nuanced]."
Demand for Glo Travel's North Korea tours has shown no sign of abating as a result of Warmbier's detention and death, says Cheung.
"Most people in Hong Kong see the difference between being an American and going to North Korea and being a Hong Kong visitor going to North Korea. This makes them feel more secure," he says.
There's no business like snow business at North Korea's ski resort where a day pass costs a month's salary
Glo Travel stopped taking bookings from the few US citizens using its services immediately after Warmbier was detained, in January 2016. Young Pioneer took that step only after the American's death.
In Yangshuo, meanwhile, customers are still half-heartedly offered the chance to win a T-shirt bearing the slogan, "I got tanked in the DMZ bar" by downing four North Korean beers or 10 shots of soju, but there appear to be few if any takers in the sobering aftermath of Warmbier's death.
Whatever the future holds for Young Pioneer Tours and other companies taking foreigners into North Korea, one thing seems clear: the days of treating visits to the country as a jape for daredevil Westerners died along with the young student who paid such a brutal price for allegedly stealing a poster as a souvenir.