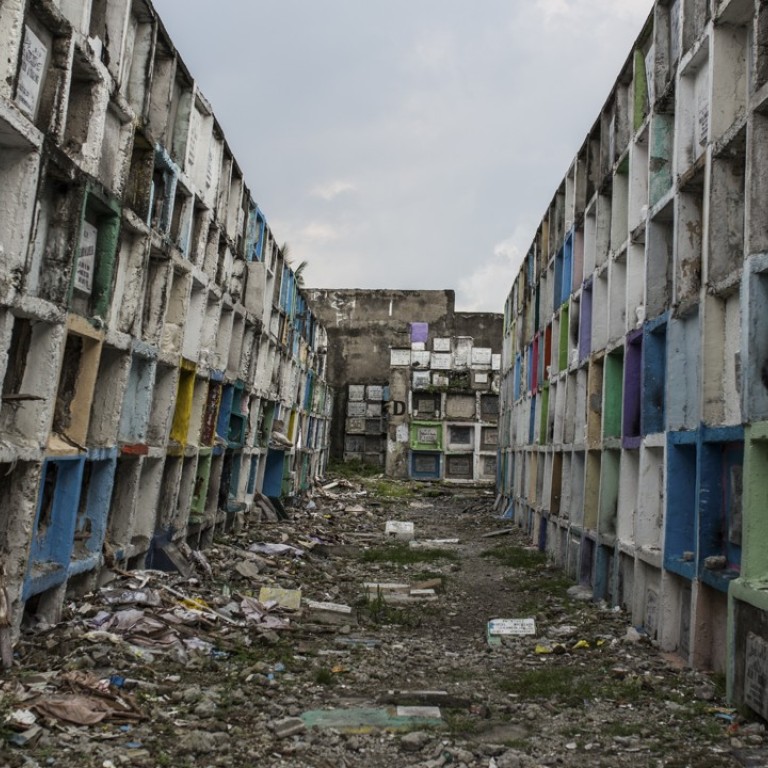 Manila's 'apartment tombs', where the poor bury their dead – until the contract ends
Manila's rental 'apartment tombs' offer a temporary solution to families unable to afford a permanent plot to bury their loved ones. But what happens when the five-year term expires?
It's an early July evening in Metro Manila, the temperature finally dipping from sweltering to almost tolerable, and Susan Aguirre is visiting Pasay City Public Cemetery, 40 days after her mother, Virginia, succumbed to a heart attack, at the age of 76. Aguirre has come to offer atang, food or drink for the dead.
Amid the hubbub (children playing, distant stereos blaring, dogs yapping) and smells (burn­ing rubbish, sweat-soaked bodies, human and animal waste), she places a container of sticky rice on the ledge in front of her mother's small, box-like enclosure, on the lower level of a wall of "apartment tombs", each about the size of a small refrigerator tipped on its side. Sticky rice was her mother's favourite, Aguirre says.
There are four burial niches on top of Virginia's, and the wall of apartment tombs stretches for tens of metres, down a gravel lane that gradually narrows into a footpath. Behind "the wall, Light Rail Transit trains clip slowly by.
The inner grounds of the cemetery are cluttered with mausoleums and raised concrete tombs. Some are cracked and crumbling, others near immaculate. The cemetery is also home to a community of informal settlers – about 200 families in all – as well as street dogs and cats.
Some of the human inhabitants take care of the mauso­leums and tombs on behalf of their owners, keeping them neat and tidy, ensuring nothing is stolen. In the absence of a caretaker, everything from the candles (the wax can be sold for a few pesos a kilogram) to the wrought-iron gates is liable to go missing.
Caretakers also tend to the apartment tombs. Unlike more elaborate burial structures, which are bought and owned in perpetuity, apartment tombs can only be rented for five-year terms, after which the bones of the deceased will be evicted. Then there are two options: the bone box, a concrete ossuary not much bigger than a large shoe box; or the rice sack, labelled with the surname of the dead and tossed on to a tumbling pile in a tin and breeze-block shed at the rear of the cemetery.
For a fee, renewals on the lease of an apartment tomb were offered before 2008. Then the Pasay City Public Cemetery was taken over by new management and, due to overcrowding, it said, renewals would no longer be granted.
As she makes her offering, Aguirre is not aware that her mother's resting place is only temporary. When she's apprised of the fact, she pauses.
"But in other cemeteries, it's renewable," she says, explaining that when the family paid 6,000 pesos (HK$910) for an apartment tomb with a small engraved marble tomb­stone, it wasn't made clear her mother's remains would eventually have to be moved.
Aguirre notices a pile of broken bones behind her, in front of an apartment tomb that has been unsealed by cemetery workers, who are readying it for a new occupant. A shattered skull sits on the ground beneath other bones, their tone earthy and brown.
"I feel pity for them, even if it's just bones," she says, perhaps imagining the fate of her mother's remains in five years' time. If Aguirre and her family can raise the money, she says, she may take the remains to Bicol, where her mother was originally from.
Her offering made, Aguirre and her family leave quietly. Clearly, they have a lot to think about.
Members of the majority faith take their ecclesiastical traditions seriously in the Catholic Philippines, especially those related to the dead. Relatives visit graves after nine days, and again after 40. There are visits on the deceased's birthday and the anniversary of their death, the end of the first year being the babang luksa, or "the end of grief", after which the bereaved can begin wearing bright, "happy" colours again.
Enter any metropolitan cemetery in the Philippines on the weekend and you will encounter families visiting the departed, carrying flowers, candles and atang. A proper burial and a chance to mourn in the traditional way are of the utmost importance. For a loved one to be permanently disinterred is a shame few can comprehend, but, for a growing number of people, for a variety of reasons, it is becoming a fact of death.
Part of the reason for this is clerical. At Pasay City Public Cemetery, the administration office used to send notices to families who rented apartment tombs, letting them know when the term was coming to an end. So many notices came back marked "return-to-sender" that the practice was stopped. Now, it is incumbent on the family to know when their loved one's time in an apartment tomb is up. If no family is there at the appointed time, the body will be unceremoniously ejected.
Roger Tamayo died on July 4, 2012. He was 33 years old. That's about all that can be known about him as a gravedigger prepares to evict the man's remains.
"Most of the families come before the expiration, to make arrangements," says the worker, who gives his name as Pinoy Cesista, as he gets started.
Cesista lives in a shanty in the cemetery and looks after 150 apartment tombs. He gets paid 50 pesos a month for each by the families of the deceased. Some pay yearly, he says, on All Saints' Day, others monthly. His wife helps him from time to time.
Ejections, he says, are not a regular part of his job. Breaking open the seal and pulling out a rotting skeleton, with no family present to see the dead properly honoured, weighs heavy on his conscience.
"I feel sad whenever no family arrives," he says. "I think about how it would feel if it was me."
Cesista breaks open the breeze-block seal of the apartment tomb with a length of rusted rebar and drags the bones out into the harsh light of an early summer morning. Unusually, the feet of this body are shod.
Families in the Philippines usually bury their dead without shoes in the belief that the noise they make in the afterlife might haunt the living. A few lay the deceased to rest wearing their favourite footwear.
Another cemetery resident, Regie Marcelino, watches Cesista work. Her youngest child, three years old, is cradled in her lap. She tells of a local gravedigger who once pulled out a corpse wearing a pair of Highlander boots. The worker couldn't resist, she says; after cleaning them up, presumably, he put the boots on. But not long afterwards, he had a bad fall. Later, a dog bit him. After that he took the boots off and returned them to the still-empty apartment tomb.
"He thought the dead were angry with him," says Marcelino.
Such is the power of belief in the Philippines that even those who live among the dead and have no fear of ghosts know the interred must be paid their proper respects. Still, with no arrangements having been made for Tamayo, there is little Cesista can do. He puts the bones in a white rice sack and lays them off to one side.
At about 11am, a white coffin arrives at the cemetery's rear entrance, 30 to 40 mourners following the hearse on foot. They are here to deliver Noel Matriano, 49 at the time of his death, to his not-so-final resting place. The coffin is opened so that Matriano's widow, Jesusa, can touch his face for the last time. Then the coffin is closed and Cesista, now helped by his son, gets back to work.
Once the coffin has been slid into the apartment tomb vacated by Tamayo's corpse, Cesista mixes up some cement and begins placing the breeze blocks that will seal the entrance. As he works, he negotiates with the widow over the price of the granite ledge and flower vase he will later build.
"We already had a lot of expenses," Jesusa implores, trying to haggle down the cost of the ledge, normally 1,000 pesos, to 700. Cesista shakes his head. As mourners throw flowers into the partially sealed grave, they come to an agreement – 1,500 pesos for the ledge and vase, 700 down.
Just finding a place – any place – for Matriano's body was an ordeal, says Nestor Española, an uncle of the deceased. Such is the congestion problem in Metro Manila's graveyards.
"And the budget was a problem," he says. "[Matriano] had to get dialysis every week. The family suffered financially. We all pitched in to raise the funds for the funeral."
The burial, including the final negotiations, takes less than half an hour. The family leaves Matriano in peace – and in place for at least five years.
Later the same day, in Navotas, to the north of Pasay City, the Santos family is preparing to lay to rest another man taken too soon. Their home is on Carnation Street, near Agora Market, an area that has witnessed much of President Rodrigo Duterte's war on drug users and pushers. Although the death in the Santos family was not related to the drug war, it was violent and unexpected.
Edgardo Santos was stabbed by a nephew following an argument, his family says. Santos was 39 years old, his nephew is 23. The fact that the killer has not yet been caught and that he is related to the deceased hangs like a pall over proceedings.
The family tramped the 5km from his former home to San Lorenzo Ruiz Parish Church and finally to Navotas City Cemetery in the blazing heat, following the hearse through the streets, observing the traditional funeral walk. The body is to be interred in an apartment tomb at Navotas City Cemetery that contains the remains of relatives who, long ago, were granted permanent residency. The family struggled to raise the 4,500 pesos needed to cover the cost.
A Philippine wake is a days-long affair. Friends, relatives and neighbours visit the home of the bereaved, where the body is kept in a glass-topped coffin, to pay their respects and to offer abuloy – donations made to cover funeral costs. Abuloy is made either directly or through games of cards in which the visiting players gamble and lose, so saving bene­ficiaries a little face.
"The wake went on for over 10 days, but not enough people came," says Malou, Santos' sister. "The money isn't enough."
That might have something to do with his dying with a closed fist, says Malou. According to local superstition, if a person dies displaying such a gesture, there will never be enough abuloy.
Deaths in the Santos family have seemed to come at five-year intervals of late, allowing just enough time for the pre­vious temporary tenant to see out their residency in the family apartment tomb before being replaced.
"We don't have money for a beautiful memorial place," says Malou. "After [Edgardo's] contract expires, we don't know what we'll do."
The rows of apartment tombs at Navotas City Cemetery are laid out like city blocks, labelled alphanumerically. Some have been splashed with colourful murals depicting vivid faces, the words "City of the Newborn" written in Tagalog below.
At the end of each row of apartment tombs, many of which have been broken open, is a tower of bone boxes, each of a similar dimension to those in Pasay City. These cost 550 pesos for a term that can be renewed every five years, according to cemetery workers, plus a fee of 1,800 pesos for transferring the body from an apartment tomb and the engraving of a new marker.
Some of the bodies that have been unclaimed after five years in an apartment tomb are put into these ossuaries. Others have been put into rice sacks and tossed into gaps in the apartment tomb rows, visible only if one climbs atop the stacks, six levels high, and peers down.
"Some of the families think, 'They're already dead,'" says 49-year-old gravedigger Emong Ramos, who says he has been living at the cemetery since the age of 10. "It's just an extra expense to claim the remains."
Ramos estimates there are about 300 bags of unclaimed remains scattered throughout the cemetery. He also mentions that the bodies of those who have been killed in the drug war tend to be placed in apartment tombs on the lowest levels. These are the least expensive, because they are steadily sinking, down into the soft earth in sight of Manila Bay.
Melanie Sarol, 36, has come to Navotas City Cemetery to see that the remains of her husband, Michael, are not lost to the muddy soil. "When I visited on his birthday or death anniversary, I noticed it was going down," she says of his apart­ment tomb. The structures have sunk as new layers have been added. Michael's body was once on the top level, but he will be moved to a new resting place, on the new upper level.
"It's out of respect for my husband," says Sarol, who must pay for the privilege.
The cost of building a larger tomb or mausoleum in an area of the cemetery where it won't sink is out of reach for most, says Cristelita Dela Cruz, 51, an aunt of Santos who is attending his burial. "For three square metres, you pay about one million pesos," she says.
Back at Pasay City Public Cemetery, not far from the apart­ment tomb of Virginia, the family of Juliana Padon have come to pay their respects, bringing with them a cup of Red Horse Beer as atang. Padon passed away at the age of 101, making her family eligible for the government award of 100,000 pesos presented to those who reach a century.
Asked what the family will do when the term of Padon's apartment tomb expires in 2022, her daughter says that perhaps they will renew it. When informed that renewal is no longer offered in this cemetery, her answer speaks vol­umes about the importance of having influence even when you are dead.
"It has renewal," she says, "because we are close to the barangay captain," the head of the lowest level of local government.
Padon, it turns out, was the captain's grandmother.