The neighbourhood of Fuchengmen, just west of central Beijing, no longer bears any resemblance to Kublai Khan's majestic Yuan dynasty capital of Dadu. Even the most striking symbol of the great emperor's 13th-century supremacy is now dwarfed by Beijing's countless high-rise office towers and apartment blocks.
Nevertheless, Miaoying Temple retains historic grandeur and landmark status, largely thanks to its dominant, sun-reflecting, 50.9-metre-tall Buddhist stupa, known in the area as the White Dagoba. Unlike the home-grown pagodas and pavilions of the Forbidden City and the Summer Palace, however, the gargantuan stupa – which has a diameter of more than 30 metres at its base – is, according to historians, a cultural import.
The iconic structure is not Chinese in its design at all – it's Nepalese.
Strikingly similar to architecture found 3,000km away, in Nepal's capital, Kathmandu, the White Dagoba was the creation of one especially accomplished, adventurous and ambitious young man who not only designed and built the stupa in Dadu, but left a lasting influence on Chinese art and architecture for centuries to come.
While Chinese scholars know him as Anige, his name was Arniko, and he is revered as one of the greatest artists that Nepal has ever produced. "There might have been other Nepali artists who travelled to China before Arniko, but Arniko's work has left a deeper impression," says Satya Mohan Joshi, a Kathmandu-based expert in Nepali culture who has spent years researching the man and his work in China. "Arniko was Nepal's first cultural ambassador to China."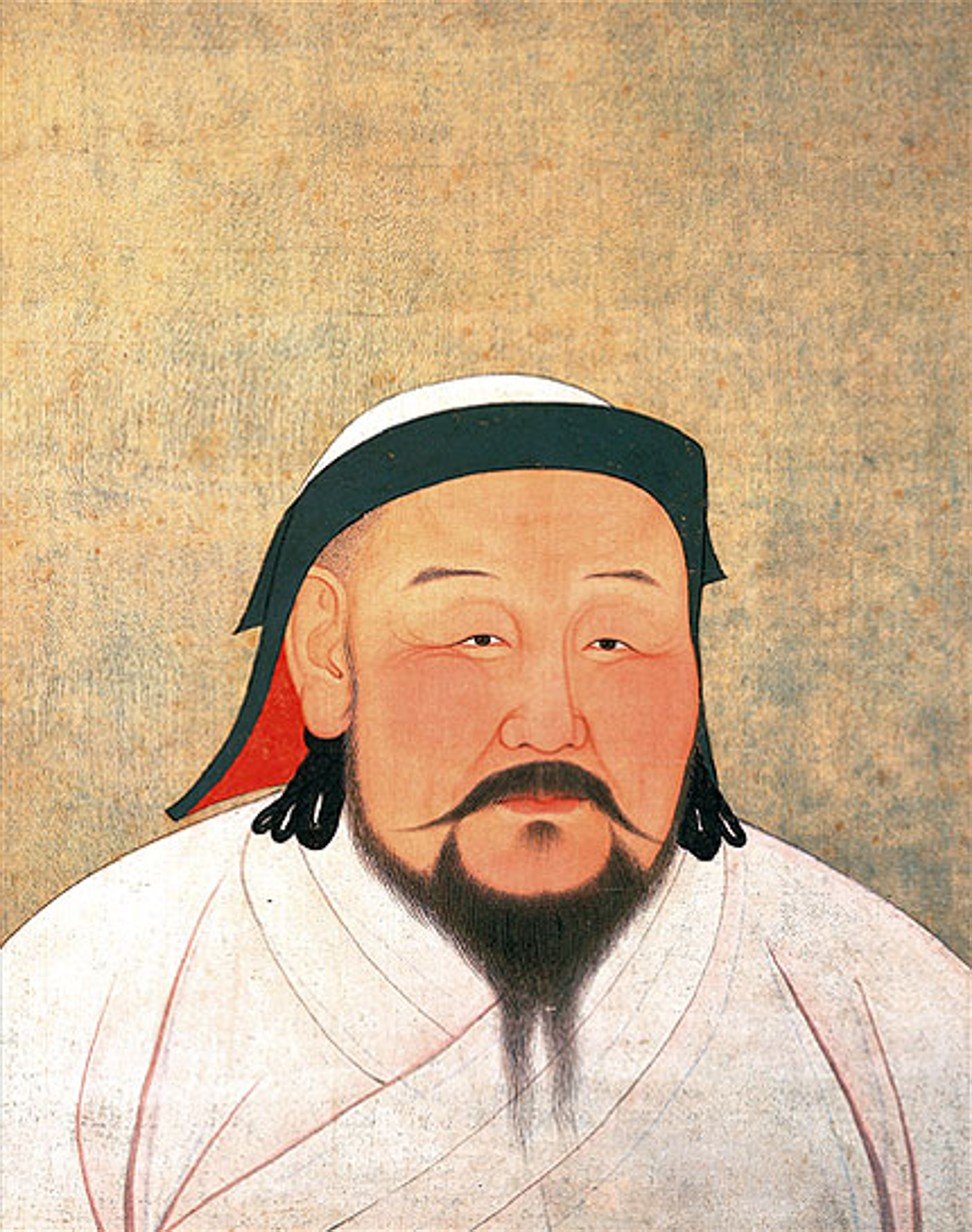 THE YEAR WAS 1260. Historical documents note that new Mongol emperor Kublai Khan was greatly attracted to Tibetan Buddhism and had appointed as imperial preceptor Drogön Chögyal Phagpa, of the Sakya School, one of the four main schools of Tibetan Buddhism. Phagpa planned to broaden the reach of Buddhist philosophy after the Mongol ruler had established the Yuan dynasty and been proclaimed emperor of China, in 1271.
Nepalese culture was already well known in Tibet, and it's no surprise that Kublai Khan looked to that Himalayan kingdom when planning to leave his architectural mark. Phagpa enlisted 80 of Nepal's finest craftsmen, including 17-year-old Arniko, a prodigy supposedly from Patan, in the Kathmandu Valley, to build the golden stupa in the Sakya monastery, southwest of Shigatse, in the present-day Tibetan Autonomous Region of China.
It took Arniko (whose name is sometimes rendered as Aniko or Araniko, due to historic disagreement over translation) and the artisans he led just two years to complete the project, and Phagpa was so impressed that he presented the young Nepali at the emperor's court. To test his skills further, Arniko was instructed to repair a Song-era copper statue, which he did masterfully.
The longstanding relationship between Nepal and China [can be traced back] to the seventh century. We have been a part of China's history, and it's not necessarily mediated through Tibet
"He trained, in his workshop, Chinese craftsmen [in the] unique Arniko style – a blend of Indian, Newar and Chinese elements, which we see today at the Beijing Palace Museum," claims a study by late art historian Dina Bangdel. The Newar are an ethnic group indigenous to the Kathmandu Valley.
"So to understand the relation between Arniko and China, it's not the architecture but the sculptures found in the Yuan dynasty that show a clear influence of Newar or Nepali art," Bangdel told Post Magazine before her death in July this year. "From the face to the hand gestures, it is completely Nepali […] something you see in sculptures across Nepal."
References to Nepal's seventh-century king Narendra Deva were described in annals from China's Tang dynasty (AD618-907) Bangdel added, and there were cross-cultural exchanges through early pilgrims who visited Buddha's birthplace, Lumbini, in western Nepal. Later, Nepali artistic elements came to be associated with the Ming dynasty (1368-1644) and, in the 17th century, Mongolia, where sculptures of that time look "identical to Nepali works that are made today", said Bangdel, who was the director of the art history programme at Virginia Commonwealth University, in Qatar.
"The longstanding relationship between Nepal and China [can be traced back] to the seventh century. We have been a part of China's history, and it's not necessarily mediated through Tibet."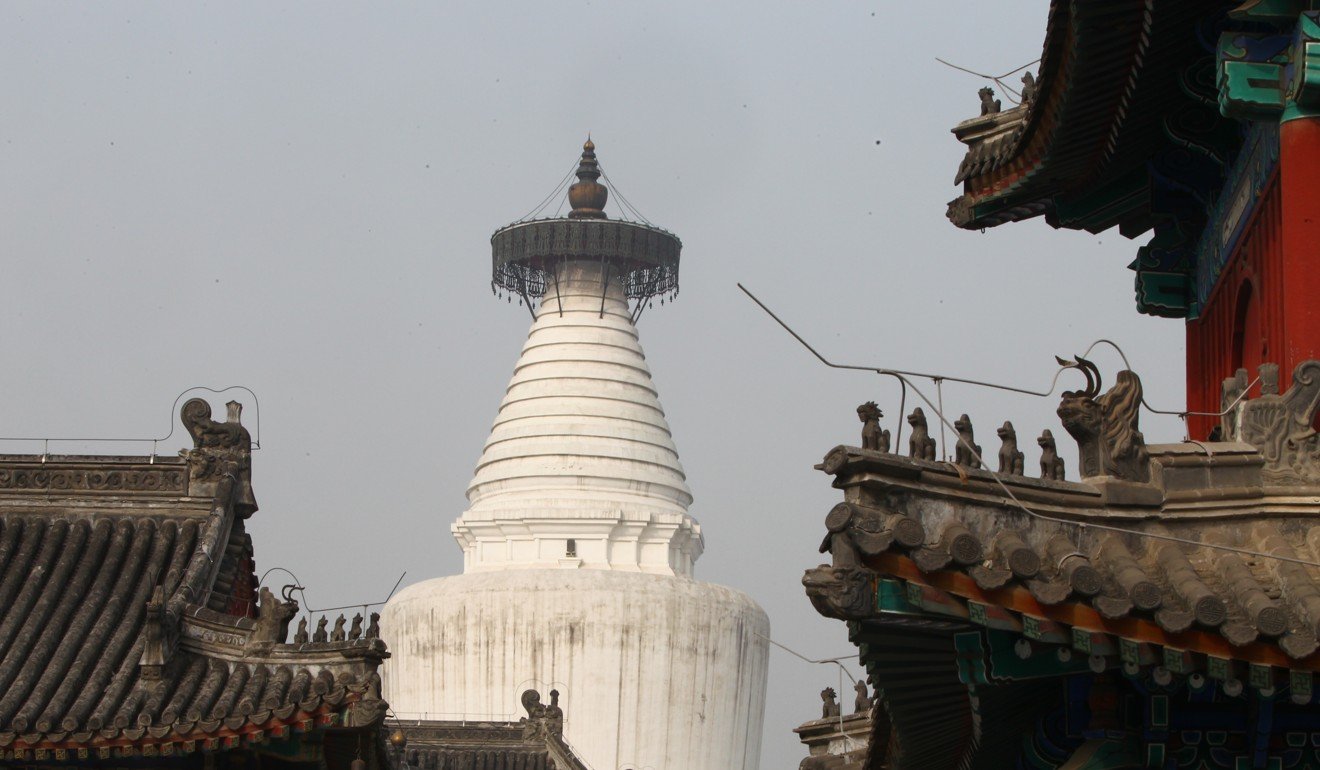 THE WHITE DAGOBA is undoubtedly one of Arniko's masterpieces. Construction began, by imperial order, in 1271, and it took eight years. The structure's spiritual purpose was to "protect the whole country", according to a biography of Arniko published by the Administrative Office of Beijing White Dagoba Temple, making Dadu "the imperial centre for Buddhist activities".
"It's very much Nepali style," says Joshi, highlighting the stupa's elaborately carved wooden entrance gate, the stone steps that lead to the temple, the statues of Buddhas Dipankara, Shakyamuni and Maitreya, the Newari-art influenced paubha (cloth) paintings and, most importantly, the stupa's pinnacle, or gajur, which is similar to those at the iconic Swayambhunath and Boudhanath stupas in Kathmandu.
Wang Guixiang, professor of history and historic preservation at Tsinghua University's School of Architecture, however, says that – while Arniko certainly designed the pagoda – there is no clear account of how construction was accomplished.
"Arniko was a very skilled sculptor and painter, but was not skilled in building," says Wang, who notes that the stupa also incorporates Mongolian and Buddhist styles. Wang says the cylindrical vessel that the Mongolian military used for drinking water may have been incorporated into the design, infused with symbols of Buddhism, such as the alms bowl, lotus and mandala, which represents the universe. "This was the first lama-style pagoda, and also the best one in China," he adds. "This shows the Yuan dynasty's strong power and [affinity] towards Buddhism. This used to be the biggest [structure] in Beijing."
After the completion of the White Dagoba, Arniko was entrusted to supervise construction of monasteries and stupas throughout the Yuan kingdom. He also sculpted statues of Taoist and Confucian saints, and designed an edifice – similar but taller than his Beijing creation – at Mount Wutai, in Shanxi province, which is a major draw for Buddhist pilgrims.
While grand Buddhist structures are central to Arniko's legacy, academics say one of the most prized of his artworks is a tribute to the man who admired his artistic abilities the most.
In 1294, Arniko painted posthumous portraits of the emperor and Empress Chabi, each of which took three years to complete, and which would become the model for formal imperial portraits, according to Anning Jing, professor of art history and visual culture at Michigan State University, in the United States.
Although the original textile prints were destroyed, copies of the two paintings – used to transfer the likenesses to textiles – are held at Taiwan's National Palace Museum. However, the museum does not attribute the portraits to Arniko (on its website, the creator is marked as anonymous). "Some scholars may base [their assumptions] on the style and suggest that painter could have been [Arniko]," the museum says in an e-mail to Post Magazine. "However, there is no evidence found on the paintings."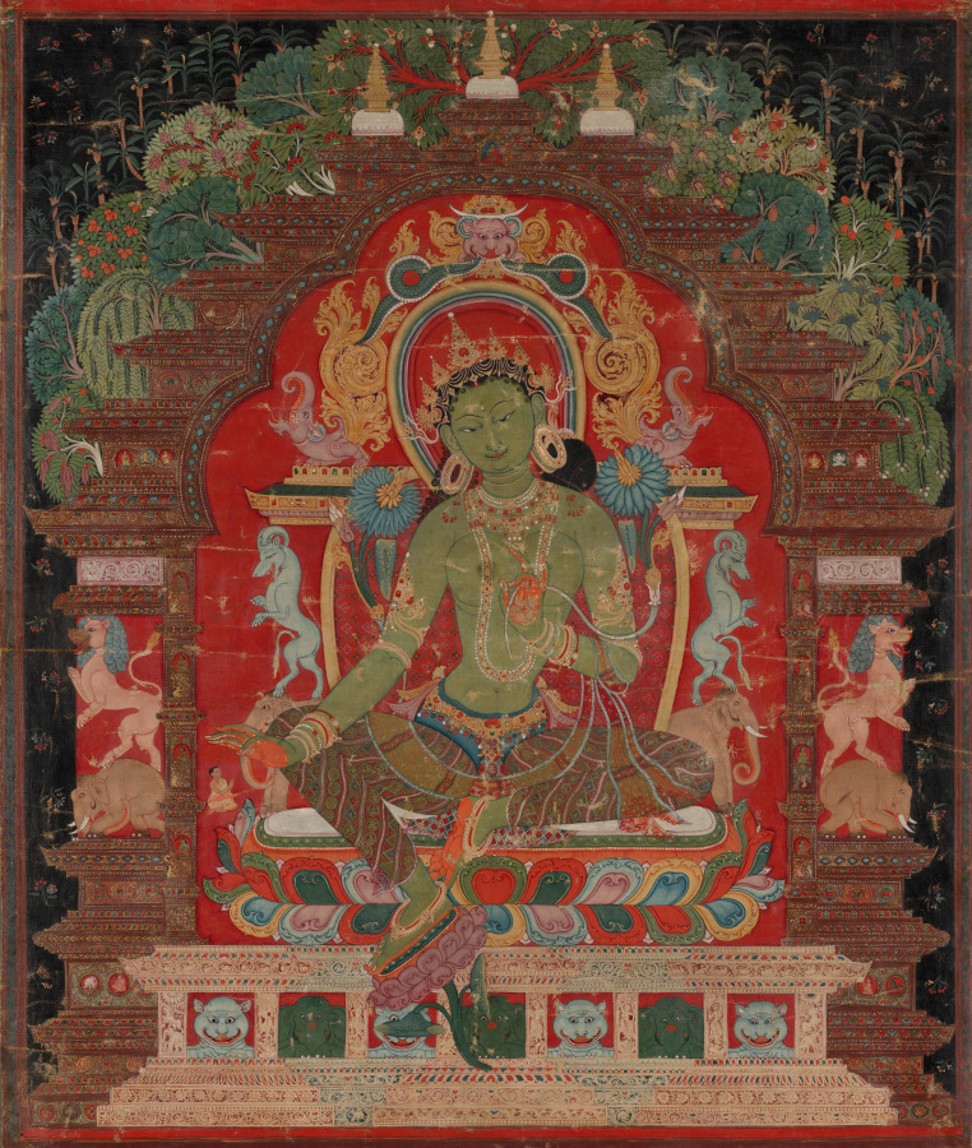 Other notable Arniko pieces can be found outside greater China. A thangka painting of Green Tara, the goddess of compassion, is in the Cleveland Museum of Art, in the US. The painting – this time credited to Arniko on that museum's website – is described as a "stunning refinement in the Nepali style of the early central Tibetan painting tradition".
A limestone sculpture of the deity Mahakala, dated 1292, and again not credited to Arniko, is housed in the Musée Guimet, in Paris.
And Wang insists that the man's influence can clearly be seen in works produced during the Ming and Qing dynasties, including the White Pagoda in the capital's Beihai Park, the Vajrasana Pagoda, in the Fragrant Hills Park area on the city's western outskirts, and the architecture of Chengde, 300km northeast of Beijing.
TO FIND ARNIKO TODAY, one simply needs to visit Miaoying Temple. At the White Dagoba's base stands a copper statue of a young man, wearing traditional Nepali clothing and holding a set of paintbrushes in one hand and what looks like a rolled paper canvas in the other. The statue was a gift from the Arniko Society, an association of Nepalese graduates from Chinese universities that is trying to keep his memory alive. Joshi claims the artisan's importance is greater than that of even Marco Polo, the Venetian merchant who spent 17 years in Kublai Khan's court.
"The magnitude of his accomplishments rivals those of Brunelleschi, Michelangelo and Leonardo in the West," writes Jing, even if his works aren't discussed as widely.
Joshi, who is 97 years old, laments that no in-depth record of Arniko's life and work exists in Nepal. This might be due to the fact that most ancient records in temples and palaces, some even dating back to the first century AD, are inscriptions on stone slabs. By contrast, China's historical narrative was professionally compiled even as early as the Han dynasty (206BC-220AD).
"[In ancient times,] Nepal didn't have a strong sense of history, it was very much of oral tradition," Bangdel said. "If it weren't for the Yuan dynasty annals, we wouldn't even know Arniko's name. We are lucky to know him."
Indeed, thanks to Chinese documentation, we know that Arniko took 11 wives during his lifetime – from Nepal, Mongolia and China. Together they had at least six sons and eight daughters. Arniko was also accorded high honours for his work, being named director of all artisan classes in 1273. The emperor personally gave Arniko the title duke of Liang, and he is among the few foreigners whose biography can be found in Chinese imperial history books.
In the modern day, attempts are being made to revive Arniko's name in his homeland. The story of how a young Nepalese man travelled to Tibet and China in the 13th century to build monasteries and temples is now part of the school curriculum. What's more, the Nepali government issued a postage stamp celebrating the man, and even named a national highway after Arniko. Appropriately, the road links Kathmandu with Kodari, on the Nepal-China border.
But those are symbolic gestures, and Joshi says many Nepalese "aren't genuinely interested" in the largely forgotten artist's many achievements. The condition of the Arniko Gallery, which Joshi founded in 2005, proves his point. The mini-museum at the Nepal Bhasa Academy, in Kirtipur, a 30-minute bus ride from the city, is rarely visited.
And in China, too, where Arniko lived until his death at the age of 62, in 1306, few today know of the Nepali who had such substantial impact on Chinese architecture, art and culture, and whose ashes were buried in the stupa at Gangziyuan, Xiangshan, on the outskirts of Beijing.
Writing of Arniko's death, celebrated Yuan dynasty scholar Cheng Jufu told of how Temür Khan, grandson of Kublai Khan, grieved on hearing the news and halted court sessions. The emperor also ordered palace officials to make arrangements for a funeral, and granted 25,000 liang (1,250kg) of silver to Arniko's family.
"That night a star fell in the courtyard," Cheng wrote. "The next day saw icicles on the trees."