The combatants circle each other. Hands up around their temples, they repeatedly raise their knees, readying themselves to throw a leg strike or a knee, or to block one.
Spurred on by the baying crowd and the rising tempo of a cacophony issued from flutes, bronze gongs and warlekkoke – bamboo clappers – the fighters come together in the centre of the ring, throwing fists and following with flurries of knees and elbows in the clinch.
WATCH: Mixed martial arts - what happens in the cage
Digging to the body with a vicious right hook, then going to the head with the left, one fighter seems poised to cap the combination with an overhand right. Instead, he throws the crown of his head dead into his opponent's face in a thudding blow, opening up a deep, blood-venting gash. A spinning back fist follows, buckling his adversary, leaving him staring dead-eyed into the bright lights overhead.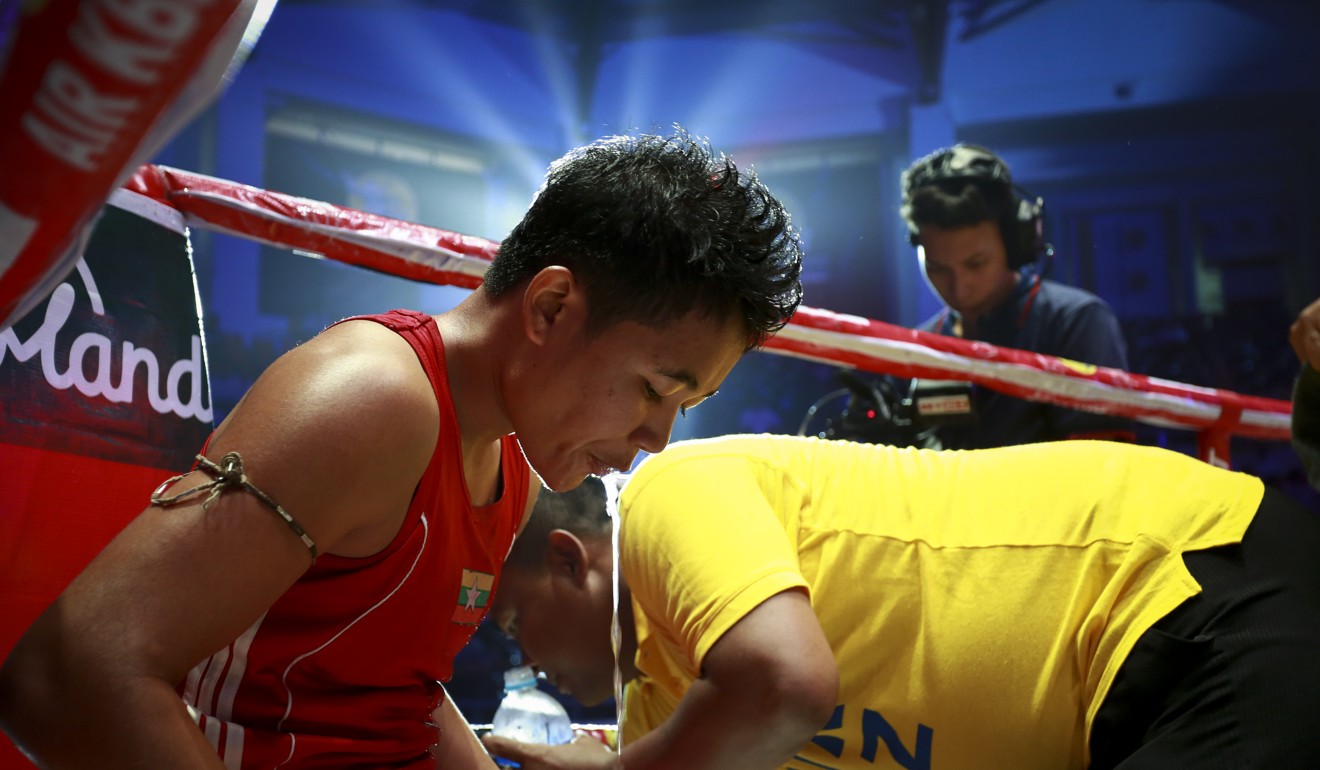 The thousands in attendance rise to their feet, raucously imploring the downed man to get up. He's out cold, but the fight is not over …
It's December; the dry season in flood- and disaster-prone Myanmar and a time of Buddhist temple festivals and Karen New Year celebrations. The festivities are marked not least by bloody bare-knuckle bouts in urban arenas such as this, Yangon's Thein Phyu Stadium, and makeshift rings set up in lots throughout the provinces.
Myanmese women show fighting spirit by embracing lethwei
In combat sports such as muay thai, boxing and mixed martial arts (MMA), a fight would be waved off the instant one of the combatants was knocked out. But this is the Burmese sport of lethwei, a brutal, millennia-old tradition of bare-knuckle kick boxing. The only way to win is by knockout, but achieving one doesn't necessarily mean the fight is over.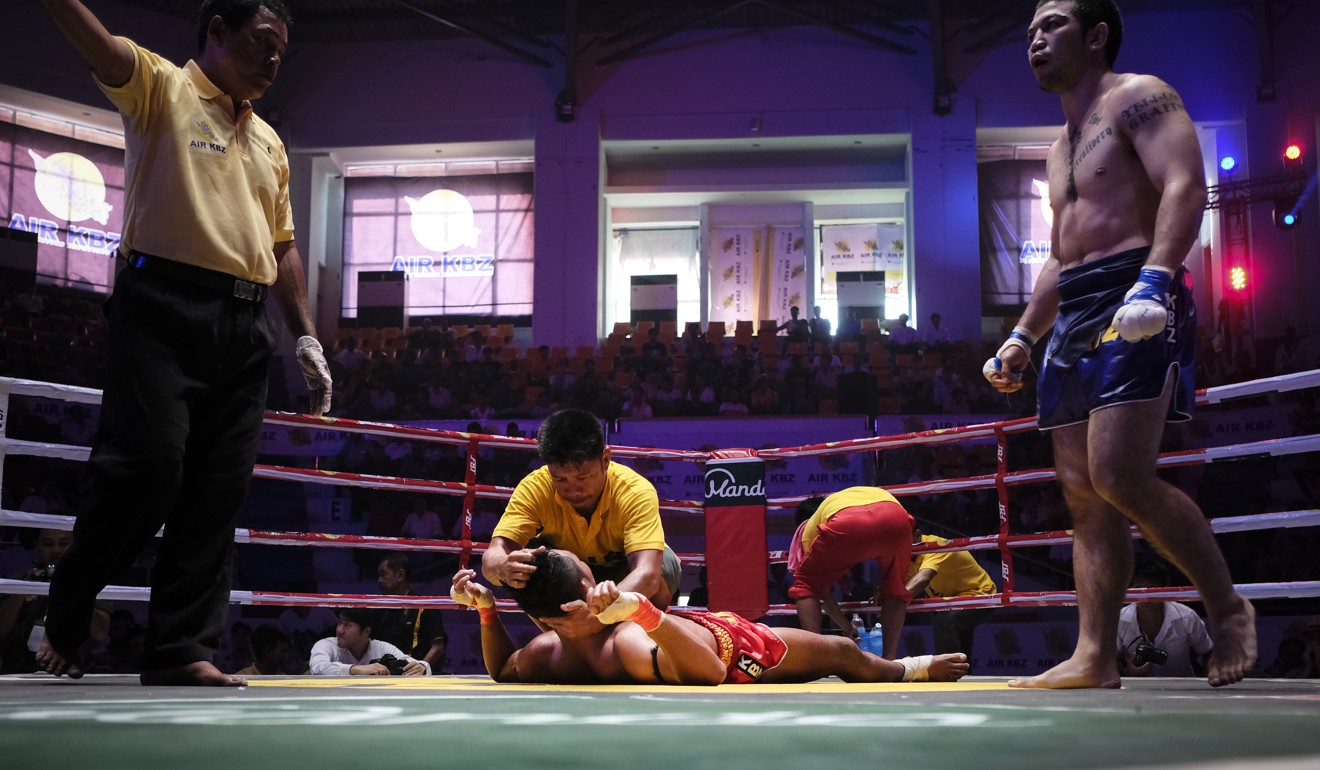 A bout consists of five three-minute rounds of all-out warfare. If a knockout occurs, the corner men have two minutes to revive their fighter and send them back into the ring. A timeout can be taken only once during a bout, though, and not in the fifth and final round. If at the end of the contest both fighters remain standing, the result is a draw.
Known as the art of nine limbs, lethwei is depicted in murals in the temple city of Bagan that have been dated to the time of the Pyu city-states (2nd century BC to AD1050), an era when many in the Irrawaddy valley converted to Buddhism.
'Once you get a taste, there's no turning back': brutal, bloody lethwei making Myanmar a martial arts mecca
It is a sport seemingly at odds with the reli­gion's tenets of peaceful contemplation and selfless acts. But for thousands of years, its rules have gone largely unchanged, its popularity among the rural people of Myanmar unwavering. Now, it is finding a growing appeal among the country's city dwellers – and with foreigners, an increasing number of whom are descending on the gyms of Yangon, to train and compete, according to local coaches.
Matches are beginning to be staged abroad as well, the sport proving popular in Japan and Russia in particular.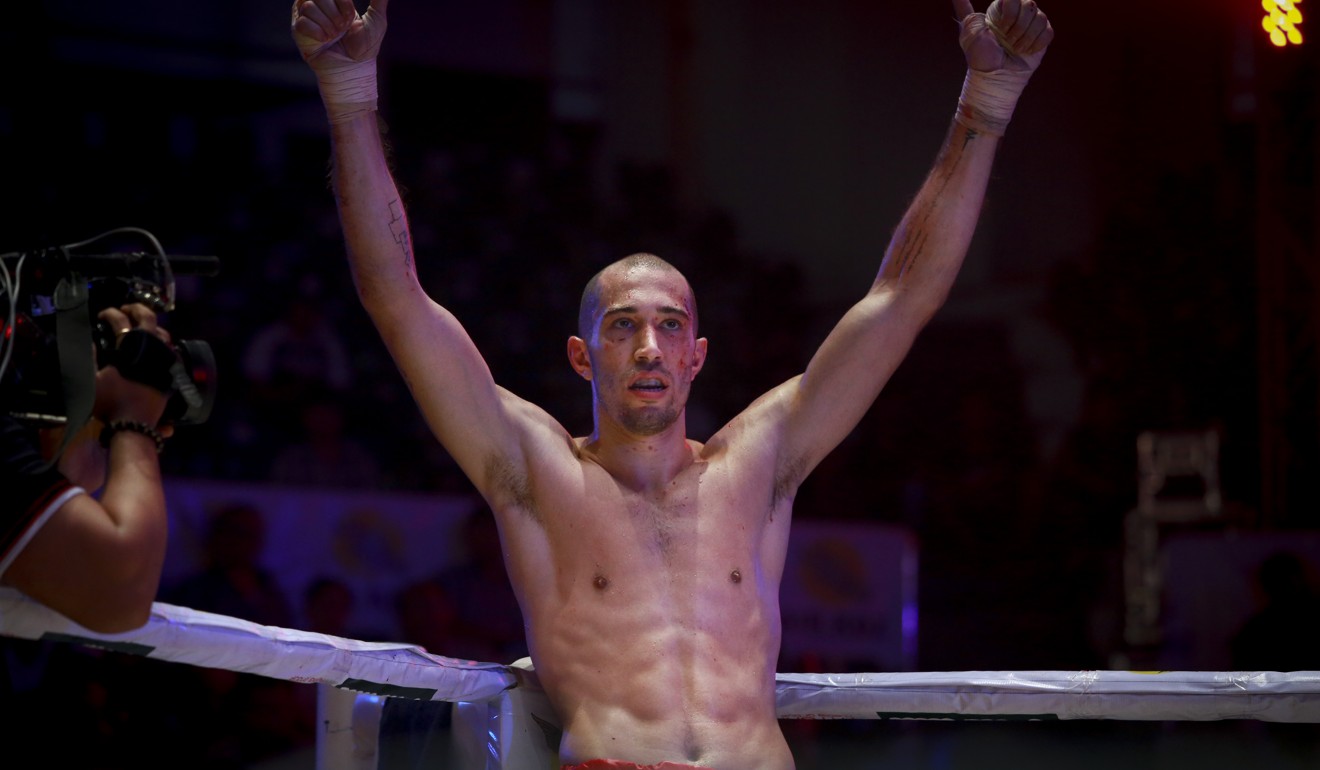 Lethwei now has its first foreign open-weight world champion (weight classes vary from promoter to pro­moter; the open weight is considered the most high-profile belt). French-Canadian Dave "The Nomad" Leduc won the belt in 2016 and has since promised to take lethwei to the world.
Whether the sport will become the next MMA, or an economic boon to Myanmar, as muay thai has been for Thailand, remains to be seen.
---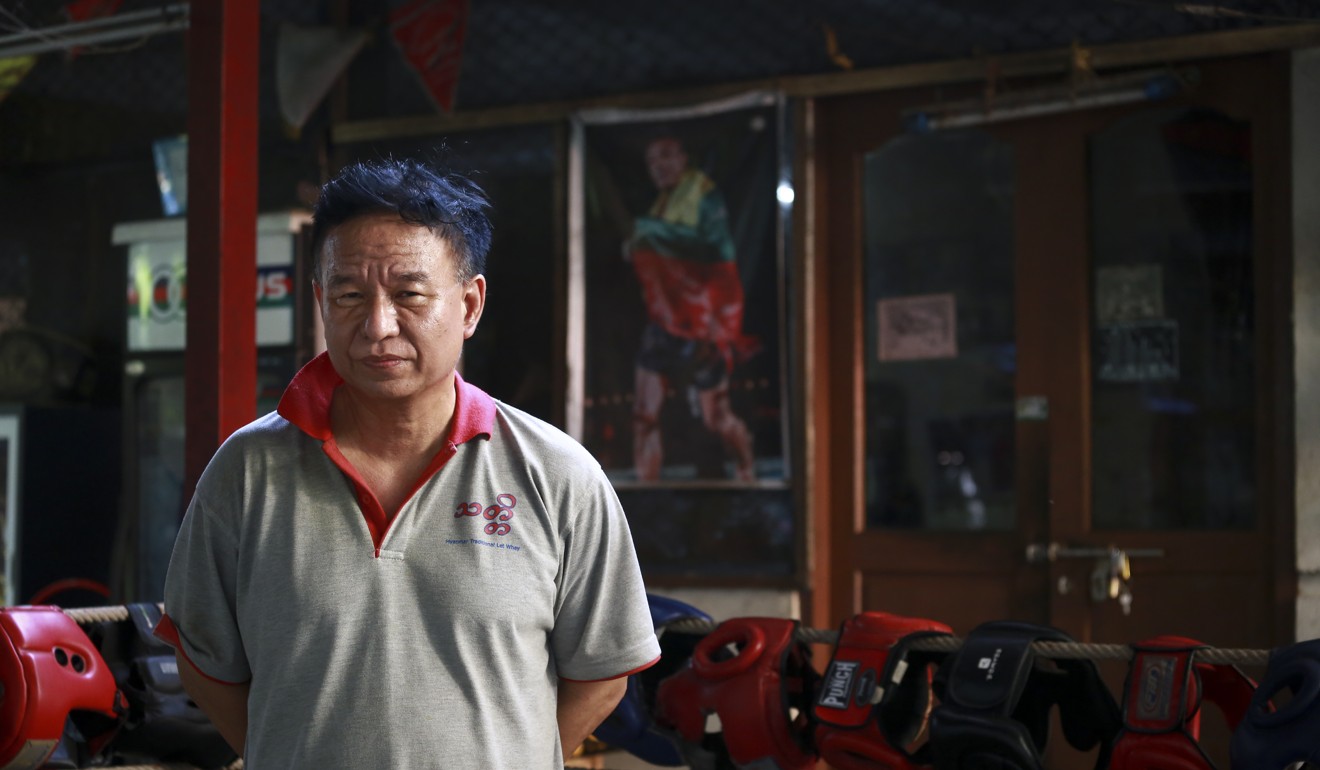 Win Zin Oo
Win Zin Oo, 58, runs the Thut Ti Lethwei Club, located on a narrow backstreet off Kabar Aye Pagoda Road, north of Yangon's Inya Lake. About 50 people come through his front gate to train in any given month, he says, and he has trained four open-weight world champions. To support his stable of fighters, he works as a civil engineer and disaster-relief consultant.
Foreign fighters began arriving at his gym in 2011, Win Zin Oo says.
"Before that, the interest in lethwei in terms of foreigners was very, very limited. Not even foreigners; local people didn't have a high impression of lethwei. It's regarded as the art of the rural people. The educated, elite people, they don't have a high impression."
Once foreigners started show­ing an interest in lethwei, though, he says, "Many Myanmar people started clicking their mind like, 'Oh, there might be a good reason that foreigners have an interest in this art.'"
---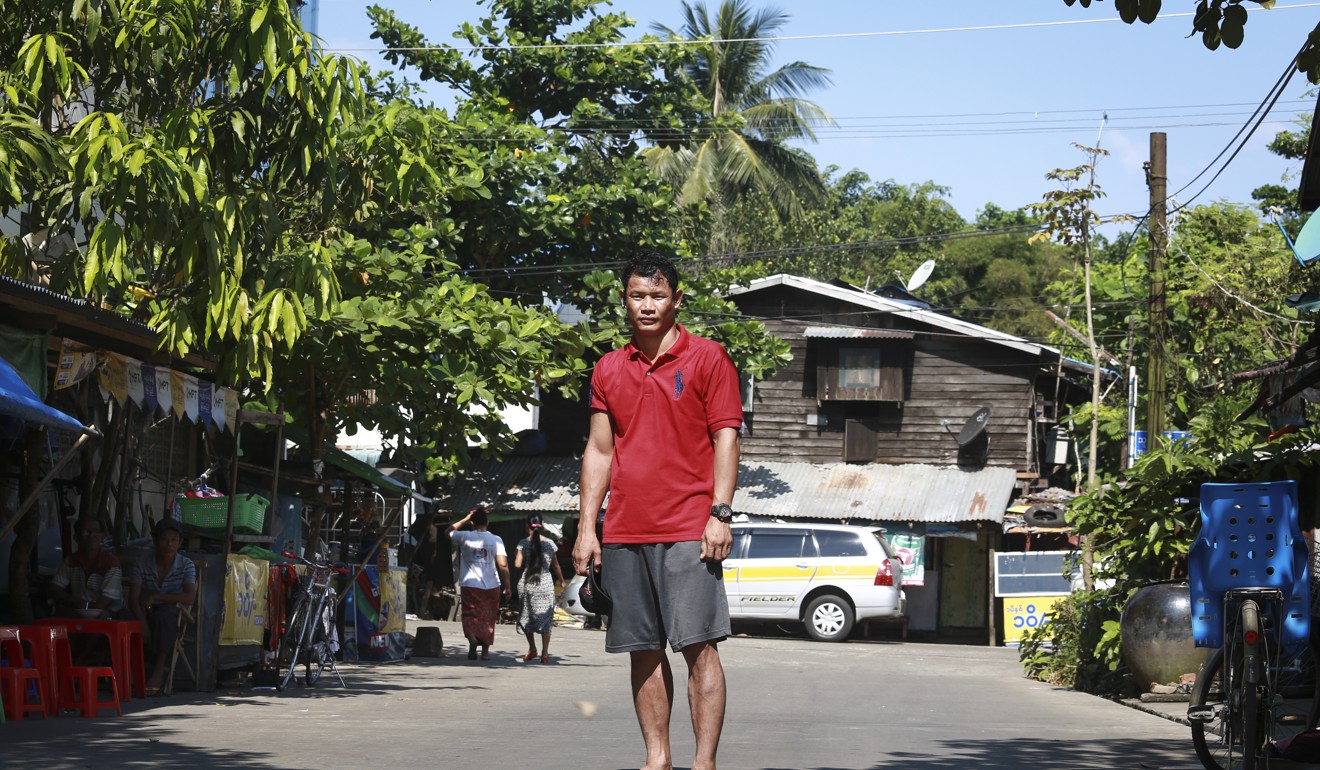 Lone Chaw
From a family of farmers and now a coach at Thut Ti Lethwei Club, Lone Chaw is one of the four open-weight world champions trained by Win Zin Oo, having held the belt from 2004 to 2009.
---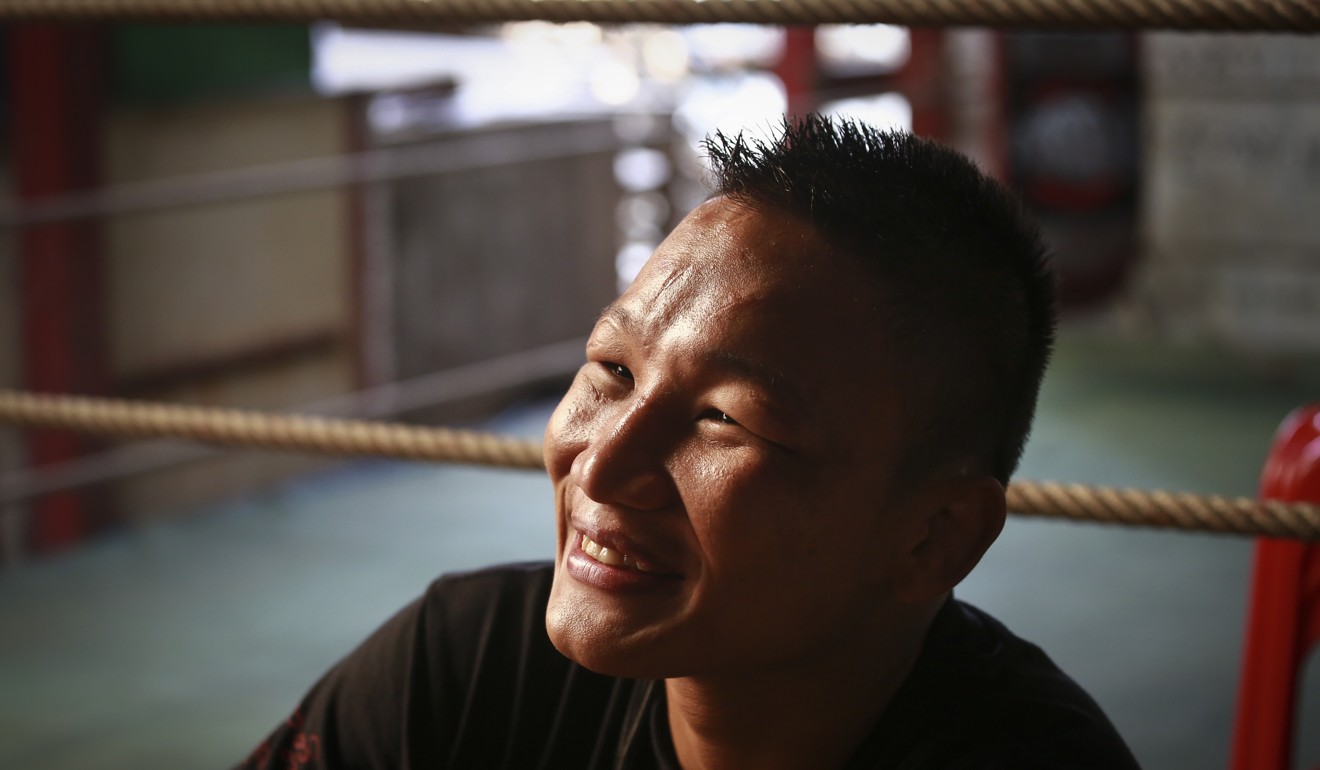 Saw Gaw Mu Do
The current lethwei world champion in the 70kg weight class, Saw Gaw Mu Do is called Gaw Gaw in fight circles. Known for the broad smile he wears inside the ring and out, the 24-year-old has about 50 fights to his name. He can recall just four defeats, though his exact record escapes him.
Gaw Gaw comes from a village of fighters, Ohn Bin Gyaung, in Twantay township. His uncle is Saw The Aung, a champion in the 60kg weight class in the late 1990s.
"The boxers who have names in history [number] maybe about 50. But every boy takes part in fighting," he says. "It's been handed down from our ancestors."
Like many boys who take up lethwei, Gaw Gaw started fighting young, at the age of 12. Advised by his father, older brother and pastor (he belongs to the country's small Christian minority), he joined Yangon's Thut Ti Lethwei Club at the age of 19 to further his training. He hopes to retire by the age of 30 and return to his family's fish farm.
---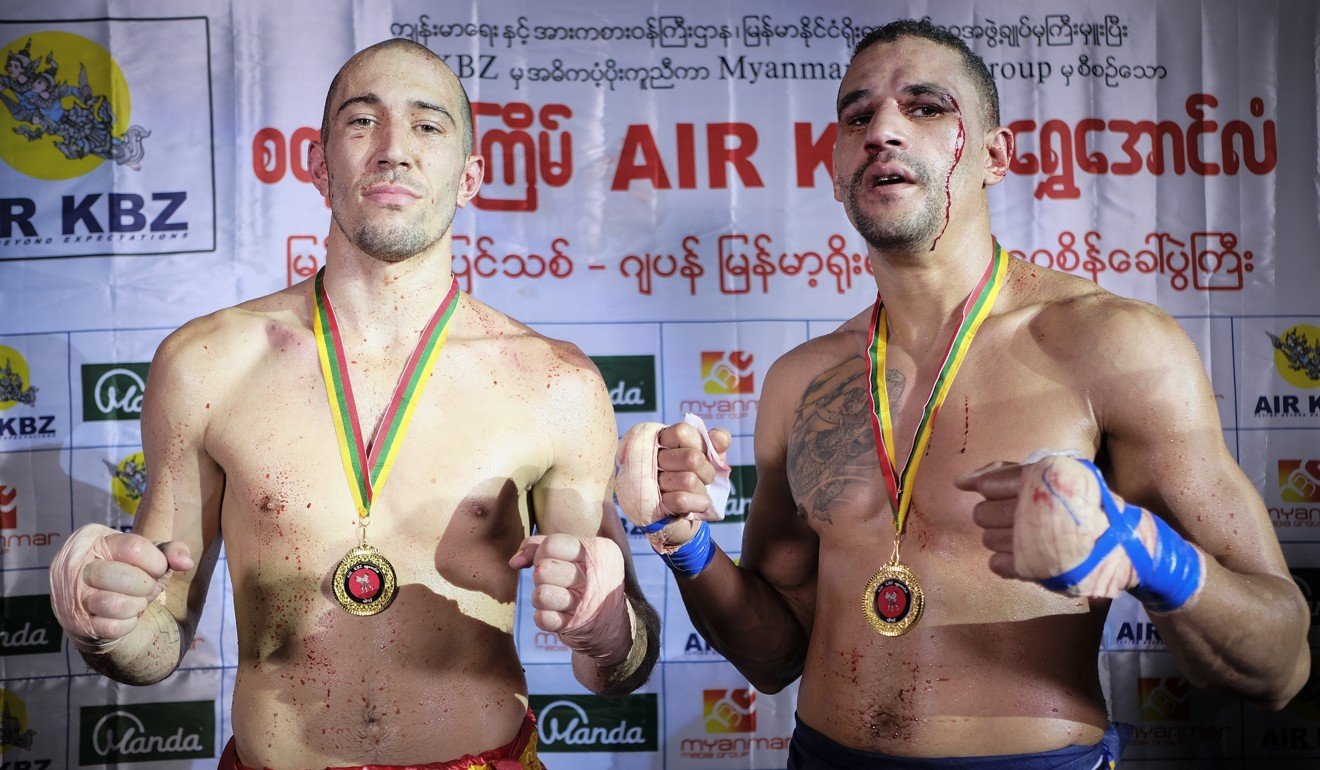 Dave Leduc
"Even among fighters, people think it's crazy to do lethwei," says Dave "The Nomad" Leduc, the reigning open-weight world champion and the first non-Myanmese to hold the title.
Hailing from Gatineau, Quebec, in Canada, the 26-year-old former muay thai fighter won the belt from Myanmese lethwei legend Tun Tun Min in Yangon, in December 2016.
I take great pride in going in the ring and choosing my shots to dismantle my opponent and avoiding shots, avoiding attacks. I think that's the ultimate bad a**. You fight bare knuckle, and you leave unscathed
Leduc, a man of equal parts intensity and jovial exuberance, came to lethwei on a path that took him from training in sanshou and jeet kune do to muay thai fights in Phuket and Bangkok, Thailand. Fighting professionally abroad since 2011, Leduc's unorthodox style and a personality that is drawn to the extremities of life were naturally suited to lethwei, even before he knew the sport existed.
"I take great pride in going in the ring and choosing my shots to dismantle my opponent and avoiding shots, avoiding attacks," he says. "I think that's the ultimate bad a**. You fight bare knuckle, and you leave unscathed."
When, in August 2016, his former manager introduced him to lethwei and suggested he fight in Yangon, Leduc jumped at the chance. He has since gone undefeated, nothing but wins and draws.
His first bout – with a local legend, Too Too, the youngest fighter ever to possess the open-weight belt – ended in a draw.
"At first we saw some bottles thrown, because Too Too was loved, and we kind of humiliated him. A guy told us, 'Be careful when you leave the stadium. You never know what can happen.' I was never really scared. I wanted to be on their good side."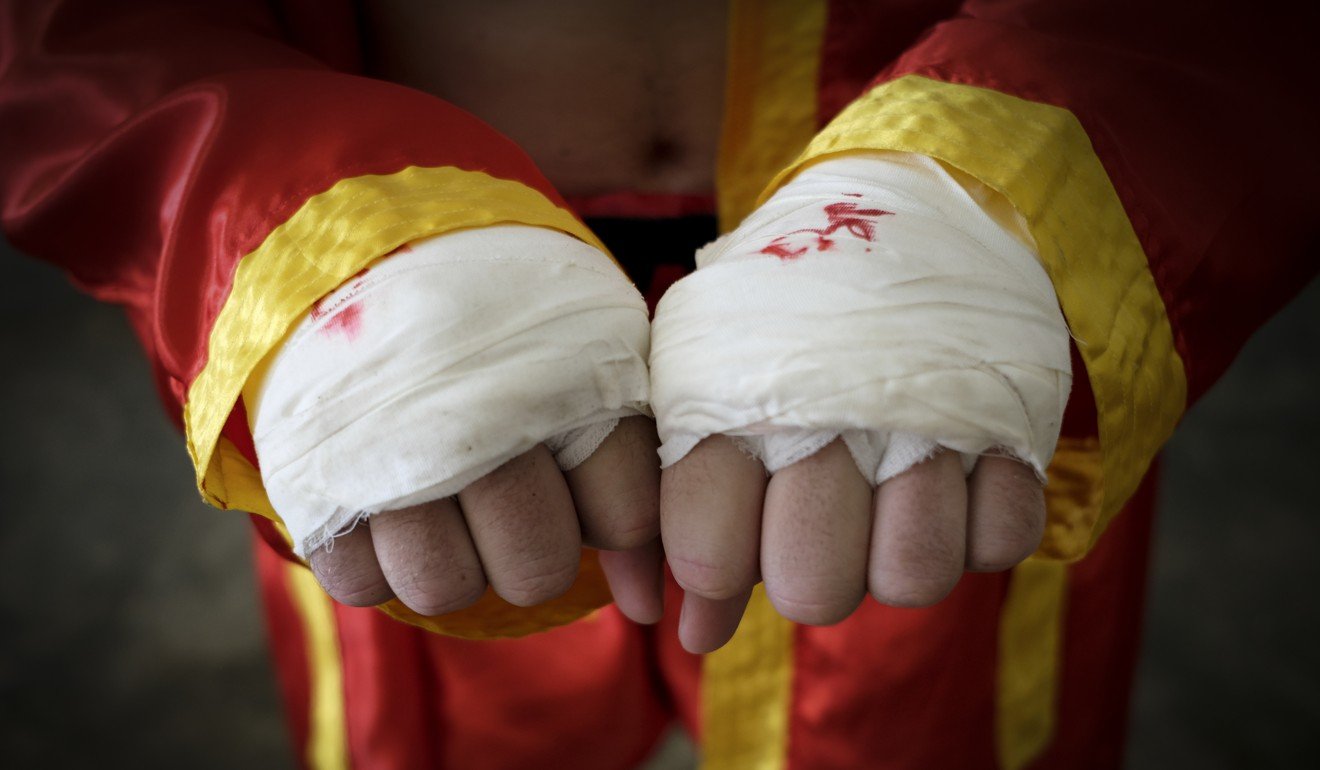 Leduc, who now wears the traditional Burmese longyi (sarong), expresses respect to his opponents and has mastered the cere­monial pre- and post-fight dance-like displays of aggression, has since been accepted.
"To us, he is Burmese," says Khine Lynn, a doorman at the Sule Shangri-La hotel, Yangon. "His lifestyle is Burmese. Today all Myanmar people cheer for David."
Lethal but legal lethwei laying the foundations for Myanmar's MMA boom
Just over a year ago, not long after winning the open-weight belt, his marriage in Yangon to fellow Canadian Irina Terehova was broad­cast on national television. Almost a year later, he successfully defended the belt against kick-boxer Corentin Jallon, punishing the Frenchman for the duration of the fight, which ended in a draw, opening deep cuts, and showcasing the ninth limb – the use of head strikes – in the clinch.
Known locally as Dawa (pronounced "day-wah") – a play on his name, which can mean "protector," or "angel of death" – Leduc plans to open his own training centre in the country and raise a family in Myanmar. He wants to retire from competitive fighting soon, though, and focus on running the gym and cultivating a love for a sport that has become an obsession.
In time, he believes, lethwei will be on par globally with the most popular combat sports.
---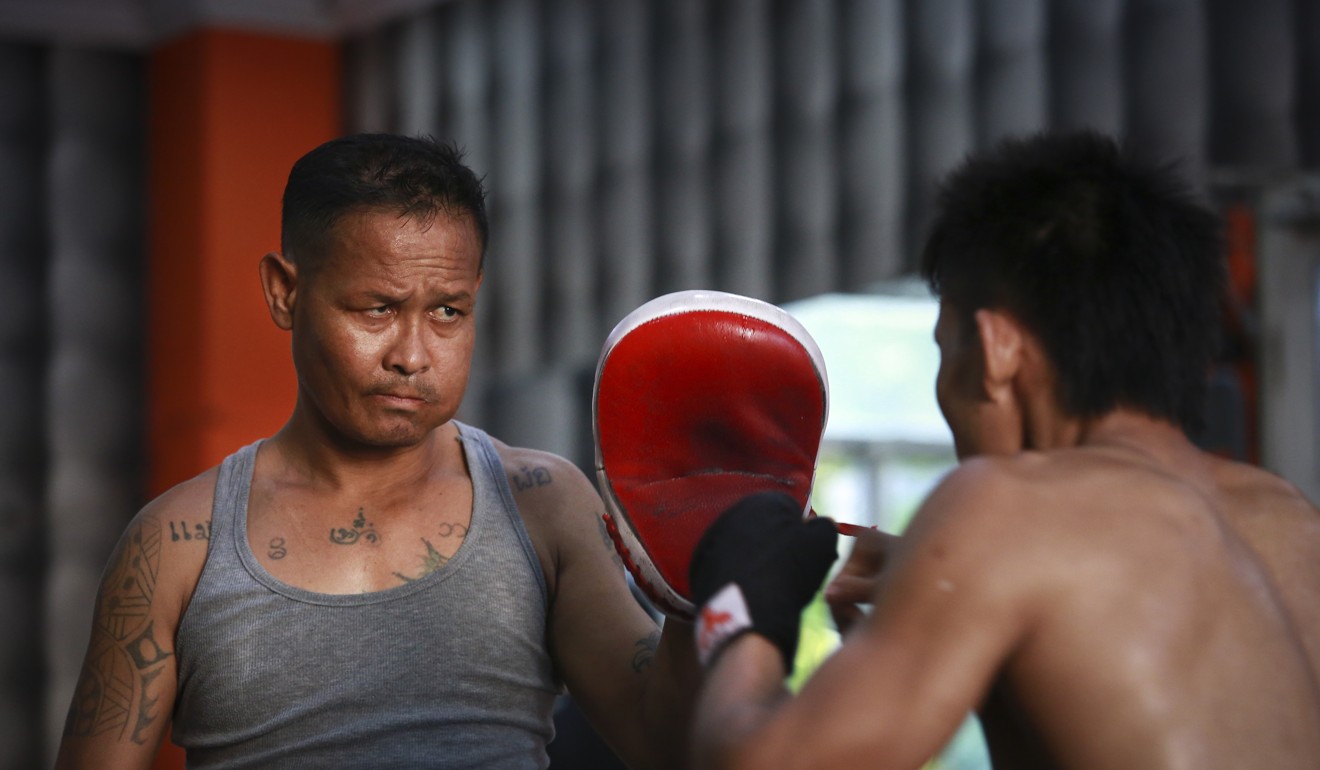 Shwe Wah Tun
The longest reigning open-weight champion in the history of lethwei, Shwe Wah Tun held the championship belt for 12 years. Although not a coach at the Phoenix Myanmar Lethwei Gym, he often drops by to provide guidance to young warriors, hold up pads and spend time with a fraternity of fighters.
One of his eyes is badly damaged after repeated blows landed during fights, the vision on one side obscured.
---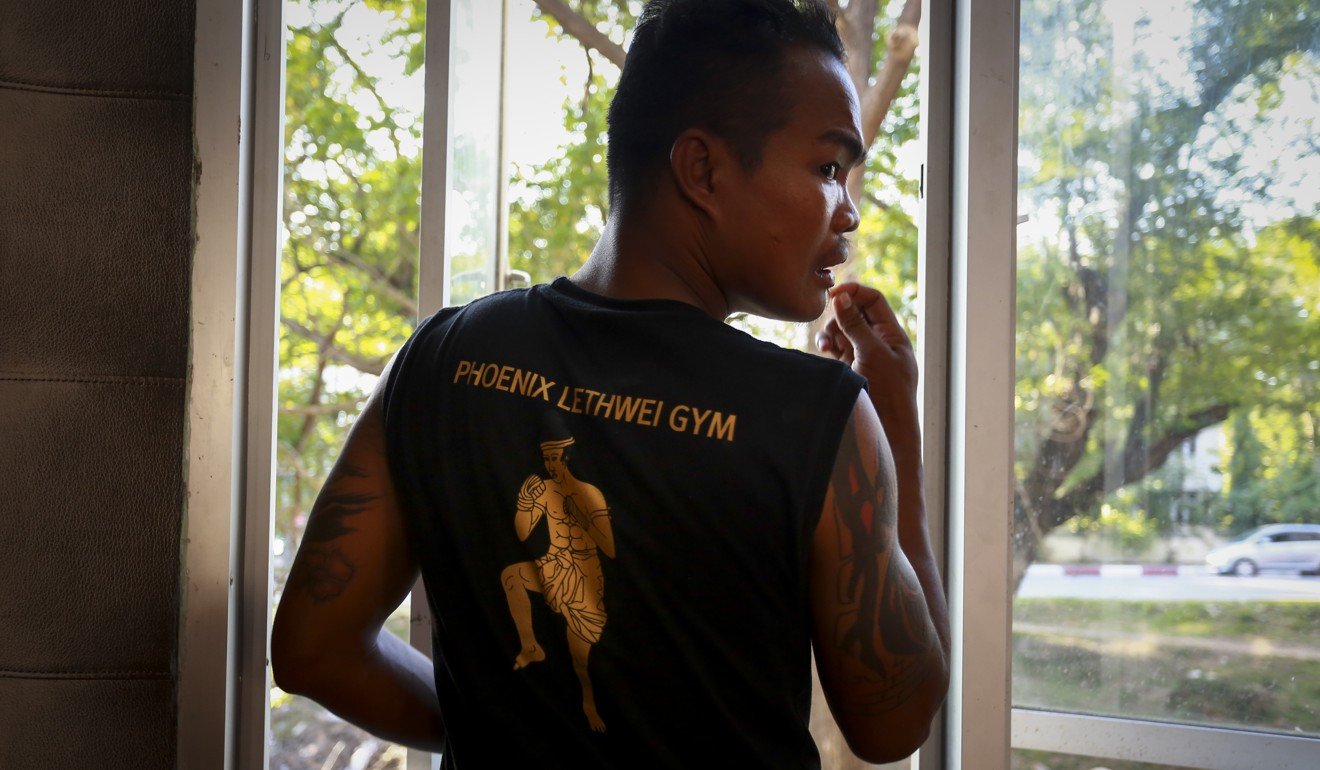 Daw Na Aung
Daw Na Aung, 36, trains and coaches at the Phoenix Myanmar Lethwei Gym. Fighting from the age of nine, he now has more than 200 bouts under his belt. He hopes to retire by the age of 40.
Among Daw Na Aung's many accolades is the Mon State championship belt, which can only be awarded to a fighter who has gone undefeated for three years. He takes home US$900 per fight, a good income in a city where average salaries for white-collar workers range from US$150 to US$200 per month.
Daw Na Aung fights often. Since December, he has taken part in five bouts, starting with the annual tournament at the Insein Township Railway Soccer Ground, for which fighters are drawn from Yangon's top lethwei gyms, to kick off the Karen New Year celebrations.
---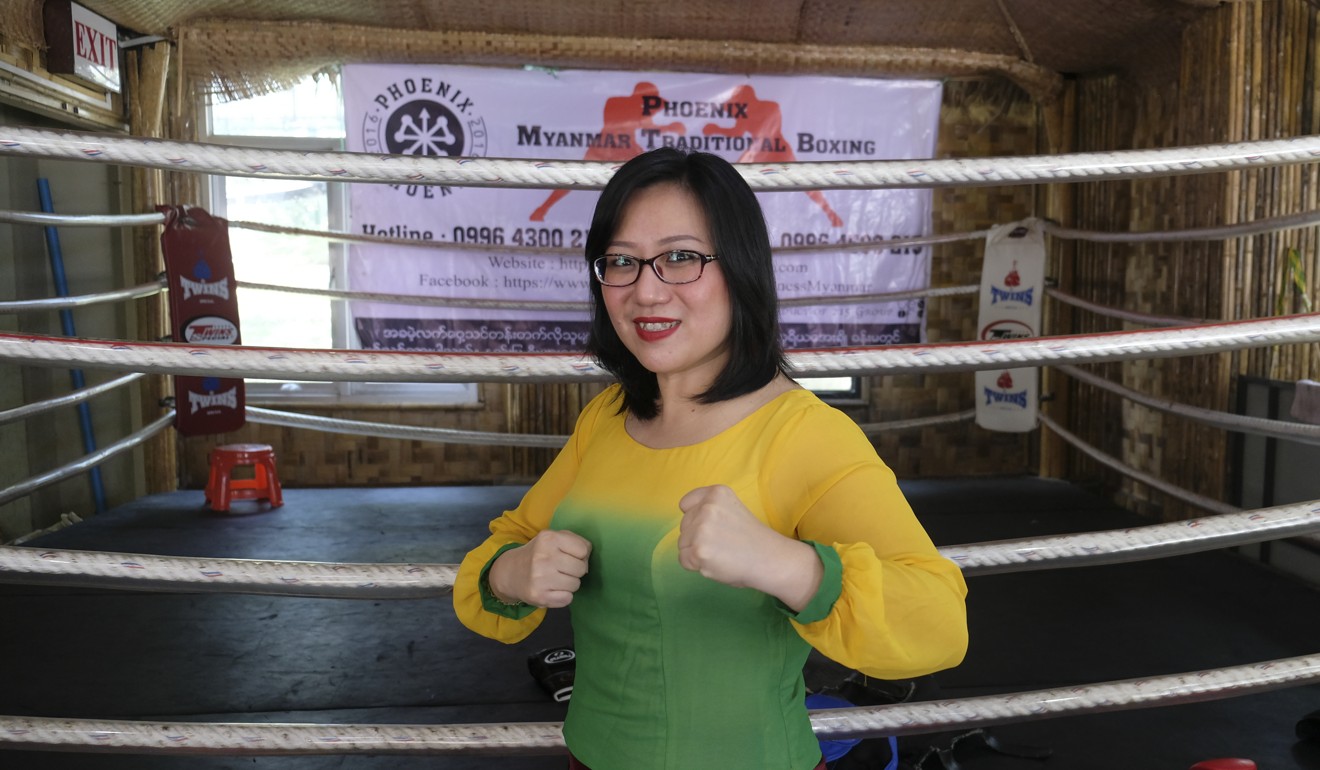 Thiri Aung
Thiri Aung, 39, is part of a group that owns the Phoenix Myanmar Lethwei Gym, in central Yangon.
A gemologist by trade, Thiri Aung fell in love with lethwei after her first training session three years ago, and opened the gym in part to help fighters financially and give them an improved quality of life after the final bell.
"Our own lethwei people, they are quite poor," she says of the fighters, gym owners and even promoters. "Everybody knows muay thai, nobody knows lethwei. So I want to attract tourists to come here. That way more people can learn about lethwei, and our fighters can go abroad to earn more money."
When a Myanmese fighter can no longer fight, "they become a watchman, very blue-collar jobs. I want them to be a high mentor. I would like to keep them here, so even high society will come here and call them 'coach'. I want them to have a good life after their retirement."