Fashion
Get more with myNEWS
A personalised news feed of stories that matter to you
Learn more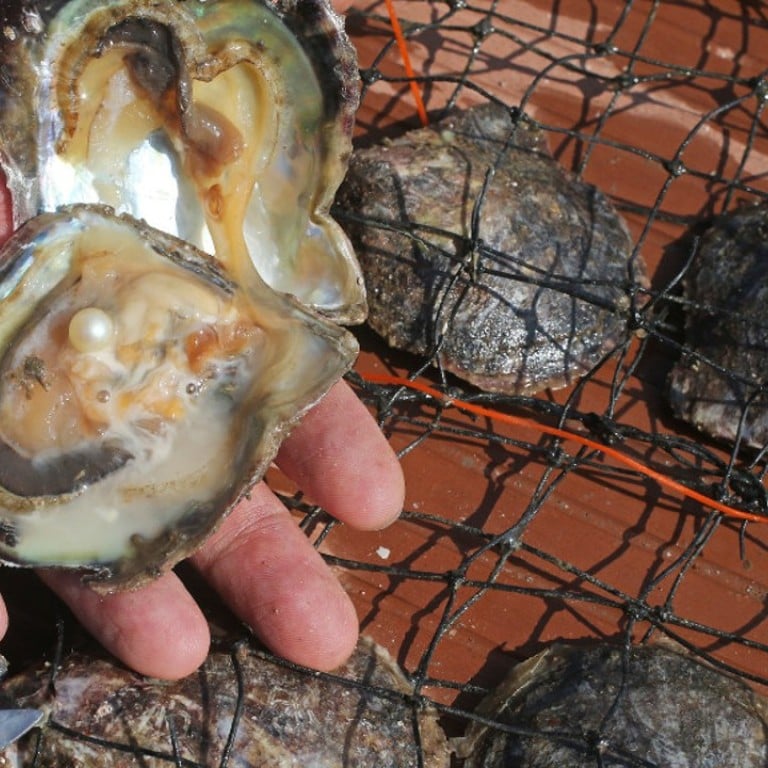 Pearl farming in Hong Kong: enthusiasts restock oyster beds in city waters to revive a 1,000-year-old industry
Fledgling marine industry seeking to profit from scientific methods and cutting-edge identification technology
David Wong Chun-kit carefully pushes his knife into an oyster, between the two sides of its shell. He wiggles the blade back and forth to sever the muscle that holds it closed, and then gently prises the shell open. Inside, nestled within the oyster's slimy folds, is a pearl – lustrous, perfectly spherical and gleaming creamy white in the morning sun.
Wong estimates the pearl to be 7.5mm in diameter. "It's commercial grade," he says. "Good for necklaces, earrings, bracelets and rings."
Wong, 38, and his friend, Yan Wa-tat, are hoping to revive Hong Kong's pearl-farming industry. There have been attempts to farm pearls commer­cially in Hong Kong before, but none were profitable in the long term. Wong and Yan are taking a new approach, however, using scientific techniques and state-of-the-art technology.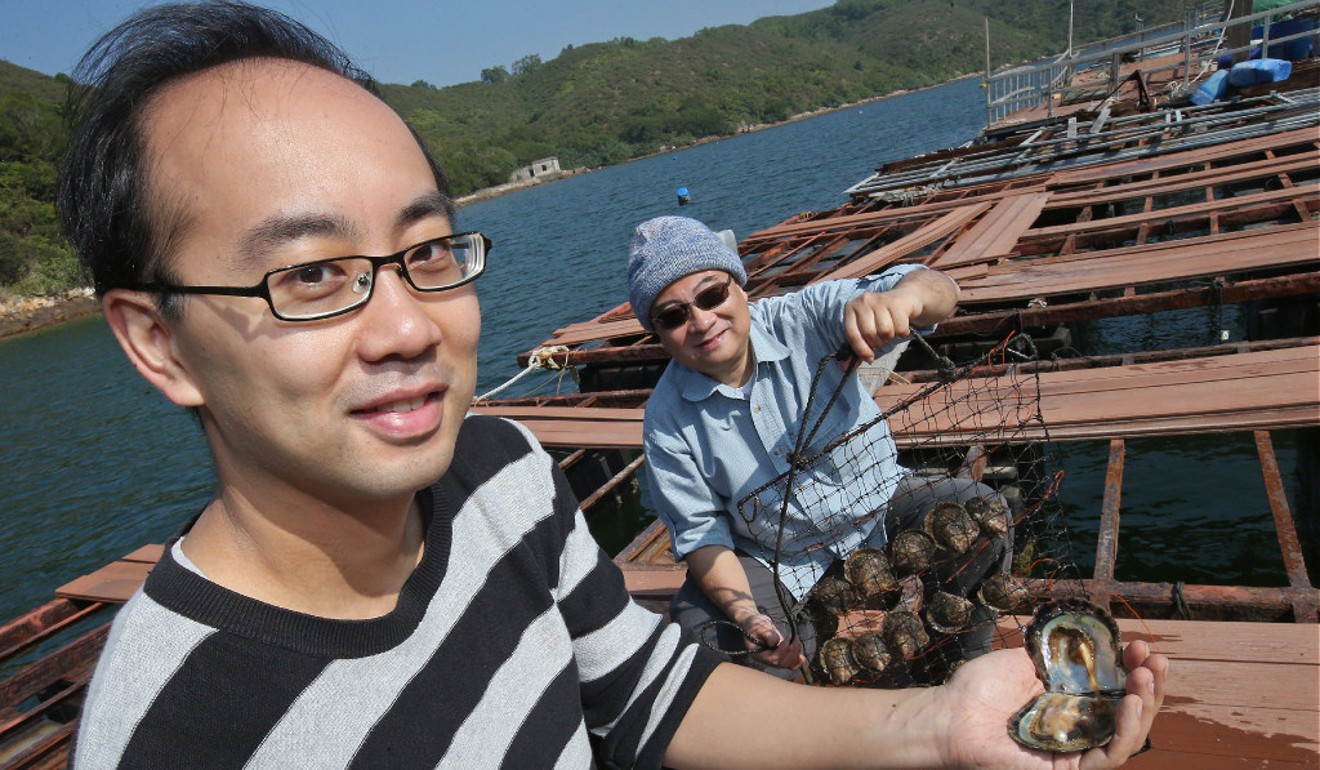 I meet the two pearl enthusiasts on a sparkling morning in December, at Sam Mun Tsai village pier, just a couple of kilometres east of Tai Po, in the New Territories. From there, we take a 15-minute boat ride through Tolo Harbour to an oyster raft located in a quiet, sheltered cove.
The raft consists of rows of giant floats tied together with ropes and topped with a grid of steel bars. Oyster cages are suspended from the grid, and Yan explains that most of the 3,000 oysters here are Pinctada fucata – a species native to the Indo-Pacific region that fares well in Hong Kong waters. The species produces the beautiful Akoya pearls favoured by jewellery makers.
"I'd long been intrigued by Hong Kong's maritime history," Yan says, explaining how his interest developed. "I read an article about the history of pearl cultivation and it piqued my imagination." He wondered if it would be possible to revitalise the indus­­try in Hong Kong. "It would benefit both the marine environment and the fishermen, so it seemed like a good idea."
In 2015, at the age of 54, Yan abandoned his career as a stockbroker and investor, and embarked on a pearl-focused PhD at the University of Hong Kong (HKU). He started his studies by delving into history.
"Around here," Yan says, gesturing to our surroundings, "the waters were once abundant in wild oysters." In the eighth century, during the Tang dynasty, Emperor Xuanzong sent a platoon of soldiers to this part of the Pearl River Delta to plunder its riches. Local people were tied with ropes, weighted with stones and lowered into the depths to collect the oysters. If they weren't pulled up quickly enough, they drowned. Pearls were harvested in the area for almost 1,000 years, before overfishing and economics eventually put paid to the industry.
"By the start of the Qing dynasty [1644], there were so few oysters left that the industry was no longer profitable," Yan says. The last wild pearls, he says, were harvested in the late 17th century.
Cultured pearls, however, are a relatively recent inno­vation. They were first produced in Japan early in the 20th century and transformed the industry, but the Japanese maintained a monopoly for many years by keeping their techniques secret.
From the 1950s, a number of pearl cultivation enter­prises were established in Hong Kong, but they could not compete. "That was an office used by the Holy Carpenter Church, which set up a pearl cultivation operation in 1974," Yan says, pointing to a derelict building on the shore. The business closed in 1981. "Local people had some of the necessary skills, but not all of them. They couldn't process the pearls in Hong Kong, so they had to sell them to Japan in their raw state. It wasn't commercially viable."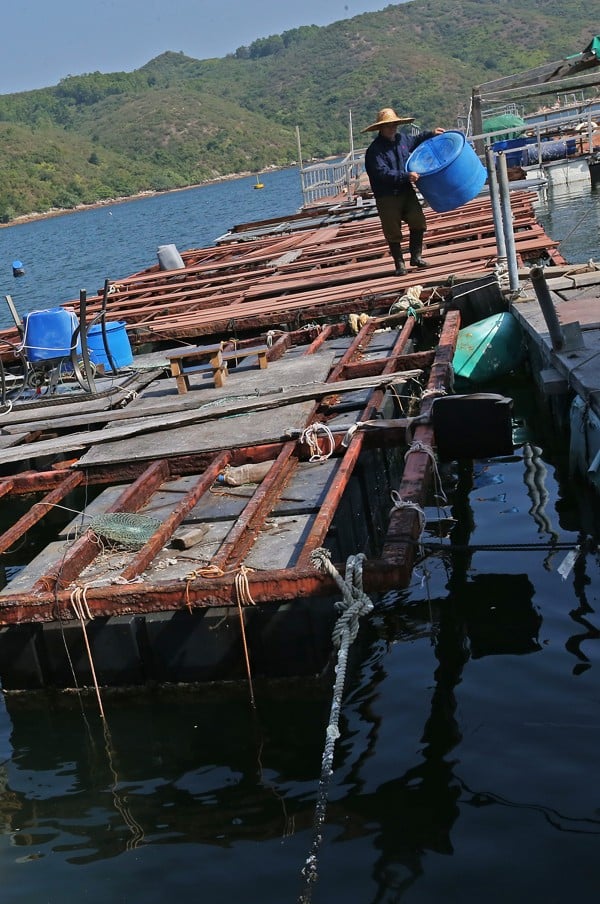 Yan hopes his research will boost yields and solve the prob­lems that thwarted local pearl farmers in the past. His first task was to identify promising locations. "I started with oyster rafts in six areas," he says. "After 10 months, I'd identified the two best performing sites – this one and another near Sai Kung."
Yan pulls up a cage of baby oysters that are numbered with bright red nail polish so that he can identify them individually. He measures their lengths and widths with calipers, and weighs them on electronic scales. He also scoops seawater into a flask to take back to his lab, where he will measure the quantity and diversity of the algae and plankton, on which the oysters feed. "I'm building a picture of how food availability varies seasonally," he explains.
The oysters need cleaning because they are studded with barnacles, tiny mussels, wild baby oysters and tube worms, all of which are collectively known as "biofouling". Yan scrapes them with a flat knife. It is time-consuming work and needs to be done every two or three weeks. "Big farms use machines to clean the oysters," Yan says, "but we are not operating on a large enough scale."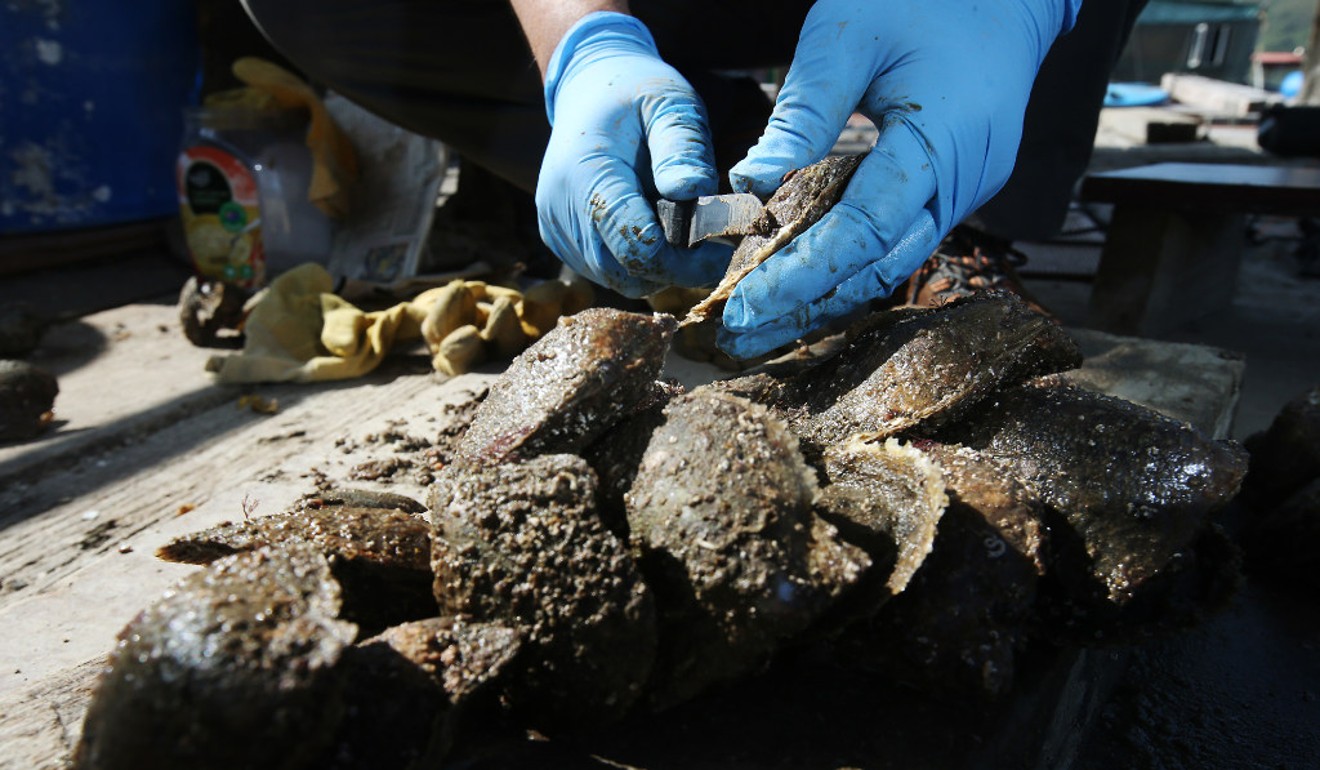 The pile of scrapings will also go back to the lab for analysis. "I'm monitoring the biofouling to develop a best-practice protocol for day-to-day management of the oysters," Yan says. "Depending on which organisms are prevalent at particular times of year, we can minimise the impact by raising or lowering the oysters in the water."
"Biofouling is a major problem in pearl production," explains Kenneth Leung Mei-yee, a professor of aquatic ecology and toxicology at HKU, and one of Yan's research super­visors. "Barnacles and tube worms can cover the shell's opening and seal it shut, killing the oyster. And as filter feeders, they compete with the oysters for food."
Leung adds that while some pearl-producing nations, such as Tahiti, are blessed with crystal-clear waters, Hong Kong is not so lucky. "Oysters are sensitive to low levels of dissolved oxygen in the water," he says. "Algal blooms, such as red tides, can kill them because both the living algae and the bacteria that feed on them after they die use up the oxygen."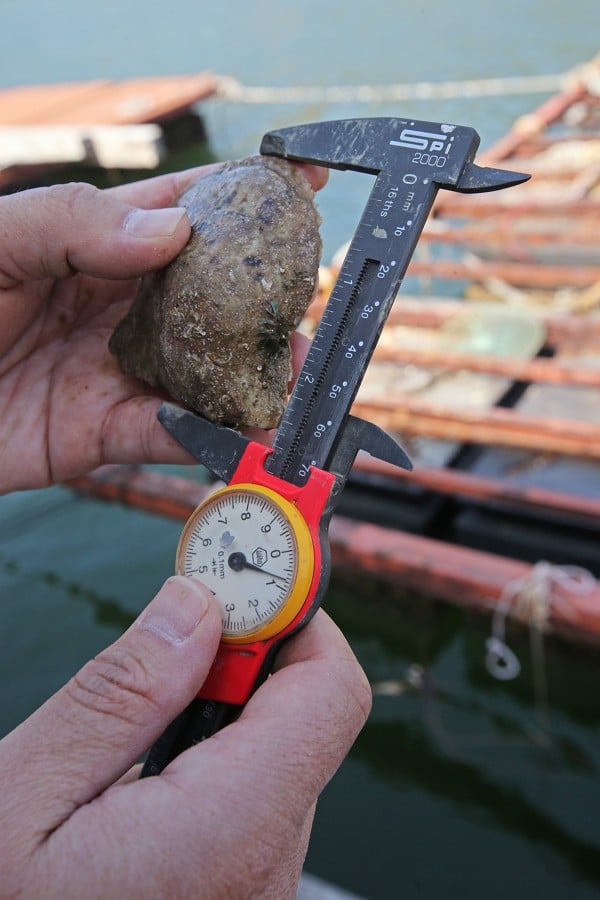 Ocean acidification – a consequence of high levels of carbon dioxide and pollutants in the water – is another problem. If seawater is too acidic, oysters cannot acquire enough calcium to build their shells.
"It's an issue affecting many oyster farms in China right now," Leung says, adding that Hong Kong waters are less acidic because there is less heavy industry, but "we need to reduce the input of nutrients from sewage discharge and surface run-off, which also promote algal blooms".
If oysters can survive in Hong Kong's waters, they could be part of the solution to this problem: oysters, mussels and other bivalves (species with hinged, two-part shells) filter water and remove algae naturally. Leung points to the success of the Billion Oyster Project, which has stocked New York Harbour with more than 20 million new oysters in recent years, achieving a marked improvement in water quality.
In Aberdeen, we meet up with Cheung Siu-keung, chair­man of the Hong Kong Fishermen Consortium, which represents more than 85 per cent of the territory's fisher­men. Cheung explains that fish farming boomed here during the 1980s. "In the past, Hong Kong's water quality was good, so the survival rate of farmed fish was up to 80 per cent," he says, "but when the water quality started deteriorating from 1990 onwards, the survival rate dropped to 30 per cent." It's no longer economically viable, Cheung adds, to farm fish in Hong Kong. "Seventy per cent of our fish farms are idle."
Consequently, the fishing community is keen to diversify, and Cheung introduces fisherman Leung Kam-ming, who recently started cultivating 30,000 oysters on behalf of the Aberdeen Fisherwomen Association. The pearl-farming pilot project is funded by the Airport Authority Hong Kong, which provided compensation for fishing grounds lost to the construction of Hong Kong International Airport's third runway. "If we can farm higher-value products such as pearls and abalone, it could save our industry," Leung says.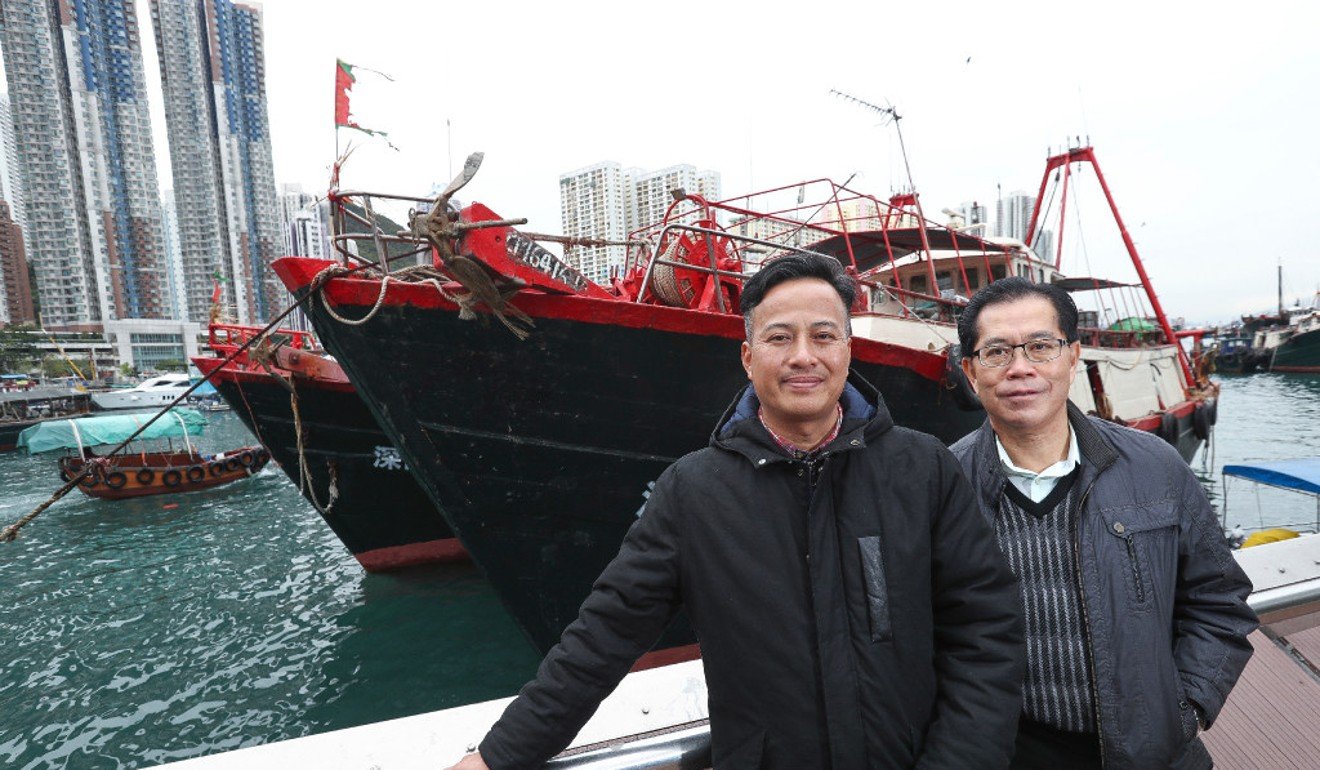 If the venture is successful, Cheung will encourage more fishermen to get involved and increase oyster produc­tion. With oysters cleaning the water, it may even be possible to revitalise fish farming.
"A major benefit of farming oysters is that every part can be sold," Yan says. The mother-of-pearl that lines shells sells for more than HK$100 a gram, and is used by watch manufacturers and as an ingredient in Chinese medicine and beauty products. Oyster meat is popular for barbecues, and can be dried and used for soup stock. The calcium-rich outer shells can be used to enrich pig and chicken feed.
Back at the oyster raft, Wong says he hopes the initiative will benefit from the territory's success as a global pearl trading hub. According to United Nations trade figures, Hong Kong's exports of natural and cultured pearls topped US$1.8 billion in 2016.
"People come here from all over the world to attend pearl sales and auctions," says Wong, who often mans a stall at jewellery events for his family's business, Fukui Shell Nucleus Factory, which he runs with his father, Arthur Wong Yick-cheong. The company manufactures pearl nuclei. These small beads are the key to the mysteri­ous art of pearl cultivation because they kick-start a process that occurs very rarely in the wild.
Wong explains that oysters eat and breathe by opening their shells to allow in seawater. The water contains mor­sels that the oyster eats, and particles, such as grains of sand, which it ejects. Very occasionally, however, a particle gets lodged between the oyster's shell and a protective layer of tissuearound the perimeter, called the mantle. The mantle tissue responds by coating the intruding particle with layers of nacre, an iridescent substance that gradually builds up to form a pearl.
When cultivating pearls, the pearl farmer opens the oy­ster and implants a nucleus in a process known as grafting. "You crank open the shell of a donor oyster, and remove a strip of mantle tissue," says David Wong. "Then open a second oyster, make an incision in the sex organs, and insert the donor mantle tissue, plus a nucleus."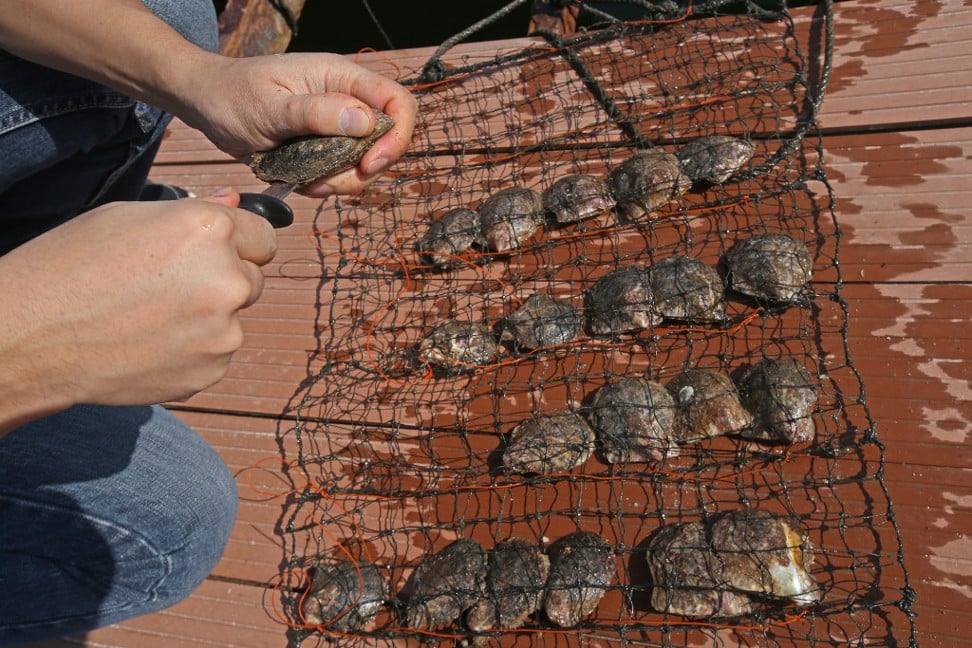 And then? "And then you wait," says Wong, pointing out that pearls take at least a year to grow. Wong's father founded the Fukui Shell Nucleus Factory in 1990. He travelled extensively to Australia, the Philippines, Indonesia and other pearl-cultivating countries to sell his products. "He didn't have any connections, so he just turned up and knocked on doors," Wong says, noting that today the family business is the largest pearl nucleus manufacturer in the world. "That's down to my father's hard work and the quality of our product."
Fukui nuclei are made of mother-of-pearl stripped from the lining of freshwater mussels from the Mississippi River, in the United States, and they are extremely strong. During the 90s, Wong Snr struggled to sell his nuclei because the market was flooded with cheap products made from illegally harvested giant clams. In time, however, oyster farmers realised that using cheap nuclei was a mistake – clam-nucleated pearls were weak and cracked when jewel­lers drilled holes into them. In time, Fukui prospered.
During the slow years, the Wong family tried culti­vating pearls using their excess stocks of nuclei. "In 1996, we established oyster farms in China and in several locations in Hong Kong, including Tai Po and Cheung Chau," David Wong says. "We produced good-quality pearls in Hong Kong, but a year later, the business opportunity evaporated."
The problem was the return of Hong Kong's sover­eignty to China in 1997. "There was no one in the new government to oversee pearl cultivation, and no system in place to support us," Wong says. And so father and son concentrated their efforts across the border, building an oyster farm and resort in Guangdong. Guests were offered trips to the oyster rafts to learn about the cultivation process.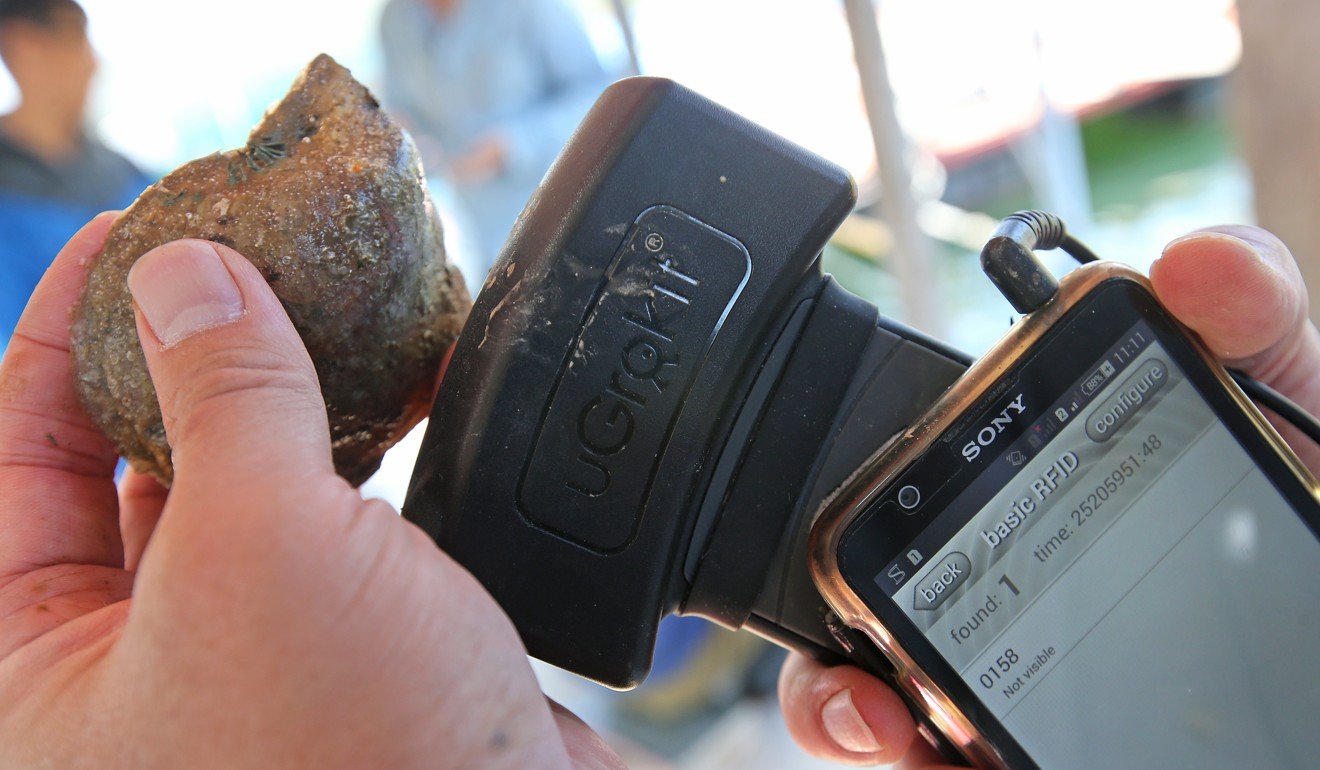 At its peak, the farm's stock exceeded one million oysters, but a property boom – with hotels and high-rises springing up along the coast – resulted in huge amounts of construction waste being dumped into the sea. Marine life, including the oysters, suffered and the Wongs abandoned their farm.
Then, in 2009, David Wong had a radical idea. "I read that RFID [radio-frequency identification] technology was used at Hong Kong airport for baggage identification, and I wondered if we could put RFID chips inside pearl nuclei," he says.
It took three years for him to find a chip so small it could be squeezed inside a nucleus. The advantages of the technology, which the Wongs have dubbed "Metakaku" (meta meaning "beyond", and kaku being the Japanese word for "nucleus"), are twofold. Each chip has a unique identification number that, when scanned with an RFID reader, can be displayed on a smartphone screen. This offers benefits for both the pearl farmer and the end consumer.
"First, we can check if the nucleus is still inside [the oyster], or if the oyster has pushed it out of the shell, which happens in 10 to 20 per cent of cases," Wong says. "Secondly, the chip allows retailers and consumers to know the provenance of each pearl."
According to Wong, scams abound in the world of pearls. "Pearls from different places may look the same, so retailers and consumers cannot distinguish if their marine pearls come from Australia or from cheaper markets such as Indonesia and Myanmar," he says. "And Chinese fresh­water pearls can sometimes pass as more valuable Japanese Akoya pearls."
Metakaku technology, Wong believes, will solve this problem. "We are developing an app with a database that gives buyers information on each pearl's size, grading and history, where it was cultivated and when it was harvested," he says. "Basically, each pearl will have a birth certificate."
The development will, Wong believes, allow retailers to trade with confidence and give consumers the oppor­tunity to buy pearls that come with a guarantee of quality and authenticity. "People want to know the stories of the pearls they buy and will pay a premium if they know the pearls come from a sustainable source," he says.
Ultimately, however, history shows that if a pearl farming industry is to flourish in Hong Kong, local practitioners will need the right skill set. At present, no one in the SAR is able to graft nuclei, and that work is carried out by Fukui staff in the mainland. Wong recently sent a local employee, William Yip Wai-leung, across the border to learn the techniques from mainland experts.
"It was extremely difficult," Yip says. "It's like being a surgeon. At first, I made mistakes and killed a lot of oysters. But I kept practising, and got used to the tech­niques and better at handling the tools."
Eventually, Wong and Yan hope to bring pearl-grafting technicians to Hong Kong, to teach local fishermen, and they would also like to establish an oyster hatchery. Baby oysters are currently sourced from the mainland, but availability and quality are not completely reliable, and they would prefer to be self-sufficient.
In the meantime, Wong is using the Tolo Harbour oysters to test and develop Metakaku technology, all the while pursuing his passion for eco-tourism with another raft in Sai Kung. "I love teaching people about pearl farming," he says, "and I think many Hong Kong locals and visitors are looking for special hands-on experiences – not just shopping."