Tourism
Get more with myNEWS
A personalised news feed of stories that matter to you
Learn more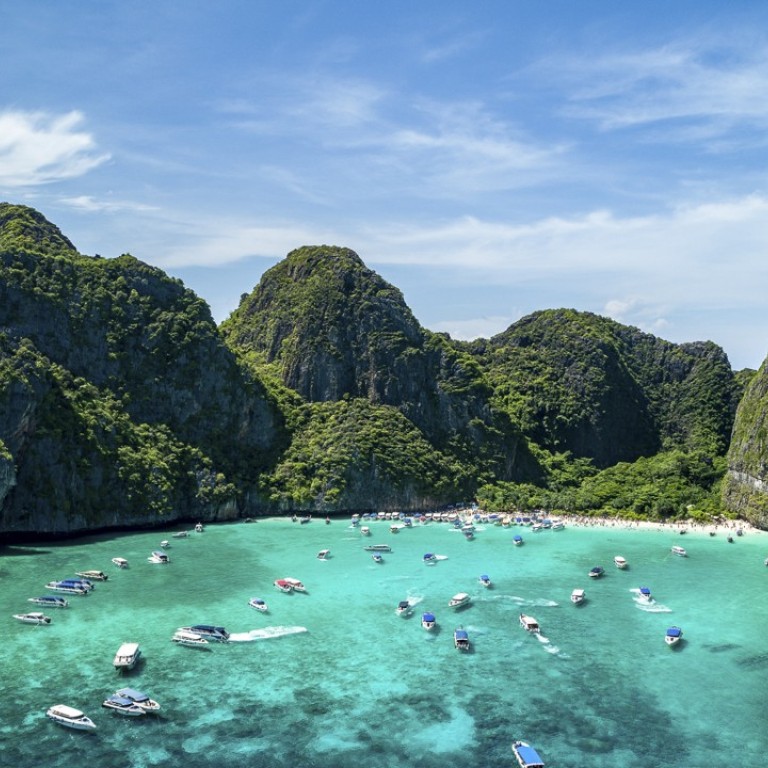 Chinese tourism boom blamed as Thai beach from Leonardo DiCaprio film closes
Maya Bay, one of Asia's most beautiful holiday destinations was shut to visitors on June 1, as drastic measures were implemented to fend off environmental catastrophe
The impact of excessive tourism is clear for all to see, but no one is taking much notice as officials from Thailand's national parks authority sit at a long table on the sand at Maya Bay, on the island of Phi Phi Leh, to announce the formal closure (on June 1) of this popular beauty spot in the Andaman Sea.
As the officials attempt to address the horde jammed along the narrow beach, a major amphibious operation is under way, with thousands of visitors being disgorged from a fleet of arriving speed­boats. The voices and whistles of park rangers are drowned out by the roar of smoke-belching, 250-horsepower outboard motors. By 11am, more than 100 such boats can be counted in the small bay. And this is low season.
As he surveys the dystopian scene, Dr Thon Thamrongnawasawat, of Bangkok's Kasetsart University, despairs.
"When I first came here, 38 years ago, this place was heaven," says the marine scientist and environmental campaigner, who led calls for the closure.
Phi Phi Leh is one of six islands in the Phi Phi archipelago, which lies between the larger island of Phuket, to the west, and the Thai mainland, to the east. Postcard-perfect Maya Bay – surrounded by jagged limestone cliffs that tower over crystalline turquoise waters – became globally famous after starring, alongside Leonardo DiCaprio, in Hollywood film The Beach (2000). It has remained one of Thailand's most popular natural attractions ever since, with devastating results.
"This was all coral once," says Thon. "But now there is nothing."
As he speaks, speedboats jostle for position in the crammed bay, their propellers churning up the water like a blender. A group of excited Chinese women – ignoring frantic warnings from a ranger – risk being sliced and diced by the rotating blades as they attempt to take selfies in the surf.
Maya Bay has recently been attracting about 3,800 visitors a day, says Thon, most arriving in speedboats from Phuket, some 48km away.
Pioneering a hands-on conservation programme that he calls the Phi Phi Model ("People grow tired of policies and data," he says. "They want to see real action"), outspoken Thon has become something of a celebrity in Thailand, regularly appearing in newspapers and on television; he has more than 100,000 followers on Facebook.
The project started three years ago as Thon's personal crusade to save the Phi Phi islands from overtourism, but now he has some powerful partners. In addition to support from officials of the Phi Phi Islands national park, he has enlisted the help of Singha Estate, the property and hotel arm of the Thai brewery corporation, which runs a luxury resort, the Phi Phi Island Village Beach Resort, on the main island of Phi Phi Don.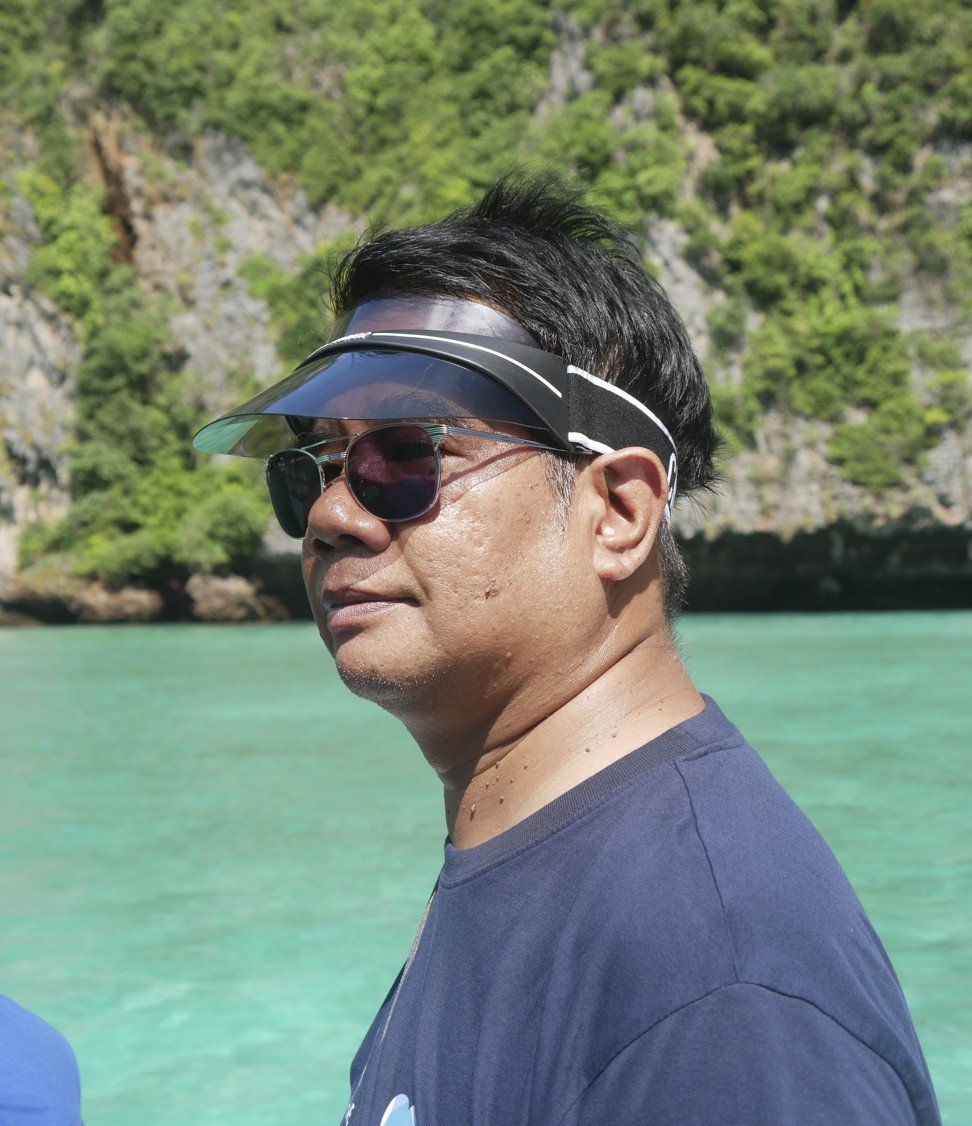 "We think there are too many people visiting the islands so we want to close parts to tourists and reduce the number of visitors," says Thon.
Some of the bewildered tourists questioned on the beach seem to approve of the plan to close it entirely for four months and permanently buoy off the entrance to the bay from the sea, making it inaccessible to speedboats. After the bay reopens, visitors will have to land on the oppo­site side of the island and make the short trek overland to the beach.
"It's so sad to see so many people and the damage to the environment. We were a bit shocked, to be honest," says Anne Andersen, from Denmark, who is on holiday with her boyfriend. "It's a good idea to close it."
The boat operators who earn a living by bringing people to the bay may be less enthusiastic but "I am not worried what they think", says Thon. "I have the support of the Phi Phi people."
The consequences of overtourism in Southeast Asia are not unique to this scenic part of Thailand. The lure of the mythical "pristine white sand beach" remains as strong as ever in the travel industry. Thailand made the Andaman Sea islands of Tachai, Khai Nok, Khai Nui and Khai Nai off-limits in 2016; the Philippine resort island of Boracay was forced to close for six months from April 26 by President Rodrigo Duterte; and Bali, Phuket and Pattaya have gained unwelcome reputations as former natural paradises trans­formed, within a few decades, into ugly visions of rubbish heaps and over­whelmed sewage infrastructure, traffic congestion and environmental degradation.
"Overtourism is a concept that's widely recognised, particularly in Southeast Asia," says Professor Bob McKercher, an expert in regional tourism development at Hong Kong Polytechnic University's School of Hotel and Tourism Management. Its cause is the phenomenal growth in outbound tourism in the region, and from China in particular. In 2000, about 10 million Chinese tourists packed their suitcases for foreign holidays. By 2017, that number had grown to more than 140 million, with Thailand being a popular destination. International tourist arrivals in Thailand rose 8.8 per cent in 2017, to a record 35.4 million, equivalent to more than half the Thai population. According to tourism officials, the biggest factor was a growth of 12 per cent in the number of Chinese visitors, who represent the biggest single national group.
"Resorts are not yet geared up for mass expansion like this," says McKercher, and neither are small and fragile beauty spots such as Maya Bay.
He explains that because 80 per cent of all international travel is undertaken within 2,000km of home, the surge in outbound tourism from China, South Korea and Thailand means the same region is also struggling to cope with those inbound. And according to McKercher, these holidaymakers are typically focused on "fun, escape and recreation", and have little regard for the local environment once liberated from the restrictions of home.
"Recent research shows even so-called environmentally responsible citizens just don't care when they're on holiday," he says.
To make matters worse, a host country's initial response to greater tourist numbers tends to be to upgrade its infra­structure and increase the amount of accommodation avail­able rather than strengthen environmental protection and improve education.
When Thon started his Phi Phi programme, in 2015, he was financing the effort by selling postcards through his Facebook site.
"About 10 billion baht [HK$2.4 billion] is the economic value of Phi Phi every year," he says, "but when we started there was one dinghy to check on 2.3 million visitors."
In April 2016, the fee for tourists entering the Phi Phi national park was raised significantly. Dive companies and tour operators collected 400 baht from each guest, plus another 200 baht if they were diving or snorkelling, but, some companies say, those fees were rarely collected by authorities.
Now, thanks partly to the financial support of Singha Estate, 58 rangers, using 14 patrol boats, make it their business to collect fees and ensure visitors have paid them. And the more fees collected, the more conservation work can be funded.
Nevertheless, the national park covers a vast area of the Andaman Sea, wedged between Krabi province and Phuket, and McKercher says the best the authorities can do is try to manage the explosion of numbers in a more sustainable way.
"Options are very limited," he says, but suggests three practical measures: the introduction of even higher fees for access to popular hotspots, stricter policing of behaviour and enforcement of fee payment, and the establishment of quotas on the number of visitors allowed access to a particular spot on a daily basis, although those measures do run the obvious risk of making tourism the exclusive preserve of the wealthy.
"It's a shame if it has to come to complete closure but, if that is necessary, so be it," says McKercher.
Thon is attempting to implement all three measures and can point to evidence that closure, combined with restorative efforts (such as the anemone fish-breeding programme established at Singha Estate's new Marine Discovery Centre, at the Phi Phi Island Village Beach Resort, and a scheme to release bamboo sharks and blacktip reef sharks caught by fishermen as by-catch) and proper policing can work.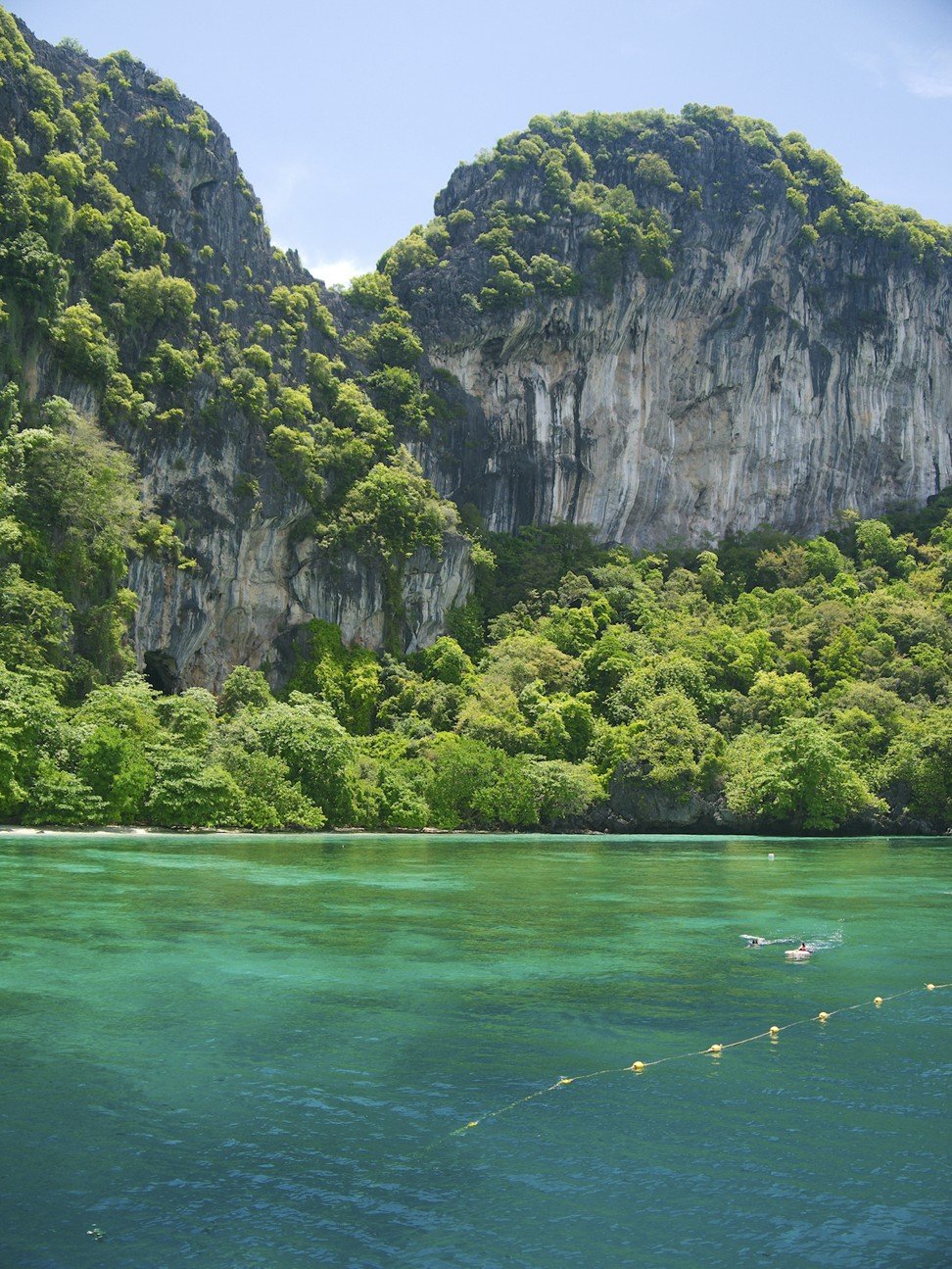 In March 2016, Thon persuaded the marine park author­ity to close a popular snorkel site on the northernmost island in the Phi Phi archipelago.
Koh Yoong (or Mosquito Island) had been uninhabited and remote but still attracted more than 2,000 visitors per day, eager to experience the dramatic limestone cliffs and snorkel over a beautiful coral reef teeming with exotic fish. By 2015, the reef had gone and there were no fish left. And it wasn't just the thrashing around in the water by thousands of swimmers that did the damage.
"If just 25 per cent of those visitors took a pee while snorkel­ling, that's about 250 litres of toxic ammonia dumped on the reef every day," says Anuar Abdullah, an oceano­grapher and the founder of Ocean Quest, which operates a network of conservationists in the region engaged in coral propagation. He is part of Thon's programme to re-establish coral at Koh Yoong, and restore the reef to its former glory.
A little more than two years later, Abdullah guides a small group of approved snorkellers over the reef within a protect­ed buoyed area, watched by the crew of a park ranger vessel, to see an astonishing seabed transformation. A field of newly grown staghorn coral is clearly visible in about two to three metres of limpid water. Abdullah photographs new outcrops of blue coral, which, he says, used to be endangered in this area. Parrotfish and angelfish tend the coral. Directly below us, distinctive electric blue and black hoops indicate a beautiful but highly venomous banded sea krait slithering beneath some boulder coral.
Back on the dive boat, Thon is lecturing a group of journalists. "This is what happens if you give nature a chance," he says, explaining that coral propagation will also be carried out at Maya Bay after the closure.
Having witnessed the transformation at Koh Yoong and the efforts of businesses such as Singha Estate, it is tempting to feel optimistic. But then I visit Ton Sai.
A 20-minute trip in a long-tail boat from Phi Phi Island Village Beach Resort, Ton Sai is the most built up part of Phi Phi Don, and where ferries arrive from Phuket and Krabi. It is also squalid, having been recreated after the devastation of the 2004 tsunami with little in the way of planning, style or common sense. Ugly and incomplete concrete structures line the beach; the narrow, litter-strewn alleys connect scruffy shops selling cheap liquor in plastic buckets, tattoo parlours and cut-price massage joints. This is the charmless destination of choice for the shoestring-budget international party crowd.
Nearby Loh Dalum is known as "party beach" and young people lie prostrate in the shade as dance music booms out of massive black speakers along the waterfront. A large circular pool of cream-coloured scum floats in the surf zone, near to where people are swimming.
There is no sewage treatment in Ton Sai or Loh Dalum and visitors are charged 20 baht on arrival to fund the removal of rubbish to the mainland.
It's hard to square Ton Sai with Phi Phi Island Village Beach Resort, just a few kilometres away, which has invested in waste-treatment systems, and where even the water from air-conditioning units is collected so guests can wash their sandy feet without wasting drinking water.
"The more upmarket resorts can afford to do proper waste management and recycling and pass that cost on to their guests, but it's expensive. At the bottom end, it's much more difficult," says McKercher, who thinks remote and fragile beauty spots are the last place a responsible traveller should be visiting.
"Probably the most sustainable tourist destination is a big city," he says, explaining that the impact of 3,800 people visiting Maya Bay every day is potentially disastrous but the impact of the same number on Hong Kong, New York or Sydney is negligible. McKercher also believes educating tourists to behave well when travelling is key.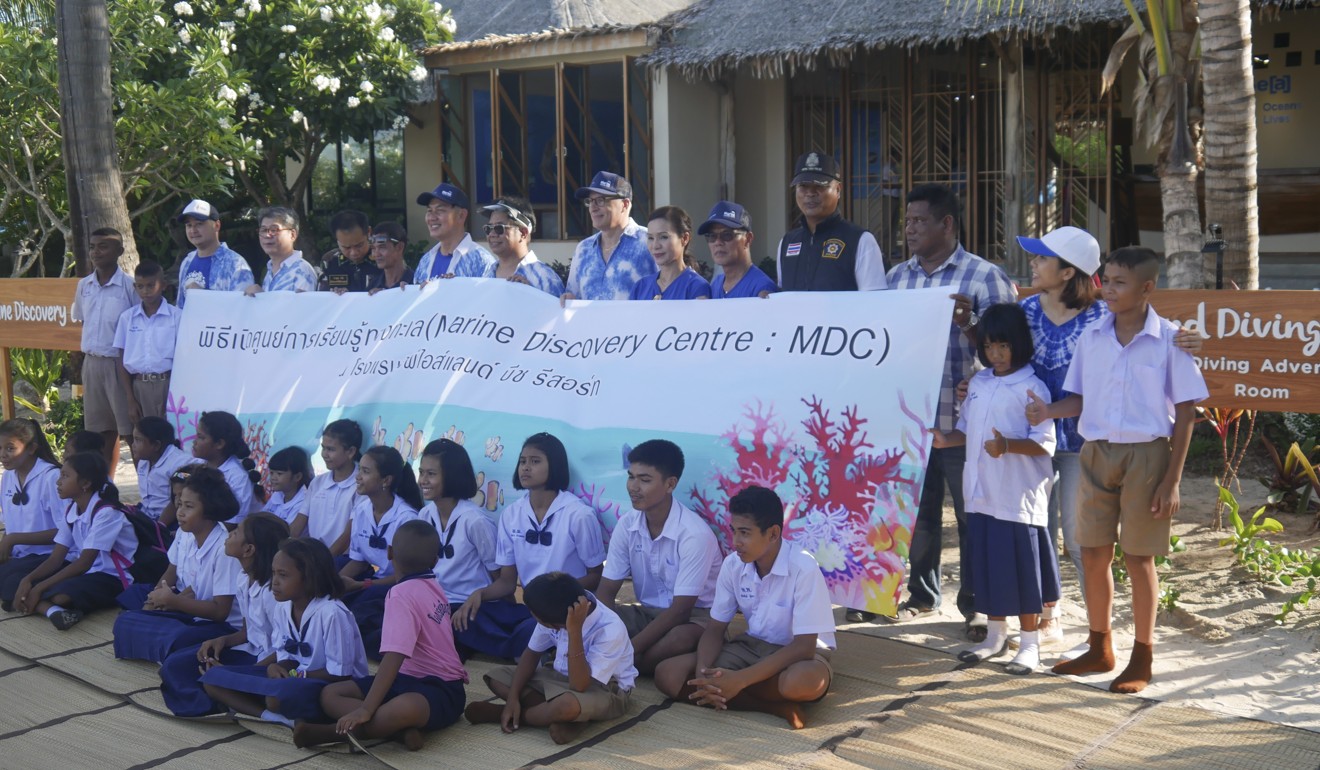 "If we educate the younger people, this will help, but 90 per cent of our visitors are from overseas," says Thon, "so how do we educate people from Kunming [the capital of Yunnan province] before they jump in the water."
Few would bet against the formidable Dr Thon and his enthusiastic team saving Phi Phi from the worst ravages of tourism. And he thinks that in addition to the practical benefits of closing Maya Bay, the action sends a wider symbolic message, declaring that protection must come before recreation.
"If we can close one of the most famous beaches in the world," he says, "it makes a very powerful point."