With their curved beams and intricate carvings of lion guardians and sagacious mandarins, dozens of grand wooden buildings stand spread across the 20,000-square-metre compound of antique furniture collector Sam Jan, secreted behind a tall metal gate along a narrow, tree-lined road in northeast Beijing.
The timber-framed structures – each assembled with joints, without the use of a single nail or piece of metal – date back hundreds of years, hail from Anhui, Jiangxi and Zhejiang provinces, and include ancestral halls, courtyards and memorial archways. All were built in the Hui architectural style, which is known for its exquisite craftsmanship and great beauty.
For 60-year-old Jan, who was born and raised in Taipei, in Taiwan, preservation of such buildings has become a labour of love, and he has acquired about 160 in total. He bought his first in 2003, for 80,000 yuan (US$11,700, in a village in Anhui.
"It was a small building of 49.5 square metres," says the ponytailed former soldier, who served with the armed forces in Taiwan. "The structure was part of a larger complex belonging to a big family." Local villagers called it "the concubine building", he adds, explaining that a skylight in the roof had been covered with a caisson ceiling, deliberately blocking sunlight, by the vindictive legal wife in the household.
He paid 3,000 yuan to have the building disassembled and 6,000 yuan to transport it to his Beijing compound, where he has turned it "into a house with a living room, a study room and bedrooms".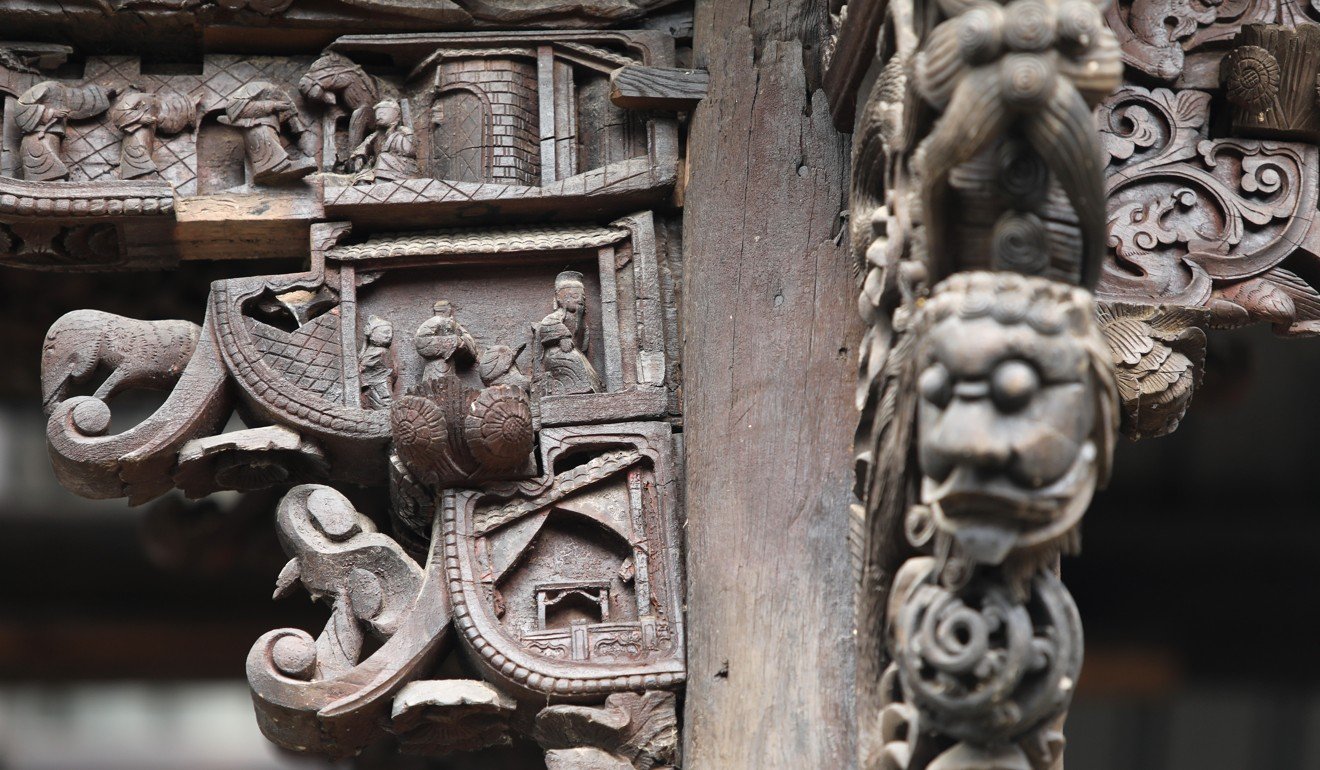 With gilded beams, upturned eaves and delicate detailing, Hui architecture developed into a significant school during the Song dynasty (960-1279) and is named after Huizhou, a historical region in southeastern China that is now split into the southernmost part of Anhui and part of northeastern Jiangxi, and is home to the Huangshan mountain range.
Jan's interest in Hui-style buildings began in the early years of the 21st century, when he was visiting Huangshan from Beijing in search of antique furniture. Though the old buildings he came across had seen better days and were in significant need of maintenance, Jan – who had been a frequent visitor to Taiwan's culturally abundant National Palace Museum as a youth – was impressed by their aesthetic simplicity and elegance. To his dismay, locals told him that, because renovation would be costly, they would demolish the buildings to make way for modern structures, and even use them as firewood.
Jan decided to preserve as many of these wonders of China's architectural heritage as he could.
Finding space for them, however, proved a problem, and remains so even within his rambling compound, which is close to the Wenyu river, in Beijing's Chaoyang district. Jan's team of 30 or so carpenters has so far repaired and reassembled 60 of the large buildings he's acquired, but about 70 others have not been so fortunate.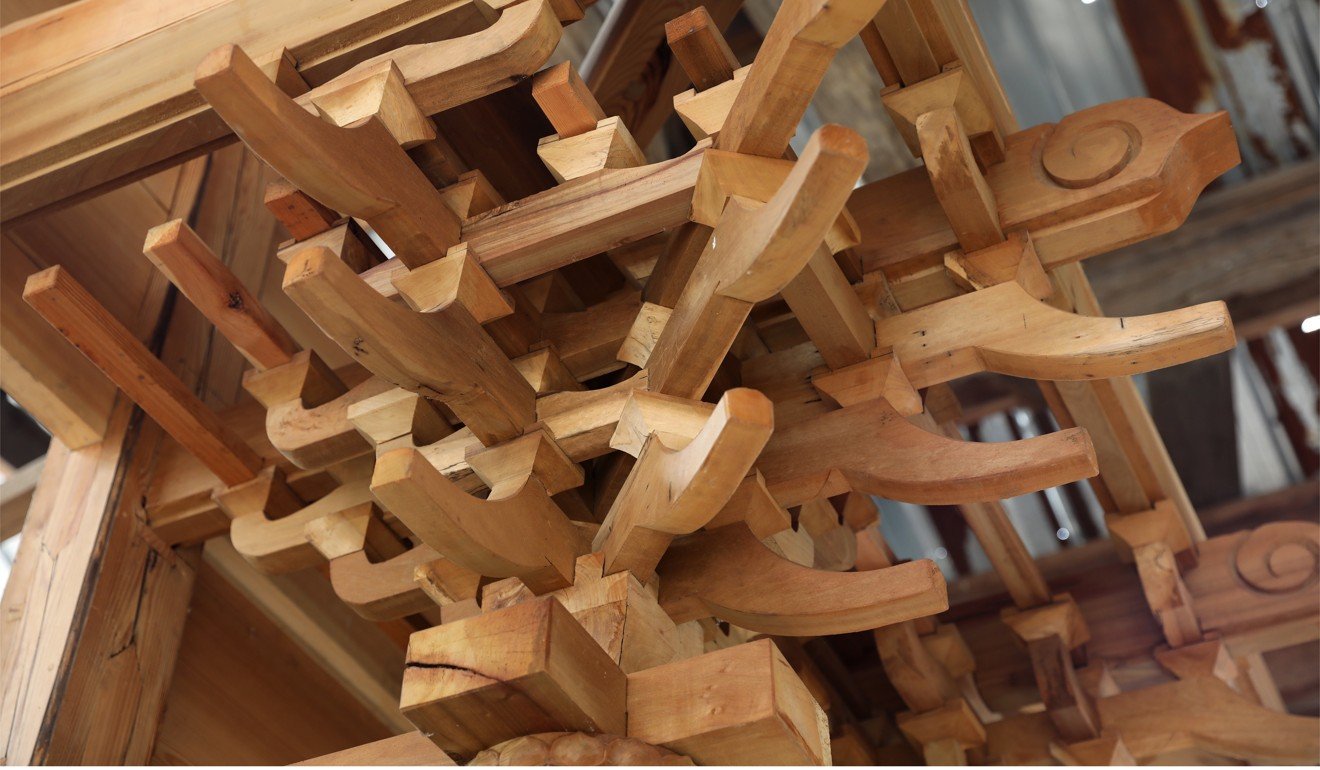 "I saw buildings costing 50,000, 60,000 and 70,000 yuan. I couldn't help buying them but I don't have enough space," says Jan. "I haven't been able to transport them back and they are just rotting."
What's more, Jan has yet to sell any of his large structures, though he believes they could hold great value.
"I'm storing them and plan to sell them in the future," he explains. "Developers building characteristic small towns could be clients."
Nevertheless, Jan has enjoyed some return on his investment, having sold smaller ancient structures and details that have been cleverly incorporated into wedding venues, restaurants and cafes, learning centres and modern residential developments. A small piece currently under renovation at the compound and likely to find a buyer is a wooden archway featuring a dougong – interlocking wooden brackets that together form one of the most distinctive elements in traditional Chinese architecture.
The old structures collected by Jan generally need a bit of adapting, to make them suitable for use in the north.
If repair work is done without feeling, it is just an inanimate thing. If you put feeling into it, it becomes a piece of ancient artwork. You have to take care of every tiny detail
"Southern climes are warmer in winter than those in the north," he says. "Tiles on a rooftop in the south are simply placed on top of one another in a brick pattern. Rooftops in the north have waterproof and insulation layers."
Jan also stresses the need to understand a building – its provenance and history – before restoration work commences.
"If repair work is done without feeling, it is just an inanimate thing," he argues. "If you put feeling into it, it becomes a piece of ancient artwork. You have to take care of every tiny detail, understand who the owners were, whether they were male or female, whether they came from royalty or rich families.
"The oldest building I have restored is a more than 400-year-old school that I bought in Jiangxi, more than a decade ago," he says, adding that because wooden structures are susceptible to damage from weather, rot and insects, speci­mens older than 500 years are extremely rare.
"The 100 square metre building cost more than 100,000 yuan. According to locals, a male royal and his mother stayed in Wuyuan, in Jiangxi, before he became heir to the Ming dynasty throne. [The mother] did not want the son to stop his studies and arranged for him to be taught in a private school in Wuyuan for two years. The heir later used government money to build this school as an act of gratitude to his teacher.
"Although there are no carvings on it, the structure is beautiful."
Jan believes the most beautiful wooden buildings were made during the Ming dynasty (1368-1644) and early Qing (1644-1912), and admires their symmetry and the use of joints, or sun mao, to link two pieces of wood together through concave and convex structures. "The rules of building wood structures, such as how thick pillars should be and the use of sun mao, were refined a great deal during the Ming dynasty."
And compared with wooden architecture elsewhere, Huizhou buildings stand out for their refinement, Jan adds.
"Huizhou was on hilly terrain and villages were built on knolls, with houses cheek by jowl, so they were relatively small," he says, "Due to poor soil, people couldn't subsist on farming. Studying to excel in exams, to become a mandarin, was a common pursuit. So there were many scholarly people in Huizhou. Scholarly people have ideas. They wanted to create comfy living spaces out of small houses. That is what we call design."
According to mainland media, Jan is the only person in China conserving Hui architecture on such a grand scale. He has built such a reputation in the architectural world, in fact, that Rem Koolhaas, the Dutch "star-chitect" behind the landmark CCTV Headquarters in Beijing, came to visit him last year. Calling Koolhaas his "defeated opponent", Jan complains that Western designers do not show enough appreciation for Chinese architecture.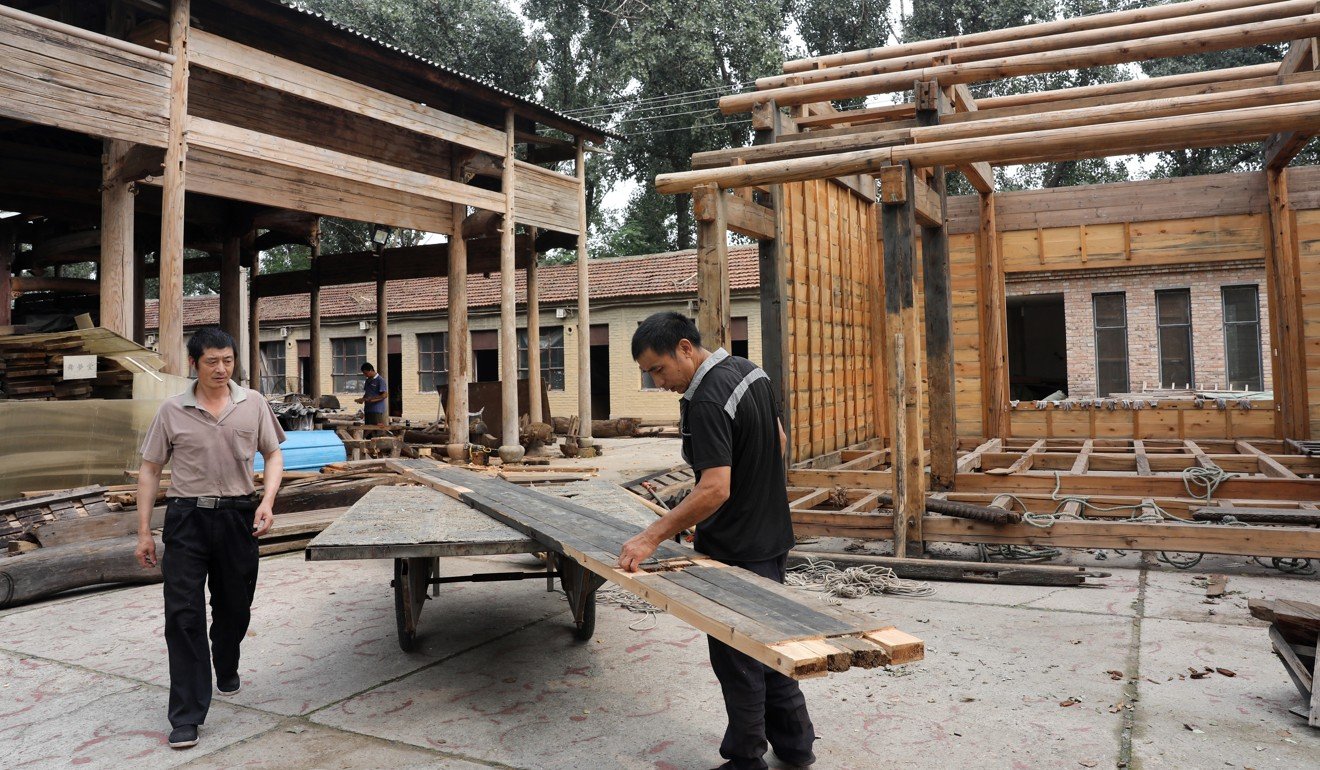 Jan first set foot on the mainland in 1987, while in his 20s, travelling to Beijing from Hong Kong with his mother, and later to Qingdao, her hometown.
"In Hong Kong, we waited for a week for the Taiwanese president, Chiang Ching-kuo, to announce the opening of travel to the mainland for Taiwanese. When it was announced one morning, we bought plane tickets that afternoon to Beijing."
After running his own business making kelp-based food­stuffs in Qingdao, Jan moved into antique furniture in the early 1990s, buying pieces on the mainland for sale in Taiwan.
Visitors to Jan's Chaoyang operation can peruse a vast collection of antique furniture that includes a four-poster bed with carvings in the style of the Liao dynasty (907-1125) and a nanmu cabinet with vermilion interior, signifying affluence, as well as pieces that Jan designed himself. Among those is a Shuanghuan car converted into a fridge, with a wine rack, and wooden fridges modelled on vintage American iceboxes.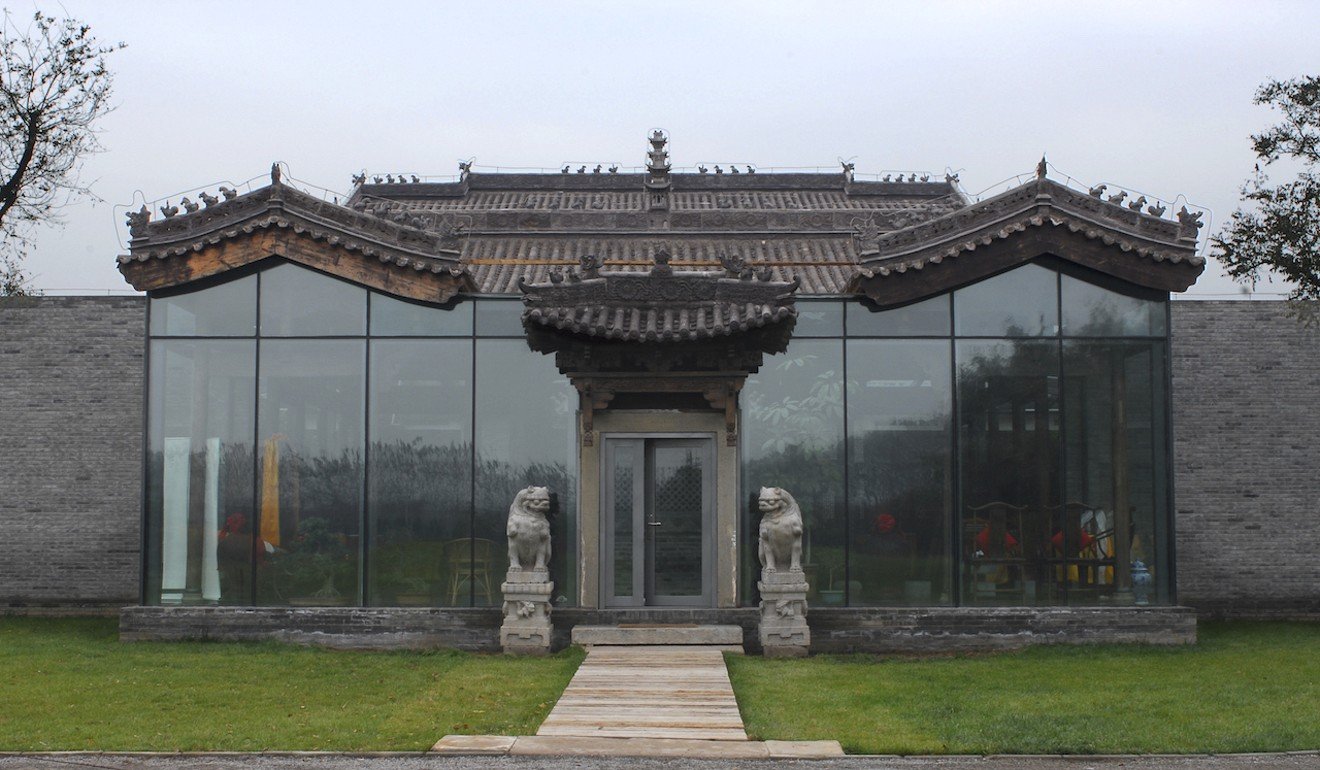 "The wooden fridge is not my idea. I just bought one and improved on it," he says. "After my improvements, I now have more than 20 models for sale, with a small one costing more than 40,000 yuan [HK$45,950] and a big one costing more than 50,000 yuan."
Jan also sells his services as an interior designer, one of his clients being Weiming Education Group, a provider of private schools. Last year, Jan says, the group's president asked him to redesign his office, in Beijing's Haidian district. "He said he wanted to feel like he was in a small rural village in Zhejiang."
Interior design work and the sale of antique furniture bank­roll the herculean task of preserving Huizhou architecture. A sustainable business appears to be secondary, however, to Jan's desire to prevent real, physical examples of China's cultural heritage from disappearing.
"People don't know of the toil I have put in, but they also don't know the happiness I derive from what I do," he says. "I knew China would become powerful one day. When people live and eat well, then they want more cultural pursuits. My long wait is over; China is strong now."
Local governments recognise the need for cultural preser­vation but their hands are often tied by financial constraints, so the challenge is huge, especially for one operation working alone.
"These buildings are several hundred years old," Jan says. "There are at least several million in China that are still homes for ordinary people. Only wealthy clans that have reached a consensus among themselves can preserve their ancestral halls.
"For others, we can only watch them rot."
---
Joint venture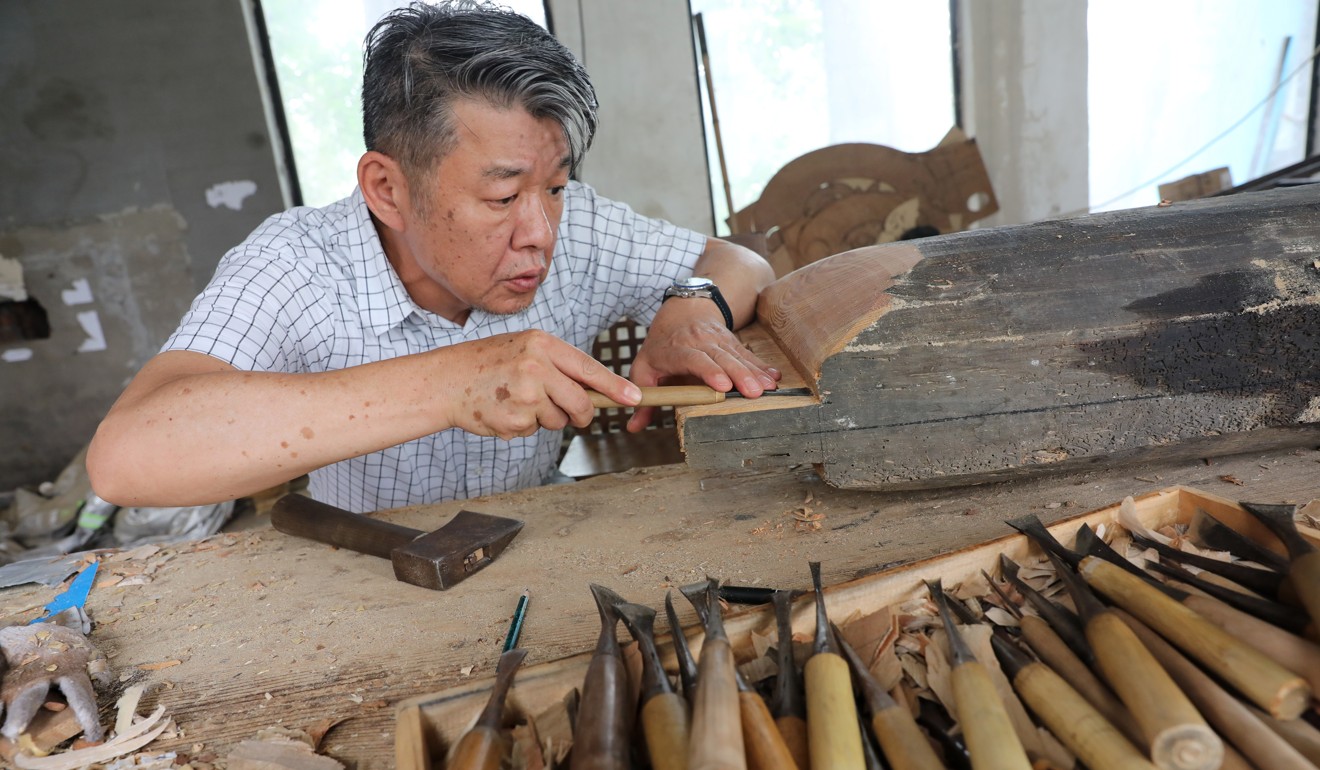 The Beijing compound in which Taiwanese antique furniture collector Sam Jan rebuilds and preserves old buildings is also home to a woodworking school. Students at Genworks, while learning how to make pieces of furniture such as chairs and cabinets from scratch, can refer to genuine examples of ancient Chinese architecture.
Genworks has nine branches in Beijing, including its headquarters, in Caochangdi, and three else­where in China. In August, the school will collaborate with Tsinghua University's city planning school and Beijing University of Civil Engineering and Architecture to provide classes for city planning officials and architectural undergraduates in the capital. Attendees will work as a team to build a full-scale gazebo without using nails, instead employing classic mortise-and-tenon joints. Students will also participate in renovating old structures.
Genworks' Taiwanese founder, Miao Minghua, is one of the 19 full-time teachers the company employs in Beijing alone.
"City transformation is conducted across China on a vast scale," he says. "To preserve old structures, officials first have to understand them. Chinese began to use wood as a construction material around 2,000 years ago. But standardisation of wood-building specifications didn't come until the Song dynasty [960-1279]."Old southern and northern architecture in China was built in different styles," says Miao. "While those in the south have ventilating roofs for cooling and dehumidifying in wet and hot climes, those in the north are windproof."
The Genworks founder says Jan's vast compound provides valuable hands-on opportunities for students. "They can learn about architecture beyond the pictures in history books and a trip to the Palace Museum."
"Some [students] will develop a love for wooden architecture," a hopeful Jan adds. "For people in our industry, we do it because of our love for traditional Chinese culture. The courses will raise awareness and ensure this ancient art form is preserved."