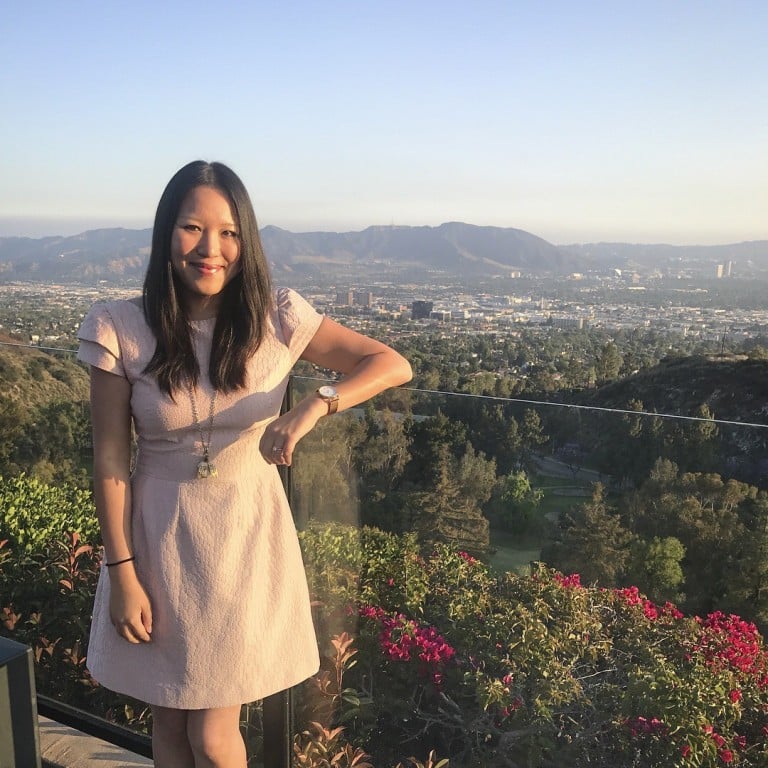 Go Back to China marks return of film director Emily Ting, inspired by her stint in the family business
The Los Angeles-based director and producer recalls how being pushed into the family's toymaking business in Hong Kong put her moviemaking dreams on hold – but not for too long
Goodbye China My grandparents left China in 1949, with the Communist revolution. They arrived in Taiwan penniless and my father grew his business from nothing. I was born in Taipei, in 1979, the year my father started a toy factory in China. In the 1990s, he moved the headquarters to Hong Kong. His goal was always to pass the business down to his children.
Hello America My family dynamics are a little compli­cated. My father has been married five times. My younger brother and I are products of the first marriage. My father has two daughters with his second wife – they are in their 20s and live in London – and I have a 14-year-old sister and a 12-year-old brother who live in China.
After my parents split up, my brother and I moved to the United States with my mom, when I was 10. We lived first in San Francisco. Although I'd learned English at school, when we got to the US it was as though I'd forgotten all I'd learned and I had to pick up the language quickly. The first year was difficult, and we moved around quite a lot until we settled in upstate New York, where my aunt lives.
My brother and I went to high school there and I went to New York University's Tisch School of the Arts. After college, I worked for a couple of years for a film distribution company in New York. I consider myself a New Yorker.
Family first
Soon after I graduated from film school, my dad started petitioning me to go to Hong Kong and work in the family business, and I had that Asian-family mentality, that
filial piety
. Although I'd visited my dad in Hong Kong during summer vacations – he had a house in Clear Water Bay – I'd never lived in the city. I had no interest in the family business and felt my life was over.
I was 24 and wanted to be a filmmaker, and all my friends were in New York. Although it was going "home", I felt like a fish out of water because I didn't know Cantonese and didn't have friends in Hong Kong. I saw it as an obligation that I had to fulfil for at least a year to appease my father, and then I could go back to my real life in New York.
A quarter-life crisis After trying a little bit of every­thing, I realised that coming up with ideas for toys was fun. My father's company made toy animals that sing and dance, and you have to match the right song with the right animal and the right dance. I met a guy and felt settled, so I ended up staying for longer than I had intended.
I made a documentary called Family Inc (2008). Basically, it was a glorified home video. It did a few film festivals, but it didn't go very far. When my relationship ended, my life imploded and I sought a change. It was a quarter-life crisis. All my friends from university had moved to Los Angeles – if you want to work in film and television, that's where you go. I was envious of their lives.
La la land A couple of months before my 30th birthday, I said to my father, "I've given you all of my 20s. I don't want to look back when I'm 60 and see that the things I wanted to do with my life, I'd never done." We worked out an arrange­ment: he would let me go to Los Angeles but I would still help out on a freelance basis, to come up with toy ideas and get a steady income. It was the best of both worlds. I was still coming to Hong Kong five or six times a year to meet customers and get samples.
I moved to Los Angeles two weeks before I turned 30. I wanted to make movies, attend major film festivals and have my movie play in a major theatre. These were all things I dreamed of in my 20s.
A moving movie I started producing other people's micro-budget independent films and reconnecting with my old film-school contacts. I also helped invest tiny amounts of money in other people's movies, to build relationships. In 2014, I directed my first feature, Already Tomorrow in Hong Kong. I ended up going back to Hong Kong to make it, but it took going to LA to make the contacts to put that movie together. People still tweet and email me about how touched they were by the film. There were a few people who actually moved to Hong Kong because of the movie.
Back to China After Already Tomorrow in Hong Kong came out, I naively thought that everything would be smooth sailing and I'd be hired to do other movies. After two years of waiting for people to hire me, I realised that if I wanted to tell another story, I had to make it happen on my own again. In early 2017, I started writing Go Back to China (2019), which was based on my experiences. It follows a spoiled LA princess named Sasha, who after blowing half her trust fund is cut off by her father and forced to return to China to work in the family business.
It's a coming-of-age story and a portrait of a fractured family. The plot of the spoiled princess is a narrative device, but much of the rest is taken from real life. I got casting and finance together, and last year returned to Hong Kong and China to shoot the movie. We shot it in my father's toy factory, the toy showroom, my dad's house – we incorporated so much of my real life into the movie. We even cast a lot of real people to play their parts, like the manager. And my little brother, who lives in China, plays himself. Go Back to China premiered in March and is currently doing festival rounds.
Double happiness I met Evaldas, who is now my husband, six years ago. He is Lithuanian and works in tech. At the end of March, we had twins – a boy and a girl – and Evaldas is on paternity leave for three months. When he goes back to work, that will mean a huge adjustment. This is a new chapter – I'm a new mom – and I'll turn 40 later this year. I'd wanted children for a long time. We wrapped Go Back to China in the spring of 2018 and I got pregnant in September. I haven't been able to attend the film's premiere or the festivals because of my pregnancy.
Starting in May, I'll be able to travel again. I'm going to give myself a little break to bond with my babies and figure out motherhood, until it's time for me to go back to work. I have an idea for a movie about motherhood. I've yet to write it, but the story is in my head.