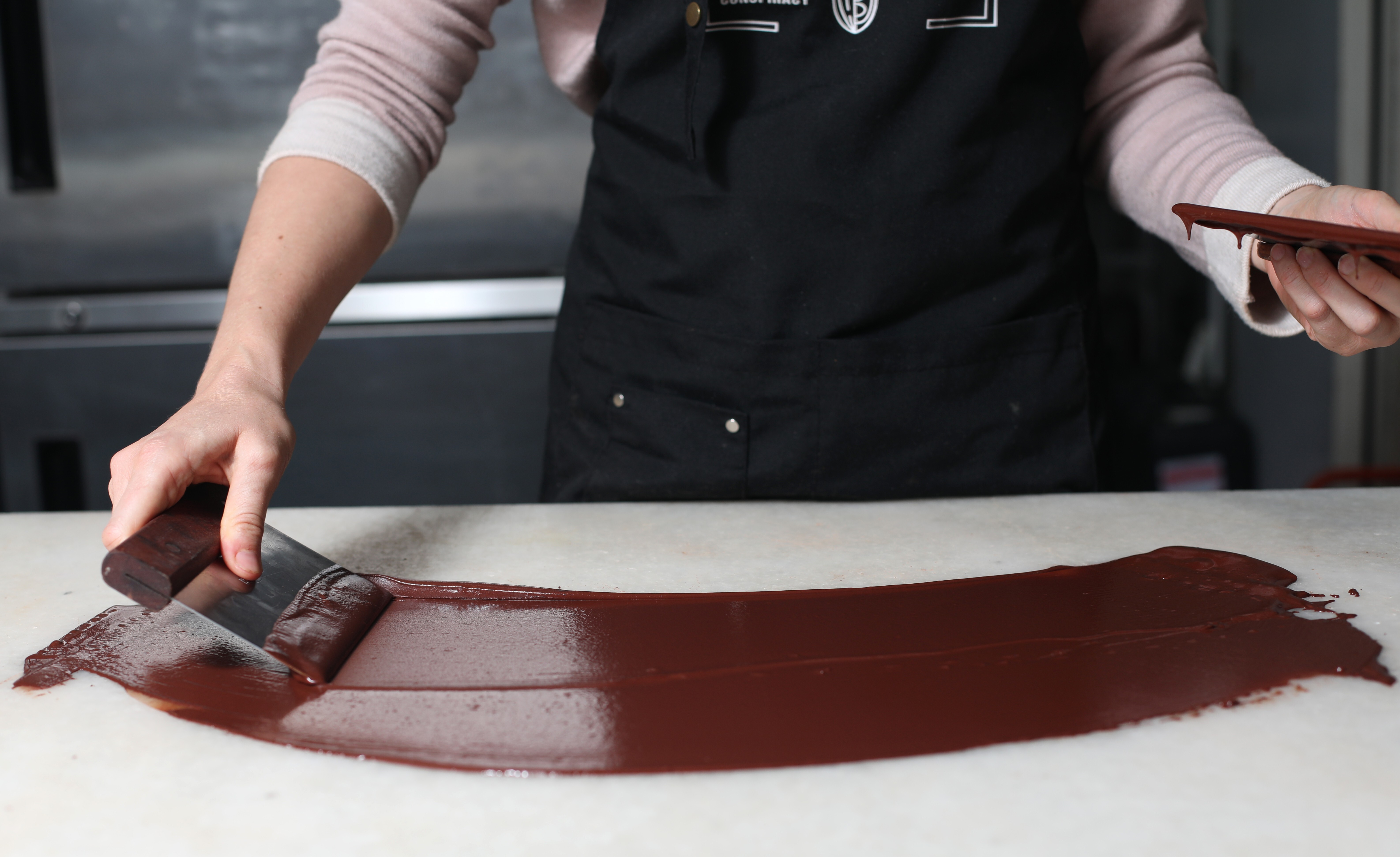 How Hong Kong's craft chocolate makers are educating the masses on the advantages of bean to bar
Food and Drinks
Ethical sourcing and innovative flavours are tingling the city's taste buds. Bar of fermented ghost pepper, anyone?
At the quiet end of Gough Street, in Hong Kong's Central district, stands a pocket-sized shop easily overlooked. A wooden bench outside tempts passers-by to pause, and if you peek through the picture window, you'll likely catch a glimpse of two chocolatiers perfecting their craft.
Hakawa Chocolate
is one of just five bean-to-bar makers in Hong Kong, and the only one where you can see the production in process. The heady richness of roasted beans – an aroma scientifically shown to reduce stress – hits you as you walk through the door.
The Mayan people of Central America are thought to have been the first to farm cacao, 2,000 years ago, roasting the seeds and crushing them into a soft paste that they mixed with water and spices to make an unsweetened chocolate drink. At Hakawa, Sally Kwok Pik-shan and Mandy Wong Ngai-man are doing something similar.
"Making the chocolate on the premises means we can have more contact with the community," says Kwok. "When it isn't too busy, we enjoy chatting to customers. People are becoming very knowledgeable about chocolate."
"Bean-to-bar" refers to the creation of chocolate from scratch. Think of it like any other artisanal movement, such as craft beer or craft gin – it's all about quality ingredi­ents, small-scale production and a focus on transparency.
Winning over a public more used to Cadbury's or Hershey's chocolate will take time. A generation ago most of us would have been happy with a cup of instant coffee, but now we turn our noses up at that. And it's the same with craft chocolate. We need to be informed to appreciate it, because if we don't value the bean-to-bar process, the high-quality ingredients, the ethical supply chain, then we are not going to fork out HK$80 for a bar.
Kwok and Wong decided to hook their customers in by offering chocolate drinks.
"In Hong Kong, people are used to drinking on the street because it's often humid," says Kwok. "So, first they come for our hot chocolate or iced chocolate. When they've tried that they want to taste the chocolate."
The long-time friends established their shop three years ago, using beans from Sri Lanka before switching to Ecuadorean imports. Their chocolate is 74 per cent cacao.
"[Hong Kong] people don't have such a sweet tooth and tend to think that chocolate must be sweet, but then they taste craft chocolate and realise it can be quite bitter," says Kwok, explaining that customers begin by trying the plain chocolate before moving onto bars containing nuts and then the more exotic lines, made with local ingredients such as goji berries, osmanthus and Sichuan peppercorns.
Twenty-somethings Celine Herren and Amit Oz are the couple behind another of the city's upper-crust chocola­tiers, Conspiracy Chocolate. Oz graduated from West Island School in 2011, spent three years in the Israeli army and returned to Hong Kong in 2014. Two years later, he met Herren, from Switzerland, and the couple bonded over a passion for food.
They began experimenting with chocolate in their Sai Ying Pun kitchen, and their first attempt was somewhat basic – they melted a bar of 70 per cent Lindt chocolate and added Indian spices. Herren then took a chocolate-making course in Geneva, and founded Conspiracy Chocolate in 2018.
Their love of cooking savoury dishes led them to experiment with herbs, chillies and teas. The Sichuan peppercorn chocolate has proved a hit and they have recently introduced flavours such as fermented ghost pepper and Kashmiri chilli.
Conspiracy Chocolate uses beans from a small farm in Dalat, in Vietnam's Central Highlands. There, the cacao pods are dried, the beans removed and then fermented in wooden boxes for a week. The beans are then dried in the sun for another week before being shipped to Hong Kong.
On Saturday mornings, the couple take over Mana's food kitchen, in Wong Chuk Hang, and turn it into a chocolate factory. They roast beans for about 30 minutes (although soon they will be outsourcing the process to a local coffee roaster) then they use a juicer (Champion is the juicer of choice in the chocolate-making community) to crack them into nibs (small pieces of raw cacao) and husk. A tabletop electric dosa machine – usually used to make Indian crepes – is repurposed for the refining.
"A lot of our friends are entrepreneurs and when we told them what we wanted to do, many of them encouraged us, saying, 'You must follow your dream,'" says Oz, who works as a headhunter when he's not dreaming up new chocolatey flavours.
Herren hasn't given up the day job either, and is programme manager at Nest, a start-up accelerator. "This is a passion project that has got out of hand. We spend a lot of time playing around with recipes and flavours, there is no right or wrong way of doing things," she says.
The couple nibble on chocolate as they work. Over the course of a day, in which they produce about 110 bars, they get through a fair bit, but, Oz insists, it's healthy. "Chocolate is nutrient dense," says Oz. "We don't add cacao butter. We focus on good quality ingredients – just cacao beans and organic raw cane sugar – and then perhaps a flavouring like Sichuan pepper."
Being part of an ethical supply chain – sourcing their cacao beans directly from the farmer – and keeping their product "clean" (additive free) is central to their mission, and the work is a mood lifter, too.
"You can't make chocolate and be angry," says Oz.
Hong Kong's craft chocolate community is small – everyone knows each other – but there's none of the competitiveness you might find in other niche industries.
"Everyone helps each other, we share ideas," says Oz. "We're not competitors because we all make different things. No one gets into chocolate because they are an a**hole."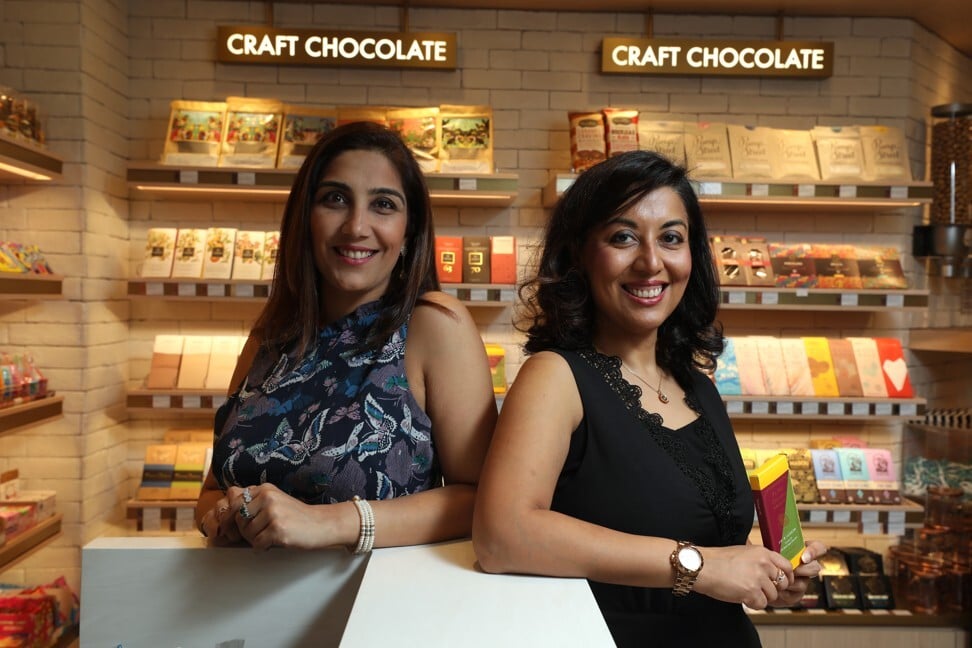 It was a chance encounter with a sensational craft chocolate bar that got
Shonee Mirchandani
and her sister Arti into the business. Four years ago, Shonee was lingering over a meal at The Continental restaurant in Pacific Place when a friend of a friend, Simon Rawlings, stopped by and put a bar of chocolate in the middle of the table. "Try this," he said.
It was an unusual combination of dark chocolate and sourdough and it hit the spot. Shonee told her sister about it – she couldn't give her any as it had "disappeared" at the restaurant – and they determined to find out more about Pump Street Bakery, a British firm that had turned its hand to craft chocolate. (Rawlings, who designed The Continental, is married to one of the bakery's co-founders, Joanna Brennan).
The sisters own and run the Hong Kong bookstore chain Bookazine, which in addition to books, cards and toys sells retro chocolate. They began importing Pump Street chocolate to sell in their stores, but the seed for something bigger had been sown and it began with a road trip in late 2016.
"We started our research looking into all the craft chocolate brands that had won awards and wrote to some of them," says Shonee. "That summer we began visiting Pump Street in Suffolk and then went up and down the UK visiting others. Craft chocolate makers kept referring us to others, it's a very friendly industry."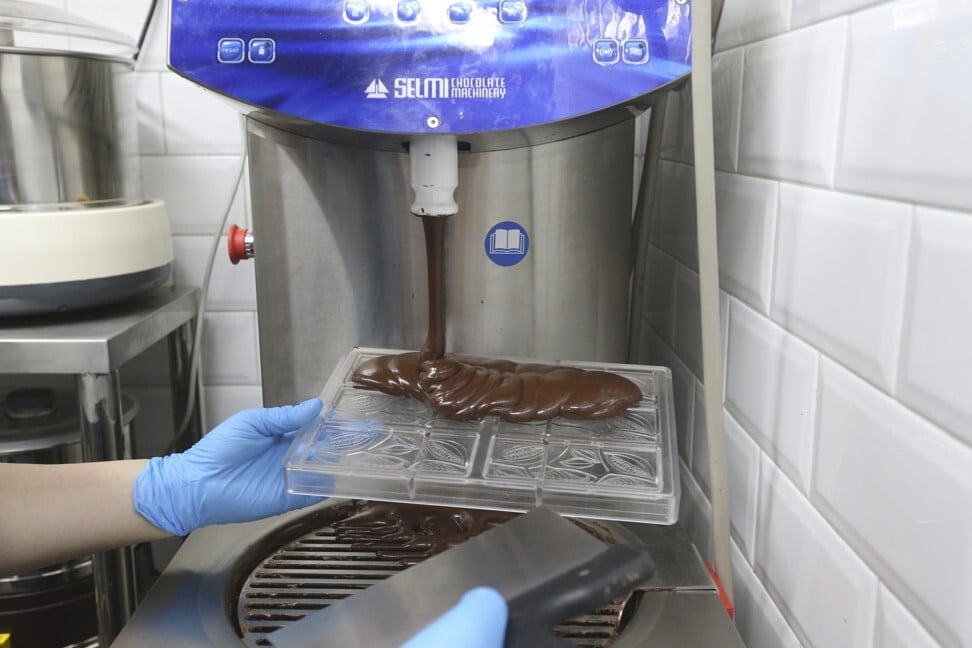 In June 2017, they opened Sweet World, in Prince's Building. A year later, they opened a second store in Pacific Place. The craft chocolate market in Hong Kong isn't yet big enough to sustain a dedicated store and Sweet World relies on the sales of other confections to cover the rent. Shonee says they were a little ahead of the curve in terms of the craft chocolate movement but believes that a wider appreciation of the product is not far off.
"A lot of people don't understand how this chocolate is different from others," says Arti, "but once they try it, they realise it's really good and don't mind spending HK$60 to HK$80 on a bar."
The chocolate appeals especially to expat men, parti­cularly the work-hard, play-hard marathon-runner crowd, who avoid sweet products, preferring 70 per cent or more cacao chocolate. And they are willing to pay a premium.
"I had one [male] customer come in and buy five bars of 100 per cent [cacao] of the same brand from France and then he said, 'Do you have more?' He took everything on the shelf," says Arti.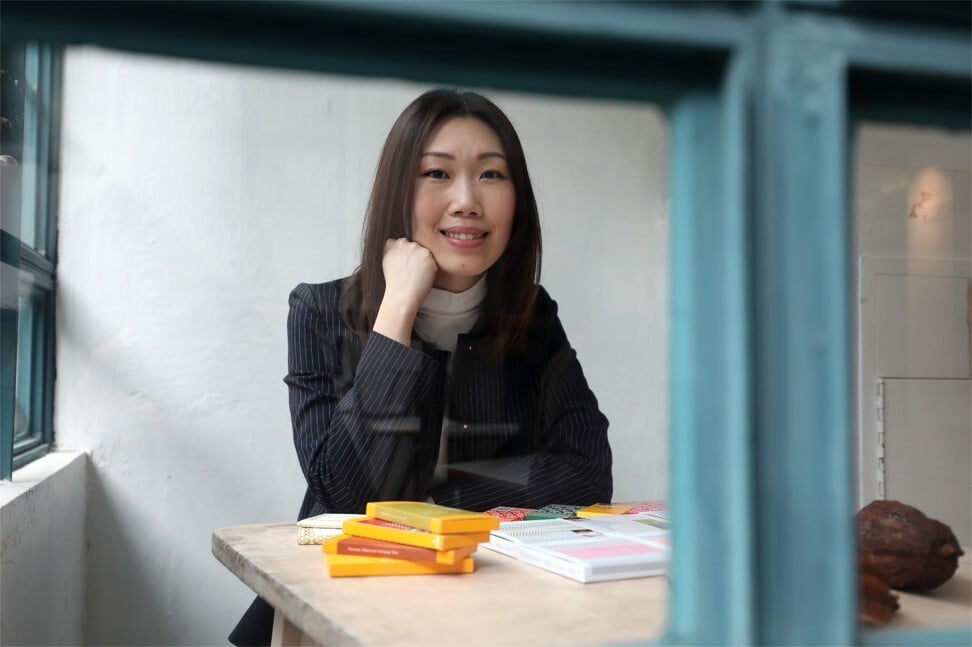 Women, meanwhile, usually look for a particular flavour, such as sea salt or salted caramel. And the sisters have a strong following among local millennials, who come in search of a brand they've seen on Instagram.
"They like the [Singaporean brand] Fossa Chocolate and go for the cool flavours like shrimp and bonito, and salted egg cereal," says Shonee.
Chocolate tastings at Sweet World are hosted by Katie Chan Ka-yan, also known as "The Chocolate Lady". Born and raised in Hong Kong, Chan earned a degree in nutri­tion at Kings College London, and on her return to Hong Kong, she began working for a British confectionery com­pany as a product developer, which provided her introduc­tion to the world of chocolate.
The 2008 fly-on-the-wall documentary Willie's Wonky Chocolate Factory, about Willie Harcourt-Cooze's efforts to establish a brand of 100 per cent cacao chocolate in Britain, fascinated her, and in 2013 she flew to London to earn a certificate from the Chocolate Tasting Institute. She then foundedThe Chocolate Club Hong Kong.
Chocolate is very high in antioxidants and is packed with minerals, like magnesium and potassium, which is good for your metabolism

Katie Chan, chocolate consultant
"Craft chocolate needs a lot of education and I want to bring chocolate tasting to Hong Kong," says Chan. "I do a lot of collaborations with brands, host workshops and talk to people about chocolate."
For almost seven years, Chan has been waiting for the craft chocolate market to take off in Hong Kong. Japan, she says, already has a developed industry and hosts an annual international trade show, Salon du Chocolat. Hong Kong hosted its first Salon du Chocolat in 2018 and was set to host its second in February, before the coronavirus put such gatherings on hold.
Hongkongers – and Asians more broadly – have traditionally seen chocolate as a gift, but gradually that is changing. With Hongkongers generally quite health conscious, the nutritional benefits could be just the push the local market needs. And Chan is well qualified to speak about the benefits of the dark stuff.
"Chocolate is very high in antioxidants and is packed with minerals, like magnesium and potassium, which is good for your metabolism," says Chan. "If you want to be healthy and eat chocolate, just eat a higher percentage of cacao."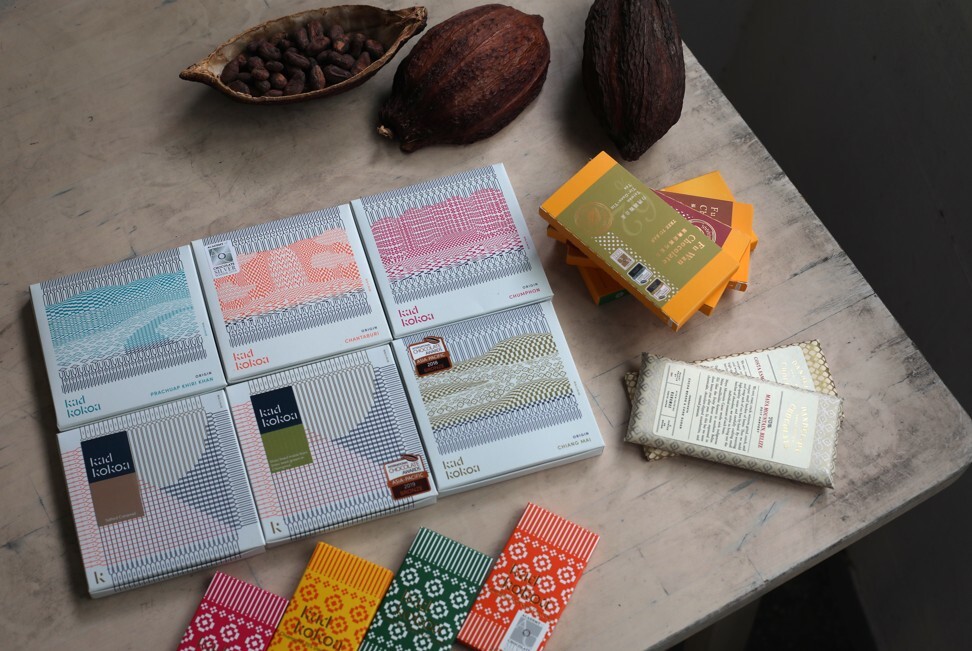 Cacao nibs have a bitter, chocolatey flavour. Because they are 100 per cent cacao, they are considered a super­food, and can be sprinkled on cereal or added to a smoothie.
"Eating nibs is the healthiest option because there's no added sugar, but remember that every bean contains 50 per cent fat, so it's all about balance," says Chan. "Nibs aren't for everyone. The recommended amount for a healthy diet is 30 grams of 70 per cent dark chocolate a day."
Chan served as a judge at the International Chocolate Awards (World Final) in 2015 and their Asia-Pacific semi-final in 2018. She also participated in one of the sessions of the Academy of Chocolate Awards in 2019.
Another Hongkonger who has made a career out of chocolate is Cherrie Lo Hiu-ting, who began by working with Vero Chocolates in 2009.
As a consumer, if you want to get to know about the craft chocolate industry, start with those award winners

Cherrie Lo, chocolate taster
Having left a good marketing job at Pierre Hermé to pursue her ambitions, in 2016, Lo bought a ticket to London to study at the International Institute of Chocolate & Cacao Tasting. She kept in touch with her classmates – many of them chefs and chocolatiers – and is now a certified chocolate taster and judge, serving at the International Chocolate Awards and the Academy of Chocolate Awards.
"The awards allow many of the small makers to become more well known in the world; they help the industry," says Lo. "As a consumer, if you want to get to know about the craft chocolate industry, start with those award winners."
Lo says there has been an increase in the number of bean-to-bar makers in Asia.
"In the past few years, we've seen more craft chocolate makers in Thailand, Vietnam and Taiwan," she says. "They live close to the farmer and can control how the farmer grows the trees, the harvest, fermentation and drying. They make really good chocolate." Lo cites Fu Wan Chocolate, in Taiwan, which has won a slew of medals at the world finals of the International Chocolate Awards.
She says that although Hong Kong is about five years behind the British craft chocolate market, it is catching up.
Hong Kong's Gamma Craft Chocolate won a silver award in the International Chocolate Awards 2019 world finals.
Over the past five years, chocolatiers in Britain and Europe have started incorporating more exotic flavours, many of which are already familiar to Asian consumers, such as premium Chinese teas (Tie Guan Yin, Red Jade, oolong) as well as yuzu and matcha. So, in some ways, the Asian chocolate makers are now ahead of the game, says Lo. She points to Hakawa and Conspiracy Chocolate, both of which use Sichuan pepper in their bars, as chocolatiers breaking new ground.
"Sichuan pepper is different from the more famous pink peppercorn, which a lot of worldwide bean-to-bar chocolate makers use," says Lo. "It has a unique aroma and spiciness, a taste of the oriental, and it matches really well with dark chocolate. Hong Kong bean-to-bar makers are advanced in terms of ingredients."
How to taste craft chocolate
To really savour craft chocolate, professional chocolate tasters encourage you to slow down and fully employ the senses:
SIGHT Don't shove a piece mindlessly into your mouth, take time to look at the chocolate. "If the chocolate is shiny on top, that suggests good tempering as well as good storage," says Cherrie Lo.
Katie Chan says the colour will depend not only on that of the beans but also on the temperature at which they have been roasted. A 70 per cent cacao bar can look darker than an 80 per cent bar if it has been roasted at a higher temperature.
HEARING When you break a piece off the bar, you want to hear a loud "snap", this lets you know that the chocolate has been well stored. The structure of supermarket chocolate is often badly affected by swings in temperature – cool in the day and warm at night when the air-conditioning is turned off. "The best temperature range for chocolate is 16 to 22 degrees Celsius. A wine fridge offers good storage," says Lo.
SMELL High-quality dark chocolate has a multilayered scent and flavour. "Breaking the chocolate releases the aroma," says Lo.
TASTE If you munch chocolate, you'll miss much of the wonderful flavour, says Chan. She recommends putting a small piece of chocolate on your tongue and allowing it to melt.
"The flavour might change," says Lo. "It might begin tasting fruity and floral and have an underlying coffee taste at the end. The journey will change."
AFTER TASTE "The flavour of a good piece of chocolate can linger in our mouth for almost 20 minutes," says Chan.