When Fanny Moritz read Bea Johnson's bestselling Zero Waste Home (2013) – in which the author shares tips on how to cut back on waste (she reduces her family's waste to just one litre per year) – she knew she had to change her lifestyle.
But Moritz found that Hong Kong offered little support for a zero-waste lifestyle, so, in 2016, she set up NO!W No Waste, an e-commerce platform selling reusable and sustainable products (think bamboo toothbrushes, stainless-steel straws, soap bars).
It was a much-needed move in a city where landfills are expected to reach capacity by 2020 and super­markets frequently come under fire for their excessive use of plastic packaging. Last year, for instance, City'super was criticised for selling individually wrapped strawberries.
Now the French entrepreneur is on a mission to give the zero-waste lifestyle an image overhaul with the launch of the Zero Waste is Sexy campaign (#WasteFreeAndSexy) featuring five Hong Kong-based male models – Chris Peterson, Kam Wai Suen, Pascal Brito, Jeremy Louis and Anthony Brusq.
"Sustainable products are often portrayed under a moralising tone reminding us of the imperative to reduce waste – it's not always appealing," says Moritz. "I wanted to show that you can care for the planet while having fun […] This is the reason these pictures show the zero-waste products in a positive atmosphere."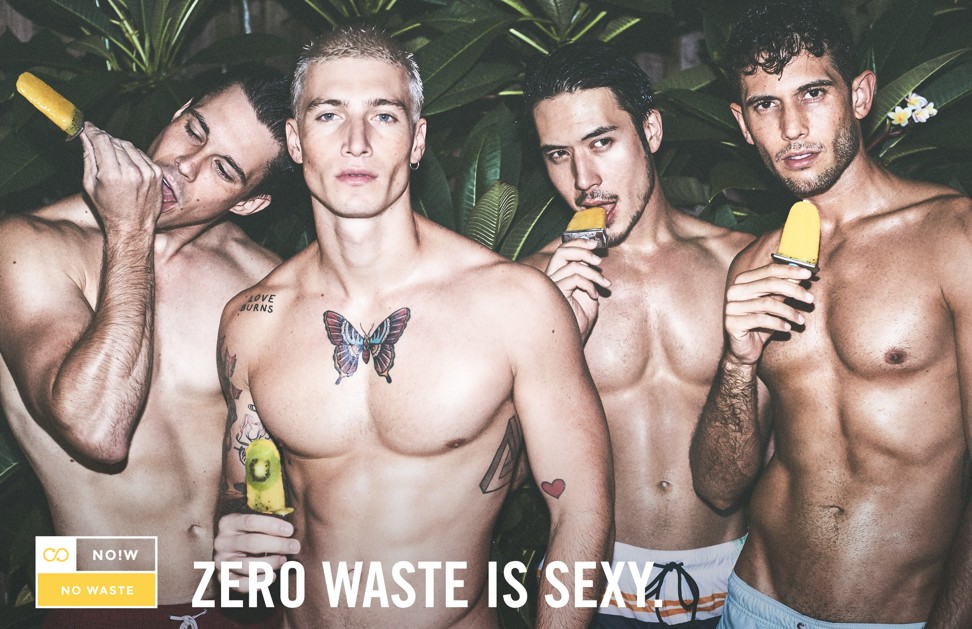 Some might interpret this "positive atmosphere" as exploitative, perhaps sexist – gimmicky even (are we to believe impressionable young people will take one look at these ripped bodies and realise, finally, that the overuse of plastic is a bad thing?) – but Moritz hopes the cam­paign will leave a "charming and pleasant" impression and convince people to embrace a zero-waste lifestyle. And buy her products.
Photographer Olivier Yoan says he was happy to be part of a campaign to help change the perception that people who care about the environment are boring.
"Protecting the planet is cool and sexy," he says. "It's time to change the way we see it."