To the opening chords of Hotel California, Calvin the Indian accommodation director walks onto the brightly lit stage. Then comes the ship's Filipino doctor, to Bad Case of Loving You. The Ukrainian chief engineer joins them, somewhat disconcertingly, to the theme tune from Mission: Impossible.
It is a novel way to introduce key crew members aboard the Windstar Legend as it sets off on a 10-night cruise from Dublin, Ireland, to Lisbon, Portugal, with the British captain, Neil Broomhall, last to join the ranks gathered in the theatre.
In his welcome to the 180 passengers aboard, Broomhall stresses that we are on a "yacht", not a ship.
"Twenty years driving a truck and then they gave me this!" he deadpans, to laughter from the largely American audience, before introducing a special passenger in the form of Canadian Hugh Acheson, a familiar face to fans of television show Top Chef.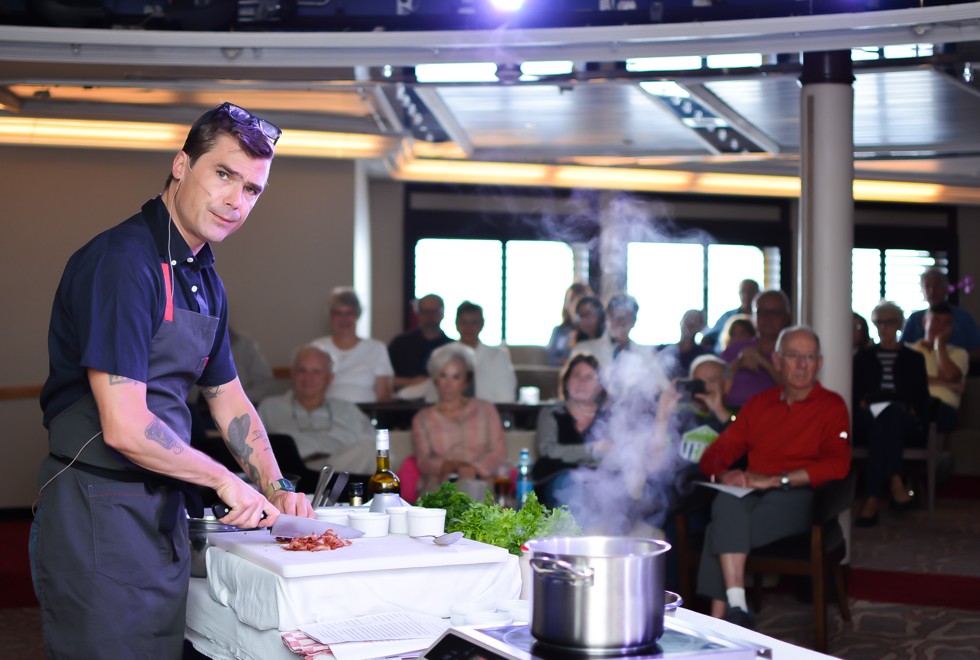 Acheson is the star draw on the "Epicurean Exploration" that we are embarking on, one of a number that the Windstar brand has run in conjunction with the James Beard Foundation, the American culinary organisation known for its coveted annual awards. The voyage will take in some of Europe's greatest food and wine desti­nations, with a focus on market visits in the six ports on our itinerary.
Oysters are the local delicacy at our departure point, Dublin, and will feature prominently in our next destination, Brittany. But first, a day and a half sailing to get to northwest France, navigating the notorious Irish Sea.
There's more to a Dublin holiday than the inevitable pub crawl
We set off with an almost Tahitian sunset over the port of Dun Laoghaire and drinks on deck, before heavy swells, howling winds and driving rain the next morning force some passengers to become intimately acquainted with their spacious bathrooms. The "staterooms" those bathrooms adjoin are well-sized and appointed, with small balconies allowing guests to feel the salty smack of wind and spray.
One of the great joys of cruising is that you have to unpack only once for a 10-day trip that encompasses four countries. In fact, even that task could be taken care of by the army of young Filipino and Indonesian cabin attendants. There is also the sense that arriving in a new destination has been totally effortless on your part.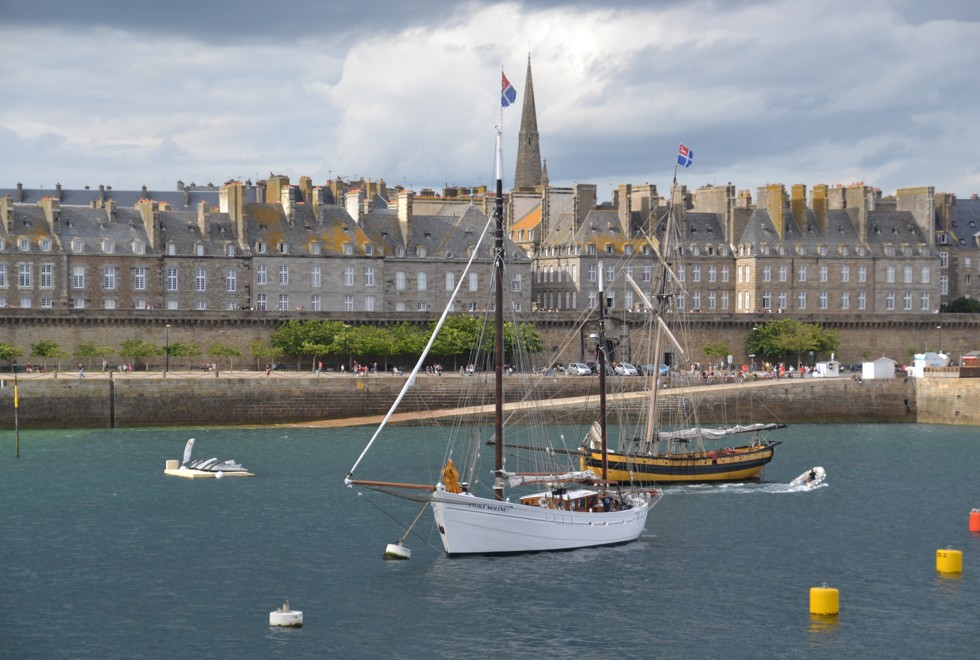 The Legend docks right outside St Malo's walls and ramparts. The sky is a beautiful, ethereal mix of silver and grey, with the occasional cry of seagulls all that pierces the silence.
Early dog walkers and joggers are the only people to have materialised by the time I've completed a circuit admiring the sturdy Malouin architecture and watching fishing boats head out to sea. Although I'm still digesting breakfast, in the interests of research, I pay a visit to La Boulangerie de la Cathedrale, to sample the Breton delicacy kouign amann , a decadent, buttery swirl of pastry with a caramelised bottom.
Oysters are next on the day's menu, during a visit to Cancale, some 30km away, one of the land excursions Windstar organises. The visit to producer La Ferme Marine is fascinating; little did I know that oysters are frequently hermaphrodites; that France's King Henri IV (1589-1610) could eat 20 dozen in one sitting; that the shells are crushed to make paint used in road markings; or indeed that eating them often symbolises "loose morals".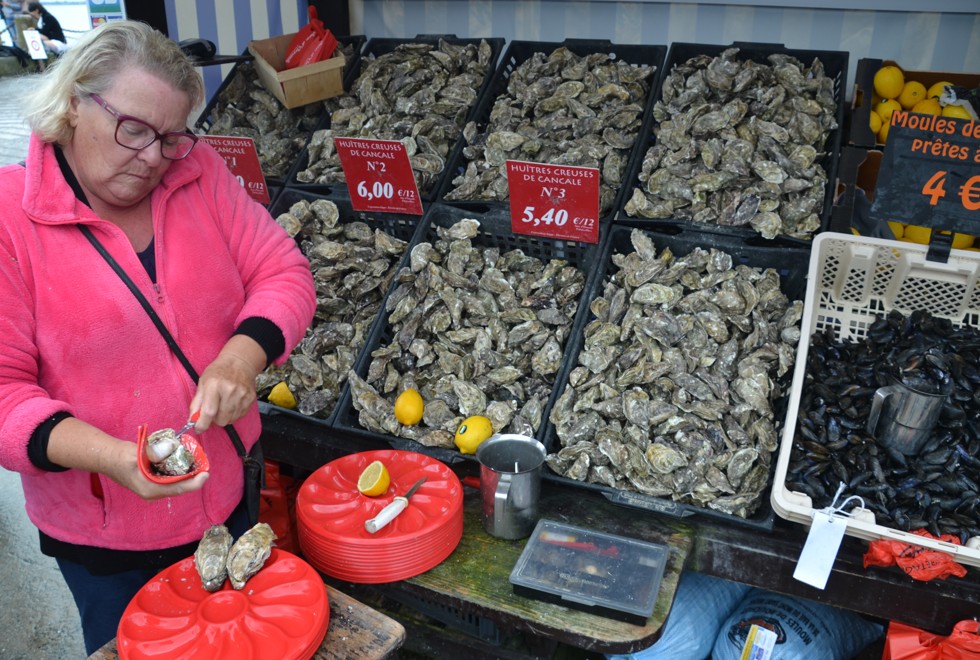 There are countless restaurants with fruits de mer menus on chalkboards in the centre of Cancale, with the spire of Mont-Saint-Michel visible on the horizon, but the lure of the humble oyster shacks is too strong. The sweet, plump fines de Claire No 1 (the lower the number, the larger the oyster) are served by hardy local ladies on a red plastic tray along with an enormous halved lemon, covered in muslin. A dozen for an unbelievable €6 (HK$55; the cost per oyster in many Hong Kong restaurants), you fork them out, squeeze, slurp and then chuck the shells over your shoulder, to land on the shoreline below, which is carpeted in them.
La Rochelle is next, historic home to Plantagenets and Knights Templar, the Legend's affable Scottish head chef leading a visit to the town's food market. With respect to Bangkok and Melbourne, Barcelona and Lima, nowhere does food markets quite like France. It's not just the technicolour explosion but also the feeling that absolutely everyone deeply cares about the quality and integrity of whatever produce they are buying or selling. Impeccably dressed elderly ladies navigate the stalls with their fabric shopping trolleys, feeling and smelling the produce before finally making a choice.
Heirloom tomatoes: what to look for
And wow, what choices there are. A carpet of heirloom tomatoes is enough to make you weep tears of envy when compared with those offered in Hong Kong supermarkets; huge stalls selling nothing but the brilliant, tiny potatoes from the nearby island of Noirmoutier; the heady waft of rotisserie chicken as fat drips onto more spuds underneath. Enormous mounds of mushrooms, sweet and sharp cherries, perfectly in season, and strawberries that remind you what strawberries used to taste like. We haven't even ventured indoors yet, to the fromagiers, charcuterie specialists, butchers, fishmongers, chocolatiers, pâtissiers and many more besides.
Such a sensory overload was perfect preparation for Bordeaux. Sleek and petite, the Legend navigates along the Garonne river, passing countless vineyards of world renown and under the city's vertical lift bridge, the entire middle section of which raises to allow vessels to sail through, before docking in the heart of the city, alongside the quais.
Highlights of the two-night stay in Bordeaux include lunch at the elegant Intercontinental Hotel's restaurant, where, sacré bleu, a Brit is in charge, even if Gordon Ramsay isn't personally on hand to cook the sensational escargots. Perhaps dubbed in his honour, the least diplomatically named English pub anywhere in France, HMS Victory, is around the corner.
Bordeaux: the once fusty, grime covered town is now a beacon of French culture
An excursion to Saint-Émilion reminds everyone that our Gallic friends have been planting vineyards for more than 1,800 years, before we jump at an invitation to the beautiful Château Smith Haut Lafitte to try some grands crus classés.
Back on the waves, en route to northern Spain, Acheson's latest cooking demon­stration reveals his natural presenting charm, even when challenged by the gentle swell of the sea as he tries to dice vegetables and not his fingers.
An open bridge policy is in operation on this cruise, meaning that any guest can wander in, more or less, at any time. Caught on a down moment, the jovial Broomhall explains his lifelong love of the sea and how few things compare with taking a ship through London's Tower Bridge, into New York or along the narrow Corinth Canal, in Greece.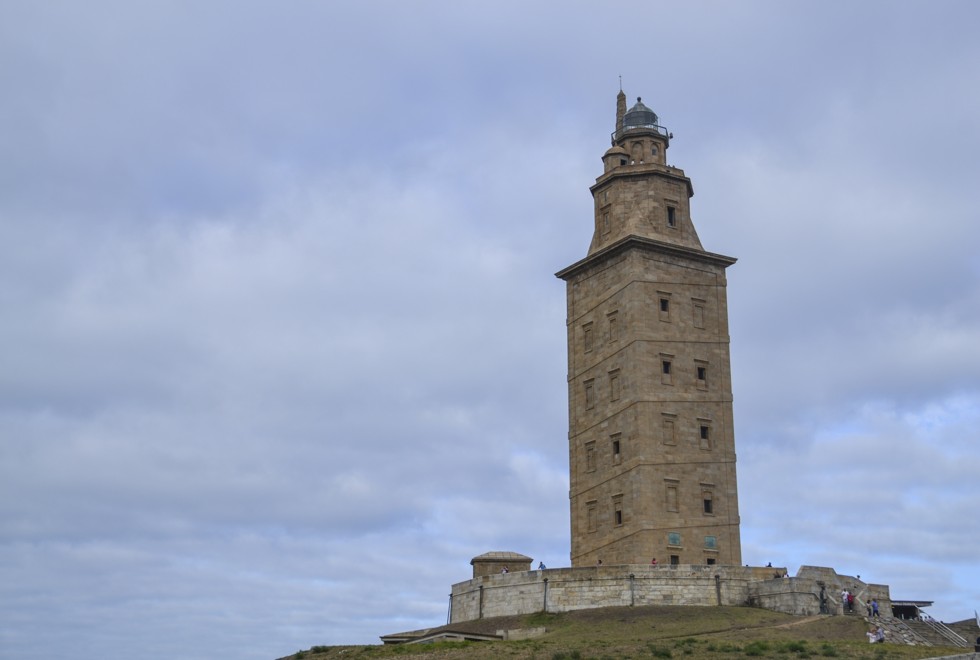 Ferrol, in Galicia, may not be among his highlights, however, the naval centre being a reminder that parts of Spain are still economically challenged. Even the market feels strangely sparse, with few customers and nothing like the bounty of La Rochelle. A visit to the much larger A Coruña reveals an extraordinary 2,000-year-old lighthouse, confectionery delicacies hilariously called fartonsand tapas that taste distinctly inauthentic.
Where to eat in Lisbon and get a taste of Portugal's culinary renaissance
Delightful Porto is grey and overcast when we sail up to her, but a visit is still a reminder of why the Portuguese city is one of the world's hottest culinary destinations: the obvious draw of scores of port wine houses is complemented, in my case, by the only sandwich that has ever defeated me, a monster called Francesinha – or "little French girl". Countless restaurants offering incredible value and yet more markets to wander through make for a great penulti­mate port of call, before Lisbon.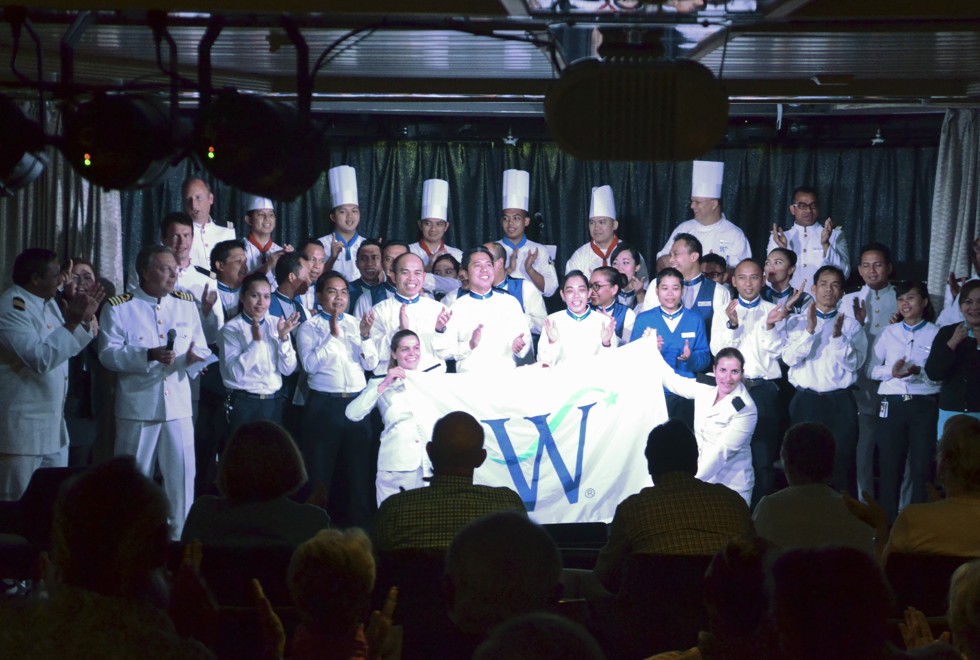 The voyage ends as it began, with musical interludes and an appearance by the crew. On the last night at sea, the bar manager steps forward to sing I Wanna Go Home, Indonesian waitresses and cabin attendants perform traditional Balinese dances, and Michael, a Filipino from the engine control room, delivers a sensational rendition of Endless Love.
The biggest crowd-pleaser, though, comes from the guy whose job it is to lower the anchor: a rousing Sweet Caroline, which is perfectly in tune with the passenger demographic.
Encore!
Chris Dwyer travelled as a guest of Windstar Cruises. The operator's Epicurean Exploration itineraries run throughout the year.