Chinese artist Zhan Wang's Floating Rock very nearly never made it to this year's "Sculpture by the Sea" festival, which is currently being held in the Western Australia city of Perth – and one of the largest free-to-the-public outdoor sculpture exhibitions held anywhere in the world.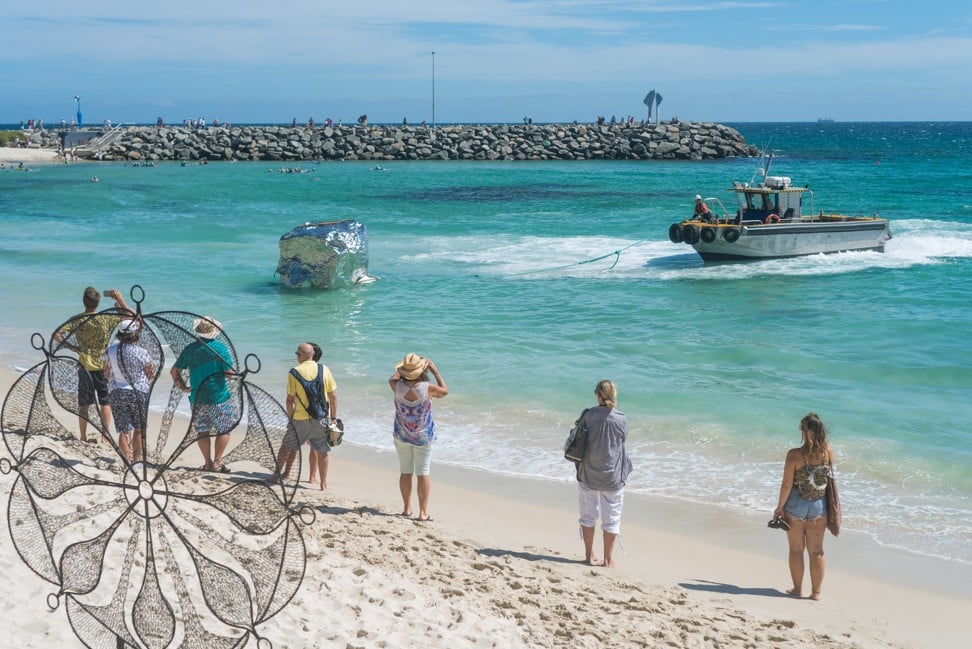 Ironically, Zhan had suffered problems getting his creation onto the water: due to an issue with a freight forwarder, his monster sculpture, which stands two metres tall and four metres wide, was not loaded onto its scheduled ship in Malaysia, and so missed the festival's start date of March 2.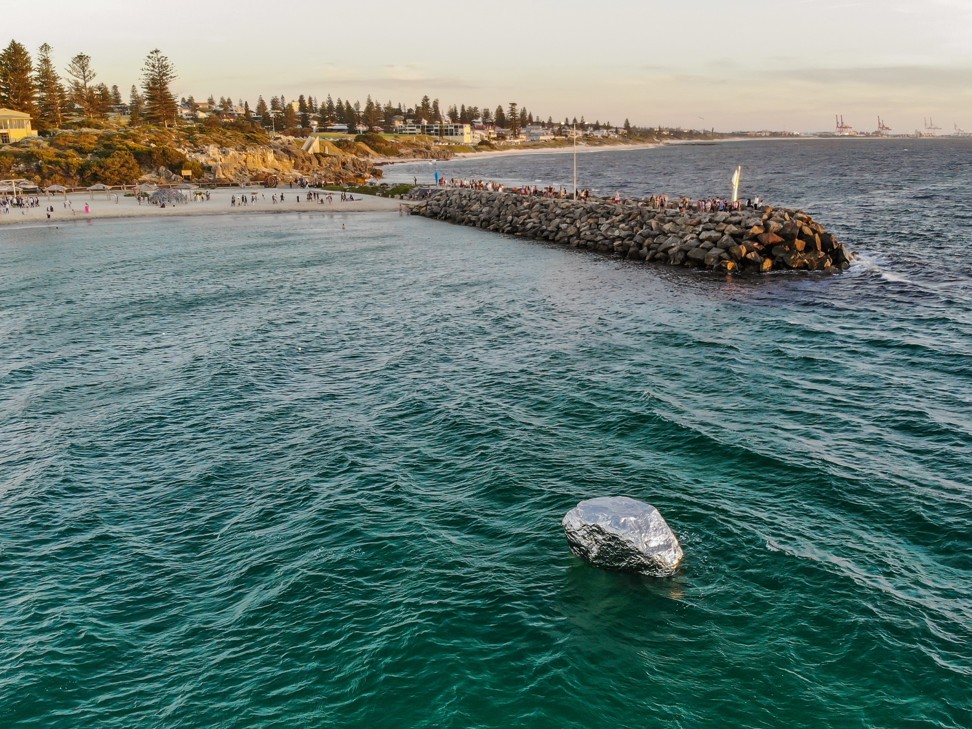 The logistical obstacle was finally hurdled, however, and art lovers and sun worshippers gathered on Perth's Cottesloe Beach on Wednesday afternoon to witness Zhan's massive stainless-steel boulder – which the Beijing-based artist created especially for "Sculpture by the Sea", now in its 14th year – was hoisted from a flat-bed truck and towed by boat out into the turquoise waters, there to be anchored to the sea floor and lazily bob on Indian Ocean waves.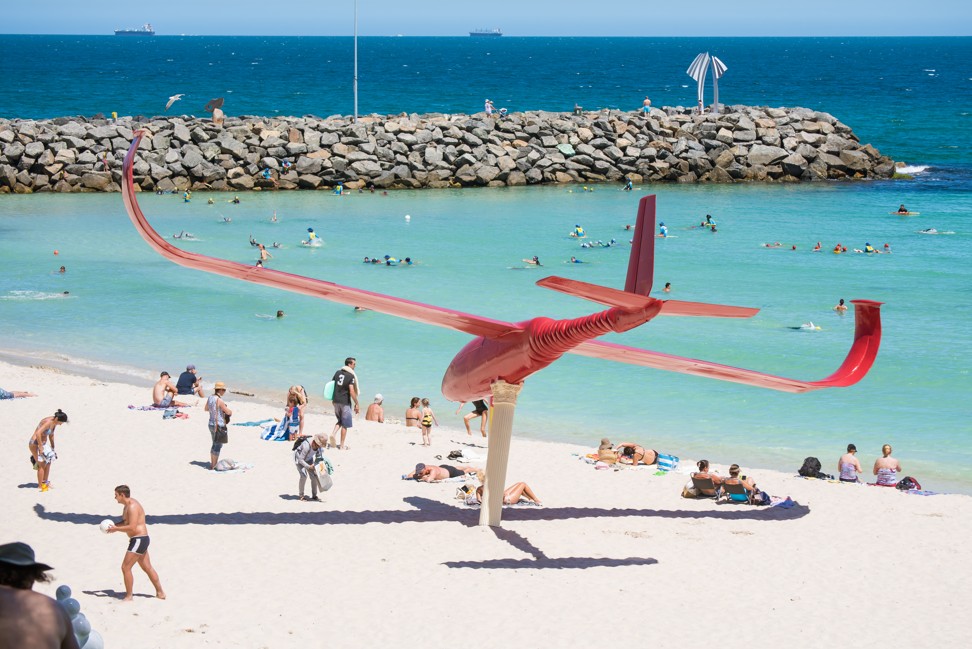 Zhan's piece joined more than 70 thought-provoking works already installed at the beach.
Floating Rock is the latest addition to Zhan's "Artificial Rocks" series of sculptures, which he has been creating since 1995. One of China's most celebrated contemporary artists, Zhan has exhibited extensively in the world's most prestigious museums and institutions, including the British Museum and the Saatchi Gallery in London, Art Basel Hong Kong, Metropolitan Museum of Art in New York, Museum of Contemporary Art in Rome and the Venice Biennale, among many others.
In 2004, the artist even scaled Mount Everest and placed one of his sculptures at the summit.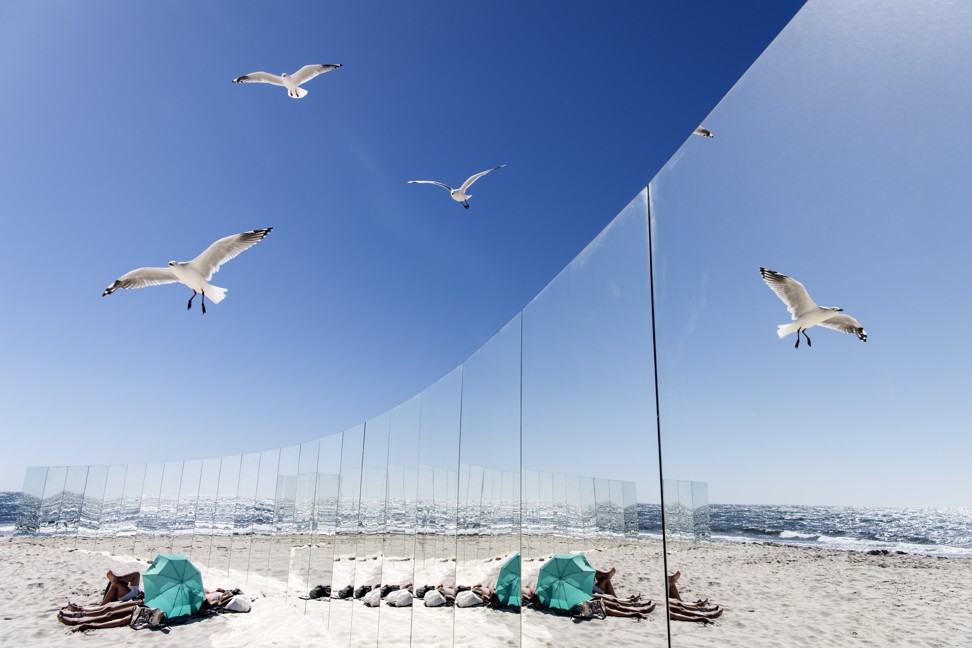 "Often, stones remain permanently on the shore, in the mountains or under the water and underground in a steady state," says Zhan, an associate professor of sculpture at the Central Academy of Fine Arts in the Chinese capital, of his Floating Rock.
"But the stone work I provided can float on the water and will be constantly moving and reflecting the surrounding colour and light. The natural undulations of the stone are carefully knocked out one by one and finally polished and polished into a shell-shaped shiny metallic stone, named in Chinese: artificial stone.
"We cannot say clearly what this future is like, just as it is floating in the sea and waves; it is precisely this changing aesthetic that I hope my work brings to you. A feeling of change, colour, freedom or unknowns of a rich and even chaotic world."
"Sculpture by the Sea" continues until March 19 at Cottesloe Beach, Perth, Western Australia. For more information, see sculpturebythesea.com.