Every Sunday, the Basilica de Bom Jesus offers an experience as unstero­typically Indian as any across the subcontinent. Beyond the weathered, rust-red walls of this venerable church, the dusty roads of Old Goa (Velha Goa) are thronged with buses and auto-rickshaws, many carrying day trippers from the sugar-soft beaches of the nearby coast. But inside, beneath stone cherubs, gilded reredos and a vaulted wooden ceiling, the start of Catholic Mass brings order and religious repose.
Beach hopping in Goa, India's colourful smallest state (just mind the coconuts)
As the choir performs the first of the morning's Latin hymns, melodious sopranos and rich tenors fill the hallowed space with harmonies of haunting beauty. With closed eyes and a vivid imagination, this could just be the Goa of five centuries past.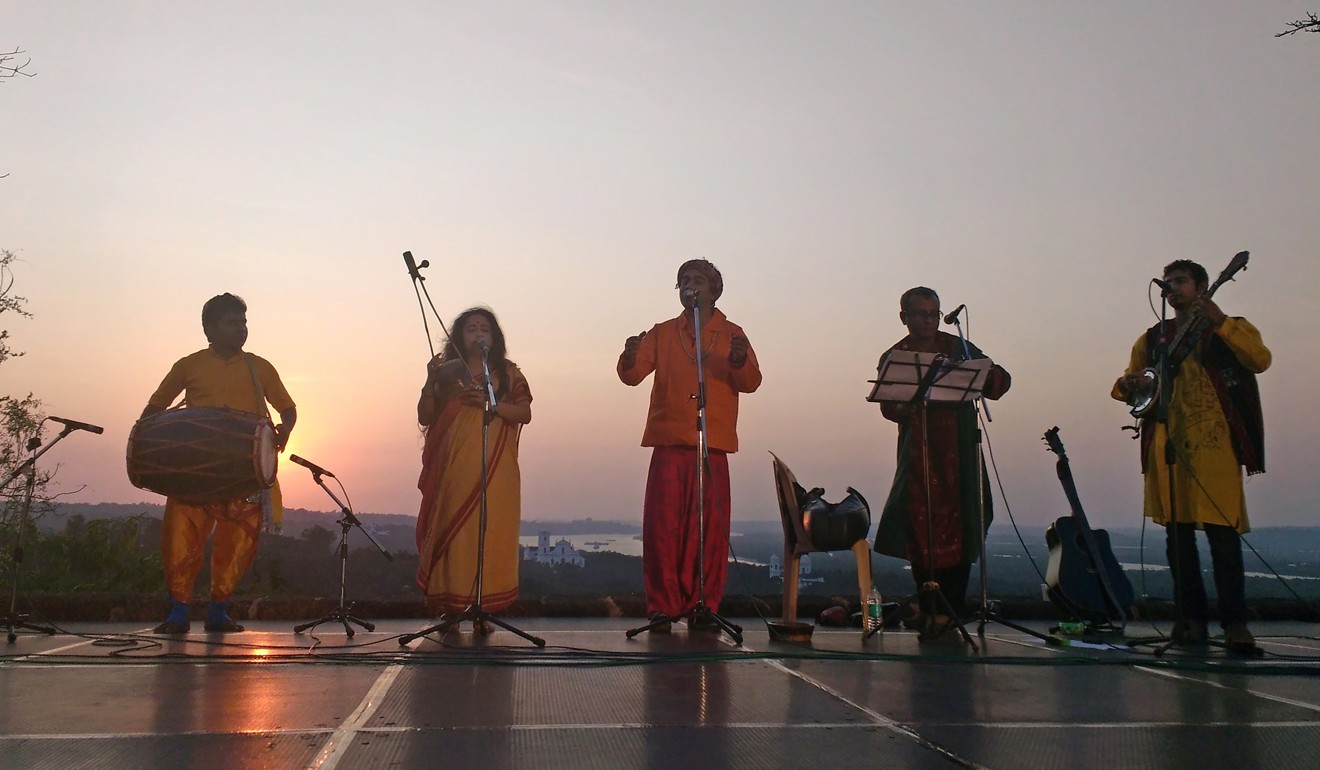 It was 1510 when swashbuckling Portuguese general Alfonso de Albuquerque snatched the port city known today as Old Goa (now part of the Goan capital, Panaji). In line with Portugal's mission to convert its new territory to Christianity, sumptuous churches, chapels and convents were thrown up, earning Old Goa the title "Rome of the East".
Why colonial Hong Kong's architecture owed more to Calcutta and Macau than Britain
"All of these places of worship needed choirs and people proficient in instruments such as the organ and violin," explains Panaji resident and classical music lover Dr Luis Dias. "These had to be trained up locally because there just weren't enough Portuguese to do the job. Goans became highly skilled classical musicians and singers who then plied their trade across India."
It is now more than 50 years since the Portuguese relinquished control of Goa. Yet this has always been a fecund place for musical innovation, and the rhythms of yesteryear run strong in Goan blood. Stoked by a selection of passionate indivi­duals, the innate musicality of this pint-sized state is now driving a choral and classical music revolution.
For centuries Goans have been talented musicians and beautiful singers [...] Western classical music wasn't dead here, it just needed to be reawakened
Goa is renowned for its vibrant nightlife, sun-kissed sands and mouthwatering, fiery cuisine. Yet Old Goa, an enclave within an enclave, is lower down many people's list of attractions. Which is a shame, because this majestic cluster of churches, cathedrals and convents alone is reason enough to visit the state.
If Old Goa's rise under the Portguese was dazzling, so was its fall, with rampant out­breaks of cholera and malaria forcing the city to be evacuated in the 1600s. Nearby Panaji (Panjim) became the official Goan capital in the mid-19th century. Many of Old Goa's churches and cathedrals, which were collec­tively declared a Unesco World Heritage Site in 1986, are exceptionally well preserved. Others, left to the ravages of jungle, climate and time, are little more than ruins.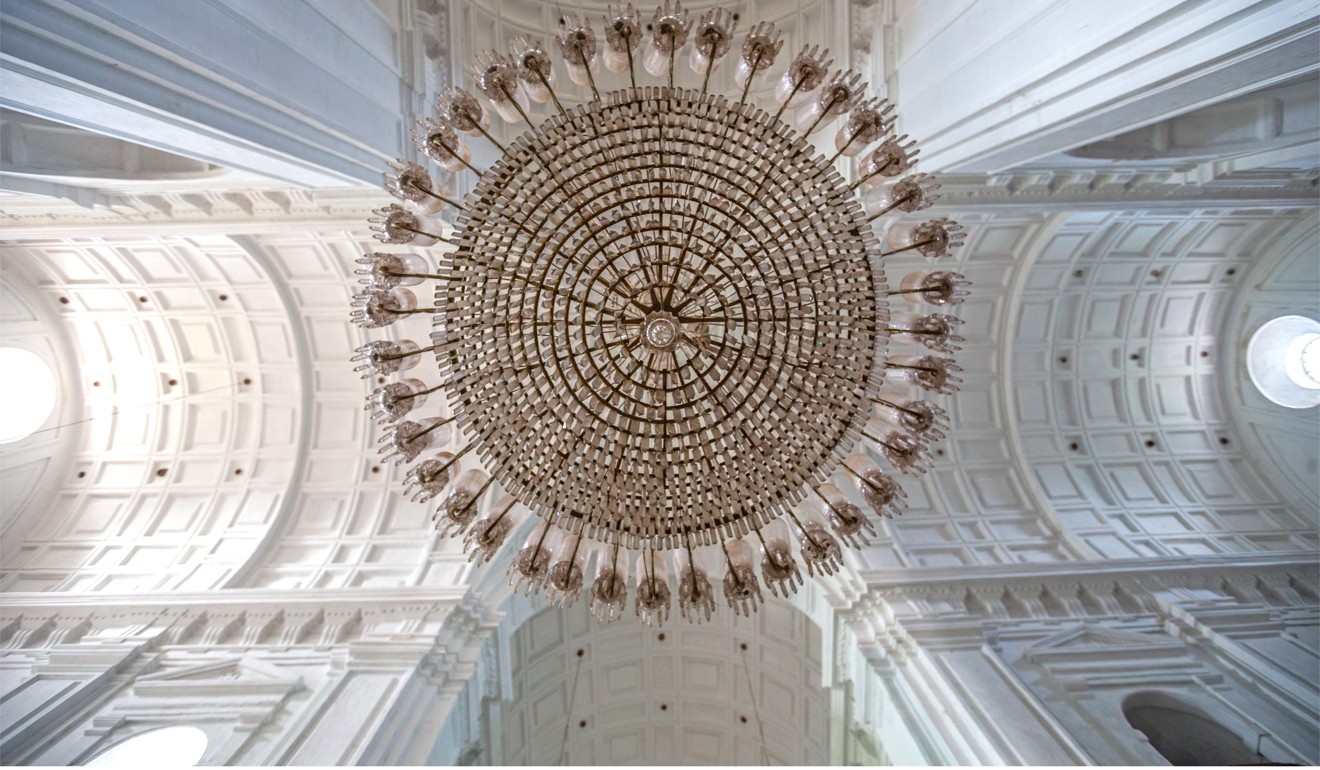 One of the best places to get a sense of Old Goa's former grandeur is a wooded hill behind St Cajetan Church. It is here that de Albuquerque built the Capela da Nossa Senhora do Monte (Chapel of Our Lady of the Mount) in 1510. An early morning climb up the chapel's moss-clad steps offers a glorious view across the spires and bell­towers of the former capital, framed by the Mandovi River's serpentine sweep and rearing up from the mist-clad jungle like relics of some Catholic Shangri-La.
The Chapel of Our Lady of the Mount has played a key role in Goa's classical music revival. The first Monte Music Festival was held here, in 2002, with musicians, singers and an audience of locals and over­seas visitors cramming themselves into the ornate interior and spilling out across the weed-strewn paving of the chapel courtyard.
Best of the best India travel guide: six places to holiday this winter
Taking place each year in early February, the Monte Festival is organised by the Fundação Oriente, a non-profit organisation dedicated to strengthening cultural ties between Portugal and its former colonies in the East.
"For centuries Goans have been talented musicians and beautiful singers," says Maria Inês Figueira, Fundação Oriente India's Portuguese director. "Platforms to showcase that talent, such as Monte, have inspired more people to get involved. Western classical music wasn't dead here, it just needed to be reawakened."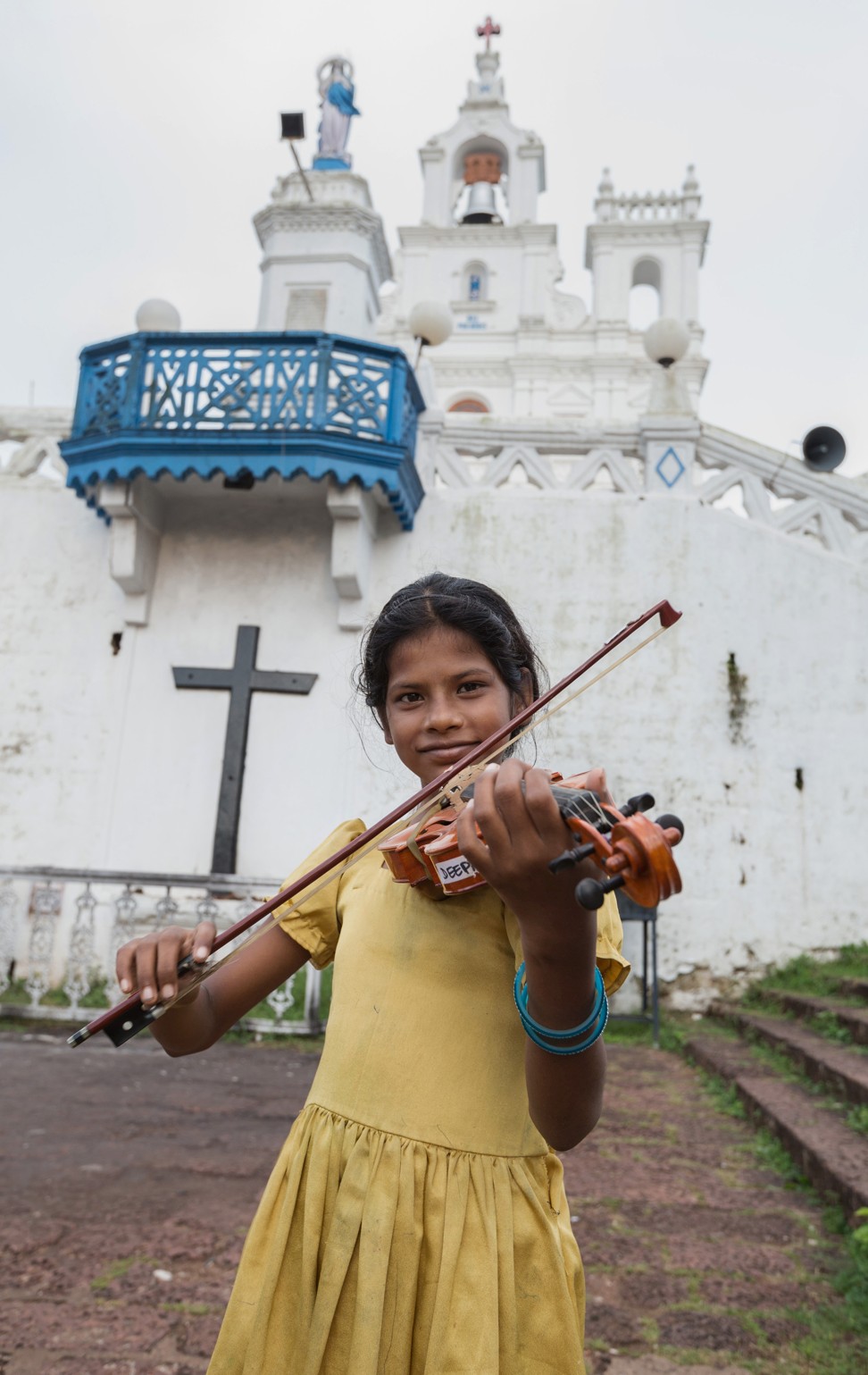 In late afternoon, black kites soar through the sultry air above Our Lady of the Immaculate Conception Church, in Panaji. The iconic chapel's beautiful Baroque architecture, which dates back more than 400 years, makes this another of Goa's most visited religious structures. Despite the aesthetics, the blare of traffic horns and cries of street vendors make this a slightly incongruous place for a music class.
Yet nothing seems to faze Deepali Chauhan. Standing on a platform below the chapel's main bell tower, the 11-year-old student grips her violin tightly, forehead moist with sweat and brow furrowed in concentration, as she repeats arpeggios and chords.
Put classical music in the hearts of Hong Kong children, minister urges
Chauhan is no stranger to violin classes in unconventional, alfresco locations. Thanks to the Child's Play India Foundation, a Goan charity founded nearly a decade ago to instruct Panaji's disadvantaged children in Western classical music, she has been learning to play her well-worn instrument for nearly two years.
The foundation, which regularly stages concerts for tourists and residents and now has 60 students, is the brainchild of Dias. A native of Panaji who left to practice medicine in London, Diaz returned home to combine his lifelong love of classical music with a desire to give something back to Goan society.
In many ways, Goa has always been an oasis for classical music in India. Today, that oasis is becoming fertile once again
"Around 15 years ago I was living in England, going to concerts and generally indulging my passion," Dias says, as he watches Chauhan practise. "Then I wit­nessed the work of other music charities from around the world and realised classical music could really help the kids here in Panaji."
Yet Dias is keen to stress that his venture isn't just about participation and building self-esteem.
"We want to empower these children by teaching them to be the very best they can be," he explains. "By doing that we can really revitalise classical music in Goa over the long term and make sure it goes beyond hymns played in church."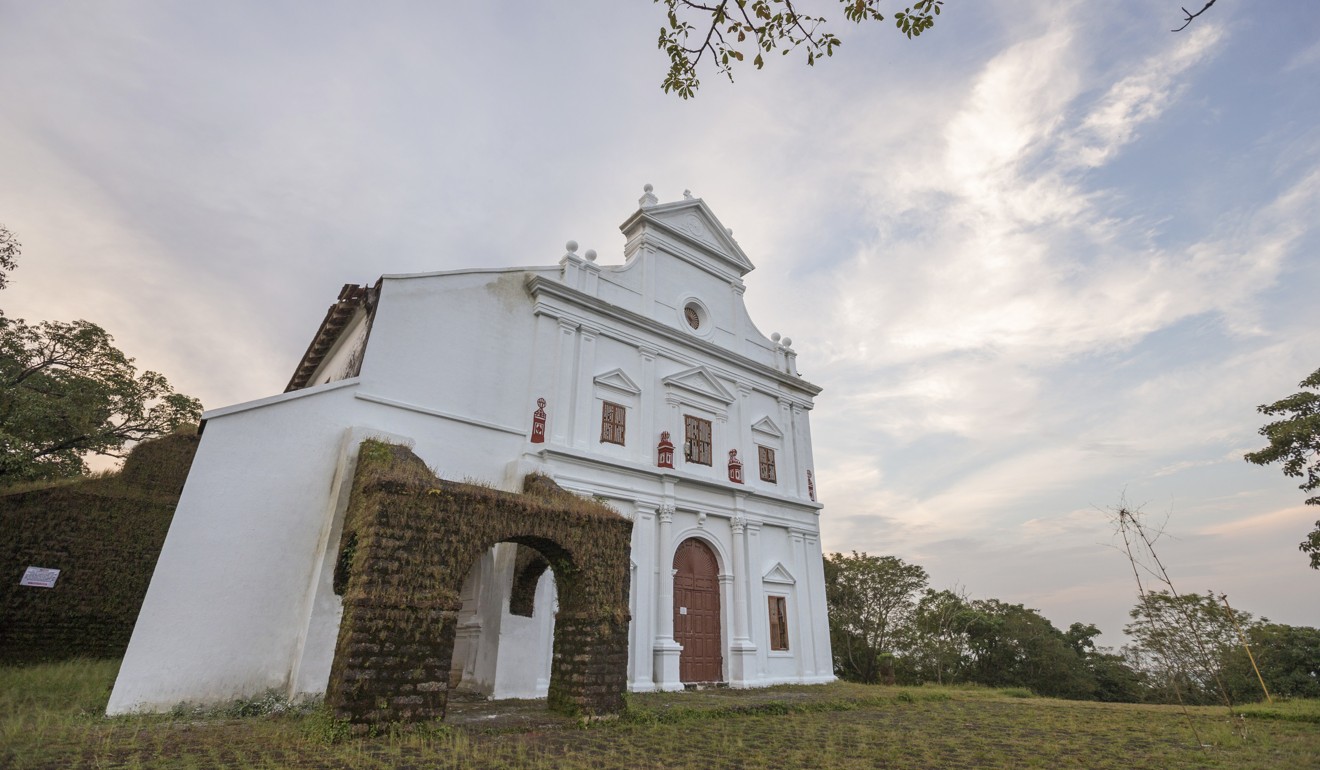 Perched on Old Goa's Holy Hill (Monte Santo) is the most lugubrious legacy of the former capital's fall from grace. All that remains of the Church of St Augustine is a 46-metre high finger of brick, once part of the building's belfry and original facade. Constructed in 1602, the church was aban­doned in 1835, with the tower's mighty bell relocated to the Church of Our Lady of the Immaculate Conception in Panaji a few years later.
Grammy-winning Indian musician on inventing a guitar and jamming with Richard Gere
Today, the Church of St Augustine is play­ing a burgeoning role as a nostalgic backdrop to classical music events in Old Goa. Many of these involve the Goa University Choir, founded five years ago under the baton of Argentinian-Italian orchestra conductor and composer Santiago Lusardi Girelli. India's first university choir, this pioneering group of male and female singers has quickly gained a reputation for excellence under Girelli's direction.
Girelli is now overseeing the recovery of music from the archives of Old Goa's churches, and has begun to train young Goan choir conductors. He has been instru­mental in the creation of the Sadhana dell Arte, too, a music research and performance centre that recently opened in the village of Merces, near Panaji.
"In many ways, Goa has always been an oasis for classical music in India," Girelli says. "Today, that oasis is becoming fertile once again. We invite people to come here to see and hear this development for themselves."