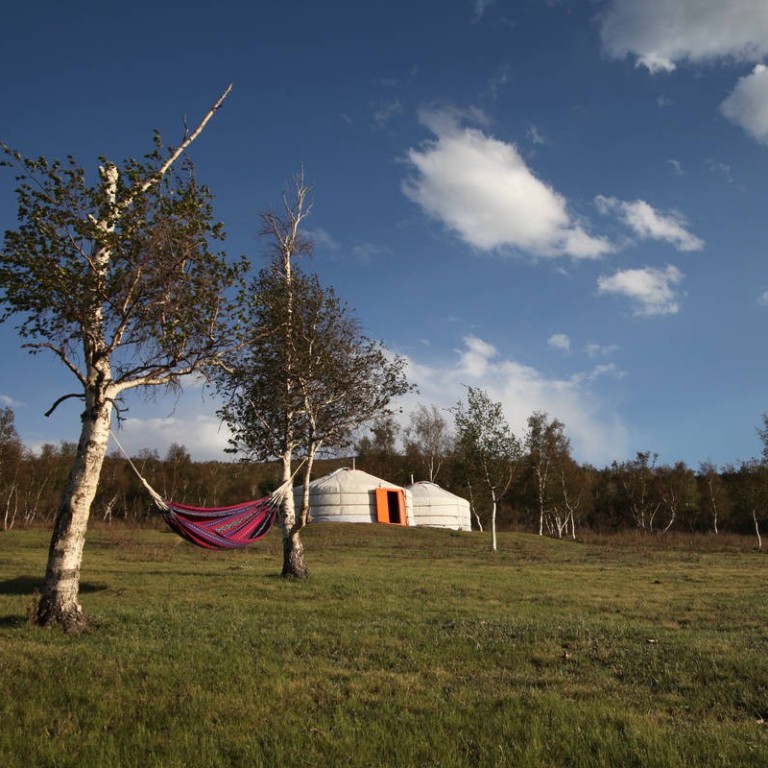 Ultimate camping holiday: US$1,600 a night to sleep in a tent, but oh, what a tent – a ger on the Mongolian steppe
Mandala Nomadic sets up traditional tents, complete with en-suite facilities, far out on the Mongolian steppe
With no other building, or light in sight, the company encourages guests to engage with nearby nomadic families
Where in the world are we? In a luxury ger in the middle of pretty much nowhere, four hours' drive west of the Mongolian capital, Ulan Bator. There is no other build­ing – or indeed, at night, light – visible as far as the eye can see towards the mountains and sand dunes on the distant horizons.
Remind me, what's a ger? A nomadic tent, Mongolia's traditional accommodation, that can be dismantled, moved and reassem­bled without leaving a trace, and whose cir­cular design encour­ages genuine connec­tion and commu­nity. Oh, and don't call it a yurt – that's the Russian word for these unique homes.
What makes this one special? Staying in any ger is a remarkable experience, but this one – well, two, as you get a bedroom and a bathroom, joined by an internal door – takes things to a new level. Your ger will be 50 metres or so from a nomadic family, allowing you to learn about their culture first-hand. If you wish, you can help milk their animals on the vast, beautiful plains, collect wood for the fire or assist in ferment­ing mare's milk and making cheese.
The location of the ger will depend on where the nomadic hosts happen to be when you visit. However, there is the option of booking a bespoke Mandala ger in any location of your choosing.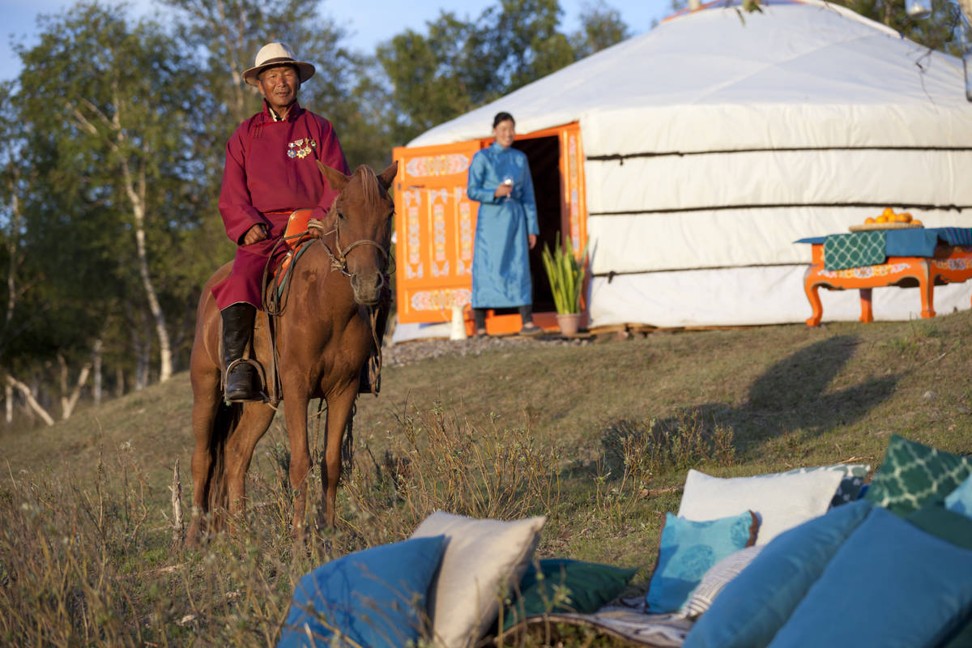 You don't get all that at a Holiday Inn. Quite. It's a humbling experience watching these nomads lead their lives with dozens of horses, herds of cattle, sheep and goats. Although they now have solar panels and rudimentary technology, these people have essentially lived this way for centuries, relocating their entire homes four times a year.
The families Mandala Mongolia, the company that runs the camps, works with both benefit from, and embrace the opportunity to have, a sustainable string to their bow. They are paid a monthly care­taking salary and their seasonal settings, personalities and enthusiasm are all key.
What are the gers made from? They are handcrafted almost entirely from natural products – rope made out of camel hair; sheep felt covering; nails produced from leather – and feature everything you could need for nights out in the vast Mongolian emptiness. Mandala Nomadic runs year-round. Despite freezing temperatures in winter – there's a wood-fired stove to keep you toasty – Mongolia offers clear blue skies for most of the year. Stunning snowscapes, festivals and unusual winter sports are attracting people who want to escape smoggy air elsewhere.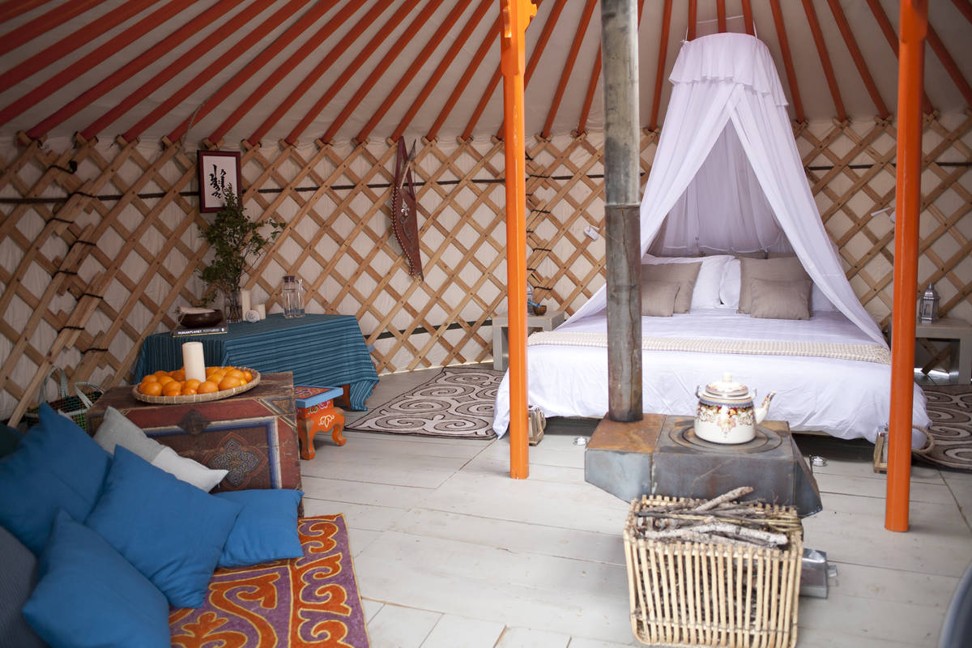 Is it safe to assume that the interiors – and facilities – are basic? On the contrary. The bedroom ger features painted furniture, handmade textiles and rugs and is equipped with a decidedly luxurious super king mattress with duvet, complete with bedside tables. There is solar-powered electricity, a wardrobe with a yoga mat and a dining table. The heated bathroom ger has a hot shower, bidet, sink and discreet compostable loo.
What about dining? Two bottles of wine await your arrival in the ger; a glass of shiraz while taking in the expanse of the plains is a real treat. Meals are cooked by a private chef driven in from Ulan Bator who prepares spreads of free-range local produce.
At our dinner, that included a selection of fresh salads (a rarity in Mongolia); dumplings called buuz, which are not unlike large xiaolongbao; and khuushuur, empanada-like pastries filled with lamb or beef. To finish was a deep-fried pastry like a doughnut, eaten with jam and clotted cream from cows that had been milked by hand about 60 metres away.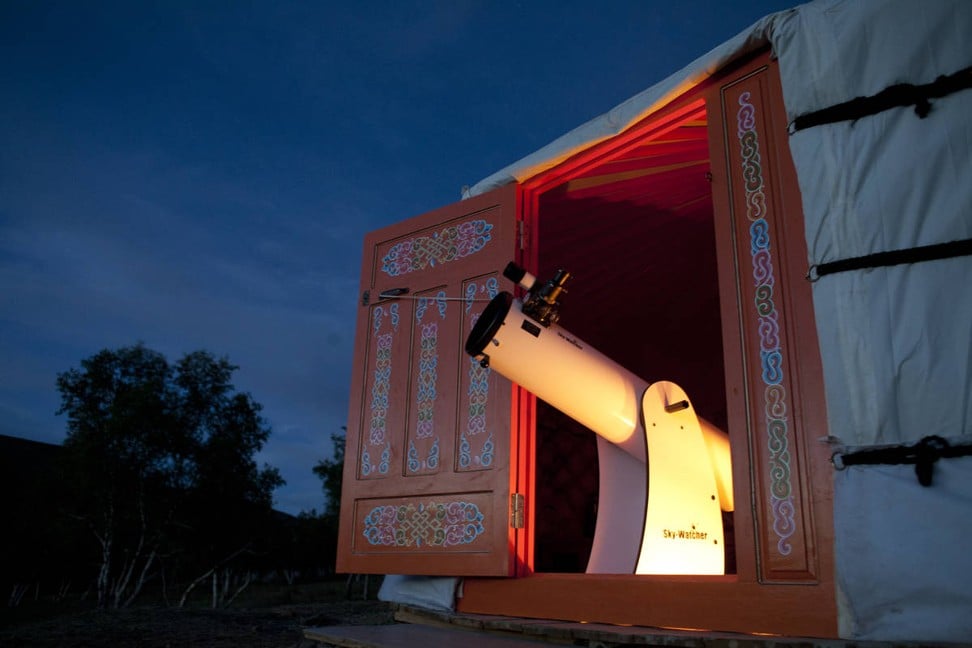 And entertainment? Take a screen break to spend time with the host family, walk the beautiful plains and dunes and, after dark, use the high-powered telescope that is provided in your ger to inspect the endless starry skies.
What's the bottom line? From US$1,600 per night for two guests sharing, including meals, transportation and guide services.