Art
Get more with myNEWS
A personalised news feed of stories that matter to you
Learn more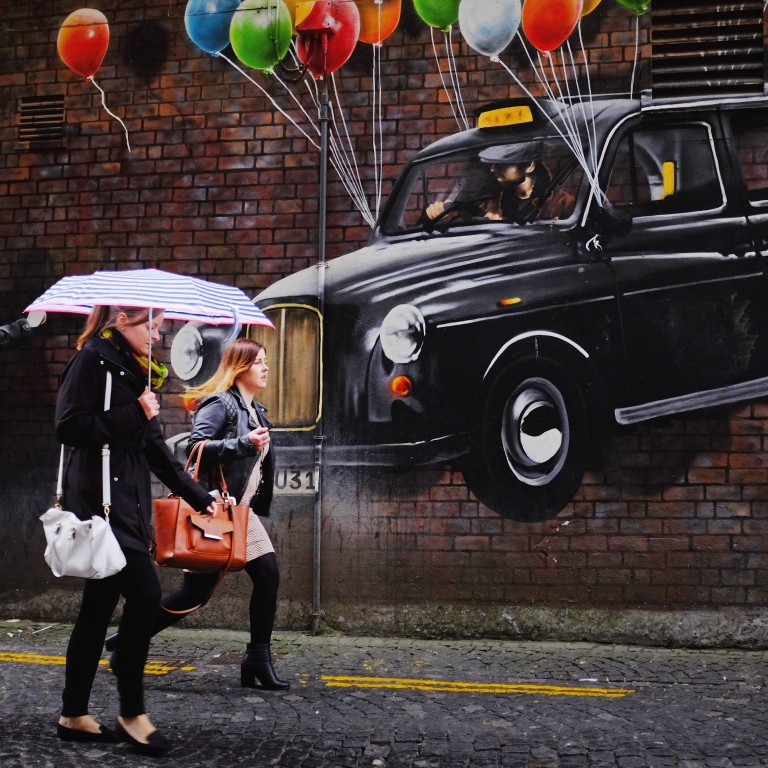 Glasgow's extraordinary street art and the artists who make it, from the 'Scottish Banksy' to the women of the Fearless Collective
Wall murals around Glasgow have turned Scotland's biggest city into an open-air art gallery; some have been commissioned, others have been painted illegally
The street art spans multi-storey murals of its patron saints and one inspired by movie Honey, I Shrunk the Kids, and work about Covid-19 and climate change
She is the size of a multi-storey building, towering over passers-by while dressed in a black shirt and purple trousers. Her dark hair is tumbling around her shoulders, as she appears to inspect those below through an enormous magnifying glass clutched in her hand.
For many visitors to Glasgow, this hauntingly lifelike mural of a beautiful woman (allegedly the artist's partner at the time), on Mitchell Street, is their first introduction to the genius of street art and to the Scottish city's pulsating art tradition.
The mural, titled Honey, I Shrunk the Kids, inspired by the 1989 film of the same name, is by Australian artist Sam Bates, who goes by the handle Smug and is one of the most well-known street artists in Europe.
Our guide, who is walking us through the streets and frescoes of Glasgow, tells us Smug uses a technique called photorealism to capture faces and life in such graphic detail, with the precision you'd expect from a photograph; this gigantic mural took the artist less than two weeks to complete.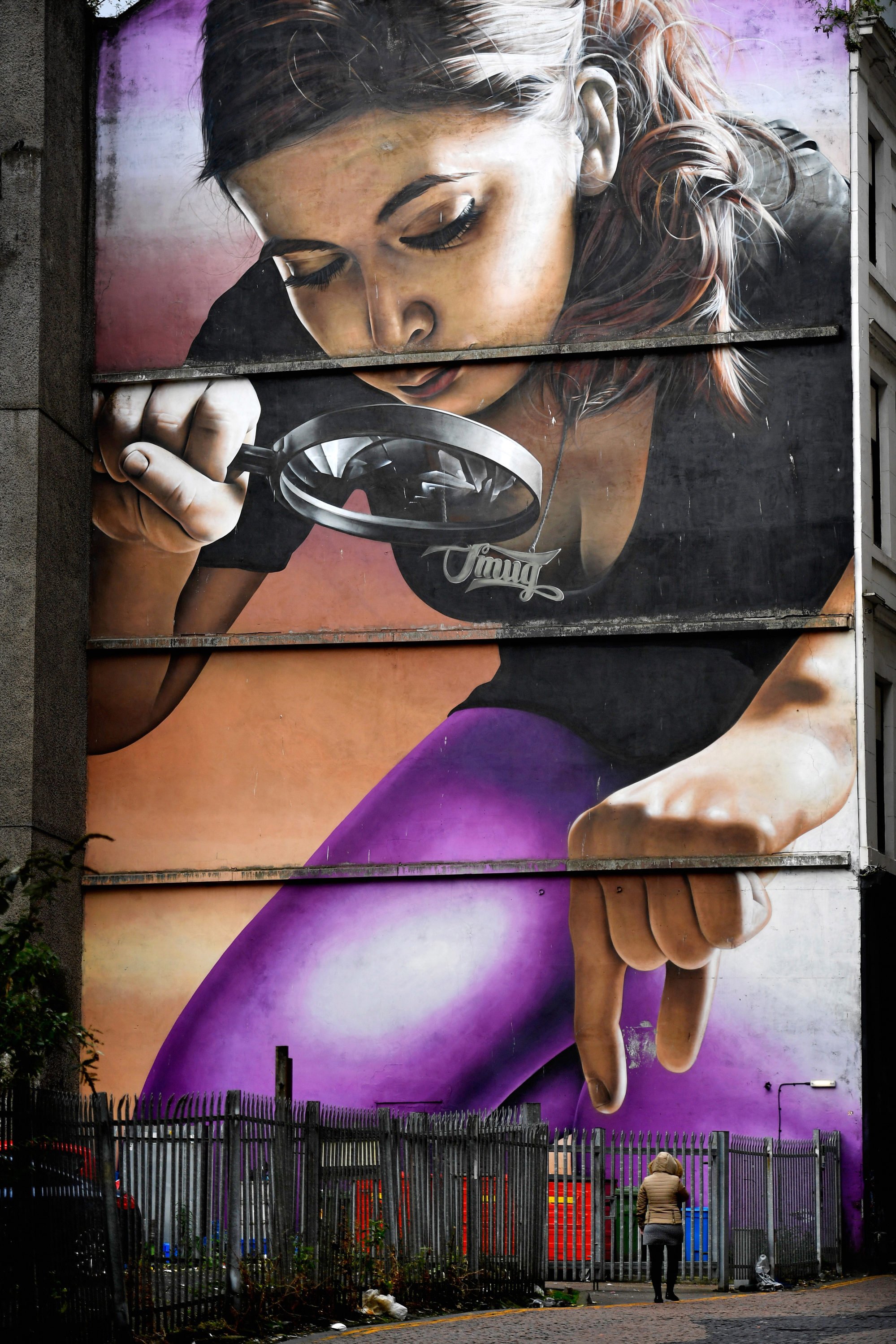 Glasgow's street art has a knack for drawing your eye to familiar, even mundane objects in a cityscape, such as the surface of brick buildings or pipes, while transforming concrete into an extraordinary canvas.
Much of the art exploits the natural light that seeps into these tight streets and narrow alleyways, to create a 3D effect that brings the murals to life.
Many artworks, such as Honey, I Shrunk the Kids, are privately commissioned by owners of homes and commercial buildings. But much of Glasgow's street art is illegal and there remains a battle of wills between authorities who are constantly white­washing public spaces and the artists, with their frenzied creative energy, who never seem to tire of claiming them back once more.
For this reason, the street art of Glasgow is dynamic – in the throes of constant change.
Some murals, however, are commissioned by the city council and are a permanent part of the landscape, an example being a decade-old painting by Rogue One (whose real name is Bobby McNamara), also on Mitchell Street.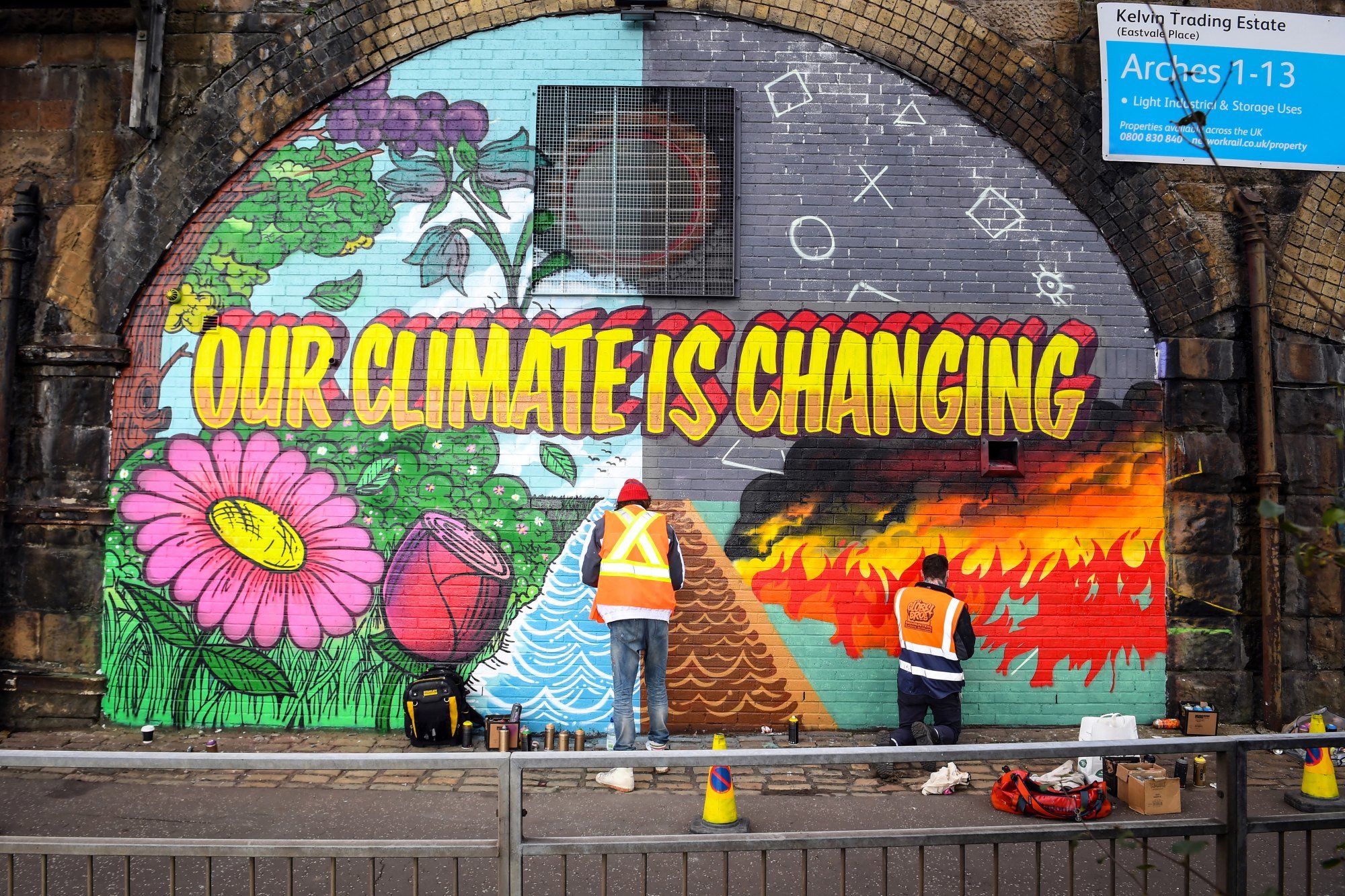 We stop in front of this iconic image; there's something charming about this black taxi taking flight after being tethered to colourful balloons. If you look closely, you can see that the artist has drawn himself into it, our guide points out.
Sure enough, there's Rogue One, clutching at the wheel of the car.
For many street artists, their urge to create began at an early age. That was the case for Glasgow-based Mark Worst, whose artistic journey, he says, began with him drawing monsters on pieces of scrap paper with crayons and pencils.
Soon after, he took to graffiti, first as a form of rebellion and later, self-expression, as he created masterpieces using only spray paint.
"The streets, train lines and abandoned buildings of Glasgow are where I spent my teenage years expressing myself through painting walls," he says. "I've been to most of the dark corners of this city."
He had to paint in undesirable locations because of the lack of legal walls on which artists could practise their graffiti. "This makes it all the more special to be able to be commissioned to paint large-scale murals out in public for the people to appreciate," he says.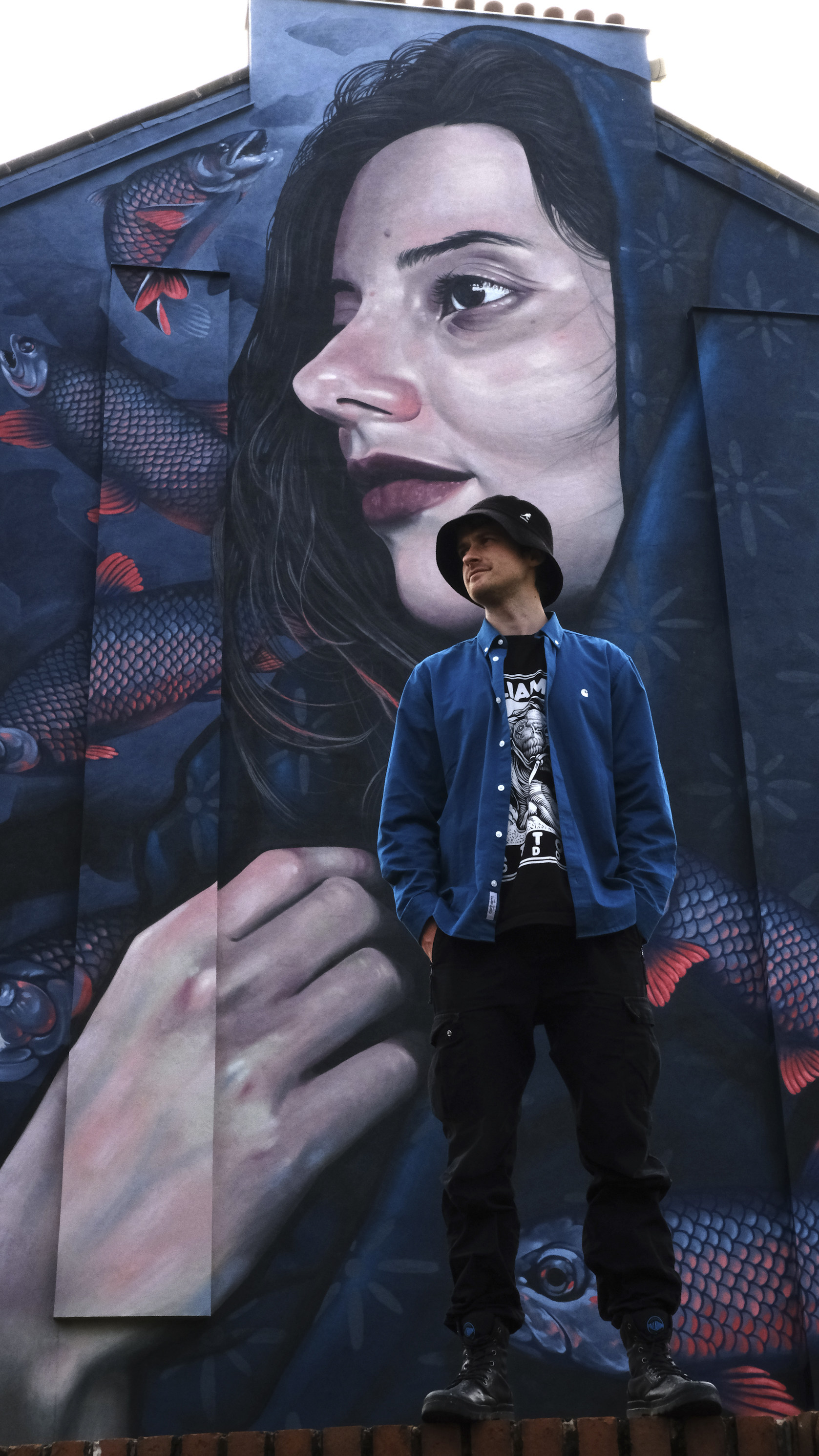 Several of the large permanent murals around Glasgow are his. One much loved example is the portrait of St Thenue in the city's East End, near Glasgow Green.
It's Worst's biggest mural and the rich hues of blue rise five storeys. The saint's shawl features 29 pink and silver fish motifs, which honour the 29 female victims of a building collapse in 1889, when high winds shook the city.
St Thenue is a co-patron saint of Glasgow. Considered by some to be Scotland's first known rape victim and battered woman, she was hurled from a hilltop for becoming pregnant before marriage, according to legend. Miraculously, she survived, and gave birth to Mungo, who would go on to found the city of Glasgow.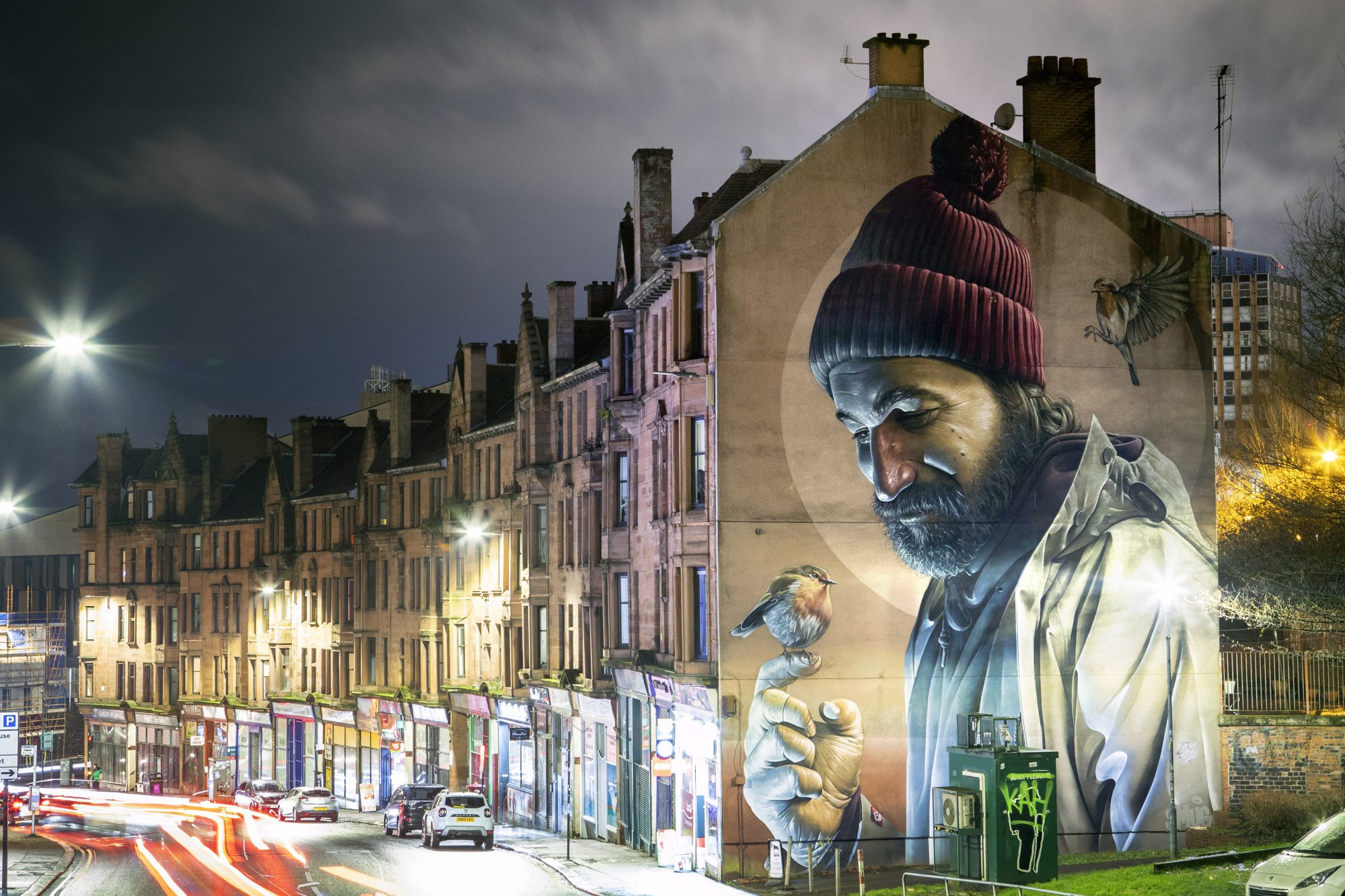 Another of Worst's portraits adorns the side of a Cantonese takeaway restaurant in the West End of Glasgow, the New Golden Bell. It is a close-up portrait of a woman surrounded by flowers, with a dragon dancing from one end of the building to the other.
Some Scottish artists are secretive. One is Rebel Bear, often called the Scottish Banksy, a muralist of unknown identity. To add to the aura of mystery, he dons a bear costume whenever he paints in public.
In an email exchange with Post Magazine, Rebel Bear says he started to produce street art in 2016. "I decided that street art was one of the best ways to get my message across as it is accessible to everyone and it has the potential to catch people off guard, to jolt them from their normal routine," he says.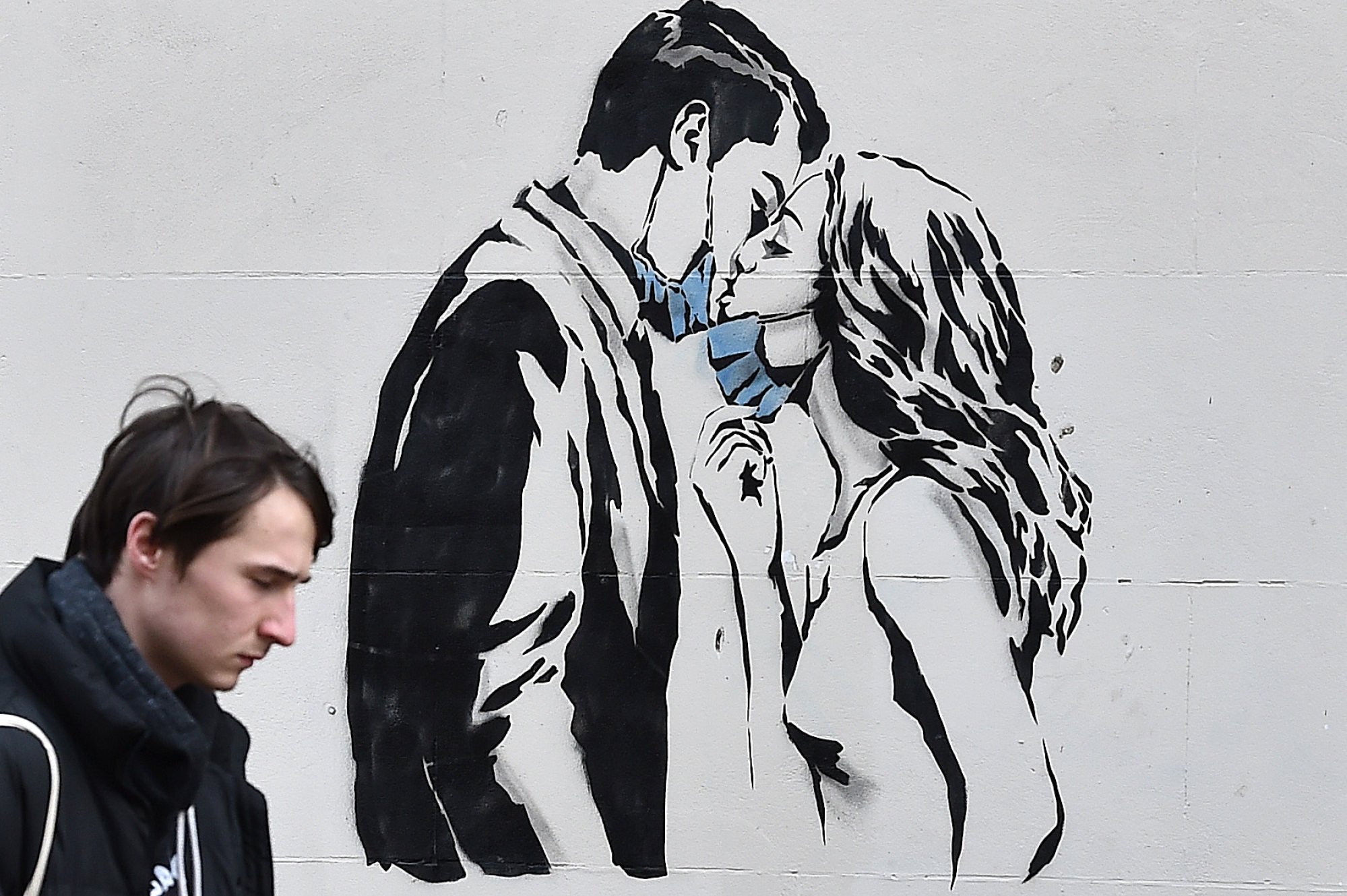 "An unexpected image can hopefully make people have an unexpected and novel thought."
Rebel Bear's coronavirus art has become hugely popular during the pandemic years, especially a piece called Fear and Love, which is on a wall of a tenement in the city's West End. It's a black-and-white portrait of a man and woman pulling their masks down to share a kiss.
"It aimed to provoke hope of a time when people could pull the masks down, and also to show the tightrope between fear and love that many of us are walking at the moment," he says.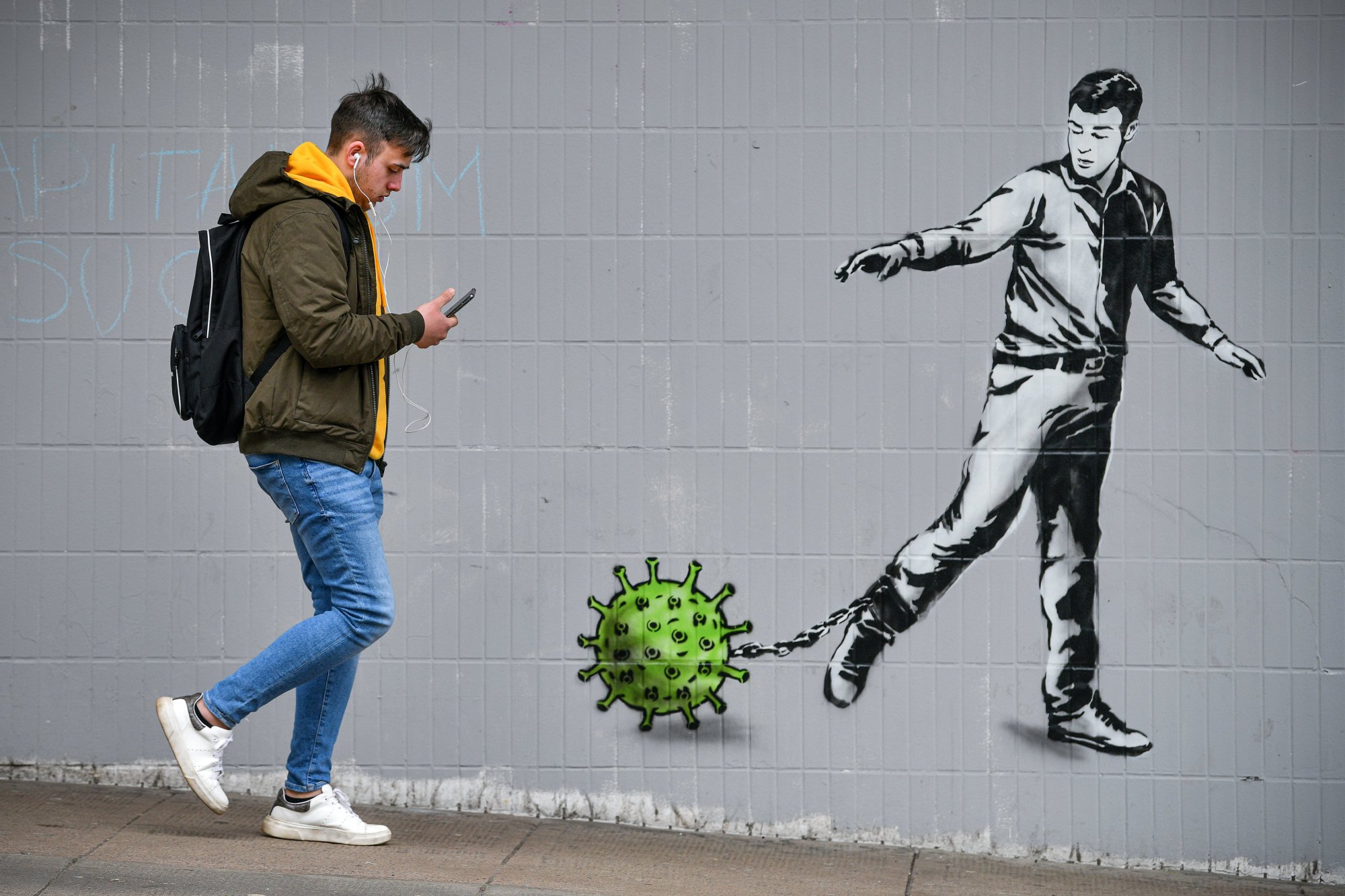 His other Covid-19-related pieces include that of a boy being chained by a huge virus, depicting frustration; portraits that honour frontline workers; and a piece called The Protest – a group of animals agitating for the continuation of lockdowns – which was designed to show how the confinement of people was beneficial to the environment.
There are fewer women street artists than there are men, but in recent years, movements such as the Fearless Collective, an initiative started by Indian artist Shilo Shiv Suleman, have set out to change that.
A huge mural depicting the roles of indigenous peoples in the fight against climate change, painted by the collective, is displayed in Merchant City, an area of Glasgow built on the wealth accumulated from the slave trade and colonies.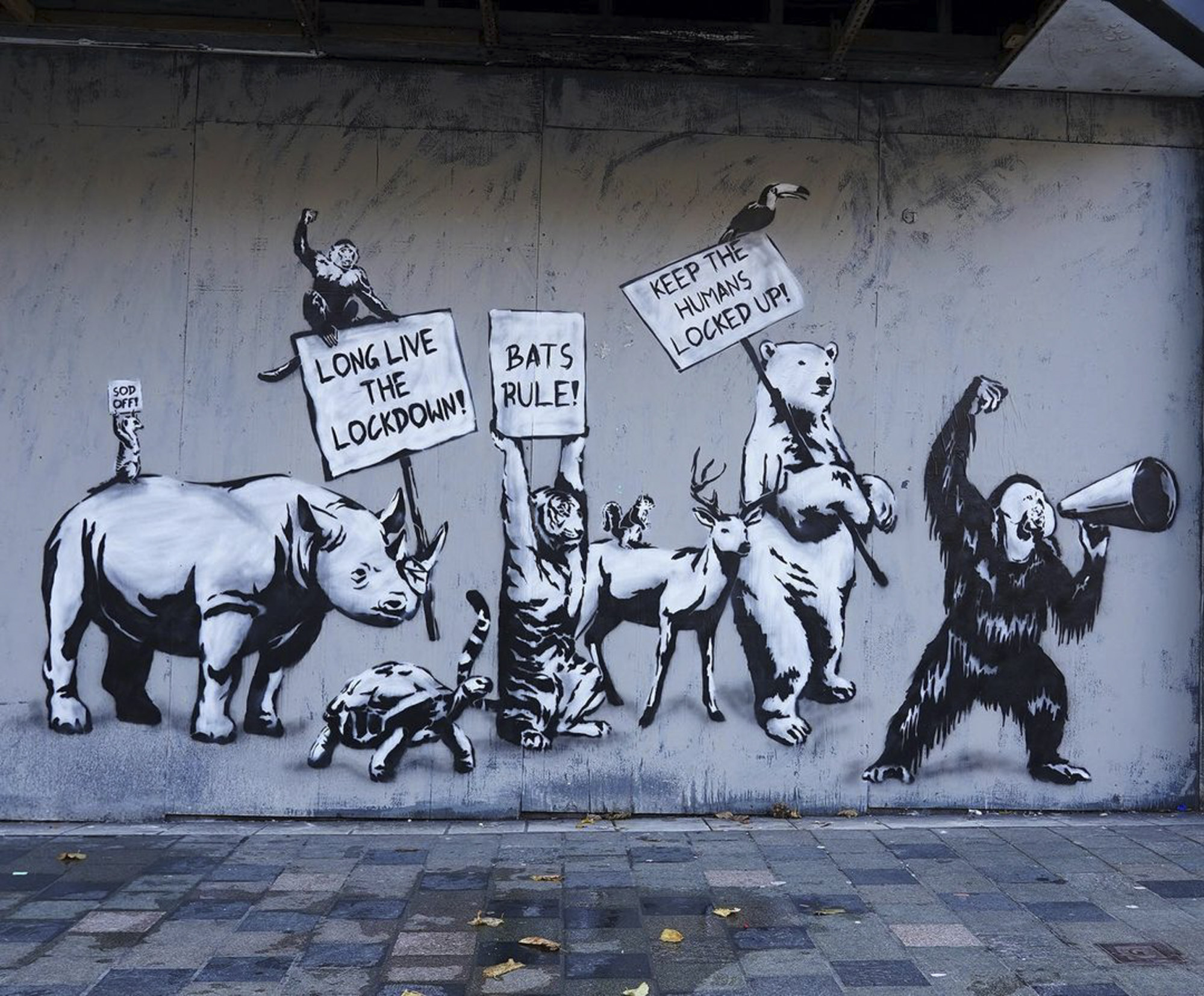 "It took around five days to paint, about seven artists, many volunteers, four organisers and many wonderful helping hands to source materials," says Valeria Crespo, one of the artists involved.
"The days were filled with invigorating and stimulating conversation, and working with a group of mostly women to create such a huge statement felt magnificent."
The Fearless Collective zeroed in on this theme because indigenous communities have always been stewards of the land, using their understanding of local biomes and sustainable methods of conservation to preserve and foster healthy ecosystems.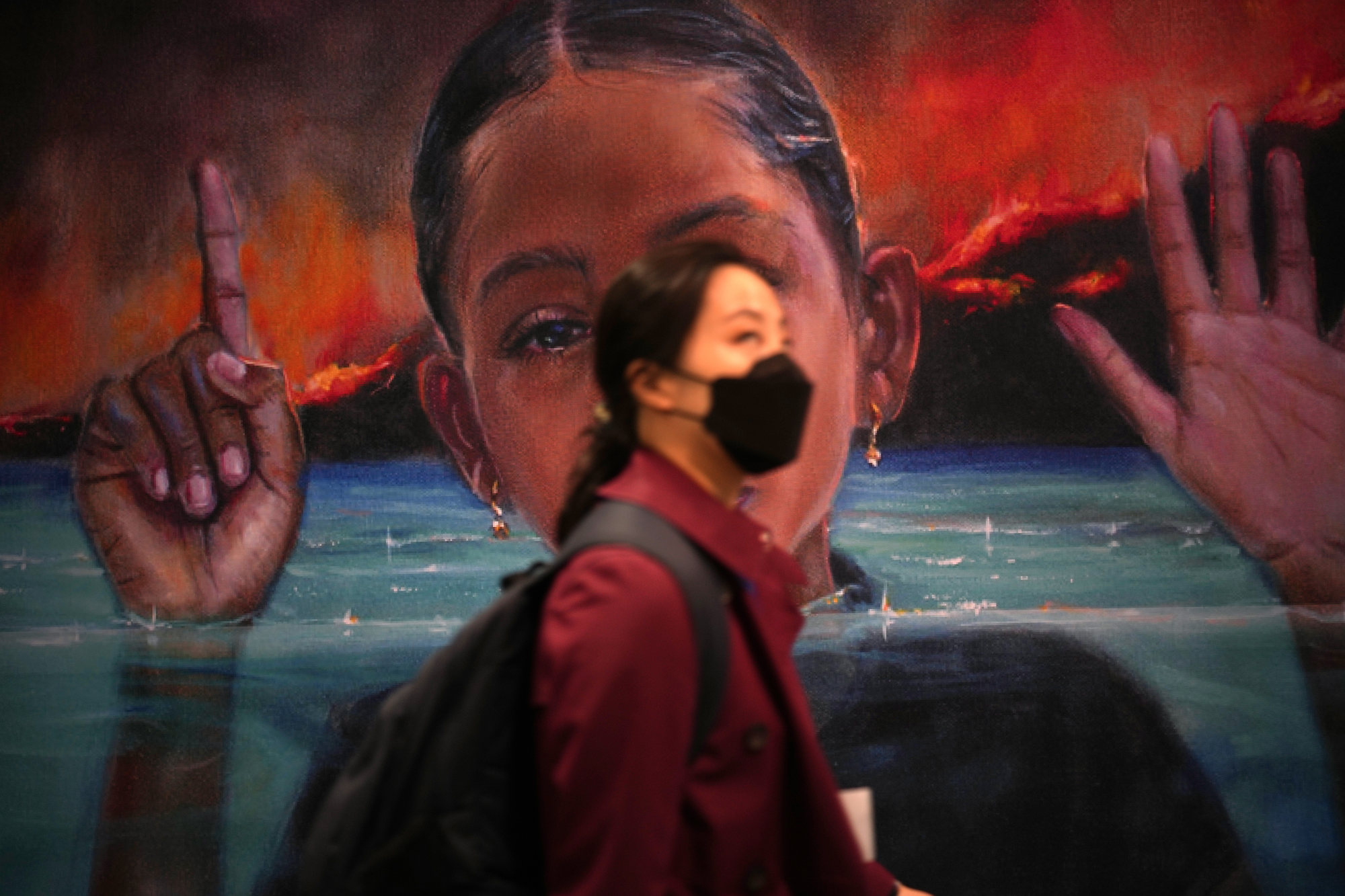 The two people featured in the mural are Puyr Tembe, who combats illegal loggers in Brazil, and Isidro Sangama, a champion of the forests in Peru. They are both indigenous activists who offer climate solutions and seek to protect the rights of their people.
Inclusion is crucial to the collective's ethos. Locals take part in their productions even if they have no painting experience. Making the community feel involved and engaged with a piece is critical and an attempt to amplify voices through graffiti, says Crespo.
"Glasgow is home to a wide array of people and its public art should reflect its vibrancy," she says. "City walls form our homes, yet they often fail to reflect the richness of the stories within."