This article was originally written by Ruonan Zheng for Jing Daily
A new range of six Chinese lipsticks – all inspired by objects found inside Beijing's Palace Museum – have proved a huge hit with consumers.
The announcement "Palace Museum Lipsticks are finally here!", posted on the WeChat Chinese social media platform on December 9, quickly went viral – attracting more than 100,000 views.
More than 1,000 orders were placed for the lipsticks, priced at about US$30 each, in a single night.
Givenchy launches new lipstick Le Rouge Liquide with stars at pop-up store
One of the reasons for the popularity of the lipsticks is said to be the fact that they are made by a local Chinese company, the Beijing-based Bloomage Biotechnology, rather than an imported product, like most cosmetics sold on the mainland.
Each one of the lipsticks has been inspired by an object in the Palace Museum collection, the announcement said.
The colour of most popular lipstick, for example, called "Lang Yao Red", was inspired by an ancient ceramic bottle in the museum, and has already attracted more than 600 orders.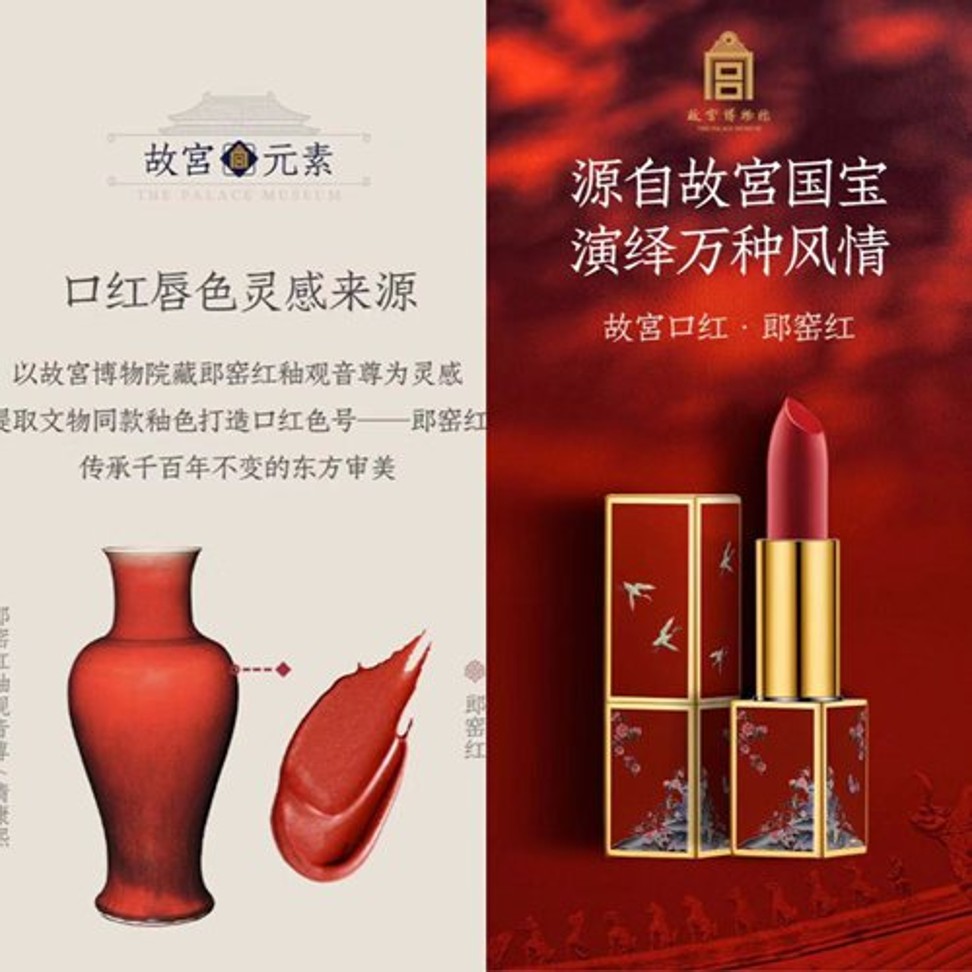 Consumers were quick to praise the new collection.
One WeChat user wrote: "It's impressive to see Chinese style done right. The colours are trendy ... I am excited to get more home-grown brands."
It's impressive to see Chinese style done right. The colours are trendy
Another person said: "I really want to get a lot of the museum lipsticks and take them abroad."
Yet some comments raised doubts about the quality of the products.
Fashion brands are quickly capturing China's make-up market
"Which factory made those products?" a third person wrote on WeChat.
"I will be applying them directly onto my skin so I need to take extra care."
Many WeChat users had expressed interest in buying a lipstick collection from the museum in the past after it launched a series of popular decorated adhesive tapes with Chinese motifs, which people were able to stick on their own lipstick cases.
Shades of autumn: luxe lipsticks
At that time, netizens said they were disappointed about the lack of Chinese aesthetic values found in the products of foreign luxury cosmetic brands – something the Palace Museum is offering with its lipstick collection.
For luxury brands, the question is whether the rise in popularity of Chinese brands will cost them market share?
"Today Chinese consumers seem to reward local brands for interpreting its [national culture], in contrast with Western luxury brands' attempts to interpret that culture," said Tanguy Chen Laurent, the US managing partner of branding agency Creative Capital.
3 things we can learn from Dolce & Gabbana's China 'racism' scandal
The scandal involving Dolce & Gabbana – after a series of adverts created by the Italian luxury brand was slammed for being racist, and was followed by crude social media comments, attributed to its co-founder Stefano Gabbana, in response to the criticism – is a clear demonstration of a brand mistakenly interpreting orientalism (chopsticks and red lanterns) as being culturally relevant, and the company ultimately ended up having to pay the price in the form of a consumer boycott.
Want more stories like this? Sign up here. Follow STYLE on Facebook, Instagram and Twitter