Where to eat in Hong Kong in September: 11 new restaurants and menus to try, from Landmark Mandarin Oriental's new degustation menu at Somm, to a truffle-focused meal at Tuber Umberto Bombana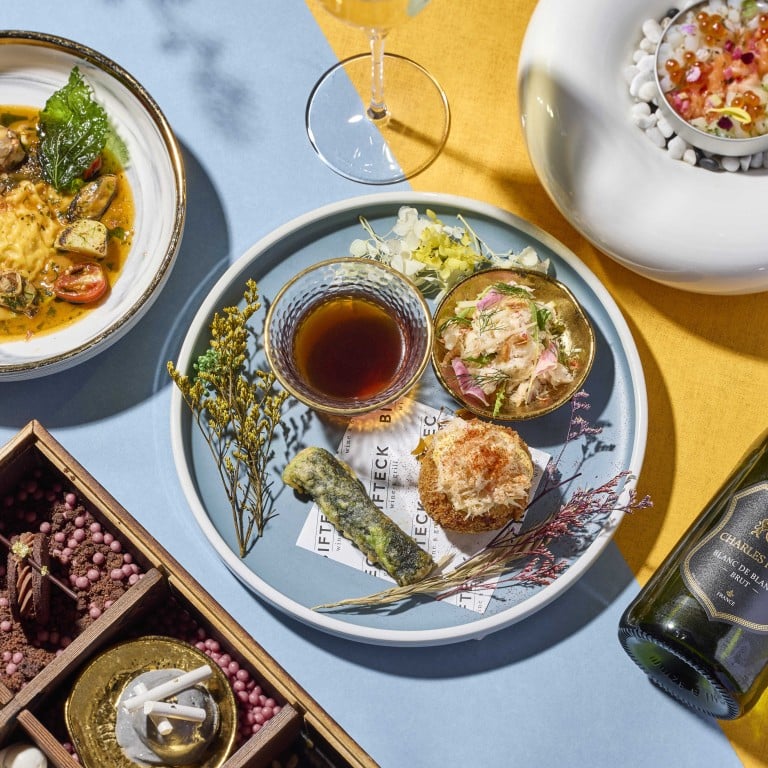 The summer months are fading in the rear-view mirror and a new season is upon us – as are plenty of new restaurants and menus. From high end establishments to budget eateries, Hong Kong's F&B scene is buzzing as always. So whether it's the latest fine dining offerings from Umberto Bombana that you're looking forward to, or just casual brunch options at places like Dan Ryan's, our monthly round-up has you covered.
New openings
1. Miyazaki Niku Honpo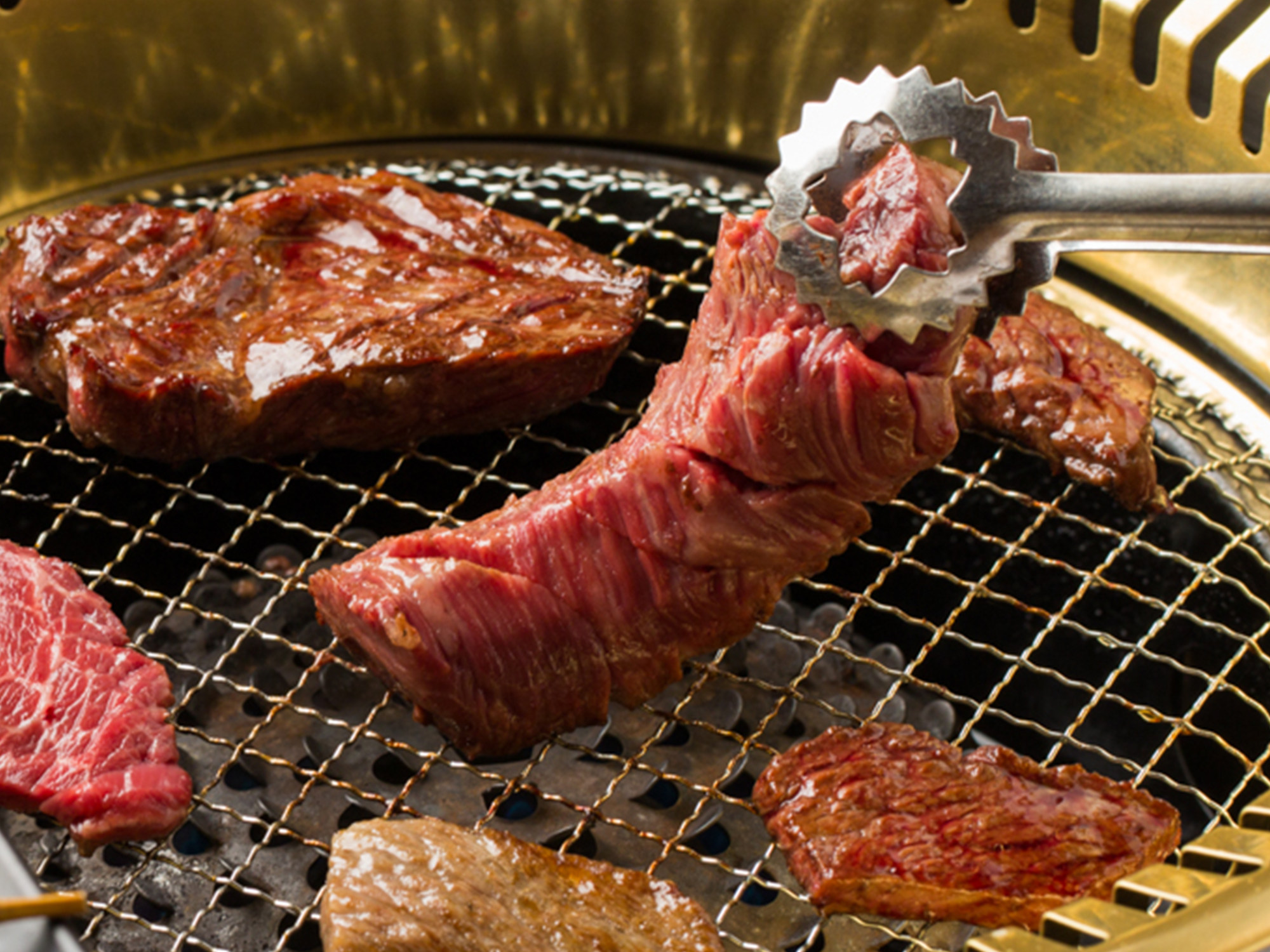 Trends come and go, but Hong Kong's love affair with Japan and Wagyu never dies. With Covid-19 restrictions meaning travel is still something of a hassle, why go to Japan when you can get top quality beef here?
Miyazaki Niku Honpo, a well-loved all-you-can-eat yakiniku restaurant from Miyazaki Prefecture in Kyushu, has opened its first overseas branch here in Hong Kong in Causeway Bay. Devoted to offering the finest Wagyu, the Hong Kong branch exclusively imports full cattle from the award-winning Ouka Wagyu Farm every month, allowing connoisseurs to enjoy the best and rarest cuts of A5 Ouka Wagyu Beef.
6/F, Sugar+, 25-36 Sugar Street, Causeway Bay
2. Cannubi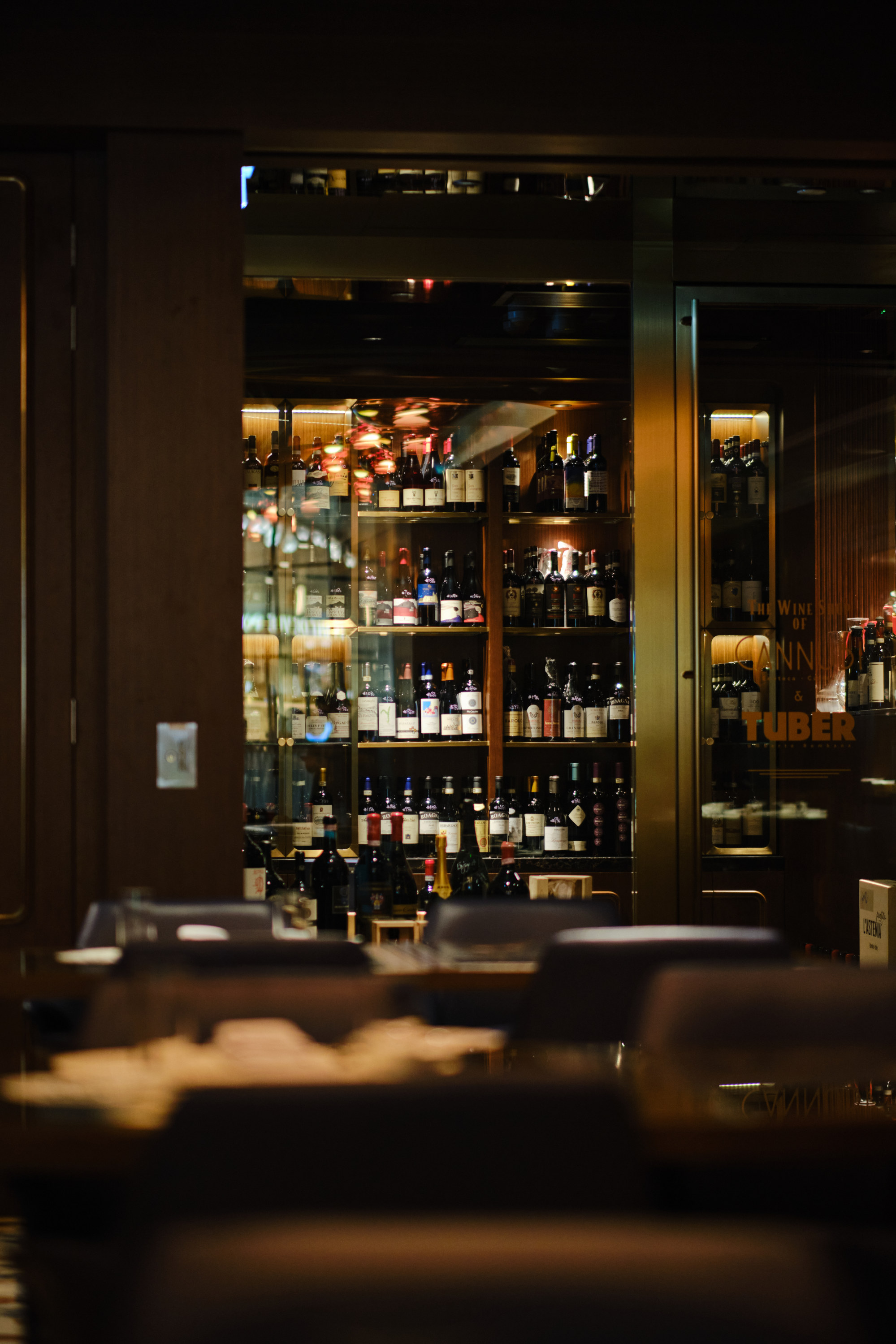 New from Octavo Group (the folks behind the likes of Octavium and Venédia) Cannubi is a sophisticated new enoteca aiming to introduce the finest products of the northern Italian region's viticulture to Hong Kong.
Named after a famous Barolo wine-producing hill in Piedmont, Cannubi is opening in K11 Musea in Tsim Sha Tsui. It will have over 2,000 bottles of wine, all stored inside and on display outside, while also offering private shelves for special clients to store their bottles.
As well as its extensive wine list, the new wine bar will also be serving a comforting menu of antipasti, pasta and satisfying mains that should all be top quality given the team behind the concept.
Shop 113A, Level 1, K11 Musea, Victoria Dockside, 18 Salisbury Road, Tsim Sha Tsui
3. Tuber Umberto Bombana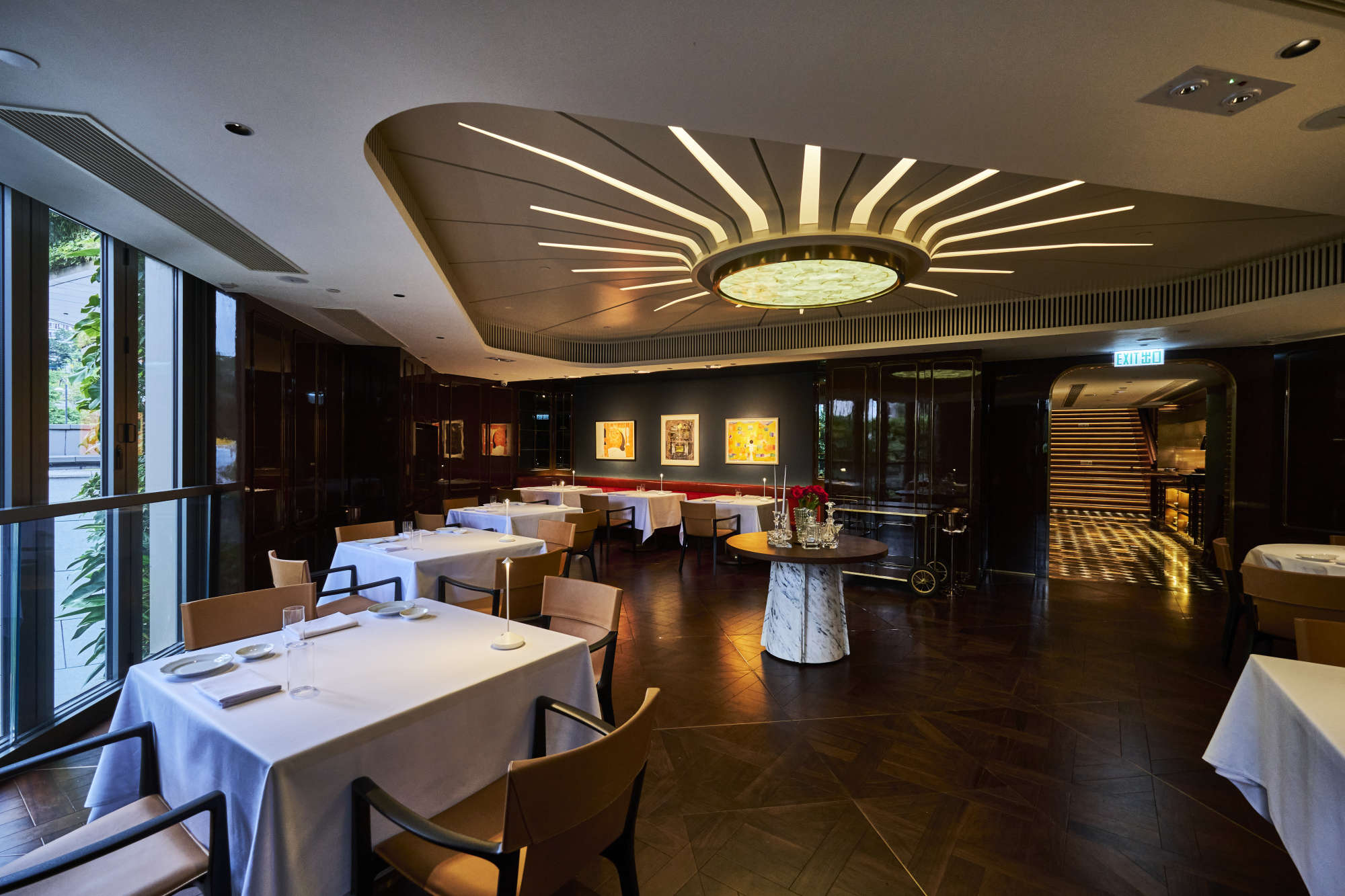 Connected to Cannubi via a staircase is Octavo's second new restaurant, Tuber Umberto Bombana. Helmed by two-Michelin-starred chef Roland Schuller and executive chef Keith Yam Ka-lok, Tuber is "focused on the ephemeral truffle in all its varieties" and represents the next level of Bombana's – he, the King of the White Truffles – creative expression with the aromatic ingredient.
Seating up to 36 diners, the restaurant will be serving dishes using in-season white and black truffles, while all breads and pastries will also be handmade in-house by pastry chef Tommaso Gaudino. Set in a plush contemporary art deco setting, with marble in the ceiling and tan leather chairs by Poltrona Frau, this luxurious new opening will be in good company at K11 Musea.
Shop 113A, Level 1, K11 Musea, Victoria Dockside, 18 Salisbury Road, Tsim Sha Tsui
4. Woofy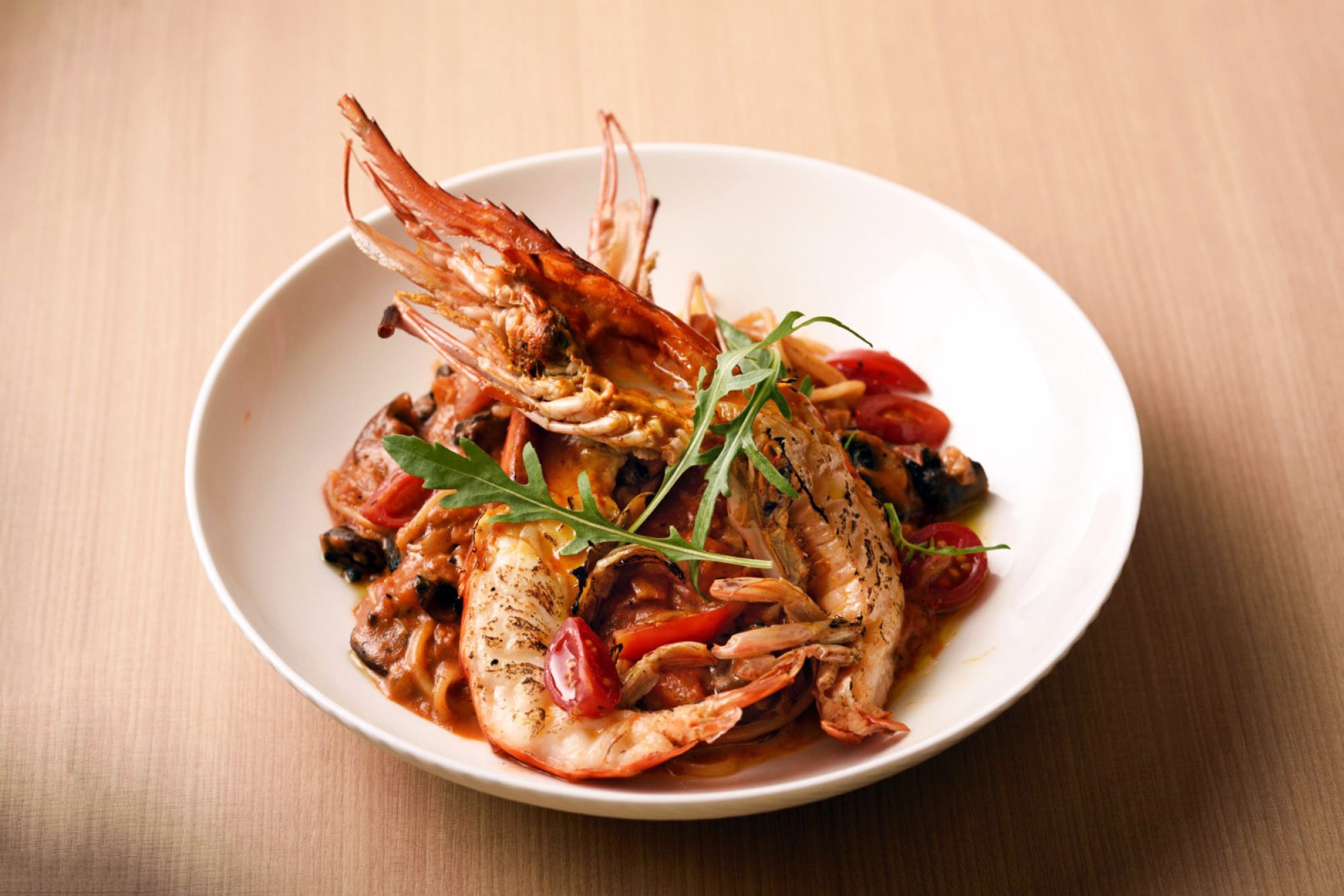 Diners seeking something more casual – or somewhere simply pet-friendly – can consider Woofy, newly opened in Sha Tin.
Managed by chef Ken Lau, executive chef of Italian restaurant Palco Ristorante and Italian-French restaurant Pano, Lau is bringing his expertise in Italian and French cuisine to bear to elevate the cafe concept, offering diners a range of high-quality dishes at affordable prices in a relaxed atmosphere.
The pet-friendly credentials aren't just PR fluff either. Star dog trainer Eric Ko acted as a consultant to advise on the environment, interior design and facilities, and Lau has even devoted his time and effort to create a dog-friendly menu for the health needs of dogs that puts to use Lau's Italian and French culinary skills.
Highlights include spaghetti with grilled Vietnamese giant river prawn in lobster cream sauce, cream of wild mushroom soup made with portobello mushrooms, wild mushrooms, Japanese shimeji mushrooms, morel mushrooms and porcini mushrooms, and grilled pork belly caramelised onion baked croffle (HK$148 or US$20) freshly made in-house with croissants from France.
Shop 165, Level 1, Phase 1, New Town Plaza, 18 Sha Tin Centre Street, Sha Tin
5. Schnitzel & Schnaps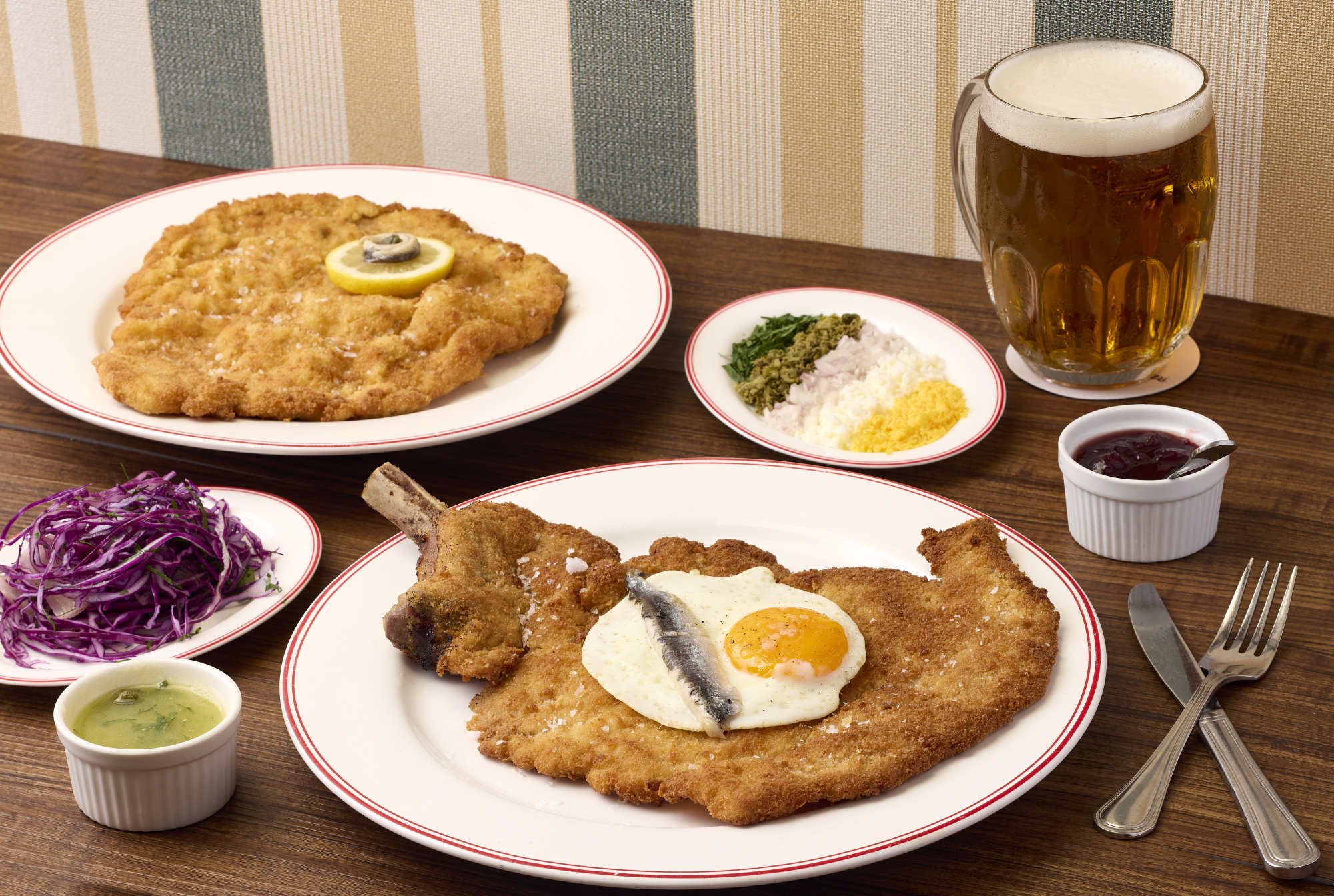 Central European flavours are under-represented in this city, but Schnitzel & Schnaps is hoping to change all that. Newly opened on Hollywood Road in the heart of the city, S&S is serving up authentic yet approachable dishes from Central Europe in a particularly welcoming Viennese brasserie-style setting.
Stars of the show are obviously the restaurant's various schnitzel offerings. Here, the classic Wiener schnitzel comes as a thinly pounded slab of milk-fed veal dunked in home-made breadcrumbs and pan-fried in clarified butter. It is garnished with a sliced of lemon and anchovies, along with shredded egg, capers, chopped parsley, shallots and cranberry sauce on the side.
There are half-a-dozen schnitzel offerings but there is also plenty more on offer from this corner of Europe. Other classic dishes available include vodka-cured salmon, currywurst, potato rösti and a wonderful apple strudel with brown sugar filling, garnished with icing sugar and served with vanilla ice cream on the side for a sweet finish.
G/F, C Wisdom Centre, 35 Hollywood Road, Central
6. Kaboom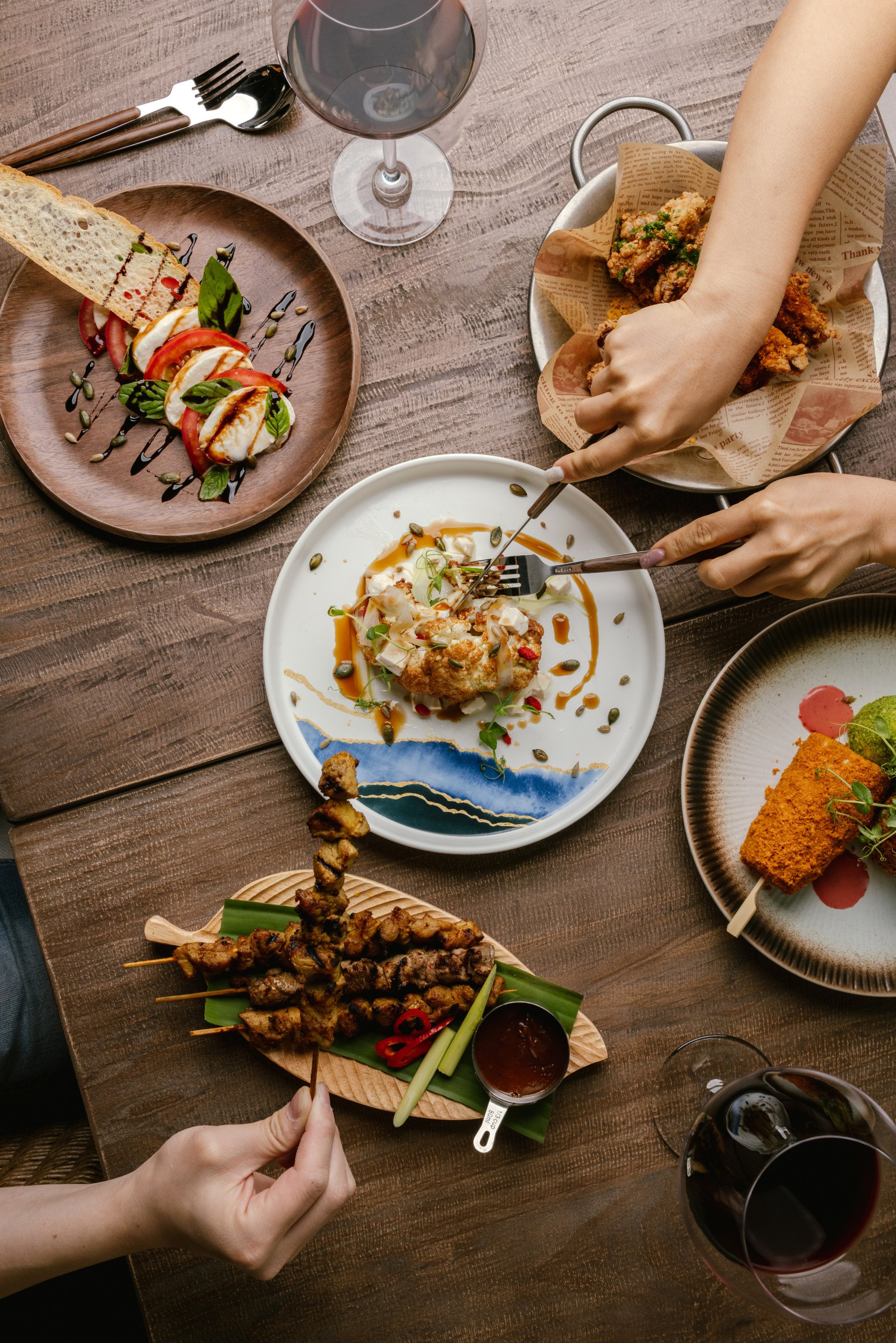 Despite the plethora of skyscrapers in Hong Kong, rooftop bars and restaurants are not nearly as numerous. Adding one to the collection, however, is Kaboom, a new offering in Tsim Sha Tsui with fantastic views of the Island skyline.
With rattan chairs and bamboo branches covering the ceiling, the concept aims to evoke a Southeast Asian island getaway in the heart of the city. The food offerings are tied loosely to the region. There's typhoon shelter-style crab pasta and golden fried rice topped with grilled pork chop and spiced tomato gravy, as well as more fusion fare such as zucchini noodles in a chorizo cream sauce with seared scallops and five spices roasted crispy cauliflower. Eye-catching cocktails with colourful names like "I Need to Keep Fit" and "Damn P*** Off!" round out the menu.
20/F, Prince Tower, 12A Peking Road, Tsim Sha Tsui
New menus
7. Porterhouse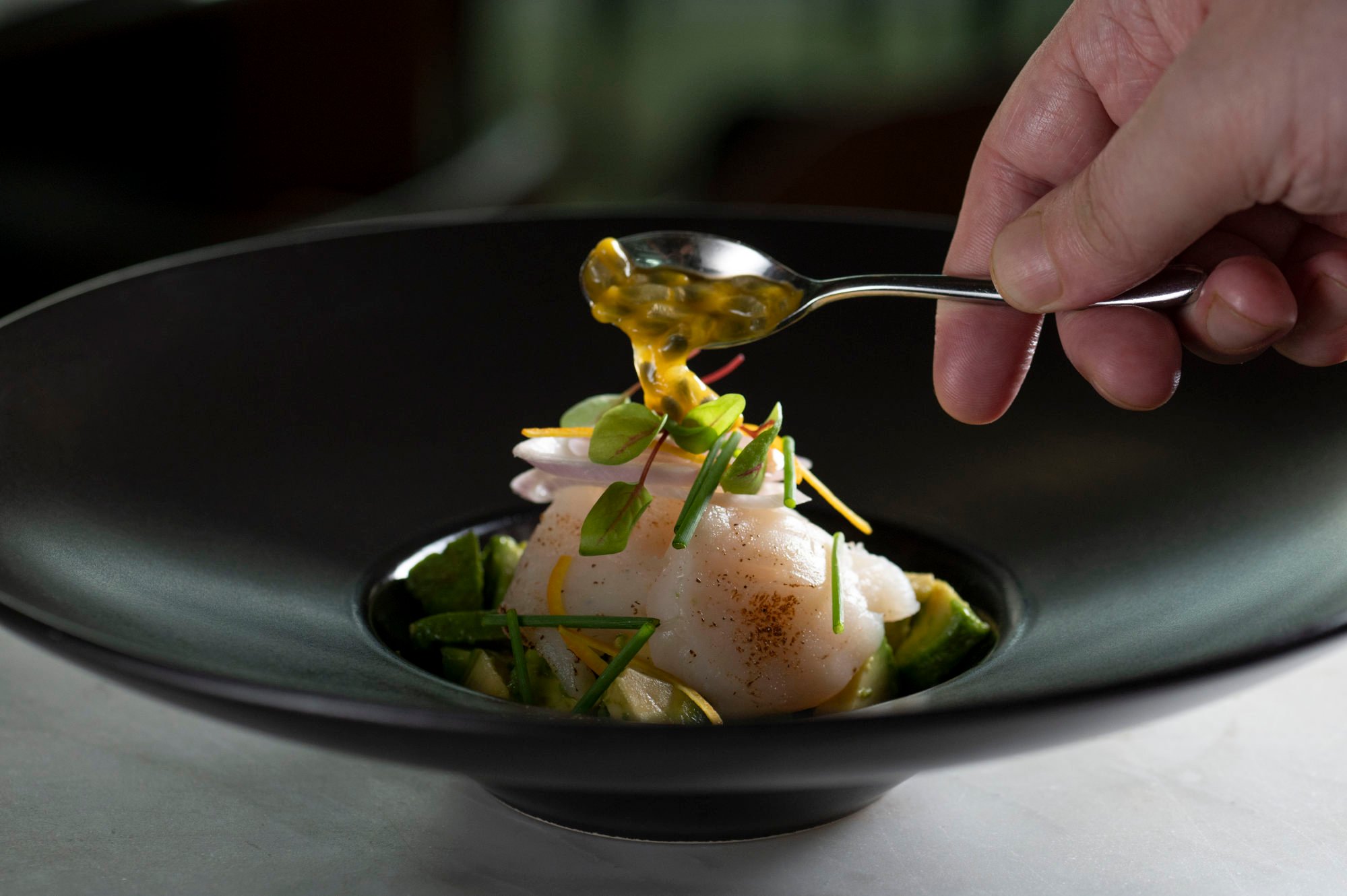 Porterhouse Seafood & Steak has welcomed a new executive chef, Roberto Zorzoli. The Milanese chef has more than two decades of culinary expertise under his belt, and has worked in numerous award-winning restaurants in Europe and Asia.
Zorzoli is putting his stamp on things at Porterhouse with a varied new menu that elevates the classic surf and turf concept while also providing some varied lighter dishes. Guests can look forward to highlights such as Hokkaido scallop – marinated with freshly squeezed yuzu, orange zest and passion fruit and served with Apulian olive oil, avocado, chives and shallots; a vast slab of Mangalica pork ribs served with fries and house-made barbecue sauce; and a Tagliolini made with fresh pasta cooked in a creamy brandy bisque and served with Boston lobster.
7/F, California Tower, 30-36 D'Aguilar Street, Central
8. Dan Ryan's Chicago Grill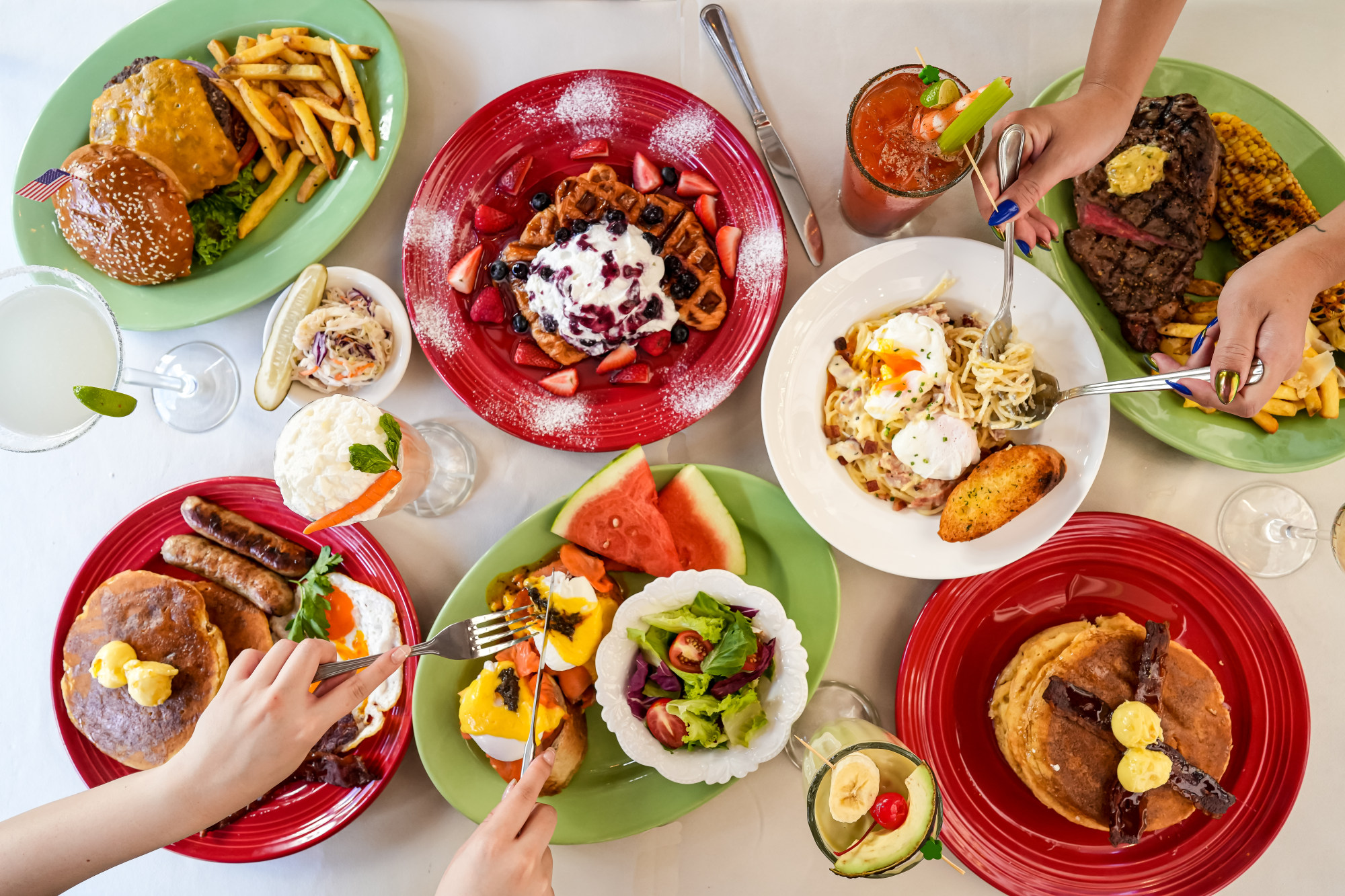 Something of a Hong Kong institution – having first opened here more than 30 years ago – Dan Ryan's has revamped its brunch offerings over the summer.
Available on Saturdays, Sundays and public holidays at the Lee Tung Avenue branch from 11am to 3pm, the enticing menu includes various options for a classic breakfast, freshly baked muffins and pancakes, as well as omelettes and eggs Benedict, all designed to bring guests a true American brunch experience.
Signature dishes from the à la carte menu are also available during brunch, including beer battered fish and chips with spicy tartare sauce, a chargrilled US aged rib-eye steak (10oz and 14oz), and classic New England clam chowder in a bread bowl.
Shop G40, 200 Queen's Road East, Wan Chai
9. Somm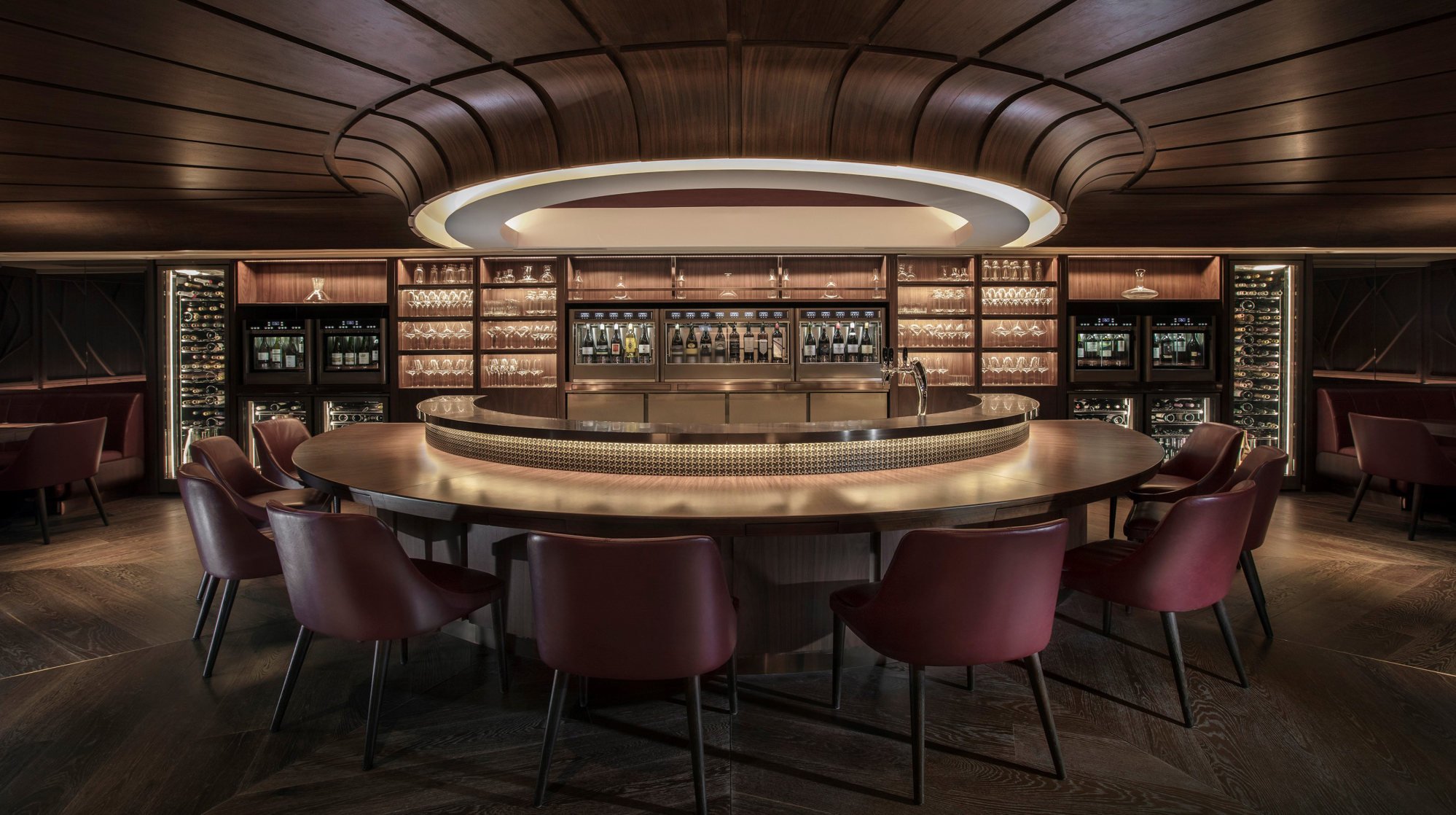 The Landmark Mandarin Oriental's French neo-bistro restaurant and bar Somm has put together a five-course degustation menu featuring various wine pairing recommendations by its sommeliers.
Featuring an array of seasonal ingredients, menu highlights include sea lettuce taco with iceberg lettuce, shiso, XO mayonnaise, raw ana ebi and caviar lime; seared scallops with scallop mousseline, white asparagus and wakame; the signature barbecue beef short rib "char siu" with broccolini, celtuce, banno negi and lime caviar condiment. To end your gastronomic journey on a sweet note, try the abinao chocolate soufflé with cacao sorbet.
7/F, The Landmark Mandarin Oriental, The Landmark, 15 Queen's Road Central, Central
10. Bifteck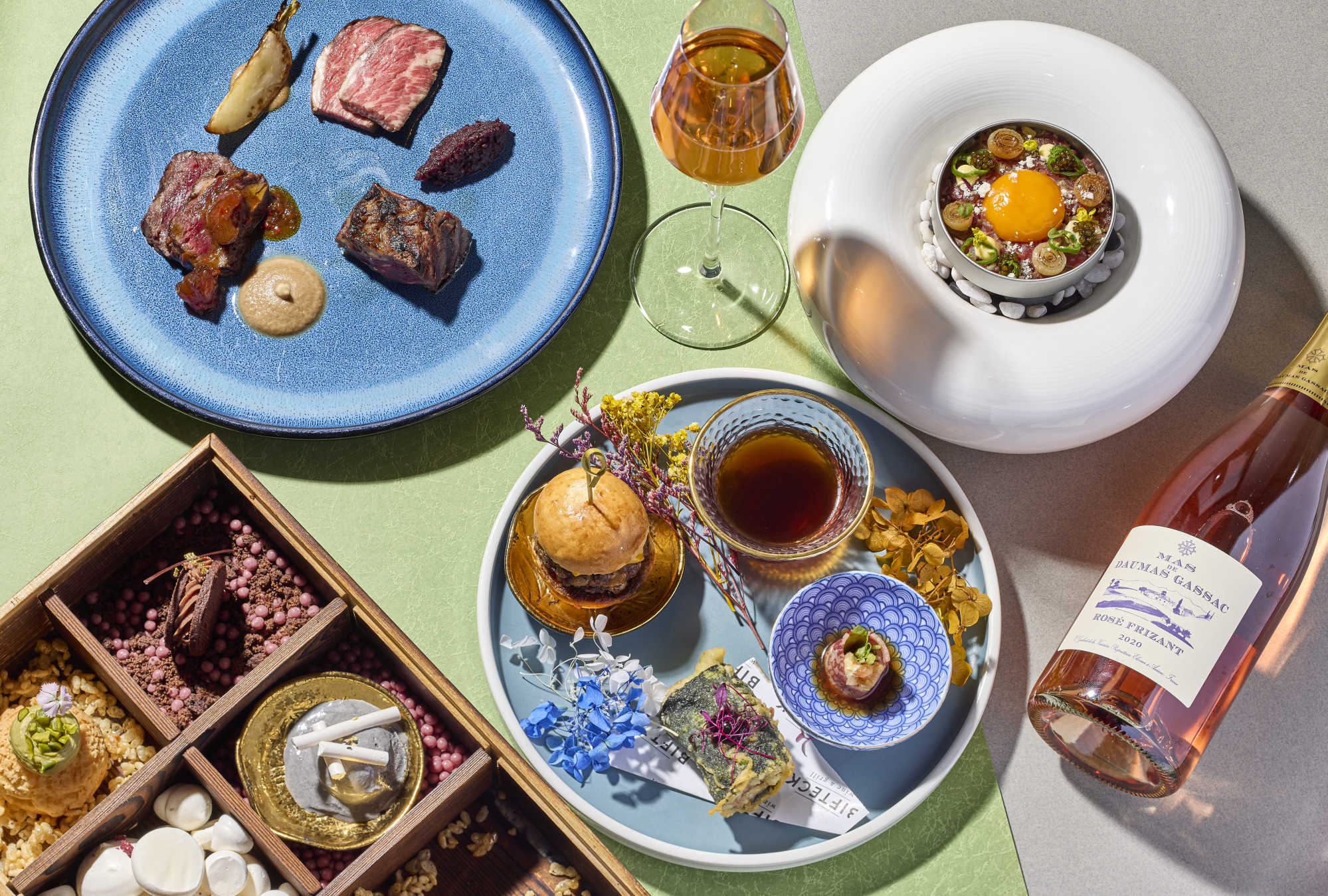 Another new brunch offering comes by way of French-Japanese steakhouse Bifteck, which has launched its Fête du Bifteck weekend brunch menu, embracing the best from land and sea.
Headlining the weekend beef feast is Délice de Bifteck – an ode to the vast array of prime beef and top-grade Wagyu that is the restaurant's celebrated signature and spotlighting USDA prime beef, A5 Kobe wine Wagyu, A4 sirloin carpaccio, Kyoto Princess Wagyu, Spanish Galician free-range beef, Australian M7 Wagyu and Korean Hanwoo. Elsewhere, the Délice de Fruits de Mer is a lighter brunch option that evokes the freshness of the ocean. Arriving on "a crest of a wave" and embracing premium ingredients from around the world, its main highlights are the Japanese red crab and Boston lobster.
23/F, QRE Plaza, 202 Queen's Road East, Wan Chai
11. Little Bao
Chef May Chow and the Happy Paradise A-team have created new dishes exclusively for Little Bao's Soho outpost. Famous for its fried chicken, the restaurant has added a brand new flavour, Yu Kwen Yick hot honey fried chicken, where chunks of chicken come drizzled with a perfectly balanced coating made with the classic Hong Kong chilli sauce.
Other refreshing new additions include scallop aguachile, made with fresh Hokkaido scallops and cucumber, a punchy sauce of lime, jalapeño, coriander, white soy and Sichuan peppercorn oil; prawn avocado salad with Yu Kwen Yick honey vinaigrette and mint; and Taizhou squid with squid roe and smoky Urfa chilli.
Available in both the Central and Causeway Bay branches, the Fish Bao 2.0 is a reimagining of fast food favourite the Filet-O-Fish, made with halibut and topped with home-made tartare sauce and cheese.
1-3 Shin Hing Street, Central

Palco Ristorante's chef Ken Lau has partnered with canine experts to create a truly dog-friendly eatery serving elevated Italian-French dishes in a relaxed atmosphere
Porterhouse, Little Bao and Dan Ryan's Chicago Grill all have new menus, while Kyushu yakiniku restaurant Miyazaki Niku Honpo gets its first Hong Kong outpost serving up the finest Wagyu beef