Virtual kissing and romantic gestures can now be sent with a few taps on your phone. Here's our selection of the best apps designed for you and your loved one, from daily messaging to untangling fights to virtual touching – there is one for every pair of lovers.
THE LOVEBIRDS WHO WANT IT ALL –

AVOCADO

How: This is an all-in-one app designed exclusively for two pairs of eyes – yours and your significant other's. It serves all kinds of communication needs, from messaging, list-making, photo sharing, to virtual kissing and hugging with a few taps on the screen.

Why: Amid the daily bustle and hustle on your social media feed, Avocado allows you to concentrate on your one and only by encapsulating all social functions in one.
THE ORGANISED DUO –

SIMPLY US

How: The app is built around a joint calendaring and list-making system. All of your events, agendas, checklists and reminders will be atomically synced onto the app, and the in-app messenger will allow you to update your partner any time as you wish.

Why: This app saves working couples from the stressful nightmares of splitting chores and miscommunications, making it one of the best tools for couples who prioritise efficiency and productivity.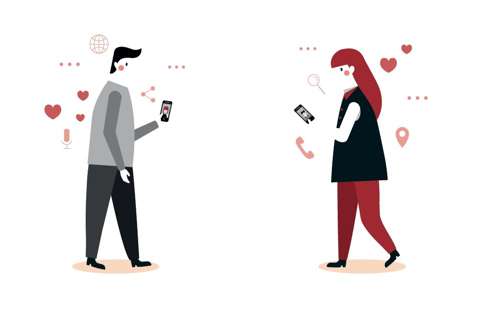 THE HOTHEADS –

FIX A FIGHT

How: Started by a marital therapist, the app offers step-by-step guides on how to navigate through a fight with your partner. You can also keep track of your fight repair progress and learn to manage your emotions with "self-soothers" whenever hassles erupt.

Why: The key to a relationship is often how you approach a fight when it happens. With the solid advice, backed by relationship experts, this app will come in handy for couples who are going through a rough patch.


THE TOUCHY-FEELY –

FEEL ME

How: This next-level messenger app allows couples to "physically connect" despite distance. A red dot indicating where on the screen your partner's finger is will appear, and a pleasant vibration will run through your phones when your fingers touch.

Why: Texts and imagery are great but the emotional connection entailed by physical touch is unrivalled in soothing a love-sick heart. This app is designed to rescue couples who are physically separated due to work or studies.
THE COMPETITIVE COUPLE –

KOUPLY

How: Keep the relationship positive and progressive by giving reward points to each other for every sweet gesture each of you makes. While the app keeps your scorecards private, it also provides sharing options in case you want to publicise your partner's appreciation.

Why: The experience of going through the list of preset acknowledgement and establishing points encourages couples to communicate what is important to them. Your other half will certainly not mind a daily dose of positive reinforcement.

Want your special someone to plan the perfect Valentine's Day? Take our quiz to find inspiration and drop hints on Facebook: