The luxury world may have been mainly about complicated watches and dazzling jewellery in recent years but the launch of Montblanc's new high artistry limited edition writing instruments last week is a sign that connoisseurs of the art of writing are still alive and well.
Unveiled at an exclusive invitation-only event in Singapore for less than 200 worldwide VIPs and media (of which STYLE was one), Montblanc's High Artistry Homage to Hannibal Barca Limited Edition is inspired by the tale of a genius Punic military commander from Carthage, named Hannibal Barca (247 – between 183 and 182 BC), who fought his way over the Pyrenees on elephants from Spain and scored three dramatic victories in Italy.
"Hannibal's lifelong passion for pushing boundaries in his unstoppable quest for glory is also very much what we at Montblanc have always believed in. And I believe it also represents the mindset of our collectors who have always appreciated good storytelling," says Jens Henning-Koch, executive vice president of marketing at Montblanc.
The Hannibal collection displays several outstanding techniques from stone cutting and setting, to granulation lacquering and cutting-edge technology such the use of an ultraviolet laser. Each of the editions features a cap top in the shape of an elephant with a clip shaped like the animal's trunk. In reference to his military exploits, many details evoke the military armour worn by the Punic army, in the form of delicate engravings on the cone ring to ancient drawings to Punic armour design engraved on the nib.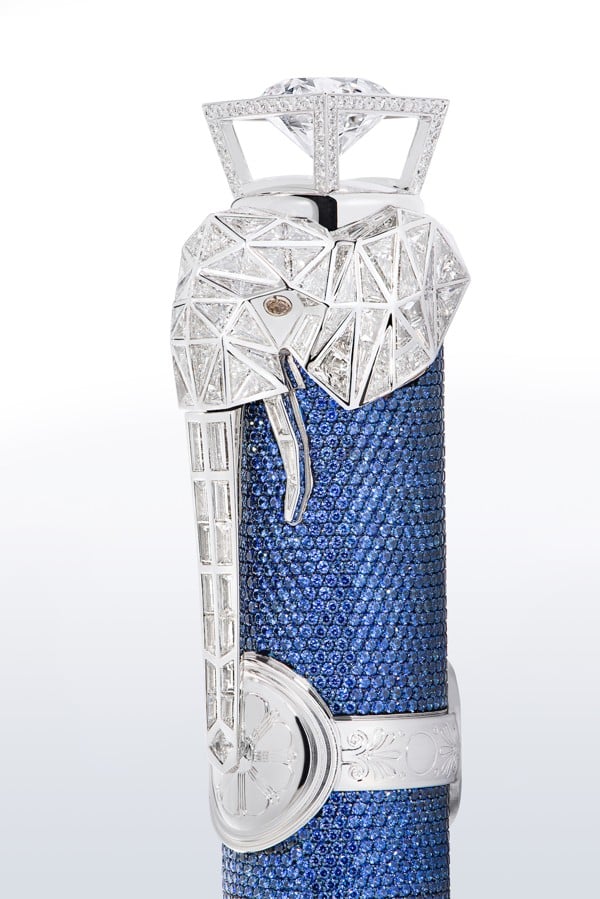 High Artistry Homage to Hannibal Barca Limited Edition 1
This unique piece, priced at a whopping 1.5m euros (over HK$14 million), which features white gold and diamonds offset by a full pave of blue sapphires is undoubtedly the highlight of the collection. The elephant trunk clip is said to be one of the most sophisticated clips ever conceived by Montblanc with all stones set on clip and elephant head of the cap individually cut and set by hand requiring months of meticulous work. Crowning the fountain pen, a magnificent 6.03-carat brilliant-cut DFL diamond is displayed on a stone-holding table set with diamonds.
High Artistry Homage to Hannibal Barca Limited Edition 5
As the number signifies, this comes in a limited edition of 5 pieces. The cap and barrel feature dark blue sapphire with Au750 solid champagne gold fittings. The middle of the cap is adorned with an oval gold shield, evoking a Punic cuirass. The Montblanc emblem that crowns the fountain pen has been replaced with an exquisitely engraved and polished 3D model of the Mont Blanc massif in rough rock crystal, a reference to Hannibal's crossing of the Alps.
High Artistry Homage to Hannibal Barca Limited Edition 10
This 10-piece edition draws inspiration from the Battle of Cannae, one of the greatest tactical feats in military history when Hannibal defeated a new Roman army of unprecedented size with a much smaller army that captured 10,000 Roman soldiers. The anthracite titanium underlay has been paired with a solid white gold, creating a refined contrast with the two different finishes. In a nod to the general's military prowess, the strategic plan of the Battle of Cannae is engraved in bicolour on the barrel and the cone is shaped like a Carthaginian combat ship's bow and is set with a single sapphire of approximately 0.74 ct.
High Artistry Homage to Hannibal Barca Limited Edition 86
This edition is a reference to the 86,000 men who crossed the Alps with Hannibal. The cap is made of wood embellished with a lasered Leo pattern, recalling the panther skin Hannibal and his generals wore to protect their left arm and shoulder. The effect is created by using new high-precision ultraviolet laser technology to protect the surface of the wood from any heat damage while achieving an elegant lasering effect. A tribute to Hannibal's campaign to Italy, the cone features granulation lacquering, a special technique that creates a surface similar to that of mosaic.