This article was written by Yiling Pan and originally published in Jing Daily
With China's growing importance to luxury brands, more and more are making devoted efforts for Lunar New Year.
To capitalise on the holiday season, a time when the giving of gifts is popular, a great number of luxury brands have not only released products commemorating this year's zodiac animal, the dog, but also launched tailored digital campaigns.
Below, we evaluate 10 of the luxury brands' campaigns, counting down to the most successful and engaging for Chinese consumers.
10. Chanel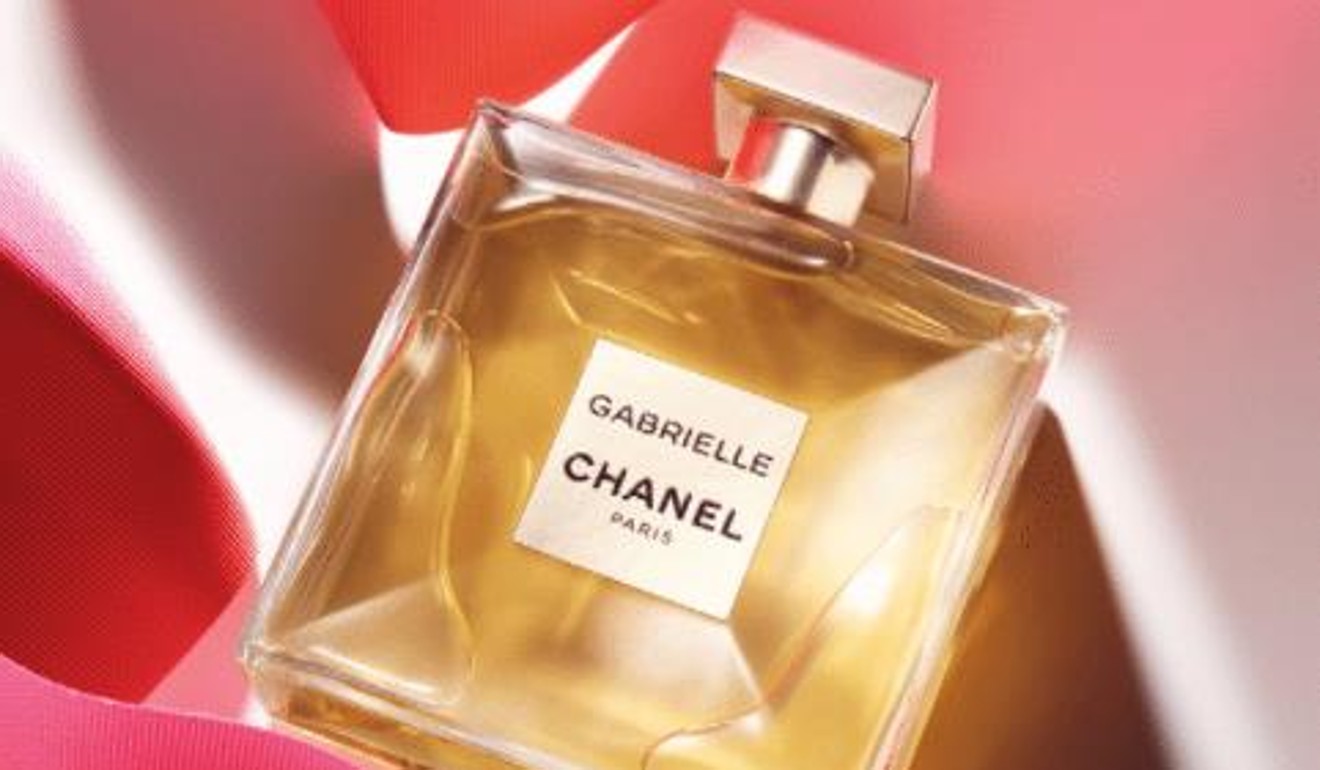 Lunar New Year has not been a major priority for French fashion powerhouse Chanel.
Last week, the brand hosted a small online event inviting consumers to try out its Gabrielle Chanel Fragrance.
Users who fill out their personal information online before the event closes can go to the nearest boutique to collect a sample.
While the online invitation, which Chanel posted on both Weibo and WeChat, was open to the public, the number of perfume samples was limited.
9. Giorgio Armani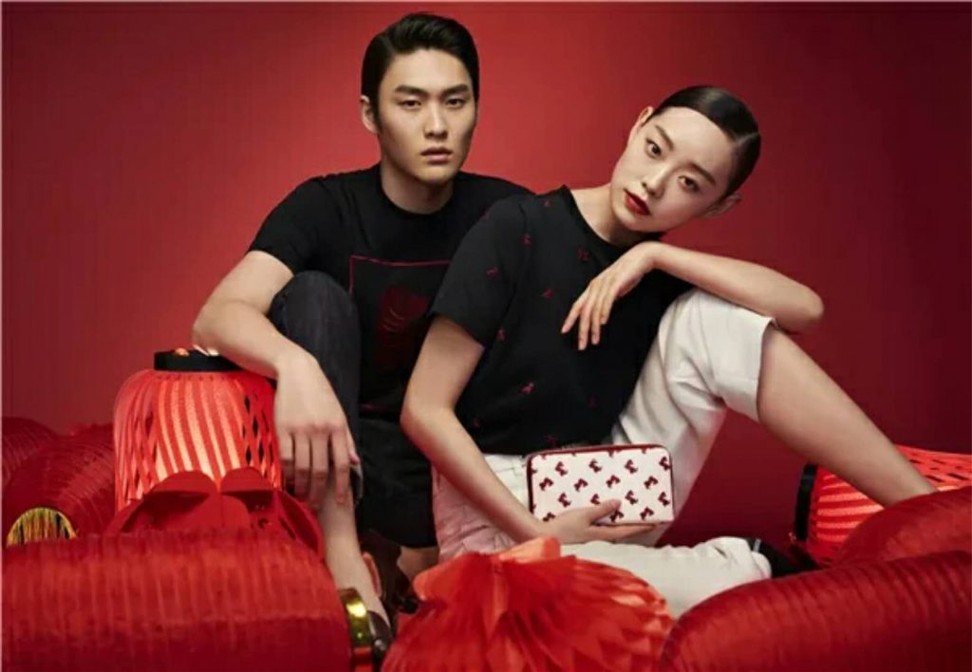 Giorgio Armani released a new video to launch its Chinese New Year collection.
The colour red, which symbolises good fortune and joy, is used throughout the collection along with this year's ubiquitous design element: dogs. The year 2018 heralds the Year of Dog, according to the Chinese zodiac calendar.
In the 17-second video, which can be found on the brand's official WeChat and Weibo channels, two models showcase red outfits and accessories.
The 10 most influential fashion stylists in China
Giorgio Armani also created the hashtags #ArmaniExchange# and #AXCNYCollection#(#AX中国新年系列#) to promote the items, and signed up yuyuzhangzhou, an online influencer, to help raise awareness among Chinese consumers.
8. Fendi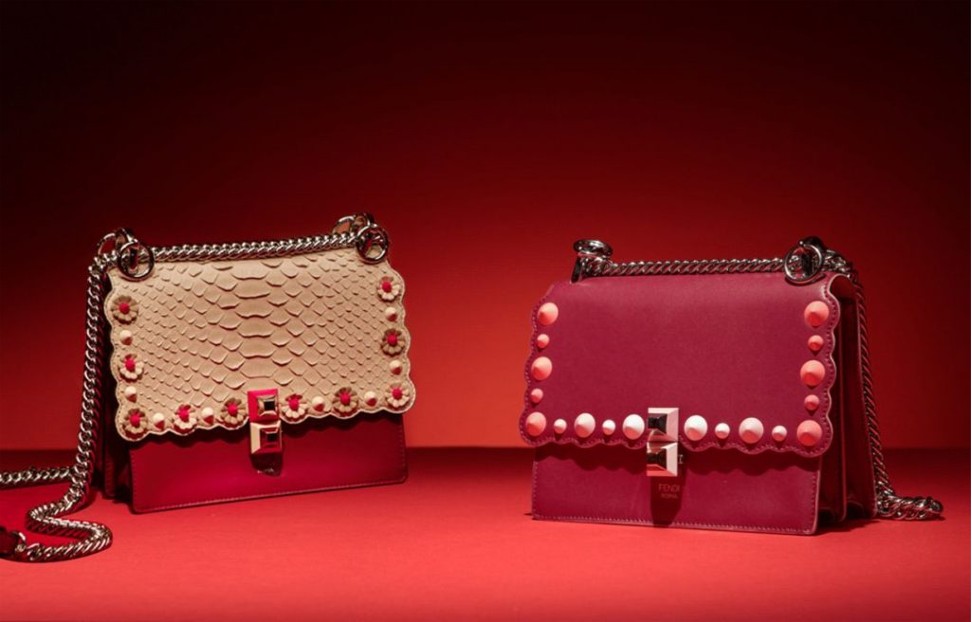 Italian luxury label Fendi this year released an animated short video crammed with traditional Chinese elements, such as fireworks, red envelopes, the Peking Opera and Chinese paper cutting, and signature Fendi items including "Kan I" handbags and the Fendi "POMPOM" to welcome the Lunar New Year.
7. Christian Dior
Like Giorgio Armani, French luxury brand Christian Dior also released a dedicated video to introduce the exclusive "Rose des vents" jewellery collection in celebration of the Lunar New Year.
The animated short video, painted and directed by Victoire de Castellane, creative director of Dior Jewellery, depicts two characters dressed in traditional Chinese clothing sitting in a pavilion to welcome the arrival of the Year of Dog.
6. Louis Vuitton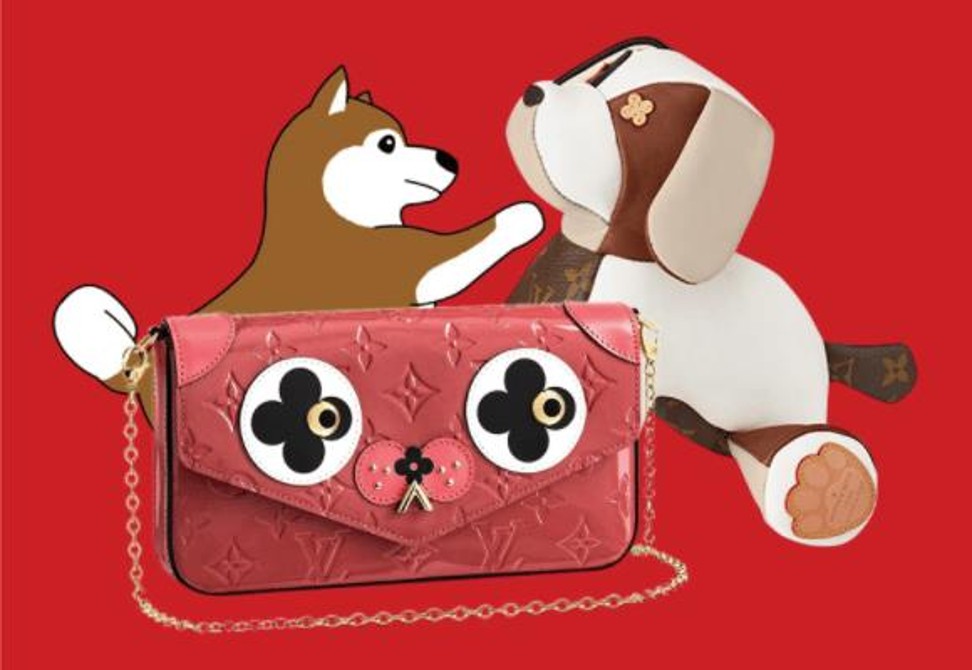 French luxury giant Louis Vuitton created a cartoon dog based on the Japanese Shiba Inu breed for Lunar New Year.
This dog can be found across all of the brand's digital channels, including as a set of WeChat digital stickers (or emoji) that users can download and use when chatting with others.
The dog also features in a video that Louis Vuitton shared on its online store, WeChat, and Weibo.
5. Mulberry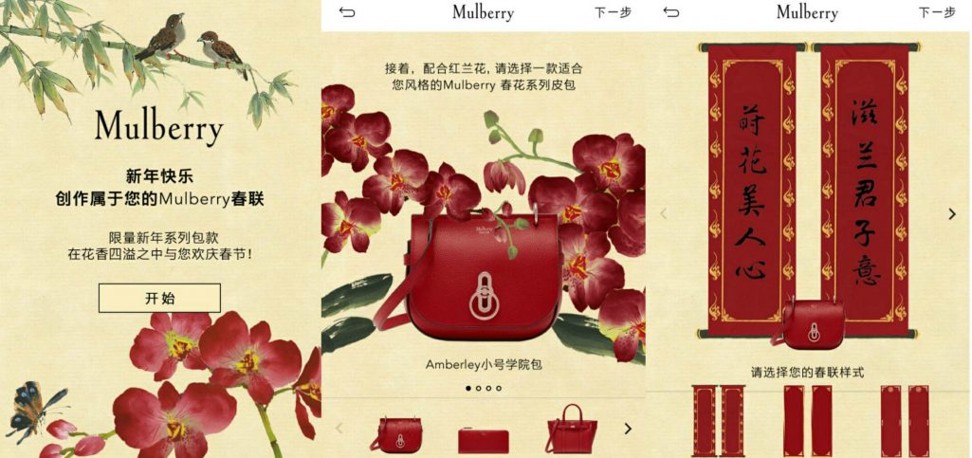 WeChat is the main digital channel that British luxury brand Mulberry uses to reach consumers across mainland China.
On February 6, the brand posted an article inviting followers to create digital calligraphy spring couplets, a traditional Lunar New Year decoration that families paste on their front doors to celebrate the return of spring.
Fashion label Anna Sui teams up with McDonald's for 'McLuxury' Lunar New Year red envelopes
After entering an interactive webpage linked at the end of the post, readers can choose the style, background image, and a Mulberry item that they'd like to use in their spring couplets.
Once they finish, they are encouraged to share the resulting image on their Moments social feeds to receive Mulberry red envelopes or hong bao.
4. Bottega Veneta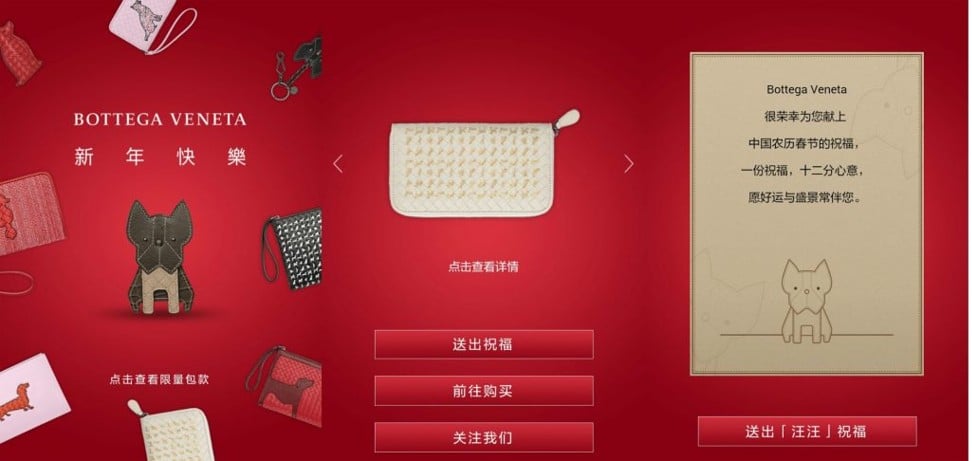 Like Louis Vuitton, Bottega Veneta also created a cartoon dog character this year, making it into three kinds of WeChat stickers that followers can send to their friends and families.
Consumers who follow the brand on WeChat can create customised Lunar New Year greetings with Bottega Veneta while learning about its Year of Dog special designs through an interactive web page.
Top 5 luxury Year of the Dog watches for Lunar New Year
On Weibo, the brand has also released plenty of posts to introduce its Lunar New Year special editions.
3. Prada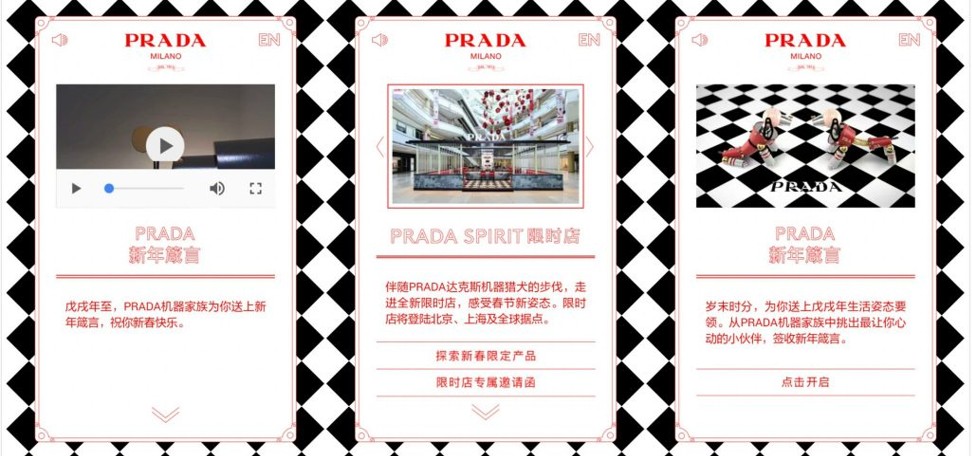 Last week, Prada released a video featuring a robot dog family to introduce its special Lunar New Year-themed handbag on WeChat and Weibo.
The brand also launched an interactive page on WeChat to tell readers about other Lunar New Year offerings from Prada, such as pop-up stores in the country's major high-end department stores.
2. Dolce & Gabbana

At the core of Dolce & Gabbana's digital campaign this year is a well-designed red envelope game on WeChat.
In the game, players need to click on dog-decorated red envelopes until they collect all six types of dogs.
Participants can then receive a set of Dolce & Gabbana red envelopes.
Dolce & Gabbana also worked with Wang Junkai and Di Lirenba, two of the most popular celebrities in mainland China, to record Lunar New Year video greetings for fans.
1. Gucci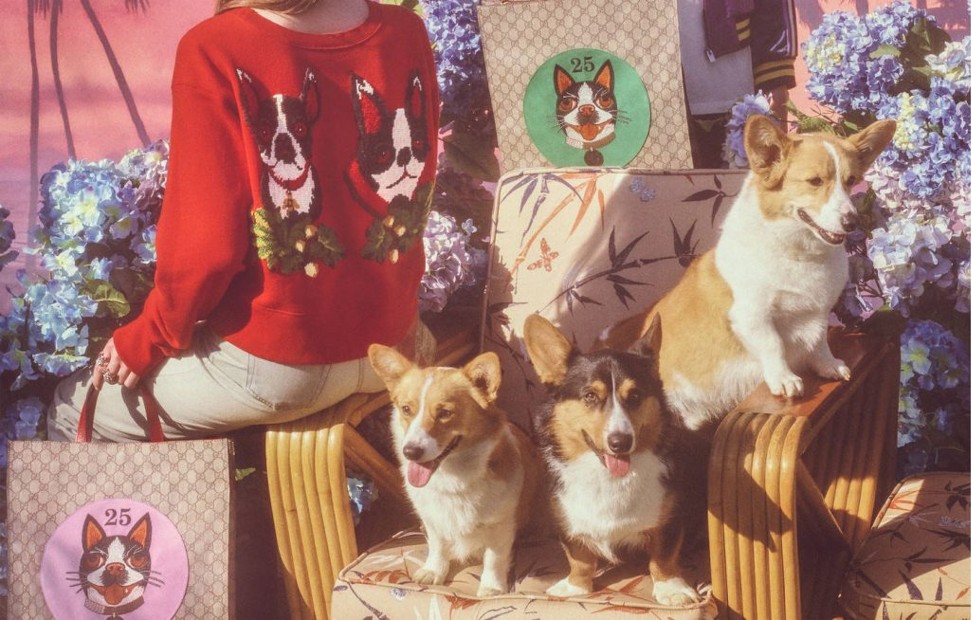 To celebrate the Year of the Dog, Gucci released a capsule edition which was inspired by Bosco and Orso, dogs owned by its creative director Alessandro Michele.
The brand has promoted the collection on multiple digital channels, first with an interactive game and then a WeChat mini-programme dedicated to selling the collection.
On Weibo, Gucci has brand ambassador Li Yuchun and actor Bai Jingting promoting the collection.
Want more stories like this? Sign up here. Follow STYLE on Facebook, Instagram and Twitter