Lee Jung-shin, bassist of the South Korean rock band CNBLUE, uses photography to cope with stress.
Lee's first photo exhibition "We blew away dandelion puffs" feels authentic, and his enthusiasm for it genuine, perhaps because children are the subject of his photographs.
"This is a photo exhibition wishing every single child in the world a blooming dream like dandelions blooming anywhere," Lee said, adding he was touched by the fact that white dandelion puffs pop out even in poor surroundings.
K-pop boy band EXO inspires terminally ill fan to publish novels
In February, Lee joined his brother Yong-shin, a photographer, and Seolhyun of the girl band AOA for a trip to Myanmar led by LOVE FNC Foundation, the corporate social responsibility arm of AOA and CNBLUE's record label FNC Entertainment. The exhibition captures moments from their visit to the fourth LOVE FNC School in Kalaw and YWAM day care centre in Yangon.
"I was stressed when I arrived in Myanmar, but my worries and anxieties faded when I looked at the children's smiles," Lee said.
Being told that the children work at factories or in cottage industries instead of going to school, Lee realised there was more he could do to give them hope.
So Lee and his brother, took pictures of them and the Myanmar landscape during their volunteering activities. "We wanted to capture the innocence and beauty of the children of Myanmar," Lee said.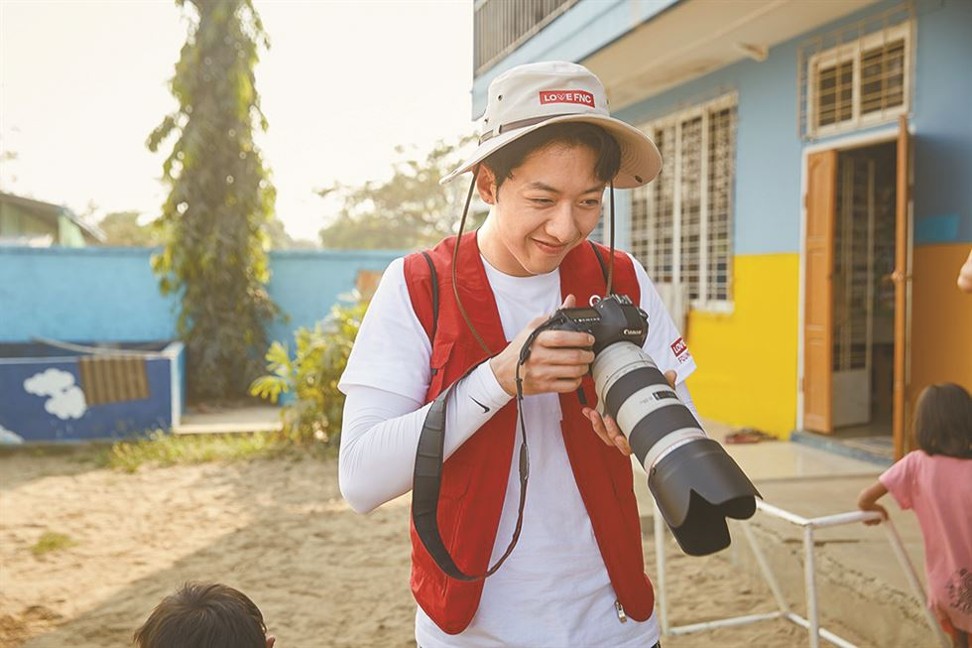 Lee revealed his passion for photography during a media event at Canon Gallery in Gangnam, Seoul on Thursday last week. He said he has enjoyed photography since high school, and even wished to study it in college.
5 Chinese stars who first found fame in K-pop
The framed photographs were positioned below eye level, so visitors could concentrate on the photos. When asked why the photographs lacked any captions, Lee said "I want to leave it up to the viewers to imagine their own title for each photograph. If I assign titles and captions to photos, there would be no room for interpretation."
Given that the photo exhibition is designed for public interest, the framed photographs, postcards and posters are for sale. The profits will be donated to fund a scholarship programme in Myanmar.
Lee has been donating his photographs to The Big Issue, a charity magazine published to improve recognition of homeless people and support them financially.
What's hot in Korea: top K-pop, K-drama and Netflix news from April
"Since I'm not a professional photographer, I enjoy taking photographs for the common good," Lee said.
The exhibit runs until June 10 at Canon Gallery. Admission is free.
Want more stories like this? Sign up here. Follow STYLE on Facebook, Instagram and Twitter
This story was written by Kwak Yeon-soo and originally appeared on The Korea Times.