Hotels and food outlets in Singapore are building on the hype surrounding tomorrow's historic summit between US President Donald Trump and North Korean leader Kim Jong-un.
They are trying to use the landmark meeting as an opportunity to increase publicity and sales by rolling out new summit-themed options on their menus.
The firms said they feel excited about the city state hosting the important summit and want to commemorate it through specially designed dishes with both American and Korean influences.
4 iconic heritage hotels to consider the next time you visit Singapore
Royal Plaza on Scotts, a five-star hotel sitting near Orchard Road, started to offer two special items ― the Trump-Kim Burger and Summit Iced Tea ― from June 8.
"The summit is a historic event and a significant step in bridging relations between the two countries," Patrick Fiat, general manager at Royal Plaza on Scotts, said.
"Food brings people together and friendships are often built around the dining table, hence the creation of the Trump-Kim Burger and Summit Iced Tea.
The grilled Trump-Kim Burger is made up of a minced chicken and kimchi patty, and seaweed, with Korean rice rolls and fries. The Summit Iced Tea is specially concocted by infusing iconic Korean flavour honey yuzu into traditional American iced tea.
Fiat said that guests from Singapore and overseas have shown interest in the special offerings.
"We hope that everyone with a passion for food or an interest in the summit can join us and be part of the buzz," he said.
The hotel is expecting to sell 500 Trump-Kim burgers for the week, and plans to give them away between 12pm and 6pm tomorrow.
Where to chill out in Singapore while Trump and Kim talk the talk
Harmony Nasi Lemak, a local restaurant located at Suntec City Tower 1, has added a new summit-themed dish to its menu called the Trump-Kim Chi Nasi Lemak.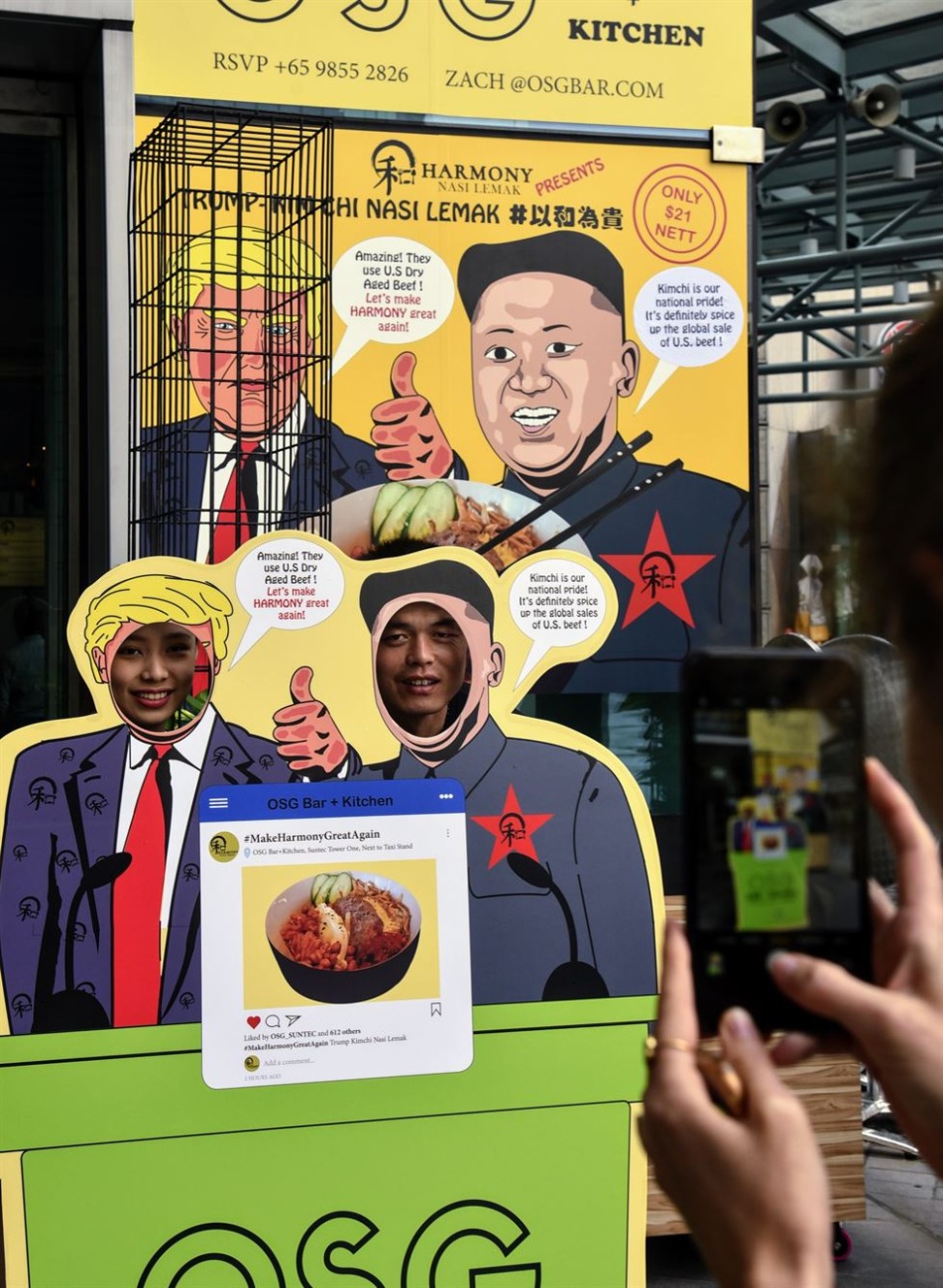 "In celebrating the upcoming summit and spreading our hope for harmony and peace, we have created a signature Harmony Nasi Lemak set," said Zach Wen, owner and co-founder of the restaurant.
"To our limited knowledge, the US is protective of the beef trade. So we want to make Trump feel good because we are using American beef," he added. "Food also has to be harmonised. Nasi lemak has achar, pickled vegetables, so we replaced the achar with kimchi to create that balance."
Wolf Burgers, a Singaporean hamburger outlet also at Suntec City Tower 1, is presenting a limited-edition burger, The Burger for World Peace, which presents a classic American favourite in a fresh way with Korean influences.

"With the recent developments between the US and North Korea, the new burger celebrates the willingness of the two nations to discuss, compromise and find solutions for the greater good," said Sarah Lin, head chef and co-owner of Wolf Burgers.
"We highly support this significant cause in our own way and want to commemorate this landmark summit with our very own special symbol – burgers for peace, hope and reunification."
She said her customers are responding positively to the limited-edition burger, which will be available until June 17.
4 iconic heritage hotels to consider the next time you visit Singapore
"We have been receiving a lot of media interest in The Burger for World Peace. We sincerely hope that our customers love it as much as we do and support this historic cause by ordering them," she said.
The summit marketing is not limited to American and Singaporean food outlets.
Mexican restaurant and bar Lucha Loco is also offering El Trumpo (Cheeseburger) and Rocket Man (Korean fried chicken) tacos, which are available until June 16.
The Rocket Man Taco, representing Kim, features Korean fried chicken, spicy dressing, pickled white radish and sesame. The El Trumpo Taco comprises a beef patty, melted cheese, lettuce, chipotle ketchup, a secret sauce and pickles.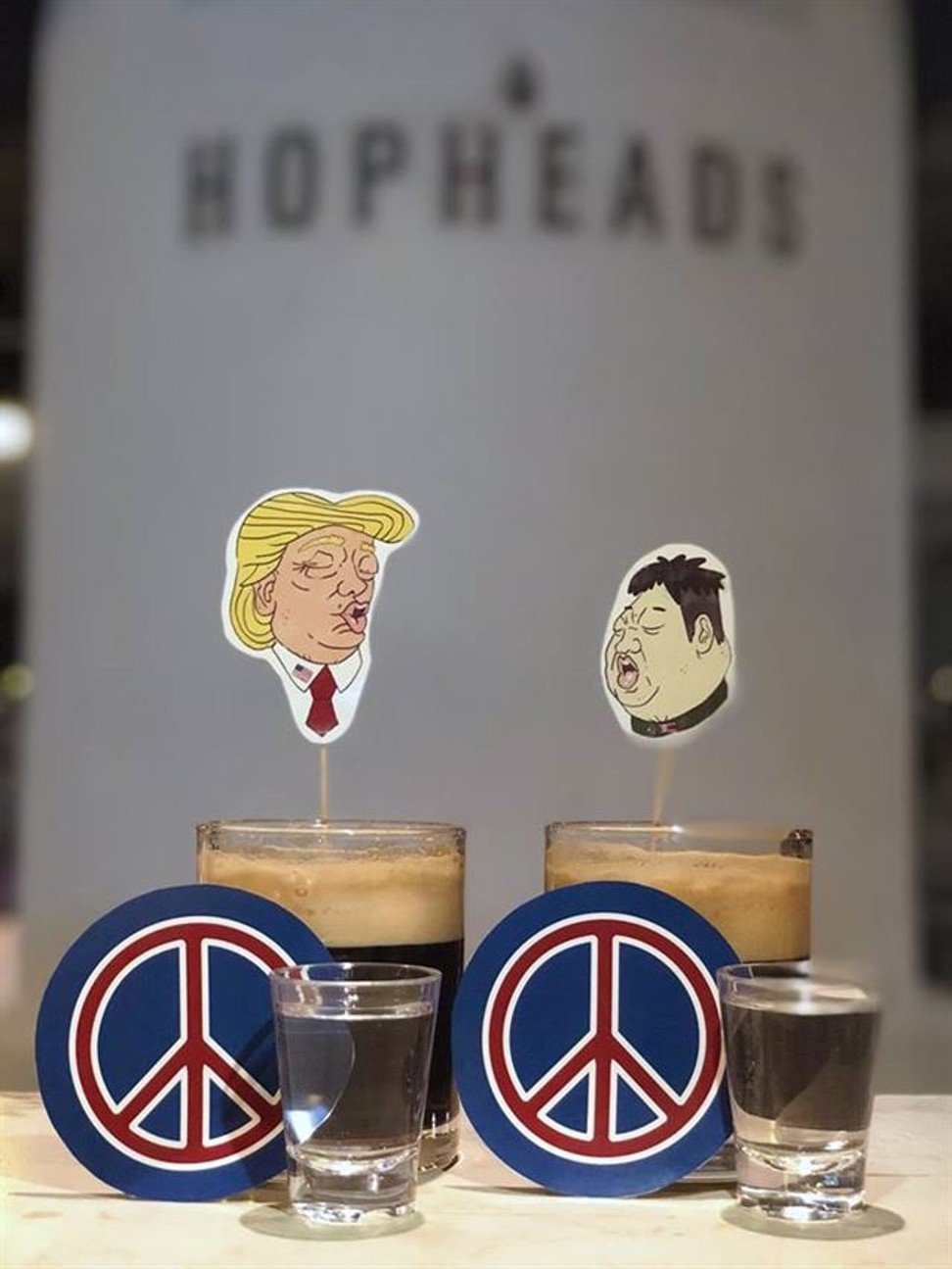 "To honour the official Trump-Kim summit, our Loco chefs have created a Korean and the US taco to wet your taco taste buds," the restaurant said in its Facebook post.
Review: My stay at Capella Singapore where Trump-Kim summit will be held
"We are offering the Rocket Man Taco all the way from Korea and the El Trumpo Taco all the way from the US."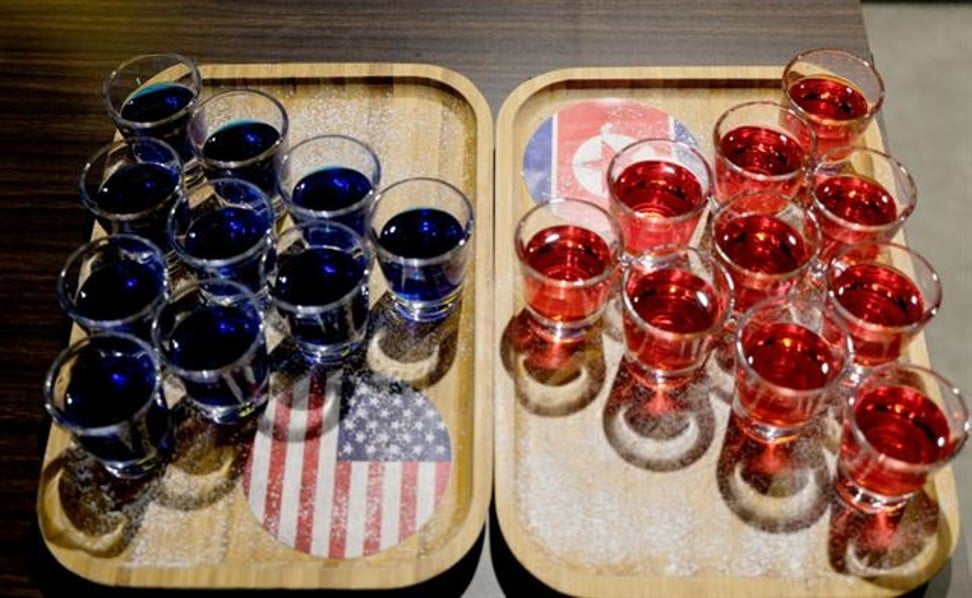 Local bar Hopheads has introduced a pair of drinks nicknamed Bromance, featuring the Singapore summit.
Located in China Square Central, Gastropub Escobar, is offering two cocktails in line with the summit. The "Trump" is a blue, bourbon-based cocktail, while the "Kim" is a red cocktail with soju.
Want more stories like this? Sign up here. Follow STYLE on Facebook, Instagram and Twitter
This article was written by Kim Jae-kyoung for The Korea Times.