This article was written by Jessica Rapp and originally published in Jing Daily

Luxury brands are betting that the 2018 Fifa World Cup finals will attract plenty of Chinese soccer enthusiasts despite China's failure to qualify for the month-long tournament in Russia.
Swiss watchmaker Hublot, the official timekeeper of the World Cup, hopes Chinese fans will notice the maison, and specifically its new, soccer-inspired smartwatch, the Big Bang Referee 2018. Emblazoned with the flag of every World Cup team, the watch displays real-time game statistics to the wearer, and Hublot CEO Ricardo Guadalupe, says it will be particularly attractive to Chinese millennials – a huge market that brands such as Hublot are salivating over.
Fifa World Cup 2018: which shirt is your favourite?
"[Chinese millennials] are becoming big fans of football," Guadalupe says. "They watch the World Cup, the Premier League, the Champions League, and we try to talk to the younger generation."
But why not also promote the smartwatch to more mature soccer fans?
"The older generation is more classical – they only wear classic watches," Guadalupe explains. "I cannot transform this consumer, so I prefer to talk to the young ones, aged 20 to 25."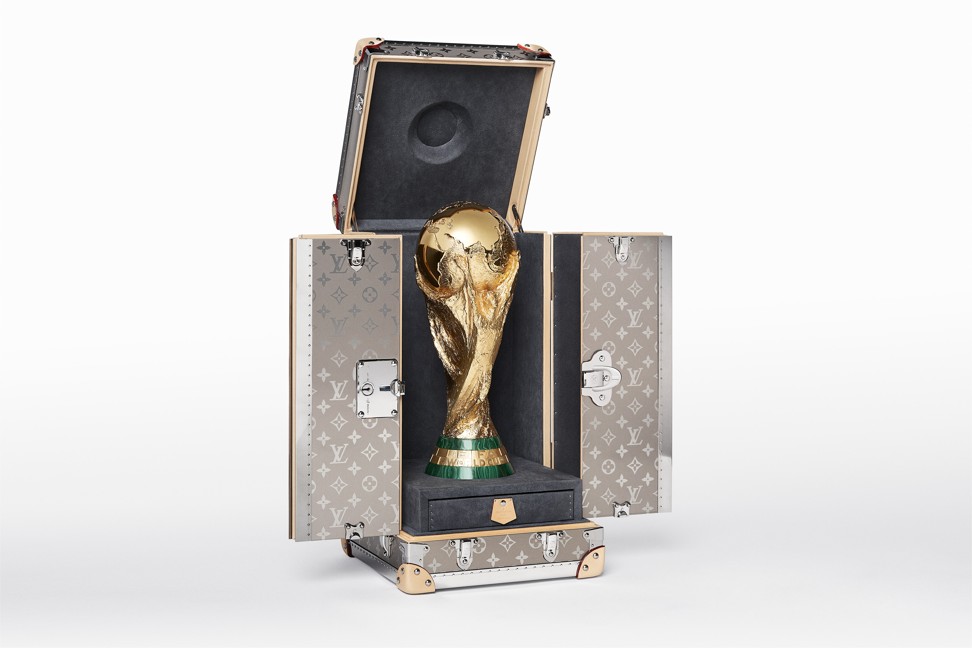 Hublot is not alone in seeking the attention of young, crazed soccer fans in China. Louis Vuitton, Versace, and Kenzo have also taken advantage of the 2018 World Cup frenzy by releasing limited-edition capsules or one-off pieces in their spring/summer collections dedicated to the sport. Louis Vuitton mixed soccer and fashion this year with its leather Apollo and Keepall bags, both of which were available in a number of team colours. This soccer/fashion mash-up has taken-off in China, prompting beauty bloggers to gush on Weibo about how the collection gives fashionistas a chance to participate in World Cup fever, even if they are not typical fans.
The older generation is more classical – they only wear classic watches
Meanwhile, the high-end Moscow department store TsUM began wooing Chinese travellers during the tournament with a WeChat announcement on June 1 that it would host a flash sale of World Cup merchandise as an Adidas brand collaborator and an official Fifa partner. During the sale, shoppers had the chance to meet players; see the World Cup trophy up close; purchase limited-edition shirts and pick up a snazzy, limited-edition Adidas x TsUM football.
Meet 4 most stylish soccer couples at Fifa World Cup 2018
Even without World Cup-inspired merchandise, luxury brands have become prevalent in online chatter about the World Cup, thanks to popular tournament-related memes. Last month, Beijing Youth Daily posted a cheeky chart that appeared on Weibo and WeChat, and which partners luxury fashion brands in a perceived hierarchy with ranked World Cup teams. Similar memes have popped up with varying rankings, but most have Hermès ranked number one alongside powerhouse teams such as Argentina, Germany and Brazil. Brands such as Dior, Delvaux and Chanel are equated with second-tier teams such as Portugal, England and Colombia.
The Chinese government is even doing its part to fan the flames of soccer fever of late.
While such charts are good for a laugh, they also appear to bridge an important gap – of helping female handbag lovers understand the soccer tournament, while their male counterparts learn the complex pecking order of luxury handbag brands. China's female luxury consumers are also tuning in to the tournament. Chinese web celebrity Papi Jiang, who is known for her partnership with the luxury watchmaker Jaeger-LeCoultre, proves this with her recent short web video. The viral rap/comedy skit, which purports that millennial women do love to watch the World Cup, has garnered more than 39,000 comments and over 14.6 million views since it appeared online.
The Chinese government is doing its part to fan the flames of soccer fever. President Xi Jinping has targeted millennials in an effort to strengthen the country's potential as a "world football superpower" by 2050. Resources have gone into developing interest in the sport and on bolstering playing talent; (China's national team is ranked a lowly 75th in the world behind Macedonia and El Salvador.) But is all of this hype having an effect on the tournament? It seems so, as tens of thousands of Chinese fans have flocked to Russia to watch the matches.
Want more stories like this? Sign up here. Follow STYLE on Facebook, Instagram and Twitter