This article was originally written by Jessica Rapp and was published on Jing Daily
Brands want to see results when they start working with key opinion leaders (KOLs), which is why it can be disheartening when expensive marketing efforts result in low sales generation – at least, at first glance.
The statistics are gloomy: when a KOL with one million followers on the microblogging website Weibo blogs about a product, they, on average, are going to gain organic views from about 10 per cent of their followers.
The KOL bubble: how brands can earn the trust of China's affluent demographic
About 1.5 per cent of them will click through and, out of this group, only 1.5 per cent will buy something right away, resulting in just 22.5 immediate sales.
For a brand to achieve a break-even return on investment (ROI) from immediate sales, the items sold must be priced at about 1,333 yuan (US$190).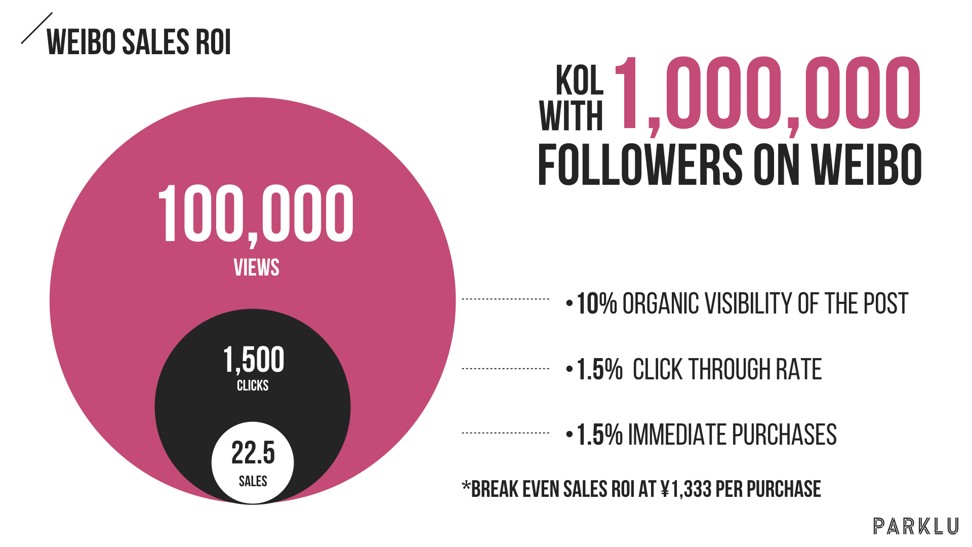 When a KOL with 75,000 average readers on WeChat posts about a product, about 10 per cent of them will click through, and out of this group, only 1.5 per cent will make a purchase right away, resulting in just 168 immediate sales.
For a brand to achieve break-even ROI from immediate sales, the items sold must be priced at 666 yuan.
Weibo vs WeChat: which do Chinese travellers prefer?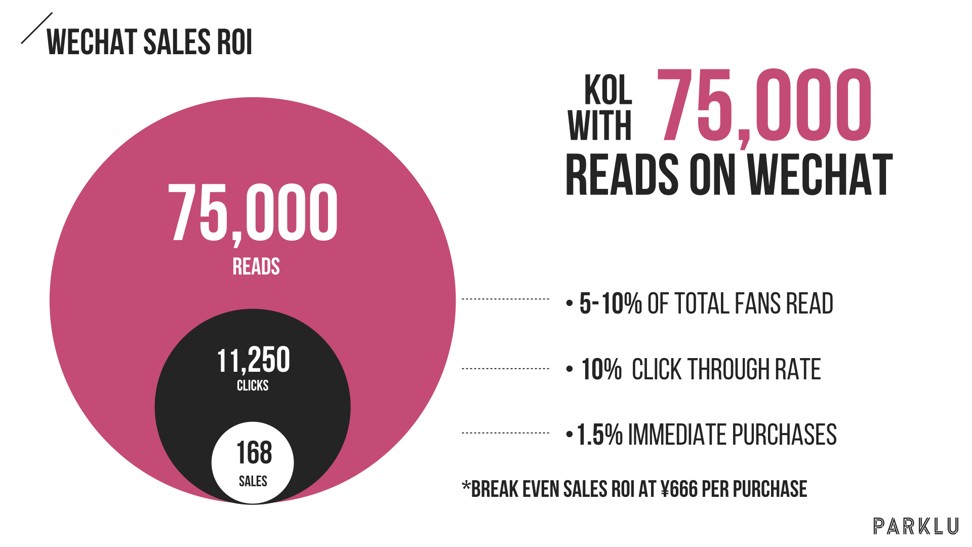 Yet these numbers are misleading.
At PARKLU – a platform connecting leading brands with more than 500 million consumers in China through influencer marketing – statistical evidence suggests that brands should be looking at the bigger picture.
Data shows there is a correlation between successful KOL campaigns and sales generation, but it depends on a number of variables and requires patient effort to tweak them over a series of collaborations with multiple KOLs.
Meet Mr Bags, the Chinese top digital influencer who's changing the way women shop
Measuring a KOL's impact
Measuring the success of an influencer campaign is not easy, especially when those immediate sales numbers look bleak.
Yet brands should keep a number of factors in mind when considering their sales targets in a KOL partnership.
Chinese consumers require eight touchpoints before they buy – compared with just four for Western shoppers, McKinsey China says.
Ultimately, it means there is an extremely low chance of a Chinese consumer making a purchase after a single point of exposure.
For most followers, a WeChat, Weibo, Douyin, or similar post serves as the source of inspiration, after which they might try to discover more about the product.
Korean Chinese blogger Sue Chang says she's not a KOL
The typical customer's journey in China can include seeking additional social proof from family and friends, search on e-commerce platforms – if the brand is well known – or the Baidu search engine, if they have never heard of the brand before.
Xiaohongshu is quickly becoming China's social search engine, playing an increasingly important role in many consumer goods categories for women between the ages of 18 and 35.
Yet in China, only 18 per cent of consumer goods products are bought online, so most purchases happen offline.
Offline purchases make drawing a direct correlation between KOL exposure and the final purchase impossible in most cases.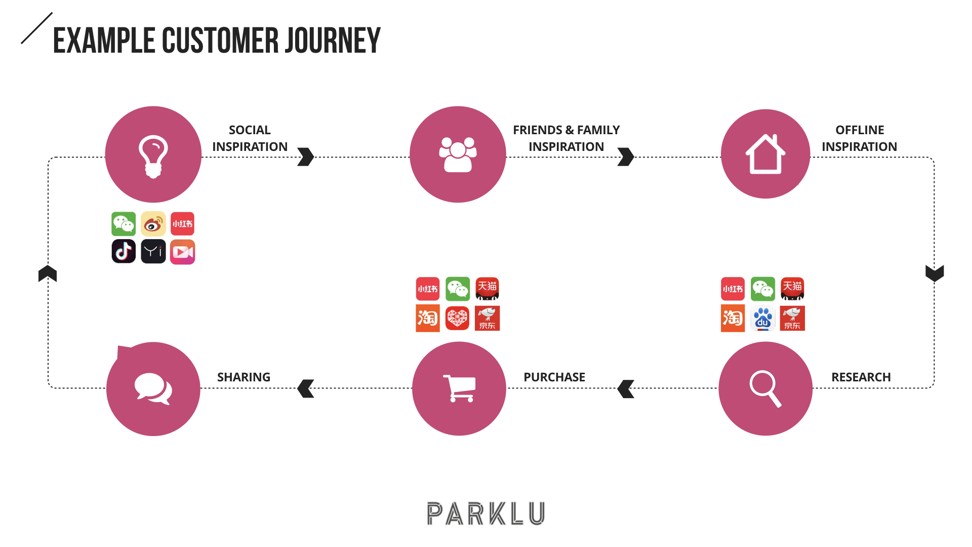 Thus, a brand's status matters when it comes to sales generation.
"If you're a well-established brand and no one needs to research you, you can expect a higher conversion rate as long as the product you're selling is accessible," says Kim Leitzes, CEO of PARKLU. Brands can't expect an immediate effect on sales if consumers are going to need seven more touchpoints along the shopping journey.
3 simple ways for brands to get ahead using WeChat's search engine
Not all products lend themselves to immediate sales generation.
More affordable products that are not necessities, yet consumers use constantly – such as cosmetics or fragrances – are going to lend themselves to a sales conversion that is easier to track.
Fast-moving consumer goods products, on the other hand, are more difficult to track because they're items in daily use.
So, for example, it's not likely that consumers would immediately buy a bottle of the soft drink Coca-Cola just because they saw a KOL post about it.
However, they might remember that particular KOL post when they head to the supermarket later on and they see the bottle of Coca-Cola on the shelf.
The purchaser of a pricey pair of shoes or a handbag can be even more difficult to track as these are often investments that take more careful consideration from the consumer.
Who are China's top influencers and key opinion leaders by commercial value?
Brands might mistake the accomplishments by fashion KOLs such as Mr. Bags as an example of direct sales conversion; after all, the handbag guru is known for selling an entire Tod's capsule collection of 200 pieces in just a few hours.
However, it's important to note that the sales that take place because of his posts are not really a measure of sales generated by the brand if one considers the actual percentage of flash sales on WeChat compared with the brand's entire sales target in the market.
Instead, these types of collaborations go towards building awareness to drive other sales – and their successes raise the media value of the KOL.
Not easy to track sales
Tracking sales conversion is not always straightforward.
"There are a number of reasons why it's hard to track conversion," Leitzes says.
"Let's say someone talks about a product in a WeChat article and then the natural behaviour of consumers is to go on Tmall [a Chinese-language website for business-to-consumer online retail] or Taobao [a Chinese online shopping website – both part of Alibaba Group, the owner of the South China Morning Post].
"So as a brand, how do you know that article drove the activity on Tmall? You don't."
Tmall has no digital connection with WeChat – most social commerce sales on the app are links to JD.com or run through WeChat mini-programs.
"So that's why if brands only look at direct sales, the challenge is obviously if they're running multiple methods then they need to isolate that KOL's specific activity," Leitzes says.
"Hence, we use the idea of media value as a way to benchmark what was my KOL activation today versus next month or last year and then looking at your relative impact on sales over a period of time."
China's 'Spicy Mums': the WeChat, luxury-spending powerhouses
What is media value?
When a brand assesses how a KOL collaboration might impact on its ROI, it's important to remember that the value of a KOL is one that is measured not simply by the person's reach, but by the KOL's ability to interact with a potential shopper at all points of the customer's journey.
Obviously, most hope that media value will be underpinned by sales generation value. And it can be, but, sales generation value can only be assessed on a case-by-case basis as every business will have different sales revenue.
Because the supply and demand economics active in advertising networks dictate the value of an impression, we can trust the average accepted impression value is a fair valuation as it is based on sales generation metrics.
The average impression value for any given social platform is what PARKLU uses to determine the media value generated by KOLs.
So what does media value mean for sales generation?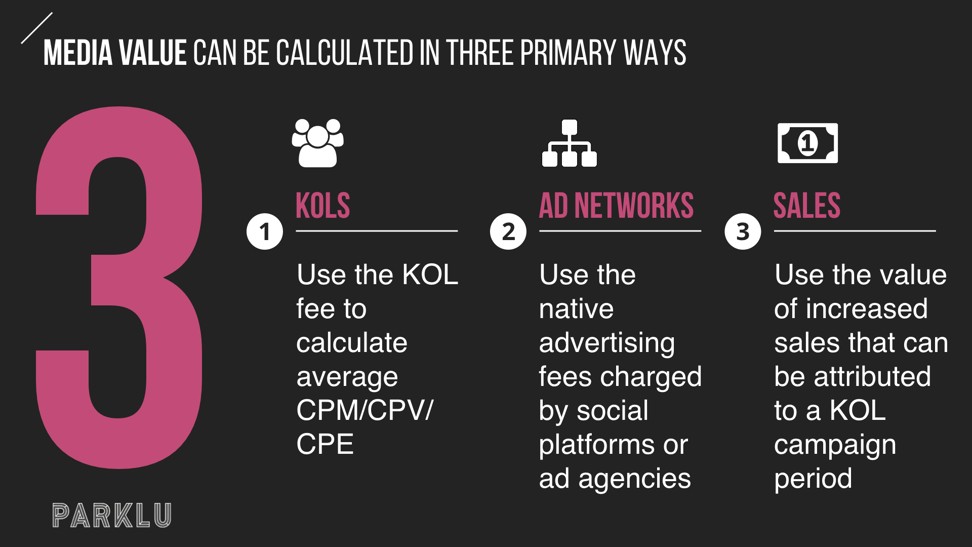 The 'takeaway' for brands
If a brand can understand the unique value of a KOL impression, they can refine predictive metrics that will lead to KOL initiatives which guarantee a return on investment.
China's big earners don't use WeChat for luxury, says report
"I don't tell brands that if you spend US$1,440 you'll make these many sales – it's just not that simple," Leitzes says.
"Ultimately, brands are working with KOLs not just for the sale, but they may want branded content or community growth, or there might be multiple objectives to what they're trying to achieve.
"Obviously, marketing is aimed at eventually leading to sales, so it takes consistency through working with KOLs every month, looking at the data to see what works and then understanding the context."
Want more stories like this? Sign up here. Follow STYLE on Facebook, Instagram and Twitter