A handful of Korean chefs work in overseas restaurants, but not many rise to the position of executive chef, especially at a young age. This is even less likely if the restaurant is corporately owned or is part of a corporate structure such as a hotel.
In Macau's Wynn Palace, one of the luxury casino hotels in the popular tourism destination, Korean executive chef Kim Min heads the Japanese restaurant Mizumi. And he's only 32.
"I was lucky," Kim said, carefully preparing a dish.
"It's rare, but not too unusual. I guess I was lucky with timing and opportunity," he said when asked why he thought he was appointed to the position. He has been heading the restaurant for a little over a year since its opening, which came in line with the opening of the hotel in September 2016.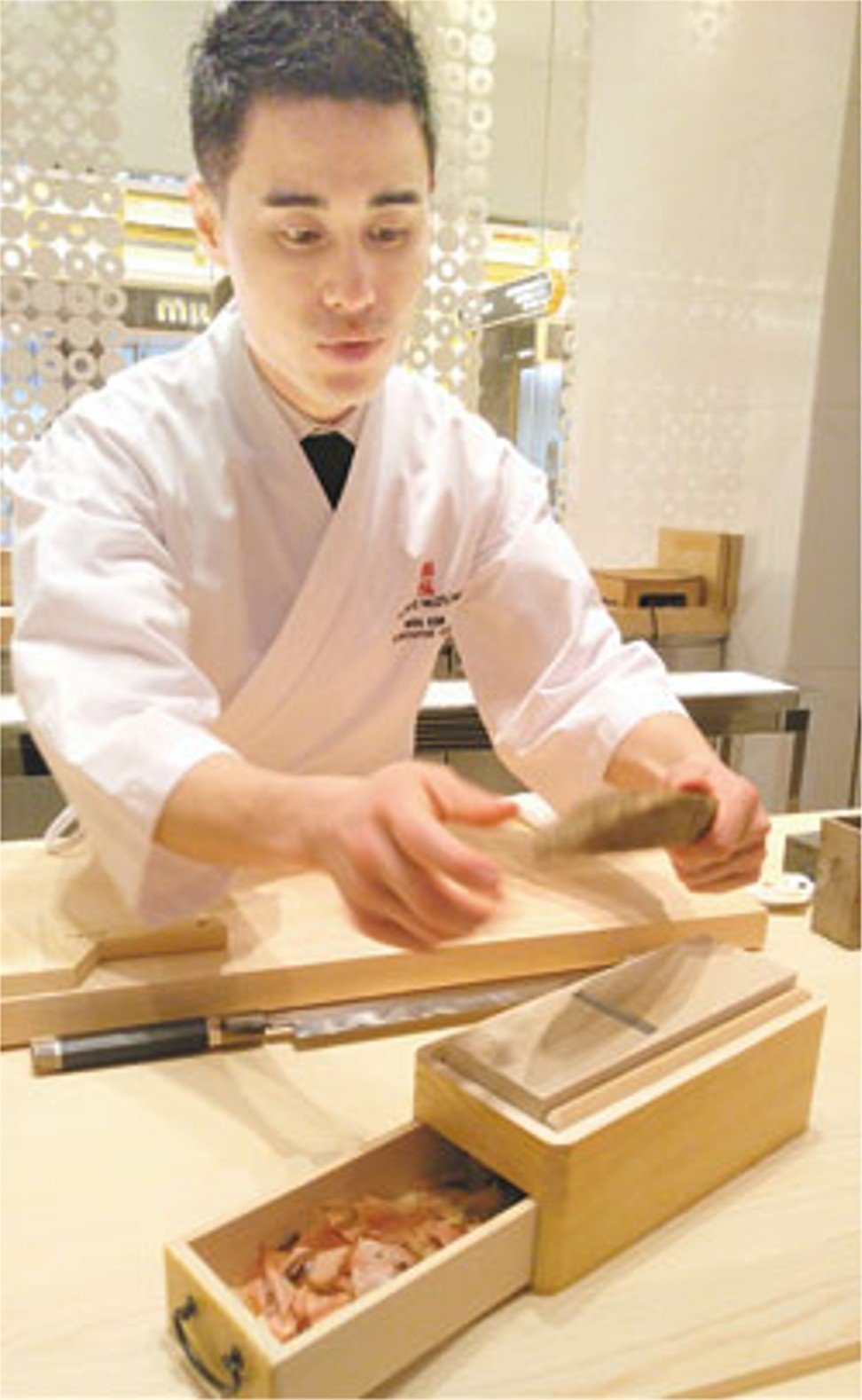 There are two Mizumi restaurants with exactly the same name at the two Wynn hotels located in Macau – one at the Wynn Macau and the other at Wynn Palace – a reason customers sometimes end up going to the wrong Mizumi. The one at Wynn Macau has received a Michelin star as it has been there longer, but the one at Wynn Palace has yet to gain a star.
How Gaggan Anand rose from a 'poor child of India' to become a world-famous chef
"There are cases where customers who wanted to see me end up at the other restaurant because the name is the same. I think the hotel is considering changing the name of this restaurant, and it should, but we'll have to see," Kim said.
He aims to win a Michelin star and to be listed on Asia's 50 Best Restaurants.
"I'm aiming for both, honestly. Timing wasn't on our side when we opened because the inspection period was over by the time we were ready and operating. But we'll be doing our best to be on next year's list," he said.
Having left his home country at the age of 19 and spending over a decade overseas, Kim speaks several languages including Japanese, English, and Chinese other than Korean.
Thailand reaches for the stars with new Michelin Guide
"I learned Japanese while working in Japan for two years at restaurants such as the Michelin-starred Ryugin and Narisawa in Tokyo. I honed most of my cooking skills there. Then I worked in Sydney for seven years at Tetsuya's, Sokyo and Sake Double Bay and went to Hong Kong for a brief period before moving here."
Kim barely sleeps as he arrives hours before the restaurant's opening time at 11am and leaves way past closing time at 11pm. Sometimes when important guests come in late at night, he serves them until 3am, as was the case during the Asia's 50 Best Restaurants event held in Macau late last month.
"We were thankful and honoured to be given the opportunity to participate in hosting such a large event," he said. He must have been exhausted, but he never lost his courtesy and smile.
Living in Macau, Kim feels the difference of hallyu playing a role in the way Koreans are treated overseas.
"Macau is a sought-after destination among Korean tourists these days. Macau is very friendly to Koreans because they like them a lot due to the impact of hallyu. If Hong Kong is favourable to the Japanese, Macau is definitely more so toward Koreans. The locals also travel to Korea a lot," he said.
Why temple food could be the next global wellness trend
Given his important responsibility at the hotel, it isn't likely for him to leave the hotel any time soon, but he does have plans to open his own restaurant in the coming years.
"I do wish to have my own restaurant one day. And if I do open one, I'm thinking of Taipei as the location. The Michelin guide recently entered the region and it's a popular tourism destination. But Korea is also an option because it does not yet have many Japanese kaiseki restaurants which might be a good opportunity for me."
Want more stories like this? Sign up here. Follow STYLE on Facebook, Instagram and Twitter
This story originally appeared in Korea Times