Much like Leonardo DiCaprio in The Great Gatsby, K-pop duo TVXQ threw a swanky party-like concert, leading a crowd of 22,000 through two three-hour concerts held at the open-air Auxiliary Stadium of Jamsil Sports Complex in southeastern Seoul on May 5 and 6.
Dressed in glitzy suits, TVXQ powered through one hit song after another at their solo concert titled "TVXQ! CONCERT _ CIRCLE _ #welcome", the band's first concert in Korea in about three years, following the duo's eighth Korean studio album "New Chapter #1: The Chance of Love" released in March.
Nine Korean celebrity moments that rocked 2017
"The theme of this concert is a welcoming party held at a luxurious mansion. Every set piece, lighting choice, costume, moving stage and fireworks display will spice up the show," Max Changmin said before the show on Sunday.
The concert's title, "CIRCLE", refers to the path TVXQ took to stand before their fans, returning to where they were after being discharged from military service, according to Changmin.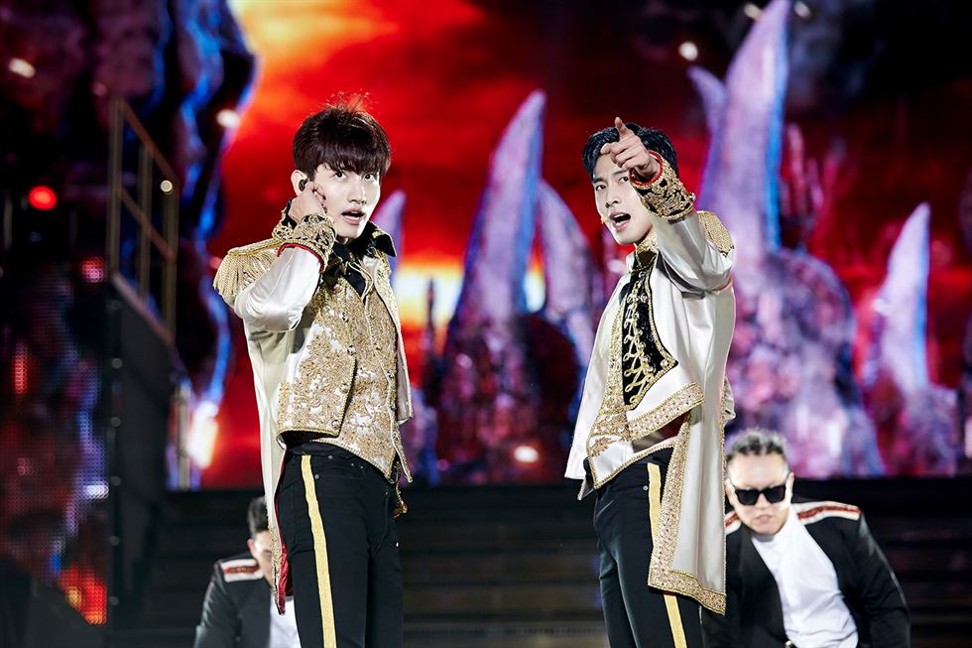 Despite cool weather after the rain, the duo – U-Know Yunho and Max Changmin – hyped up the crowd with musical-like performances and perfectly synched choreography as they belted out 26 songs from their first single Hug and big hit Mirotic to the more recent Vertigo and The Chance of Love. Every outstretched hand and dance move elicited screams from the audience.
Yunho and Changmin hit the notes flawlessly while dancing across the stage, on high-energy numbers such as Bounce and Keep Your Head Down and slower numbers such as Sun & Rain and Before U Go. The solo performances – Puzzle for Yunho and Closer for Changmin – kept audiences' eyes firmly on each of them.
Making their debut under the K-pop giant SM Entertainment in 2004, TVXQ became one of the most prominent K-pop acts in the 2000s. The original five-member boy band was the first Korean idol group to hold a solo concert at Japan's Tokyo Dome, but Jaejoong, Yoochun and Junsu left the group in 2009.
"With a 15-year career in the K-pop scene, we have gained a godlike and fiery image," Yunho said. "But we want to promote our friendly image with the eighth album. That's why we've been appearing on TV variety shows, such as I Live Alone and TVXQ's 72 Hours."
Nine Korean celebrities that tied the knot at The Shilla, home to fairytale weddings
Set to attract around 1 million fans during their live tour at the Nissan Stadium in Yokohama from June 8 to 10, TVXQ discussed their popularity in Japan and K-pop's global appeal.
"We feel a great sense of responsibility," Yunho said. "Thanks to BoA, who started the new generation of idols and popularised K-pop in Japan, we were able to [be hugely successful]. We'd love to pass this energy down to the next generation of K-pop idol groups."
A lot of international fans enjoyed the show, holding up cheering signs written in their own languages. Yunho thanked them by introducing himself in Japanese, Chinese, Thai and English.
"My heart is bursting! I'm so proud of them getting such ardent support from international fans and excited for their new album," said Vivian Oh, a Chinese fan.
How the K-pop stars hog headlines in 2017
"I think it's their handsome appearances and jeong that made me cheer for them for the last 10 years," a domestic fan surnamed Yoo said. Jeong is a Korean term for an emotion encompassing universal feelings such as attachment, bond and affection.
Want more stories like this? Sign up here. Follow STYLE on Facebook, Instagram and Twitter
This article originally appeared on Korea Times.