"Young and super-rich, a self-centred cold urbanite."
The popular South Korean television series 'What's Wrong with Secretary Kim?' features all the drama clichés.
It is a Cinderella story depicting the rise of a girl from humble beginnings to become the girlfriend of her boss – a good-looking man born to a rich family – after stealing his heart.
Despite the same old story, the romantic comedy has been a big hit since it premiered on June 6 on the South Korean cable network tvN.
Happy birthday Gong Yoo, K-drama's golden boy
According to rating company TNMS, the 11th episode, aired on July 11, attracted a 10.6 per cent viewership level – a rating two or three times higher than the dramas airing at the same time on the rival Korean networks MBC and KBS.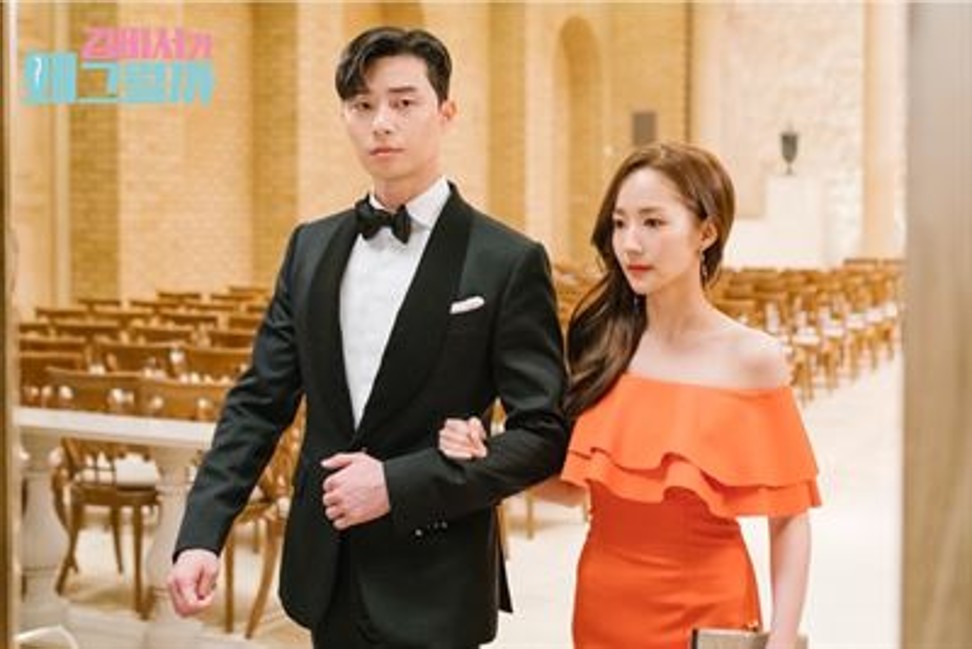 What makes this cliché romantic comedy so popular?
Critics said the male lead, Park Seo-joon, played a key role behind the "unexpected success" of the show.
"The romance between a super-rich guy and a Cinderella character is the same old story that has been duplicated in many previous television series," culture critic Ha Jae-keun said.
"As chaebol [large South Korean family-owned conglomerates] have been depicted as self-serving and greedy in most trendy dramas here, the success of the tvN drama is unexpected."
'Hollywood cinematography' on Netflix's 'Mr. Sunshine' makes South Korean TV drama a hit
Ha said the key factor that made it successful was Park's perfectly-judged performance as a modern-day prince.
Park plays Lee Young-joon as a cold, narcissistic vice-president of a company who is a top dog in the business world.
However, he has a soft spot for his secretary, Kim Mi-so, played by Park Min-young. She is the only person that Lee can fully trust and rely on.
This role has led Park to be labelled as the "king of romantic comedy" as he depicts the arrogant, rough character who becomes flustered and comical when confronted by love.
His inspired performance as a chic urbanite from a rich family has brought a breath of fresh air to the drama to save the tvN series from becoming lacklustre show.
Another critic, Jung Duk-hyun, said Park, while still young, was a seasoned romantic comedy actor.
"As he has experience in the genre, he knows how to play the super-rich, good-looking guy character," Jung said.
"His role in the Secretary Kim series is slightly different from the one he played before though.
"In this television series, he is more than a super-rich man who has sympathy for a girl from a humble background.
"He is like a benefactor, someone akin to the male character in the novel Daddy-Long-Legs.
What's hot in Korea: a round-up of K-pop, K-drama and Netflix news
Jung said Park's character was seen as confident and energetic, which made the Secretary Kim series trendier than his previous romantic comedies.
Park, 29, rose to stardom after the success of the 2016 drama She Was Pretty and has since been dubbed "the master of romantic comedy".
Since making his acting debut in 2010, he has played many different roles in the romantic comedy genre.
Park is well-known for his hard work and he is said to spend considerable time putting himself in the shoes of his characters.
His previous romantic comedies include Fight My Way and Kill Me, Heal Me.
Park's career is not limited only to romantic comedy roles. He has also appeared in Yoon's Kitchen, a reality show about local celebrities running a small restaurant on an island in a foreign country.
He played the role of a part-time employee on the show and built the image of the boy next door after mingling with clients of the eatery.
Park is the oldest of a family of three boys, and has always tried to set a good example in front of his younger brothers.
He said he was always worried they might copy his mistakes, if he failed to set a good example. As a result, he became quiet and reserved at home.
Interview: K-drama star Jung Hae-in keeps the focus on acting
"I still restrain myself from talking too much when I go home," Park said in an interview last year with The Korea Times.
"My parents would be surprised how lively I become when I am out with my friends.
"This is my weakness, but I have strengths, too. I have leadership qualities. I like to lead people and create a lively atmosphere during film shoots.
"When I am acting, everybody focuses on me. So when I become sensitive, people find it difficult to talk to me.
"When I am happy, the atmosphere at work becomes lively, too. So I try to force myself to feel good and act happy most of the time."
Want more stories like this? Sign up here. Follow STYLE on Facebook, Instagram and Twitter
This article was originally written by Kang Aa-young for The Korea Times.