Expert discussions can often tell art lovers a lot more about a show's exhibits. This year's Art Basel is packed with expertise, with 12 ambitious projects in its Encounter area, and over 20 panel talks in its popular Conversations section.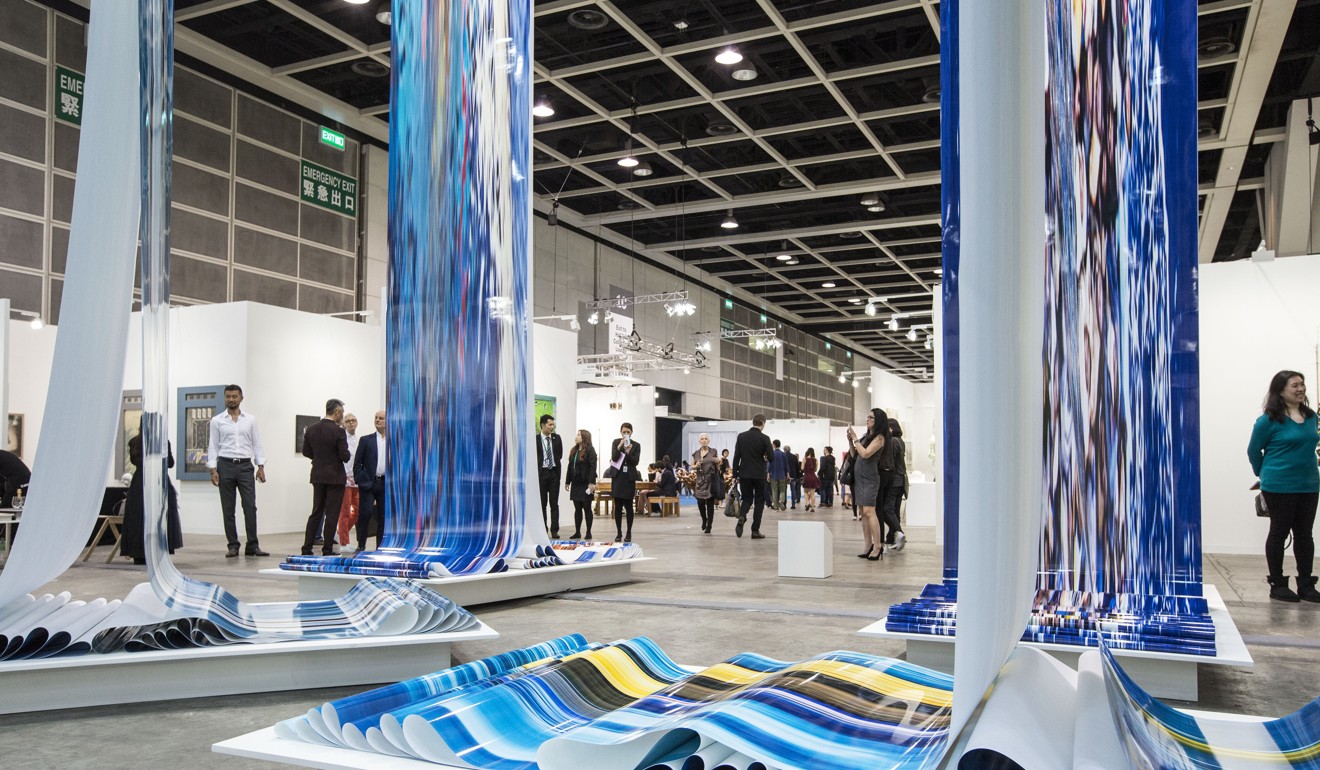 Curated by Alexie Glass-Kantor, Encounters lines large sculptures and installations by top international artists from 11 different countries and territories along the four boulevards of two floors of Wan Chai's Hong Kong Convention and Exhibition Centre (HKCEC).
Billionaire woos Asian collectors with US$35 million de Kooning at Art Basel Hong Kong
All of Art Basel is a stage in Ulla von Brandenburg's 7 Curtains, an installation involving a sequence of seven monumental stage curtains. Erwin Wurm's interactive One Minute Sculptures invites audiences to examine the art-making process.
Subodh Gupta of India's Start. Stop has received international attention for a large work that links a sushi-restaurant conveyor belt to an Indian lunch-box context. Meanwhile, Chou Yu-cheng's performance art piece blurs public and private space, the politics of hygiene, technology and labour.
The best of Art Basel Hong Kong: works and artists to look out for at the fair
Japanese artist Shinji Ohmaki makes an illusion of air as form in Liminal Air Space-Time, and dissolves a once-solid object it into a kinetic sculpture. His compatriot, Toshikatsu Endo, displays Void – Wooden Boat, Hong Kong, an 11-metre boat carved from a single timber soaked in tar.
Chilean artist Ivan Navarro debuts Compression, in which he turns the Earth's surface into a giant cube, and asks whether globalisation delivers a level playing field for everyone.
Art Basel's Conversations section is a more diverse forum for the discussion of key issues in the international contemporary art scene. Its panels include artists, gallerists, curators, critics and other cultural players who can offer visitors new levels of appreciation of virtually every aspect of art.
Programmed by Stephanie Bailey, Conversations starts on March 28 with the highly anticipated discussion, "The State of the Market: A Review" with Clare McAndrews, the founder of Arts Economics in Dublin. Newcomers to the art world might enjoy "The Evolving Collector: Collecting as a Beginning", a group debate later that afternoon featuring respected collectors and gallery owners. The day's most provocative discussion could be "Nobody Ever Asked Me: Bai Ling and Sophia Al-Maria", featuring the star of the London artist's film, Mirror Cookie.
5 of the world's best art hotels
Other talks include contemporary Chinese artists from Hong Kong, Taipei and mainland China debating "How Contemporary is Ink? : The Weight of Tradition". The administrative economics of art is also examined in the discussions entitled "Working Models: Developing Gallery Structures"; "Curating in Context: Making Exhibitions Work", and "Automated Landscapes: Architectures of Work without Workers".
Meanwhile, "Feminist Aesthetics?: Movements and Manifestations" negotiates the gender politics of art, and "Chin(A)frica: An Interface" highlights the growing continental exchange between the developing nations.
Questions about journalistic existentialism are expected to be raised in "Art Criticism and Critical Writing: Where to Now?", while discussions such as "Video Art: Social Content in the Age of Digital Distribution" and "The Singularity: Virtual Reality and Artificial Intelligence" highlight the use of technology in art.
The Art Basel Conversations panels start each day at 11am in the Auditorium on Level 1, Room N101B, HKCEC. Talks are open to the public and free of charge. Simultaneous translation is available in Mandarin, Cantonese and English.
Curator Li Zhenhua unveils ambitious Art Basel programme
This year's film screenings at Art Basel Hong Kong are the most ambitious yet. Curator Li Zhenhua has put together 59 films and videos. Many of the works are intrinsic artistic creations, there will also be films documenting the artistic process, and screenings inspired by the socio-political climate.
Short films and videos comprise a significant portion, and there are seven special screenings. Among the full length works is Days Gone By – Yu Hong (tomorrow, 7pm), a documentary by Wang Xiaoshuai, about contemporary Chinese artist Yu Hong and the rise of the Chinese art scene. Also of note is Time Spy (Thursday, 6.30pm), the visually surreal and expressionistic 3D stop-motion animation by Sun Xun which also uses traditional woodcut techniques.
On Thursday, Deep Gold by Julian Rosefeldt, which reinterprets Luis Buñuel's surreal classic L'Âge d'Or will be screened at 6.30pm, followed at 6.55pm by Mrs. Fang, Wang Bing's award-winning documentary of the last stages of the life of a peasant farmer who is suffering from Alzheimer's.
Another special screening is titled The Future Is in the Past (Saturday, 2pm), presented in collaboration with local video entity Videotage, which focuses on Asian new media video projects. The non-profit organisation is assisting to showcase works by Korean-American video pioneer Paik Nam-june. Four of his shorts will be shown alongside avant-garde shorts inspired by Paik.
Also featured is Qiu Anxiong: New Classic of Mountains and Seas III (2013-2017) (Wednesday, 8.45pm), the latest in Boers-Li's series of videos focusing on key sociological and political issues juxtaposed through ancient Chinese stories and mythic geography.
Short film remains a vital medium for imaginative artistic creation. There will be seven screenings of short films this year and each programme will tackle a different theme.
"The War That Never Was" (March 28, 4pm) is a selection of short films exploring geopolitical forces viewed through personal perspectives. It features films by Edgardo Aragón, Bae Yoon-hwan, Chang Chien-chi and Sutthirat Supaparinya. Perception and illusion illuminates "Looking For Mushrooms" (Friday, 4pm), presenting Bruce Conner's 1967 classic of the same name as well as works by Chen Xi, Fang Lu, Omer Fast, Lei Lei, Thomas Sauvin and Philipp Timischl.
"A Sense of Warmth" (Thursday, 4pm) incorporates 10 shorts exploring social relationships by Nevin Alada, Sven Johne, Laure Prouvost, Tsai Charwei and others.
"How Happy a Thing Can Be" (Saturday, 4pm) features stylistically playful video works investigating how physical objects and situations can determine an emotion and instil beliefs. The screening, which takes its title from Cécile Evans' video, includes works by Anna Maria Maiolino and Yuan Keru.
All screenings will be in Theatre 2 of the HKCEC, apart from slots in the Short Film programme in the Art Centre. Seats are available on a first-come-first-served basis.
Want more stories like this? Sign up here. Follow STYLE on Facebook, Instagram and Twitter