If Art Basel whets your appetite for inspiration, here are seven more exhibits to check out around town.
Art Central
The main event alongside Art Basel, Art Central has grown to host 102 galleries. With 75 per cent of exhibitors hailing from Asia-Pacific, this expo is the place to feast your eyes on the most prominent and emerging artists from the region. Highlights include Gallery Hyundai's presentation of works by leading Dansaekhwa figures, Chung Sang-hwa and Kim Tschang-yeul, who are known for their experiments with art materials as art itself. Contemporary Chinese artist Lv Shanchuan will be showcasing his social commentary with his distinct textured paint overlaid on canvas built on newspaper. Regional talent while abundant, big international names include Damien Hirst and Michael Wolf where Hirst's pharmaceutical sculptures of medicine bottles, syringes and capsules from his 2014 "Schizophrenogenesis" series will be featured. Stretching over the Central Harbourfront with an alfresco area supplied with food and drink, Art Central may prove to be a casual and relaxed way to appreciate art.
HK$230 (advance), HK$270 (at door). Today until Sunday, Central Harbourfront, Central.
BMW to present Art Car #18 by Cao Fei at Art Basel Hong Kong
Harbour Arts Sculpture Park
This exhibition embodies the spirit that art should be appreciated by all walks of life. Stretching over the Central and Western District promenade and Wan Chai and coined a "museum without walls", passers-by can enjoy stunning installations with Victoria Harbour as a backdrop. It's curated in collaboration by Tim Marlow, artistic director at the Royal Academy of Arts, and Fumio Nanjo, director of the Mori Art Museum, so you can expect some extraordinary pieces on display. Marvel at Yayoi Kusama's iconic Big Pumpkin or Gimhongsok's Bearlike Construction as you jog or walk past during your lunch break. Access is free, and there are workshops and tours.
Until April 11. Central and Western District Promenade and Wan Chai.
HK Walls
More like an extended block party, HK Walls is a nine-day festival where street artists from all over the world descend on Hong Kong to paint the city red – or any other colour they like. There will be a different artist painting on the streets on each day, leading up to an all-day Art Crawl on March 31. The Art Crawl will start at midday at Burger Joys in Sai Ying Pun where live DJs and free beer will set the scene for the artists at work, and after three hours the party will move to Makha art space in Sheung Wan.
The last stop of the festival will be at the HK Walls 2018 hub at 2/F, Hilltop Plaza, on Hollywood Road where participants can watch more art and enjoy more food and drink. So if you see street artists Cinta Vidal, Storm, Neil Wang and Alex Senna painting up a storm in your neighbourhood don't be alarmed – ask if they need a hand instead.
Until Sunday, Mural locations – Central, Sheung Wan, Sai Ying Pun. Hub venue: 2/F, Hilltop Plaza, 49-51 Hollywood Road, Central.
What to expect at Art Basel Hong Kong 2018: huge installations and provocative discussions
SMALLER EXHIBITIONS THAT ARE WORTH A LOOK
Konstantin Bessmertny at Mandarin Grill + Bar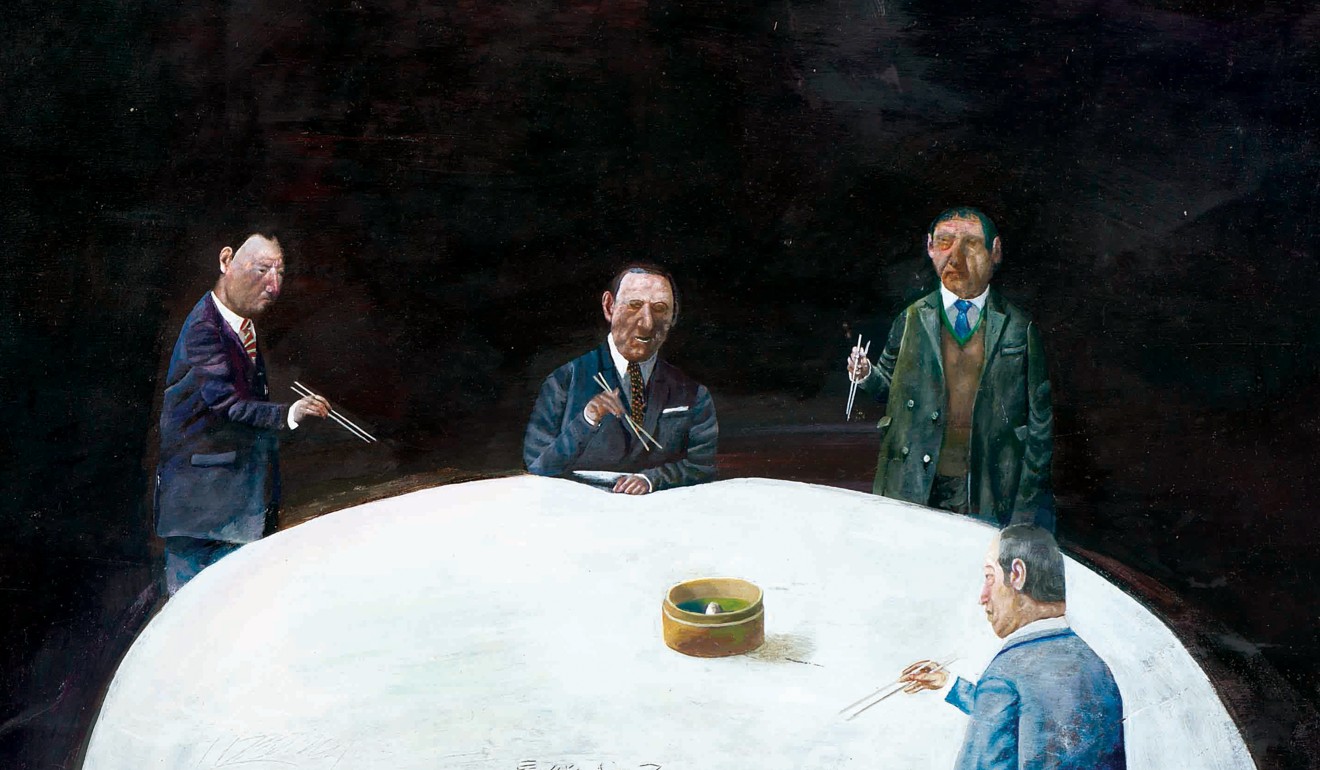 Up until March 31, Michelin-starred Mandarin Grill + Bar will host the artworks of Konstantin Bessmertny. Bessmertny is a contemporary artist known for his subtle satire and use of cultural references.
All patrons of the restaurant can enjoy the exhibition.
1/F, Mandarin Oriental Hong Kong, 5 Connaught Road Central, Central.
Spiral Scratch in Pacific Place
Scottish visualist Jim Lambie will take over Garden Court at Pacific Place until April 8 with an installation dedicated to the space at the luxury mall.
Free. Pacific Place, 88 Queensway, Admiralty.
5 must-see artistic interpretations of luxury during Hong Kong Arts Month
I Was Not Invited (The Organ Grinder's Canto) at Duddell's
Duddell's is doing something special this year for Art Month.
It will host a two-night performance art extravaganza with Leila Hekmat on March 29 and 30.
Send an email to [email protected] to reserve your seat, but if you can't make it don't worry, the costumes and photographs of the night will be on display.
Until June 28. 3/F & 4/F, Shanghai Tang Mansion, 1 Duddell Street, Central, 2525 9191.
Blooming at the Junction at the Korean Cultural Center
The Korean Cultural Center, which opened its doors at PMQ in January this year, is hosting works by 19 celebrated contemporary artists from South Korea until March 31.
Free. 6/F ‒ 7/F Block B, PMQ, 35 Aberdeen Street, Central.