Heading to Europe's big cities after the Christmas markets have died down and before the flowers bloom is like wearing a suit on an overnight flight: People mostly tend to do it when they're on business. From January to March, leisure travelt shifts from urban hubs such as Amsterdam and Berlin to Alpine hangouts like St Moritz, Lech and Megève.
But European cities can be magical in winter, so why not do both? Pairing the delights of experiencing a culture capital or historical site with the adrenaline of a few glorious days on the slopes is a travel twofer. Here are five such combos you might never have considered.
Go to Tbilisi … and ski in Gudauri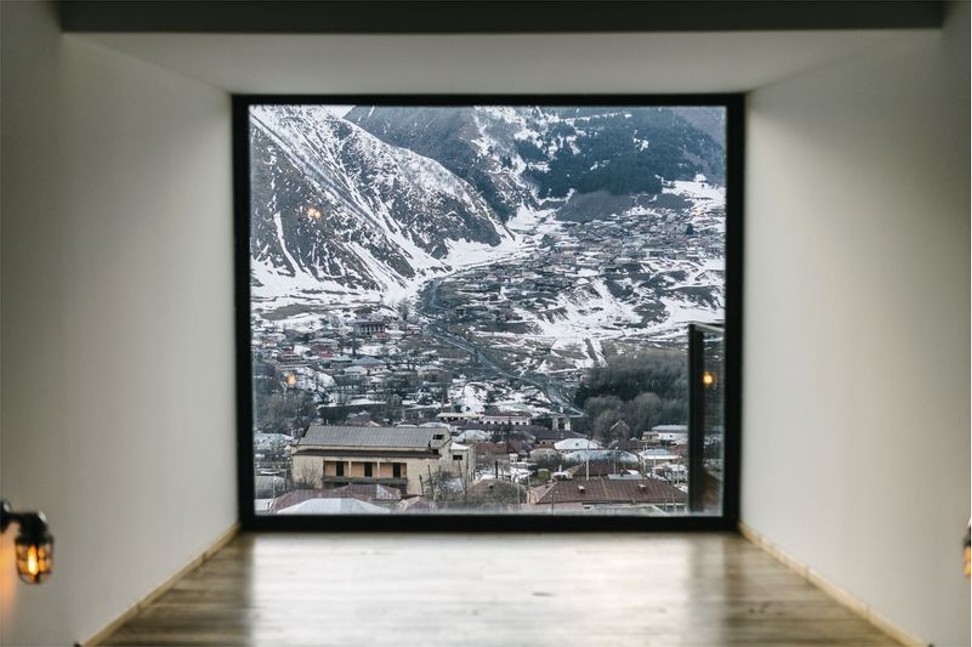 Is there a buzzier capital in Europe than Georgia's Tbilisi? Travellers from around the globe have been captivated by its head-turning mix of old-world sights (like the fourth century fortress that lords over the city), unique culinary traditions, and Soviet-era architecture. While you're there, check out Fabrika, an old sewing factory that now houses bars and artists' studios – it's a great example of Tbilisi's booming art scene. Or find out why this is Eastern Europe's hottest party city with late-night jaunts to Bassiani (abandoned pool turned techno hub) and Club Mtkvarze, on the Mtkvari River, offering an eclectic music selection, from hip hop to electronic.
Make the Maldives your luxury getaway this winter
Despite all its draws, Tbilisi is a compact city you can explore in a couple of days, which means it's easy to fit in the two-hour drive north to Gudauri, one of Europe's most exciting new ski areas. With only 30 miles (48km) of skiable terrain and seven lifts, it's not the sprawling winter wonderland of your dreams, but it is Georgia's highest and largest resort, with excellent cat skiing, heli-skiing, and night skiing options. This year an almost 5-mile (8km)-long cable car route will connect Gudauri to neighbouring Kobi, creating a unified ski area.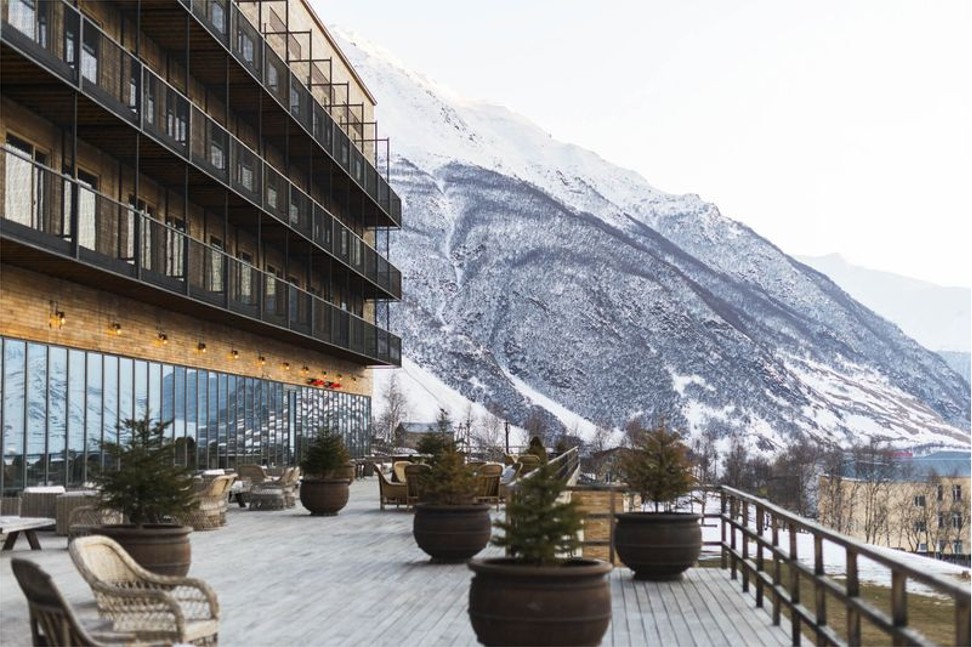 Where to stay: Rooms Hotels is a Georgian hospitality company that specialises in hipster-approved accommodation with mix-and-match design, up-and-coming art, and internationally inspired, sustainable dining (the one in the capital is new American and serves a fabulous Georgian steak fillet). Conveniently, it has great hotels in Tbilisi and the mountain town of Kazbegi. But if all you want is one great powder day, spring for a helicopter transfer from the capital to the slopes. It's only a 30-minute ride, so you can hit first chair and get back to town in time for a pre-dinner massage.
Go to Cappadocia … and ski on Mount Erciyes
The otherworldly rock formations called "fairy chimneys" in Turkey's Central Anatolia region have seduced many travellers away from Istanbul and Bodrum. They're just one feather in Cappadocia's hat. There's also Karanlik Kilise, an 11th century church decorated with stunning biblical frescoes; the fascinating Goreme Open Air Museum, a Unesco World Heritage Site featuring several examples of rock-cut architecture that eventually became Byzantine monasteries; and the city's famous cave dwellings, some of which have been converted into hotels.
Luxury operator Travel Atelier can organise everything from hot air balloon rides above the snow-blanketed chimneys to a day of skiing on a dormant volcano: Mount Erciyes is one of the Turkey's largest and oldest resorts, with 34 runs that peak at 12,000 feet (3,657m) and spread across 70 miles (112km).
10 Instagrammable travel experiences you can't miss
Where to stay: Argos in Cappadocia is centrally located in the village of Uçhisar, making it convenient for the city's sights and Mount Erciyes, which is an 80-minute drive away. The property sums up all the region's highlights. It's surrounded by old-world vineyards (the hotel stocks an impressive cellar of Anatolian wines from 37 acclaimed producers); it has a cave suite with its own private pool; and its six mansions are linked by ancient tunnels and caves.
Go to Lucerne … and ski at Klewenalp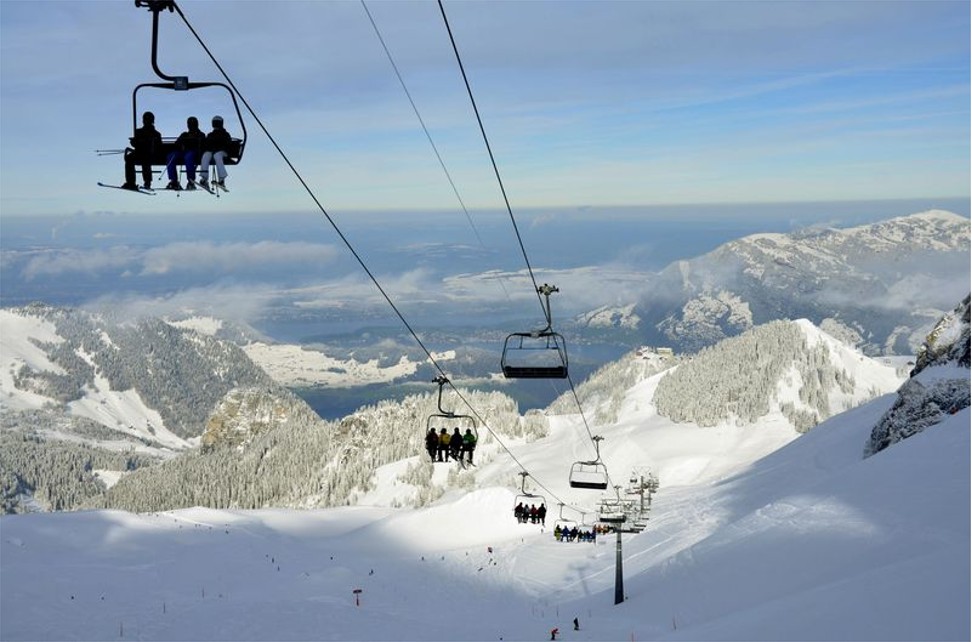 Switzerland is so small, mountainous, and well-connected that any of its charming cities will offer swift access to a variety of ski resorts. For art lovers, the picturesque lakeside town of Lucerne is an especially good choice. Its iconic Chapel Bridge is said to be Europe's oldest wooden bridge and is covered in beautiful medieval paintings; the Rosengart Collection includes masterpieces by Chagall, Cézanne and Picasso; and the diverse dining scene includes the lakefront Michelin-starred Prisma, where you can sample casual, fine-dining meals of curry lobster cream soup and scallops sautéed in brown butter.
Where to stay: The reopening of Bürgenstock Resort on Lake Lucerne's southwestern bank has given the destination renewed buzz. The 148-acre (60-hectare) estate, previously the playground of A-listers Sophia Loren and Audrey Hepburn, has been given a facelift with the addition of two new places to stay: the marble-clad, five-star Bürgenstock Hotel and the wellness-focused Waldhotel, which is slated to become the country's premier medi-spa. Multiple ski resorts can be found in the Bürgenstock's backyard, but Klewenalp may be your best bet. Its challenging runs make you feel as if you're descending straight into Lake Lucerne. (For something gentler, try Melchsee-Frutt, a family-friendly option 40 minutes away that has flatter slopes leading to a frozen lake.)
Go to Oslo … and ski in Oslo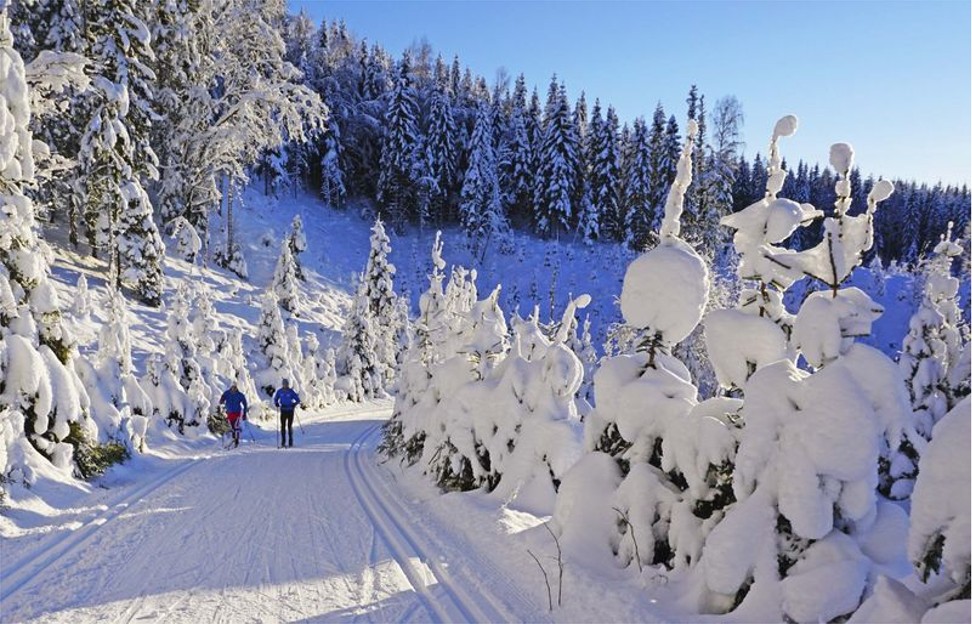 It took a long time for Oslo to develop the must-visit reputation its Scandinavian sisters Stockholm and Copenhagen have been enjoying for years. But cutting-edge architecture, art and restaurants have finally put the city in the spotlight. Be sure to visit its two spectacular sculpture parks. The one dedicated to local artist Gustav Vigeland is the world's largest, while the Ekebergparken features works by Rodin, James Turrell and Marina Abramovic. That might whet your appetite for some of the city's most lavish meals, like a 20-course feast paying homage to the Norwegian wilderness at the three-Michelin-starred Maaemo. (Chef Esben Holmboe Bang's greatest hits include bone-in skate with salted butter and king crab glazed with buckwheat and spruce.)
Dream holiday at luxury resort in the French Alps
If you want to experience Oslo as a local, take the 30-minute subway ride to Oslo Winter Park. With 18 trails, 1,250 feet (381m) of vertical drop, and 11 lifts, the park is small but impressive: From the top, you get fantastic city and mountain vistas. Added features, including Europe's only public superpipe and night skiing, elevate the ski experience.
Where to stay: Oslo has few choices in the way of luxury hotels – but its best offerings are world-class. Pick the Hotel Continental, a grand dame that reopens this week with most of its 153 rooms and suites thoroughly refreshed. (The owners added more art, including photographs by Solve Sundsbo, and custom-made furniture from Italy.) It also organises ski packages that include lessons, private tours of the Ski Museum located at the base of the city's landmarked ski jump, and helicopter excursions over the city.
Go to Ljubljana … and ski in Vogel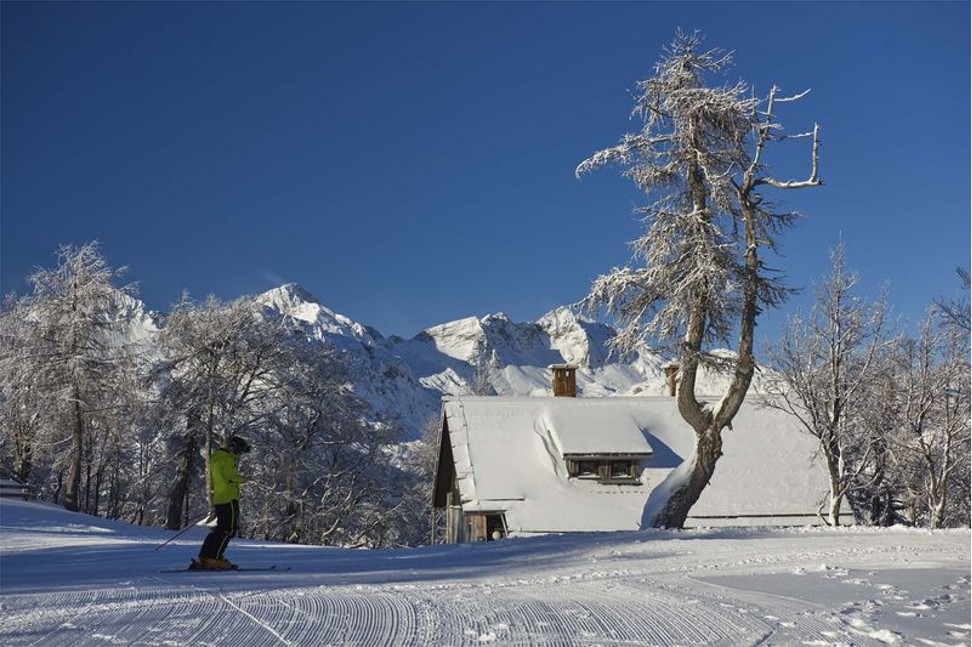 Slovenia's jewel box of a capital offers a picturesque medley of Baroque buildings, plenty of green space, a pedestrian-only old town, and a 15th century hilltop castle. Balance the classic with the contemporary by visiting Zoofa, a women's wear boutique stocked with independent (and all-local) labels, and Metelkova Mesto, a graffiti-covered army barracks that now houses an array of art galleries and clubs. Thirsty? The menu at Suklje, a wine bar in a whitewashed villa, runs the gamut of Slovenia's surprisingly vast viticulture (the country has more than 28,000 wineries) – from crisp sparklings to acidic whites.
Skiing requires a two-hour drive to Vogel, largely considered by locals to be the country's best resort. It's a spectacular place to ski. The mountain is inside Triglav National Park, and its eastern edge is completely untouched by human development. That doesn't mean the mountain is lacking in infrastructure: Vogel has more than 190 acres (77 hectares) of pistes, linked by nine lifts. After a few runs, warm up at the Orlove Glave Mountain Inn for a bowl of ricet, a fortifying soup with barley and local sausage. Assuming you've hired a driver for this day trip, you'd be wise to explore the restaurant's deep list of Slovenian schnapps.
Where to stay: The InterContinental Ljubljana, in a soaring glass tower just outside the old town, is the capital's first modern hotel, having opened in August 2017. Rooms have a residential feel and access to a rooftop restaurant serving classic Italian from chef Alfredo Russo. Post-ski day, make a beeline for the stunning 18th-floor spa, with its sauna and a zero-edge indoor pool overlooking the Alps.
Want to prioritise the skiing with a side of culture?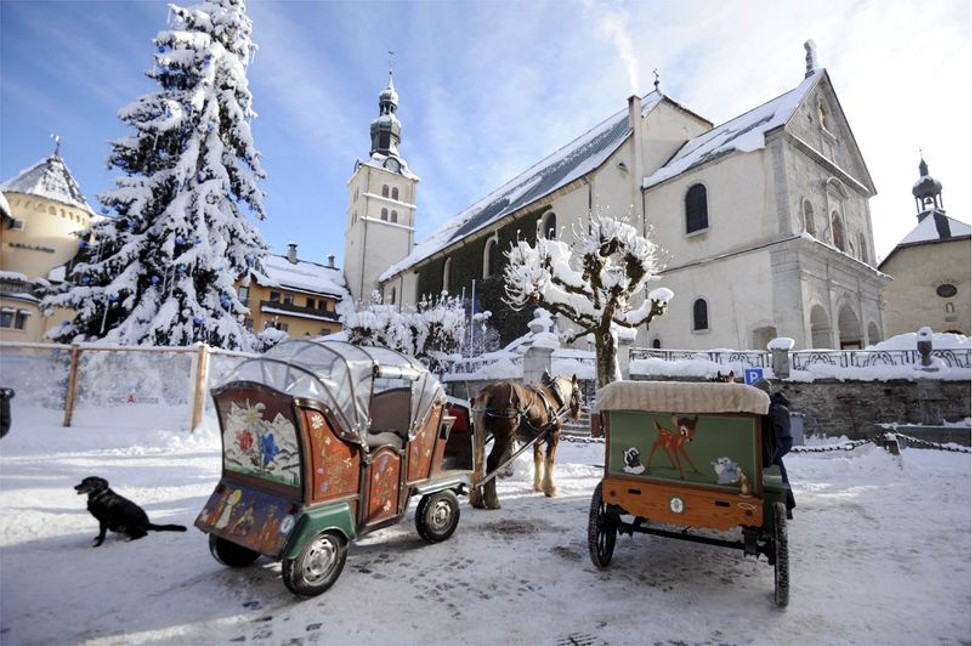 Consider flipping the switch at these city-adjacent resorts. You can ski the Dolomites in northern Italy, with Venice just a few hours' drive away; it's also easy to connect with the wineries in Trentino or with the culturally fascinating towns that dot South Tyrol (a region with its own language and cuisine). In Austria, St Anton am Arlberg has just been linked with several neighbouring resorts, including Lech, and can be explored in tandem with Innsbruck. Or plan stops in Geneva or Zurich on your way home from Megève or St Moritz, respectively. Both cities are compact, so you only need a short window of time.
Want more stories like this? Sign up here. Follow STYLE on Facebook, Instagram and Twitter