How Chef Mauro Colagreco is reinventing French cuisine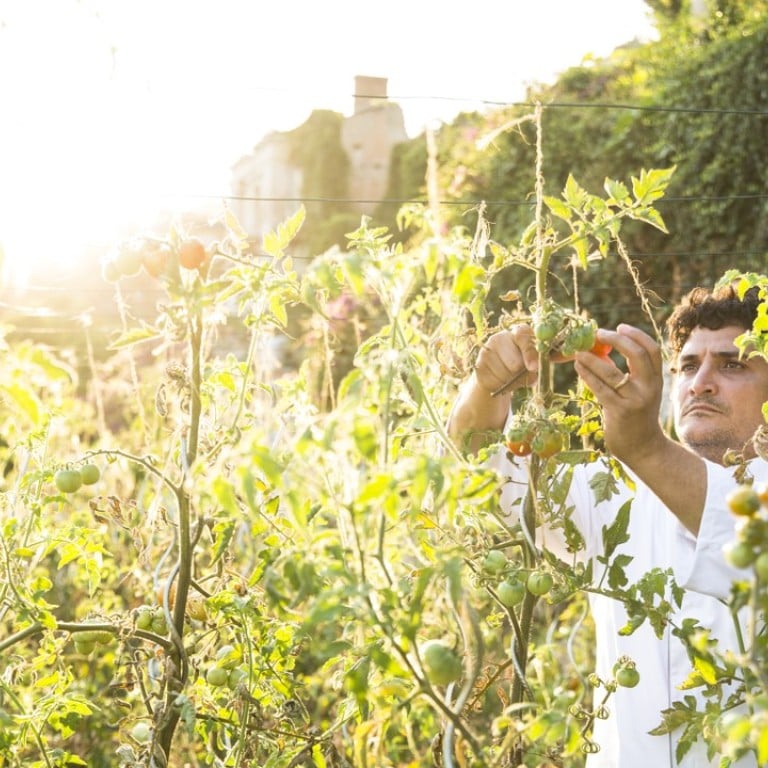 Perched on a jagged cliff that rises above the palm-fringed Mediterranean Sea in Menton, France, Mirazur is a restaurant that the academy of the World's 50 Best Restaurants considers the "best restaurant in France". It does not serve French cuisine per se and neither is its chef-owner a native of France. But as the ancient Roman poet Virgil so aptly put it, love conquers all.
"I love France and I consider it my second home," says Mauro Colagreco, chef-owner of Mirazur, whose restaurant empire expanded to include Azur by MC (Beijing) in 2016 and Grill 58° (Macau) this year. His restaurant in the picturesque French Riviera is ranked No. 4 on the World's 50 Best Restaurants list (2017) and is the list's highest rated restaurant in France.
"This country enabled me to find my path to what I love most and to open up my own place 12 years ago," says the native of Argentina, who first arrived in the port of La Rochelle to attend culinary school in 2001.
"My mentor from culinary school told me that if I want to learn from the best, I must consider going to France."
Colagreco dropped out from the school of economics sciences during his sophomore year at La Plata University to pursue his love for cooking.
The rest, as they say, is history.
France lost no time in reciprocating the affection of this Argentinian-born chef. A year after its debut in 2006, Mirazur was awarded its first Michelin star and the restaurant gained its second star in 2012, which it has maintained till now.
In 2009, Colagreco became the first non-French chef to be awarded "Chef of the Year" by Gault Millau, which praised the chef for his unique "new natural" style of cooking.
Not bad for a South American who opened a restaurant on French soil with a€US$25,000 loan from his father-in-law.
FOUR magazine once cited Mirazur's cuisine as one that "defies categorisation" but its good-natured chef-owner simply puts it down to three words – seasonal, bounty and local.
"I only use local products. In Menton, this means Cote d'Azur and Liguria," Colagreco says. Given the restaurant's location on the border of France and Italy, the chef has access to abundant produce from Italy, namely green beans from Ventimiglia, gamberonis from San Remo and asparagus from Albenga. From France, he buys cherries from Gorbio, great goat's cheese, Menton lemons and fish from a master fisherman, one of the last remaining in town.
"My inspiration comes from the magnificent area that surrounds Mirazur. We are lucky to be right in between sea and mountain, between the French Riviera and the Italian Riviera – the produce speaks for itself."
A dish that reflects Menton's terroir is Foie Gras, Betterave, et Citron de Menton confit that Colagreco prepares with jam crafted from recognised European label Citron de Menton. "Menton lemon has a thicker white peel, less acidity and no bitterness," says Colagreco and, as if to prove this point, he also serves a Tarte au Citron in Mirazur to fly the flag of his adopted hometown.
So focused is Colagreco on getting the produce right that he has five people tending to two gardens that supply about 25 per cent of his restaurant's daily needs. Apart from a vegetable garden just a few hundred yards away from the restaurant, he also has an orchard and herb garden on the basement level of Mirazur, where a large variety of herbs and citrus trees – including the famous local lemon called Citron de Menton – and the area's biggest and oldest avocado tree thrive.
Collectively, he has access to 150 types of herbs and edible flowers as well as 35 tomato varieties from his own gardens.
"Tomatoes are somewhat of a passion for me, they represent summer, the sun, the heat and I pride myself in adding a new variety to my garden every year," Colagreco says, reminiscing at the same time about visiting the fields and picking sun-ripened tomatoes with his Italian paternal grandmother during his childhood in Argentina.
"I can still picture how Grandma used to slowly simmer a beautiful tomato sauce for the fresh pasta dishes, which she would make from scratch."
As we touch on his motherland, Colagreco's heart softens.
"The country of Argentina and their cuisines are incredibly close to my heart. I grew up enjoying the flavours of Argentina and have many fond memories but there is still progress to be made," Colagreco concedes, adding that his country is a diamond in the rough waiting to be polished to "create something beautiful".
"I take some inspirations from Argentina but I always make my cuisine my own."
Luckily for us, Colagreco's presence in Asia is about to grow bigger. By early 2019, the ambitious South American chef will cut the ribbon on a new eatery in Bangkok.
For now, his concept for this Southeast Asian debut remains anyone's guess.
Mauro Colagreco's milestone
2006
Opens Mirazur in Menton, France
2007
Receives first Michelin star
2009
Mirazur enters the World's 50 Best Restaurants list at 35th
2009
Awarded "Chef of the Year" by Gault Millau
2012
Receives second Michelin star
2013
Opens Le Siècle by MC in Nanjing
2015
Opens Grand Coeur in Paris
2015
Opens Carne in La Plata, Buenos Aires
2016
Opens Azur by MC in Beijing
Want more stories like this? Sign up here. Follow STYLE on Facebook, Instagram and Twitter

Argentinian-born chef's restaurant in France named the best in the whole country