WHAT?
It is impossible – can this be meat?
Nope, it is actually Impossible Burger.
You have probably heard of how this burger "bleeds", but does not come with a patty made of meat. And you might know that the company behind it, Impossible Foods, in the United States, has the financial backing of Hong Kong tycoon Li Ka-shing and Microsoft co-founder Bill Gates.
Did you know then that it is 100 per cent vegan – yet has the texture and taste of beef?
5 best vegan menus that meat lovers in Hong Kong will also enjoy
Now you will probably be wondering, what is it made of?
Well, wheat protein, coconut oil, potato protein, and heme – a unique protein block that Impossible Foods concocted via top-secret lab experiments and fermentations so everyone can have their B12, a vitamin that is widely said to be harder to come by when eating a vegan diet – in all this plant-based goodness.
So, thanks to Impossible Foods, eating out healthily is totally possible now – and you will not even miss meat (trust us).
These are the few of the places that have been smart enough to catch on the idea of serving the lab-grown plant-based meat alternative!
5 restaurants in Hong Kong for authentic Malaysian and Singaporean food
WHERE?
1. Beef & Liberty
Chef Uwe Opocensky's exclusively designed dishes, the Impossible Thai burger and Impossible chilli cheese fries, will be available until June 17 at its Lan Kwai Fong and Stanley outlets – as well as Hong Kong International Airport for all those jet-setters.
And hey, psst, they are also handing out a second burger for free every Monday whenever you buy a burger and drink. So shimmy over while you can!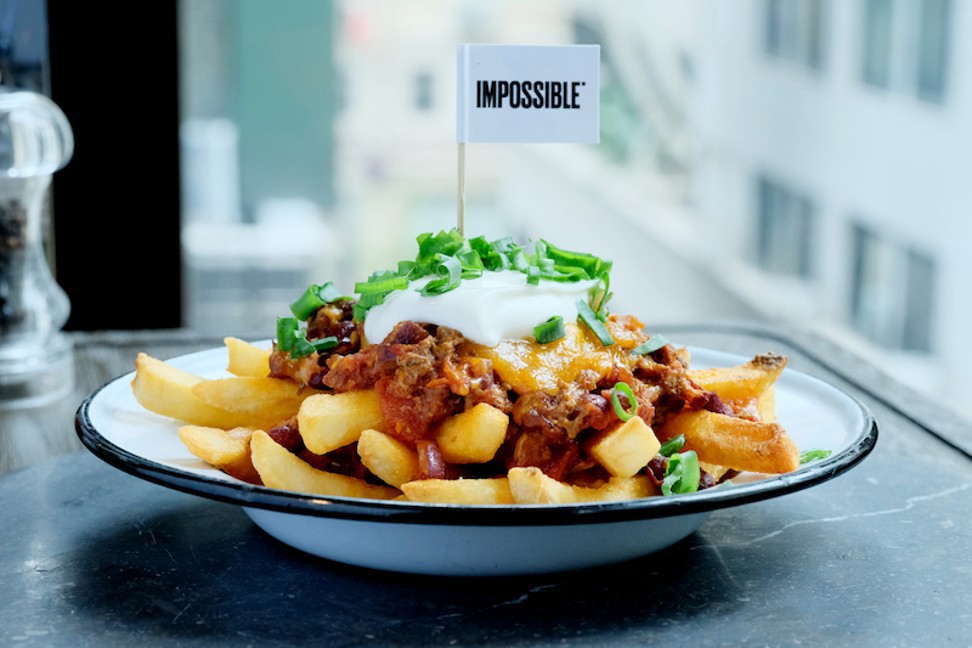 Vegans take note though – the fries include Cheddar cheese and sour cream, so all things considered, they are not vegan.
Five vegan influencers leading green movement into China
2. Hotel ICON
The first hotel outside the United States to hop onto the Impossible bandwagon, Hotel ICON, in Tsim Sha Tsui, is pushing out some seriously diverse dishes to further its agenda of promoting sustainability and healthy food sources.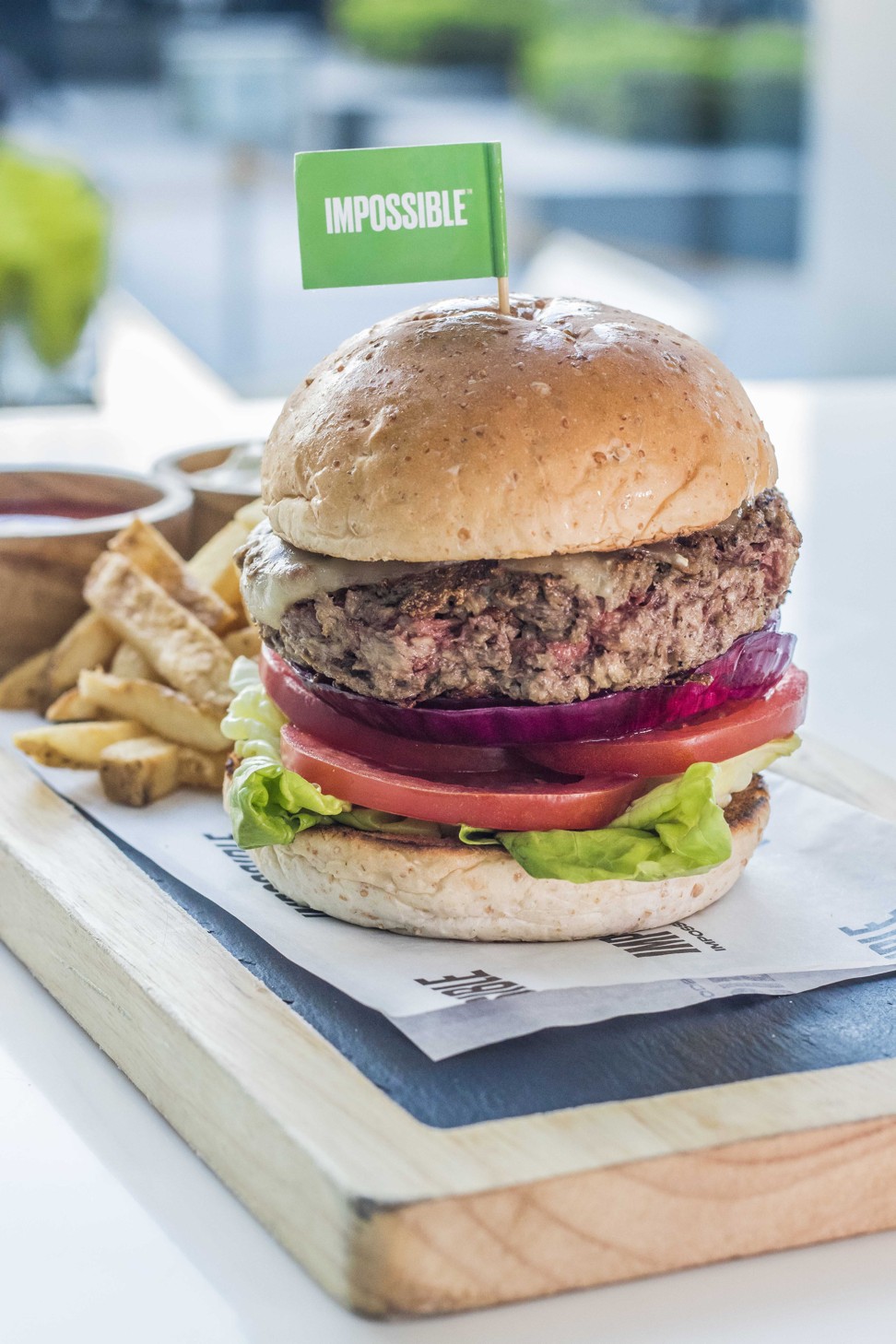 Its link with Impossible has flourished ever since the hotel's sophisticated brasserie, GREEN, started serving the ICON Impossible Burger (again, vegan red alert: the bun and sauce are, unfortunately, not vegan).
It has now expanded its offerings to include a multinational buffet menu at The Market restaurant. Dishes include oven-baked breakfast-herbed sausage, steamed bun with hoisin sauce and tandoori kebabs!
Where to eat in Hong Kong and Macau: 9 places to savour in June
3. and 4. Little Bao and Happy Paradise
Here comes a quirky Asian twist that you will love – the Impossible Bao, by Chef May Chow at Little Bao, in Central, comes with black pepper teriyaki sauce, salted kombu greens and fermented tofu sauce, sandwiched between Chow's famous steamed buns, of course.
5 ways to go vegan this Veganuary
Over at Chow's Happy Paradise, also in Central, you may find the more fascinating alternative – the Impossible Xinjiang Hot Pocket, which is great news for all those vegans and vegetarians who miss this all-time favourite Chinese street food (vegans should ask while placing an order to omit the egg yolk dip to make sure this dish is served as 100 per cent vegan).
5. JINJUU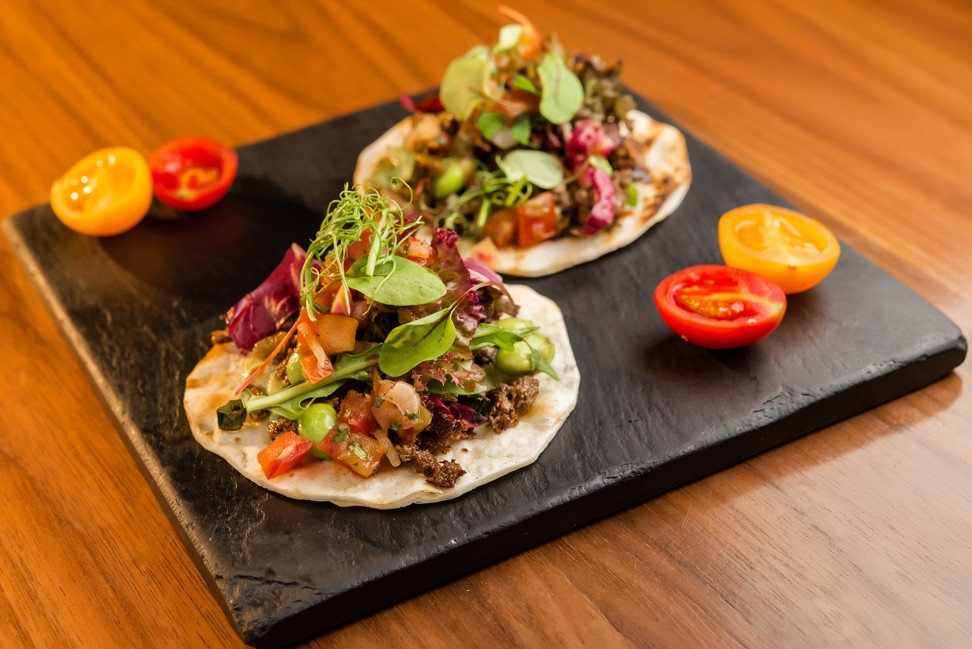 If you are not one for eating a burger, or you simply crave Korean fare as a vegan, then fret no more. JINJUU, in Lan Kwai Fong Central, is offering not one, but four dishes on the menu with Impossible as a meat substitute.
You can choose from the steamed Korean dumplings, tacos and Bulgogi sliders, as well as crispy fried Impossible strips – what decadence!
And vegans rejoice – they are absolutely 100 per cent plant-based.
Want more stories like this? Sign up here. Follow STYLE on Facebook, Instagram and Twitter