4 avant-garde buildings in Macau designed by renowned architects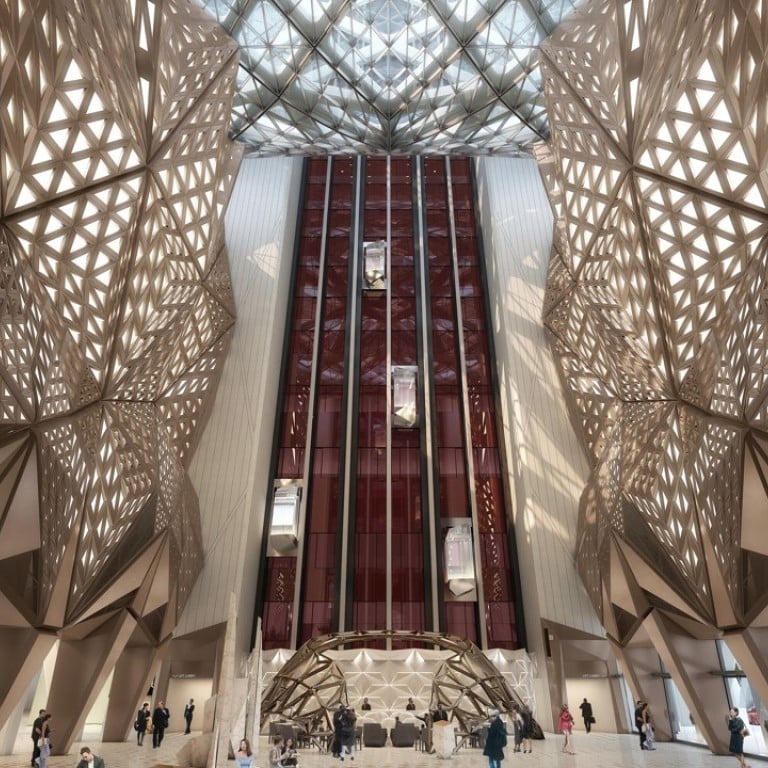 Macau's historic centre is known a Unesco World Heritage Site, with more than 20 notable attractions, including the ruins of St Paul's Church and the Largo do Senado or Senate Square.
Yet, the city's modern buildings are redefining the landscape of "Asia's Las Vegas".
Some of these impressive and iconic structures, such as the exoskeleton-structured Morpheus hotel – which opened on Friday – have been designed by some of the world's greatest architects and helped to transform the former Portuguese colony into a stunning Instagrammable backdrop.
Morpheus hotel
From outside, the mesh, nodes and three organically shaped voids in the middle of this newly opened hotel are intriguing to look at.
As the world's first free-form exoskeleton steel-structured high rise, Morpheus at the City of Dreams in Cotai is one of the final projects designed by the late legendary architect Zaha Hadid.
It is revolutionary, both in terms of design and engineering.
Built using 28,000 tonnes of steel, the hotel is the first to use an external skeleton to support its structure.
With 780 guest rooms, suites and sky villas, the hotel also features two sky bridges connecting two towers, an infinity pool and leisure area on its 40th floor, plus an entire floor with two restaurants and a bar run by French-born Monegasque chef Alain Ducasse.
Macao Science Centre
When the ferry is about to berth at the Macau peninsular, as you look out the windows, it is hard to miss an asymmetric conical metal structure situated by the riverfront.
It is the Macau Science Centre – one of the masterpieces by celebrated Chinese-American architect Ieoh Ming Pei, in association with Pei Partnership Architects.
Built in 2009, the 250,000 square-foot (23,0000 square-metre) centre comprises a cone-shaped exhibition centre designed with a skylit atrium and a spiral ramp connecting all of the 14 science-themed galleries; a dome-shaped 150-seat planetarium showing 2D and 3D dome/sky films; and a low rhomboid convention centre.
The centre also features a glass enclosed walkway connecting the cone-shaped main building to a viewing platform.
Is distinctive design and features led to it being chosen as one of the filming locations of Hollywood thriller Now You See Me 2.
Macau Tower Convention & Exhibition Centre
The 338-metre (1,108-foot)-high building, also referred to as Macau Tower, has been one of the city's most iconic landmarks since its completion in late 2001.
Situated at the Nam Van waterfront, the tower was designed by award-winning New Zealand architect Gordon Moller and based on another of Moller's designs, the Sky Tower in Auckland, which deeply impressed Macau tycoon Stanley Ho Hung-sun during a trip to the country.
With an observation deck offering 360-degree views overlooking the Macau peninsular as well as the Taipa harbourfront, the tower features the world's highest commercial bungee jump.
It has been a popular backdrop of a number of reality television shows, such as America's Next Top Model, Anthony Bourdain: No Reservations, Running Man and The Amazing Race.
The 13 hotel
With its striking red facade and a giant, diamond-like ornament on the top, the long-awaited ultra-luxury hotel, The 13, has been designed by renowned American architect Peter Marino, who is behind many free-standing stores of luxury fashion brands, such as Giorgio Armani's flagship on Madison Avenue, New York; Chanel tower in Ginza, Japan; and Louis Vuitton's shop in Beverly Hills, Los Angeles.
"I imagined a royal red robe wrapped around a crystal core, rising up out of which is a 20-metre diamond," Marino said of his design idea behind the six-star hotel located in the Seac Pai Van area on Coloane.
Featuring 200 villa rooms – ranging in size from 2,000 square feet to 30,000 square feet, the hotel, expected to open later this year, will have the world's largest custom-made fleet of Rolls-Royce Phantoms, and will open the three Michelin-starred Parisian restaurant L'Ambroisie's first outlet outside Paris.
Want more stories like this? Sign up here. Follow STYLE on Facebook, Instagram and Twitter

City's eye-catching constructions – including the hotels Morpheus and The 13 and Macau Science Centre – redefine landscape of Asia's Las Vegas