Gradini x Estée Lauder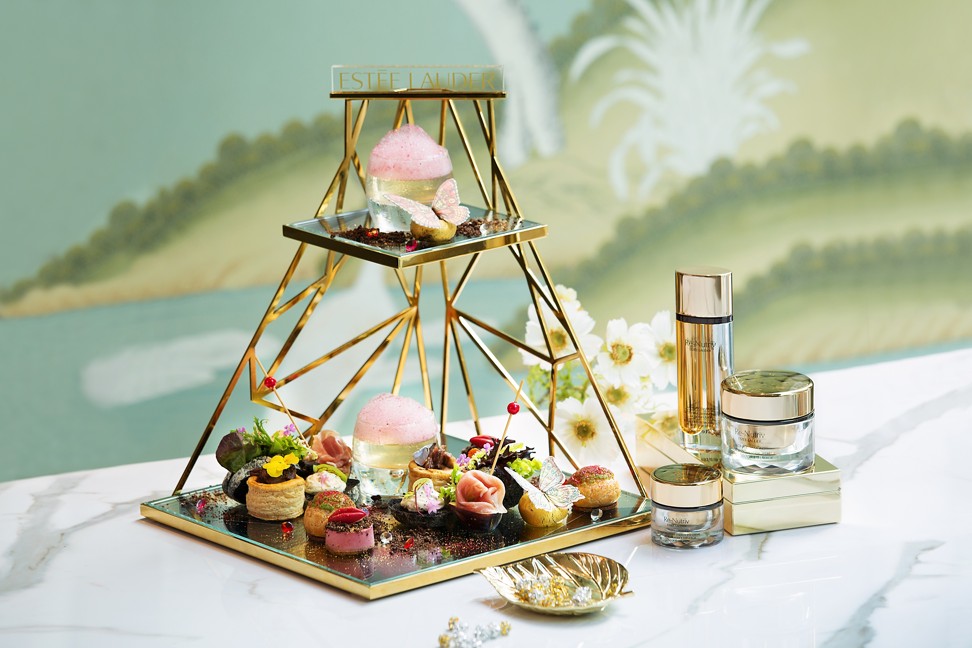 Cano Chan, the executive chef at Gradini, has created a "Black Truffle Diamond Tea Set" that was inspired by Estée Lauder's luxurious Re-Nutriv Ultimate Diamond collection, and is available daily, from 3-5.30pm.
Until the end of September, Gradini will serve a spread of savouries and pastries that are made with black truffle and other premium ingredients.
The savoury bites include a "Mini Lobster Sandwich with Black Truffle Mayonnaise", "Slow-cooked Oxtail Vol-au-vent with Black Truffle Gravy" and more truffle-flavoured treats. Cano has also prepared a selection of delicious desserts such as a "Glittering Chocolate Truffle", "Les ChouChous Cream Puff", and "Gold Moscato Jelly with Mixed Berries Foam".
For HK$218 per person, guests also receive a free voucher to a Re-Nutriv Face or Eye Massage Service at the local Estée Lauder beauty boutiques.
5 top afternoon tea experiences in Shanghai
Lobby Lounge at The InterContinental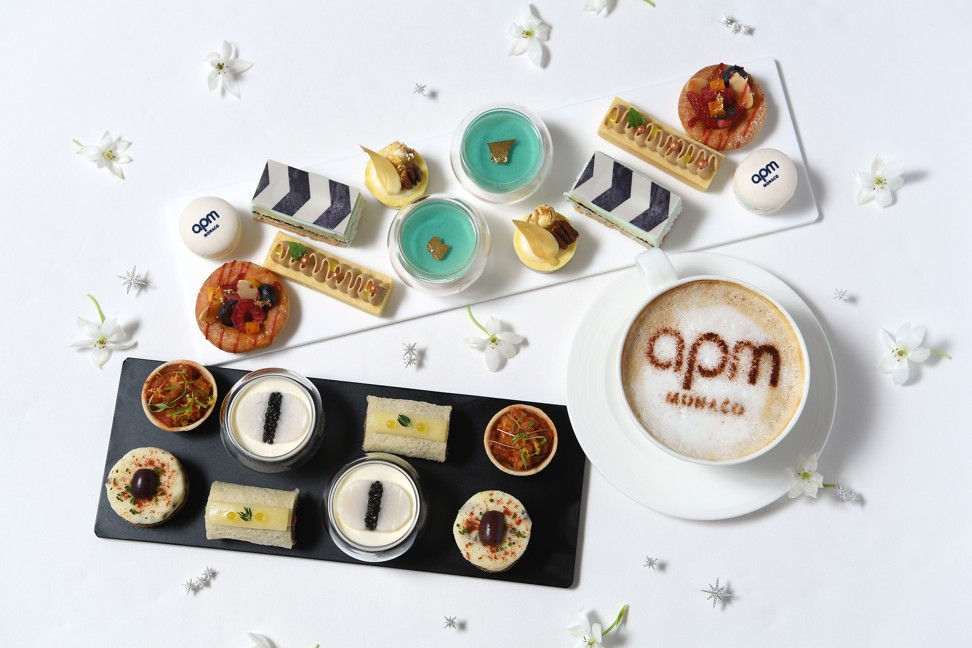 Experience Hong Kong's very own Saint-Tropez at the InterContinental Hong Kong. The hotel has collaborated with contemporary fashion jewellery brand, APM Monaco, in creating the "Joie de Vivre" Afternoon Tea Set. Inspired by the flavours of summer on the French Riviera, the tea set features ingredients with the region's flair, such as the hotel's executive chef Maxime Luvara's "Smoked Mozzarella Cheese with Sea Scallop and Kaluga Caviar" and "Serrano Ham, Arugula with Goat Cheese and Thyme". The hotel's executive pastry chef Christian Gonthier has also created some delicious pastries, and who could possibly resist a "Hazelnut Cheesecake with Maple Popcorn and Pecan"?
The tea set costs HK$668 for two, and is available weekdays from 2.30-6pm and 1.30-6pm at weekends and on public holidays until August 14. Guests can enjoy the Lobby Lounge's panoramic harbour views and receive two APM Monaco gift cards, which can be redeemed for an exclusive summer tote worth HK$600 at one of APM Monaco's 12 shops in Hong Kong.
Cobo House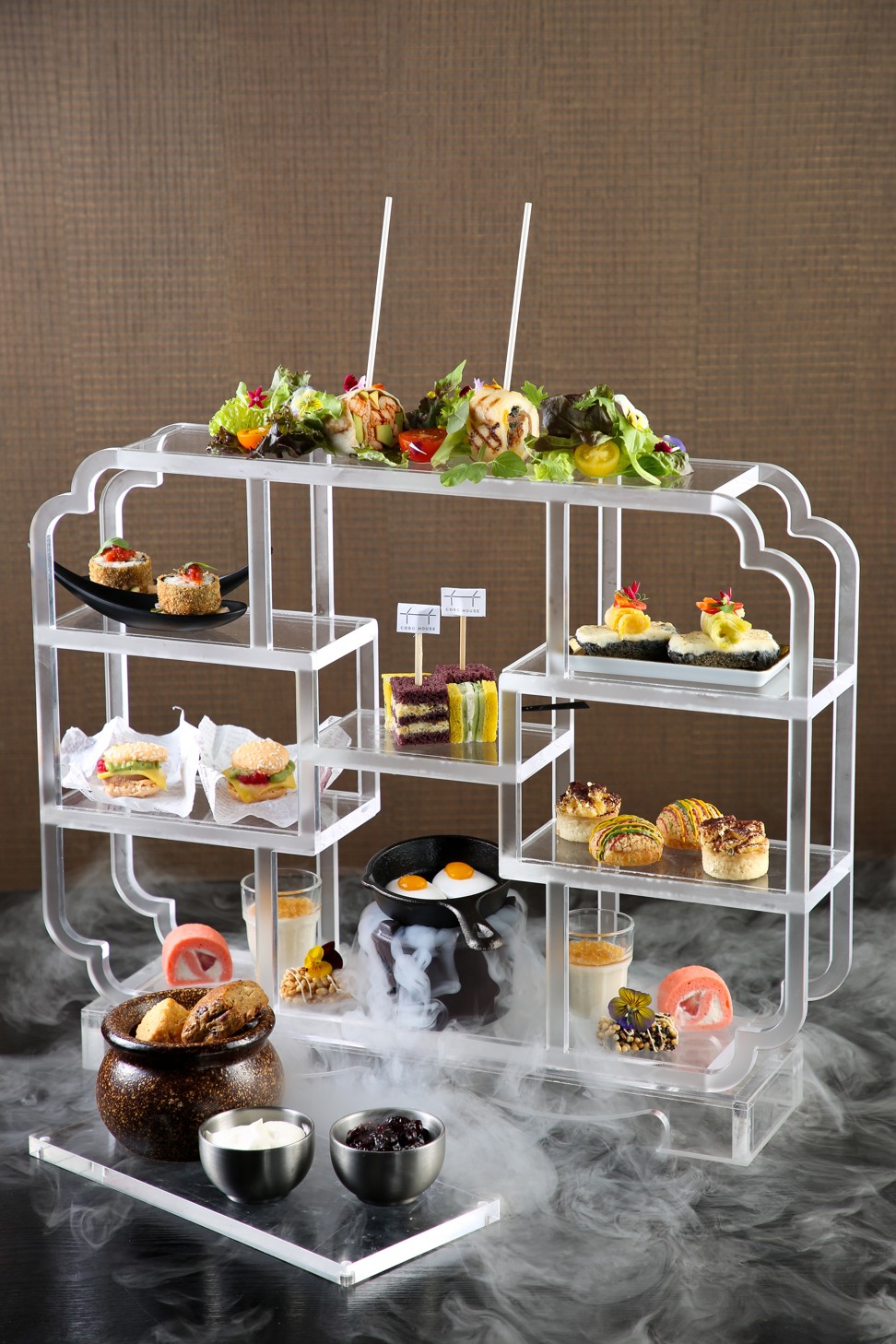 Cobo House's "Cha Chaan" tea is back this summer with a new menu that features Western-Korean fusion creations such as the Baccala Ragu Bruschetta paired with home-made Korean white kimchi, and the Bulgogi Arancini, Tomato Sauce.
Available from 3-5.30pm every Saturday, Sunday, and on public holidays, "Cha Chaan"also includes two mini coloured sandwiches – one in yellow and made of carrot extract; the other in brown and made with malt wheat.
For guests in denial about eating sugary treats, "Cha Chaan" has disguised its desserts as savoury dishes such as Burger Macaron and Sunny-side up. The Burger Macaron features the macaron as the bun; red berries as the tomato; green-tea custard as the lettuce; mango ganache as the cheese, and chocolate mousse as the beef patty. The Sunny-side ups are made with mango sauce and marshmallow candy, and are presented in a small frying pan and a mini stove with dry ice – perfect for that Instagram story.
Ferragamo and Wynn Palace Macau's afternoon tea set offers a taste of spring
Each set is HK$588 per person and only 10 sets are available per day – so you had better book well in advance!
Woobar x EVISU
Woobar has revealed its new tea concept, Beyond Colors, which is inspired by Evisukuro's collection "The Fash-urbanite". Chef Robert Nilsson has created 12 black and white canapés to reflect the "Untitled" collection from Evisukuro's 2018 collection, which will be available until late July.
From the black mini burger bun with beef tataki, to the cauliflower shooter with black truffle, each dish channels the spirit of Evisu. Desserts follow the theme, with black sesame and mango cone, black charcoal choux buns with pistachio cream, and the blackcurrant and chocolate ganache.
Available from 2.30-6pm from Monday to Friday, the tea set costs HK$438 for two. Guests will also receive a special-edition Evisu card holder and a HK$200 cash coupon to use at the Elements store.
Dr. Fern's Gin Parlour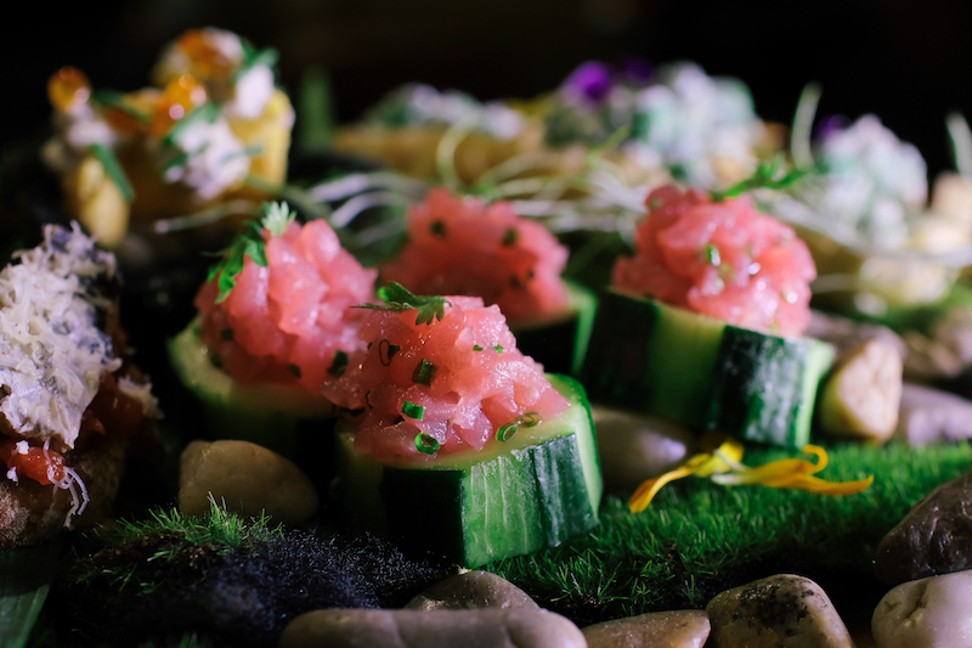 Dr. Fern's has launched a brand new "After-Tea", which is available in three different sessions, 12.15-1.45pm, 2-3.30pm, and 3.45-5.15pm. Following the brand's Nordic tradition, After-Tea celebrates the idea of "pause and reset" and encourages setting aside time to have tea or coffee with pastries and friends.
After-Tea is inspired by Dr. Fern's long-time love for Scandinavian storybooks, such as The Ugly Duckling and The Teapot, and the tea set is a nostalgic reminder of his childhood.
The serving costs HK$498 for two guests, and includes conventional scones as well as elegant cornetters and bon bons.
High tea meets high fashion in Ferragamo X Tosca
Shikigiku Japanese Restaurant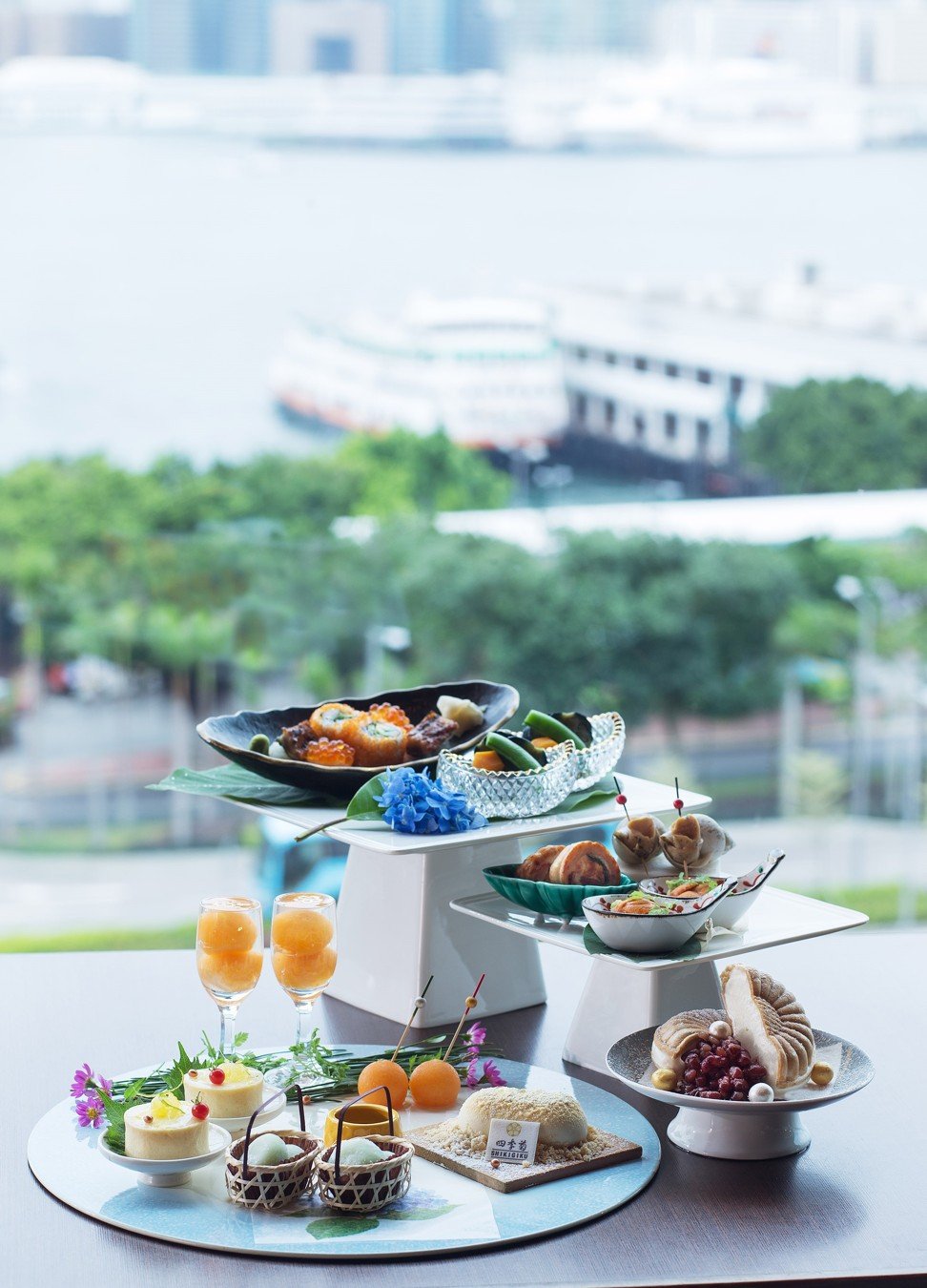 Shikigiku Japanese Restaurant at Ifc Mall offers its all-new Summer Delight Japanese tea set until September 2. Chefs Masayuki Goto and Rachel Ngai have created an array of Japanese delicacies and desserts for guests to enjoy while they gaze at the restaurant's breathtaking view of Victoria Harbour.
Guests begin the high tea with three types of seasonal sushi that have been selected by Goto, and they are followed by delicacies such as Simmered Baihai, and refreshing Sea Urchin Bean Curd. The tea's savoury snacks also include Chicken Roll with Crab Stick and Seasonal vegetables, and Simmered Eggplant and Seasonal Vegetables.
Desserts highlights include Yubari Melon Jelly, Hyuganatsu Yuzu Tart and Kyoto Matcha Mochi.
Served on Saturdays and Sundays from 3pm-5.15pm, this tea set is HK$498 for two people, including a free tea or coffee for both guests. For HK$868, each guest will receive a free glass of Champagne.
Garden Lounge at The Murray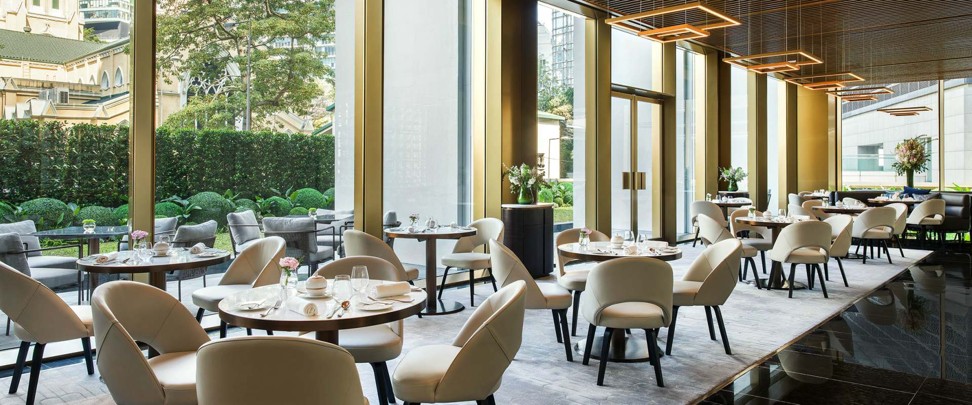 The Garden Lounge is on the Garden level of The Murray hotel, and serves The Murray's Signature afternoon tea every day from 2.30-6pm.
Vodka-infused afternoon tea set packs a punch at Conrad Hotel Hong Kong
The tea set's many snacks range from Hard Boiled Quail Egg and Cranberry and Rosemary and Black Pepper Scones to Green Tea Opera Cake and a Strawberry and Mandarin Tart.
The tea set is HK$295 per person and includes Illy coffee or a selection of Jing Tea.
Want more stories like this? Sign up here. Follow STYLE on Facebook, Instagram and Twitter