This article was originally written by Ruonan Zheng and was published on Jing Daily.
More Chinese people are travelling than ever before and the more affluent among them are increasingly booking trips using their mobile phones.
This class of Chinese traveller is changing not only how destinations welcome tourists, but also how domestic travel apps cater to the most profitable demographic.
Weibo vs WeChat: KOL report reveals what Chinese travellers use to pick holidays
Affluent Chinese holidaymakers prefer travel apps to traditional agencies because the mobile platforms provide everything for navigating their way through itineraries, prices and customised services at their fingertips.
More than half of wealthy travellers booked their trips online in 2017, according to a September report by the China-based research agency Yaok Institute.
Bookings made using high-end travel apps have been increasing since 2012 – amid the Chinese government's anti-corruption campaign – with many businesses keen to cater to a luxury market that focuses more on offering experiences rather than material goods.
What's in the new Rimowa x Aesop travel kit?

However, competition in this field has been fierce, as online itineraries can be easily copied by competitors.
Many companies have sought to diversify their offerings through technological innovation, such as the use of a WeChat mini-program and virtual reality, and customised trips.

Here are five online travel agency apps that rich Chinese travellers love:
SparkleTour (耀悦)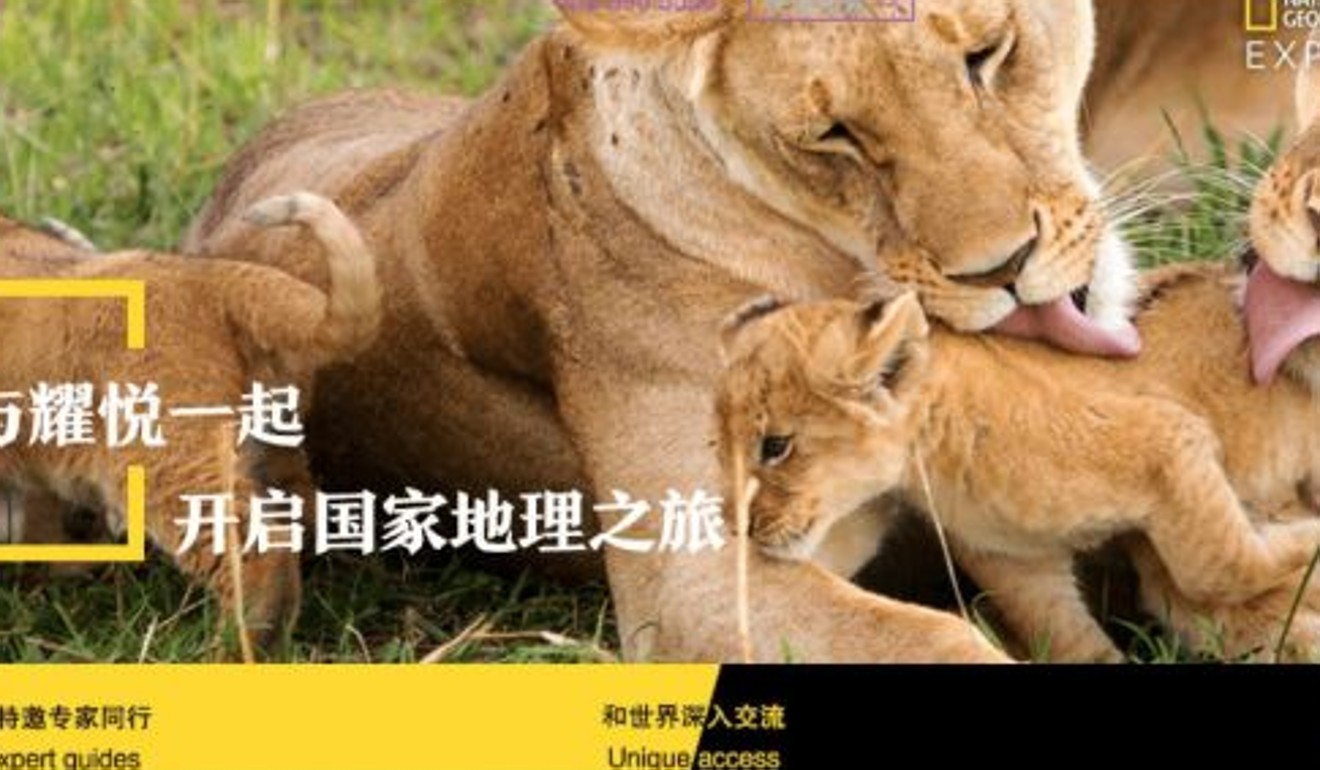 Launched in 2014, SparkleTour is the high-end arm of one of China's three major tour corporations, CYTS.
What makes the platform unique is its customised trip-planning service.
Every client who is part of the loyalty programme, SparkleTour Club, is interviewed by a consultant about their travel history, personal preferences and style.
Up to 60 per cent of the consultants have studied abroad and worked in the travel industry for an average of 10 years.
The KOL bubble: how brands can earn the trust of China's affluent demographic
Some of SparkleTour's most popular curated trips include tracking wild elephants on safari in South Africa, watching the northern lights in Iceland, or diving into an ice cave in the Antarctic for a sauna session.
SparkleTour has noticed a recent shift in its client demographic from travellers aged 35 to 50 to a younger mix of clients born in the 1980s and '90s, travellers who are keen to experience outdoor adventures.
8 top travel destinations for Chinese tourists during Golden Week
This year, SparkleTour formed a strategic partnership with National Geographic to establish a team of experts to help with road trips and holidays involving golf and adventure photography.
Zanadu (赞哪度)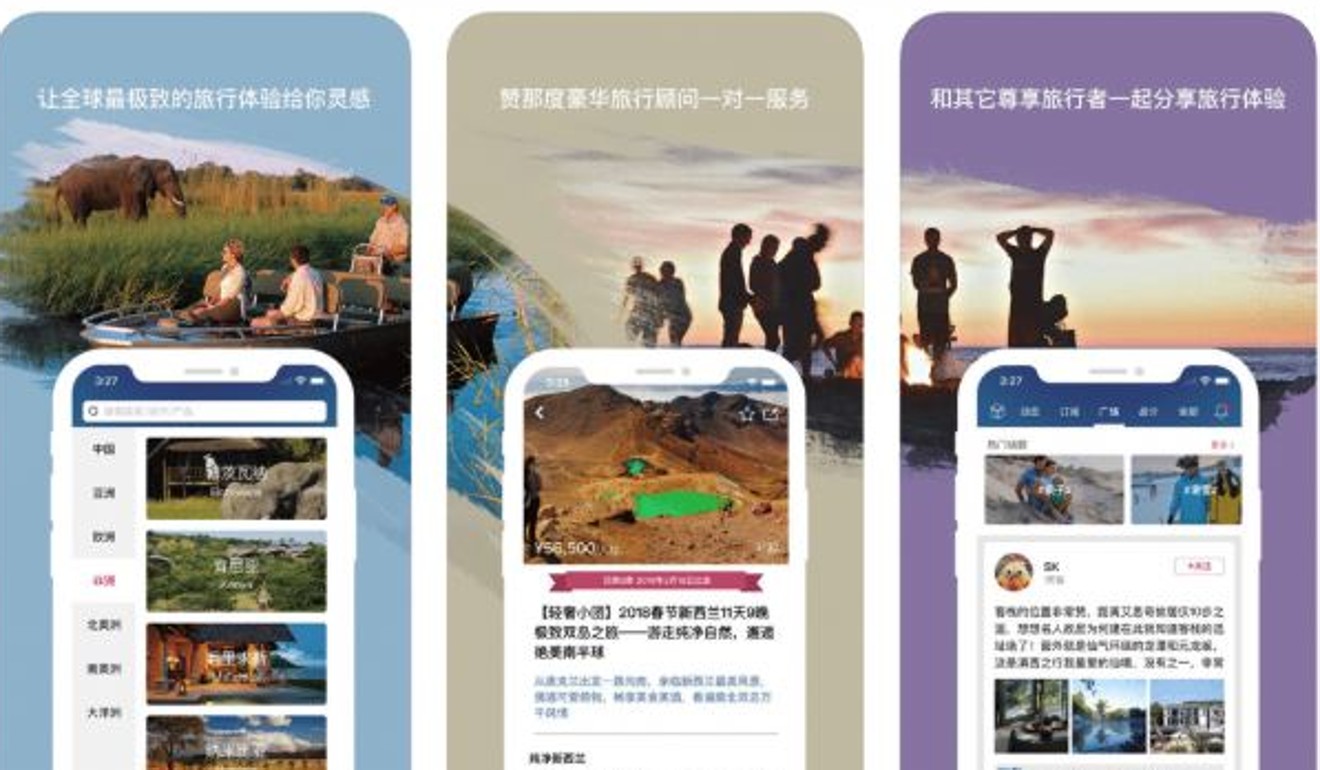 Established in 2012, Zanadu is an online agency with extensive media reach.
In 2017, it received undisclosed investment from Prometheus Capital and also funding totalling US$12 million from backers including Tencent.
Zanadu was one of the first online platforms to focus on a range of different media, including not only traditional print newspapers and magazines, but also social media, video blogs and even virtual reality.
Best holiday deals at your fingertips: Google makes price insights richer
It launched a strategy in 2016 to acquire new users through an immersive digital experience involving the world's top hotels, destinations, and activities.
Last year the platform's team of 800 staff attracted one million customers – about half of them described as "core" clients that are regular users of the website.
Wu Zan, the company's founder and CEO, told China Daily that he expected a 20-fold increase in the number of Zanadu's customers within five years.
HHtravel (鸿鹄逸游)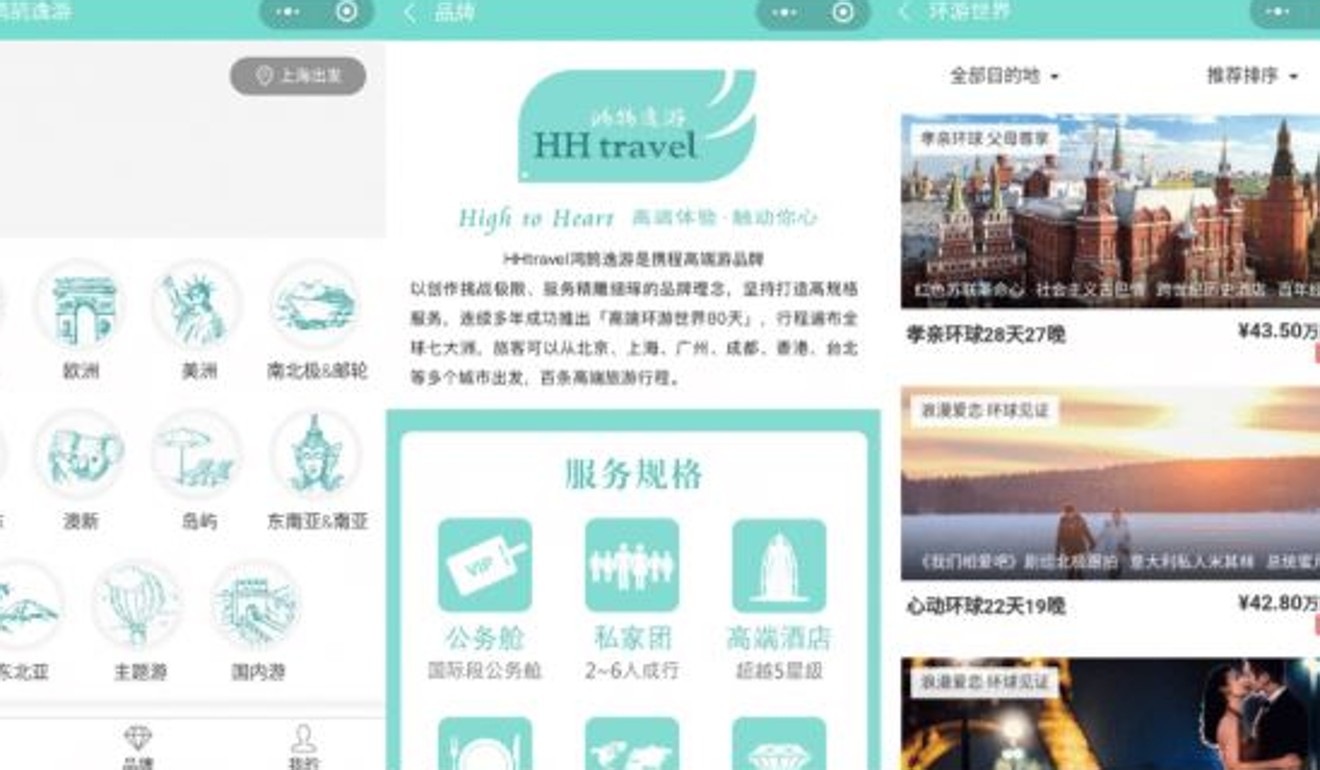 Similar to SparkleTour, HHtravel is the high-end platform of China's top online travel agency, Ctrip.
Originally founded in 2011 by three travel agencies from Hong Kong, Taiwan, and mainland China, the platform grew quickly online after being acquired by Ctrip the same year.
Its 80-day world trip priced at US$194,900 has proved particularly popular.
The year it launched, HHtravel offered 15 spaces on the round-the-world excursion, which all sold within nine minutes.
China's 7 top travel influencers with an instinct for #wanderlust trends
In recent years, there has been growing demand for its 20-day South Pole tour among more adventurous wealthy travellers.
With one-on-one customer service available on WeChat, 90 per cent of HHtravel's travellers are online customers.
Up to 60 per cent of its clients return for a second trip.
Guo Ming, the company's chief operating officer, says this year the platform aims to have amassed 10,000 annual customers.
8 Continents Travel (八大洲旅游)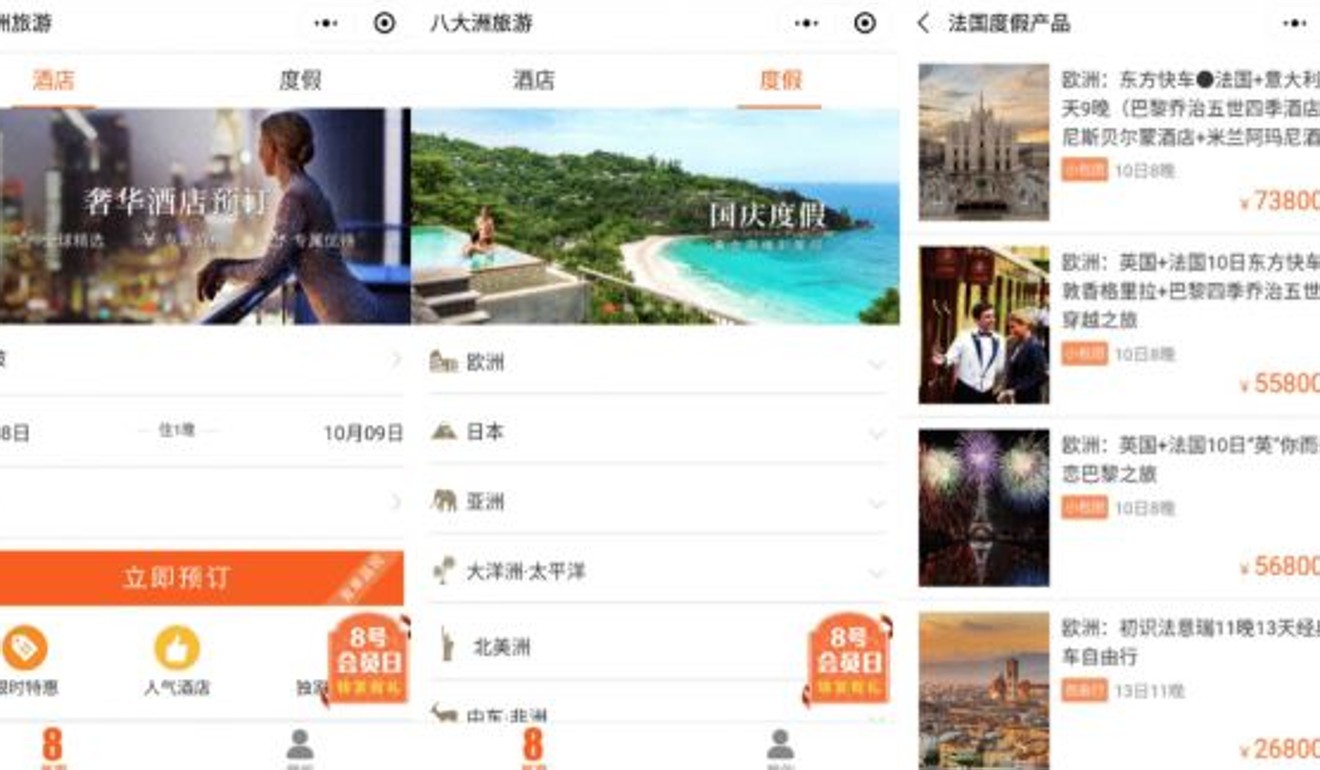 Founded in January 2012, the 8 Continents Travel is headquartered in Shanghai, with branches in Beijing and Chengdu.
The company has been listed atop of the Hurun Best Outbound Luxury Travel Agencies more than once.
How the 'Rich Kids of Instagram' are spending their summer: private jets, fast cars, holidays
More than 40 per cent of the clients on the platform are families with young children who place a higher premium on comfort when they travel.
Thanks to 8 Continents' close ties to eight high-end hotels chains, including Amanyangyun, Constance Hotels & Resorts and Shangri-La Hotels & Resorts, clients can enjoy VIP service during their stay.
Travellers can also access 8 Continents Travel via WeChat mini-program, a one-stop shop launched in 2017 to review trip tips, consult professional trip planners and share with friends.
Beshan (碧山)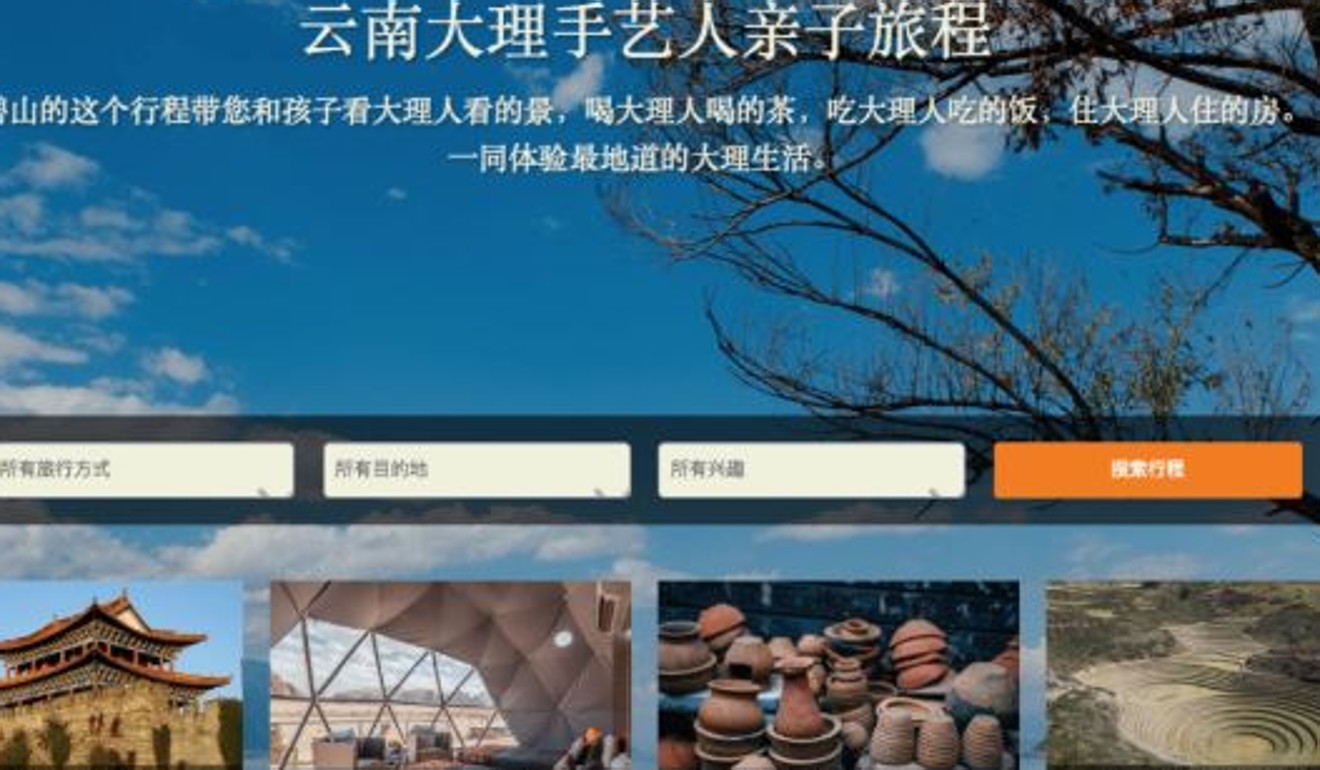 Beshan, which launched its service in early 2011, is among the companies that have been able to ride the wave of growing demand among wealthy Chinese travellers for travel abroad.
Compared with others on this list, Beshan started with a small boutique-style service, and quickly attracted loyal clients – mostly in their early 30s – by word of mouth.
5 amazing picture-perfect wildlife holidays for aspiring photographers

Beshan is the Chinese arm of WildChina, whose Chinese founder, Mei Zhang, says she is able to understand the needs of her travellers because she used to be one of them.
Zhang has an MBA from Harvard Business School and worked for McKinsey & Company until she found her true passion in sustainable travel.
Some of the most in-demand trips on Beshan have been to South Africa and Bhutan.
One popular recent trip involved a long hike in Africa to Tanzania's Mount Kilimanjaro accompanied by private chefs.
Want more stories like this? Sign up here. Follow STYLE on Facebook, Instagram and Twitter